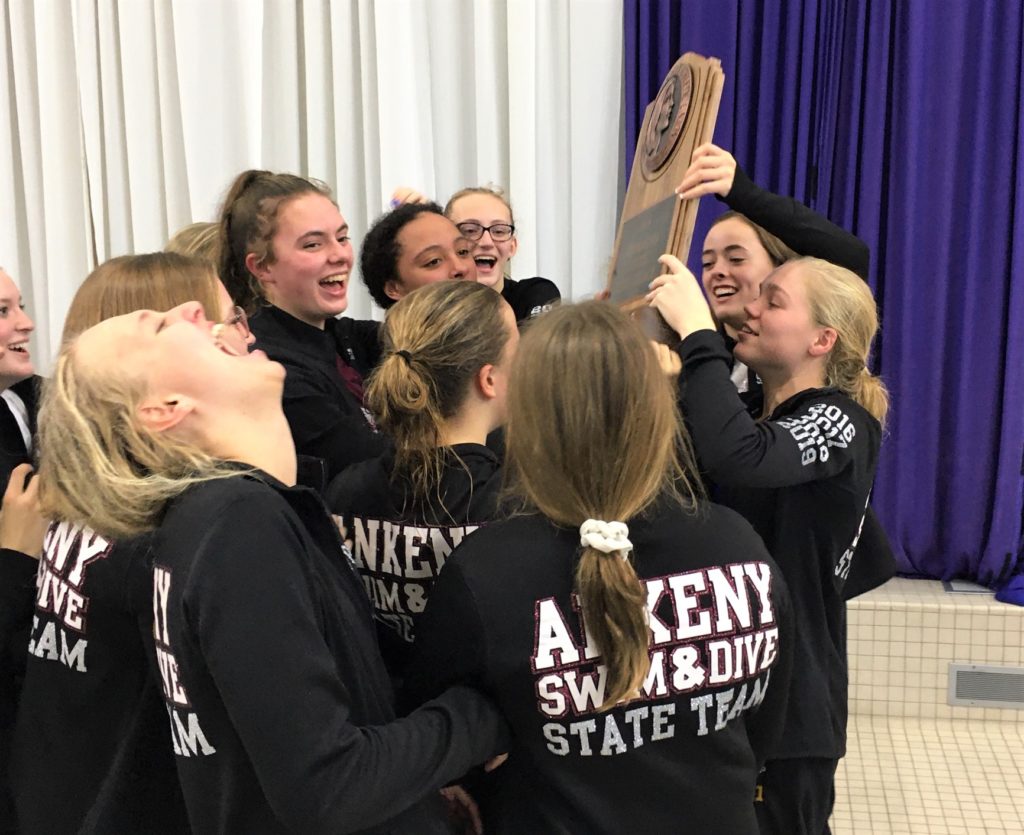 An extraordinary day from senior Jasmine Rumley put the Ankeny girls' swimming team into position to earn a top-three finish in the state meet on Saturday at Marshalltown.
It took four underclassmen, however, to seal the deal for the Hawkettes.
Fifth-ranked Ankeny placed seventh in the final event, the 400 freestyle relay, to clinch a spot on the awards podium. Sophomores Mia Pearson, Madison Carleton and Alexis Henning combined with freshman Rachel Rolow to post a time of 3:37.49 in the event.
"Everybody raced their heart out and we knew that to get third (overall) our relay had to get eighth, and everybody dropped time and it was our season-best," said Carleton. "I'm super proud of everybody on our relay."
Ankeny finished with an even 200 points. The Hawkettes held off No. 3 Iowa City West, which took second in the 400 freestyle relay and finished with 184.5 points, to capture the third-place trophy.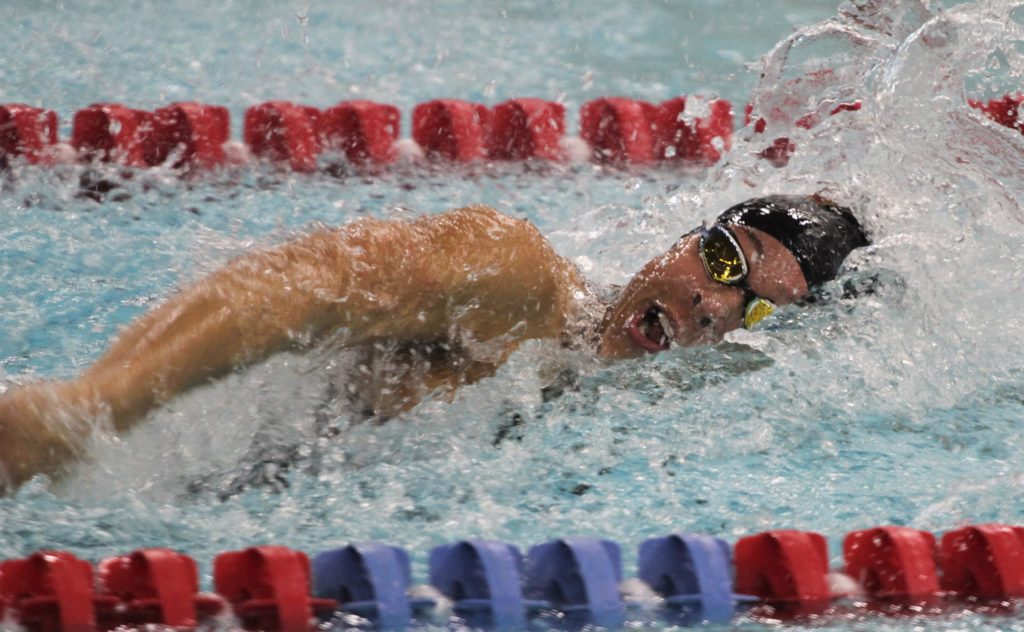 It's the school's highest finish ever under coach Michelle Stout, who received the Golden Plaque of Distinction Award before Saturday's finals.
"We went back there and told our 400 free relay girls, 'You've got to get higher than eighth,' because we knew that Iowa City West was going to do really well in the 400 free relay," said Ankeny senior Scout Bergwall. "Me and Jasmine the past few years have always gotten fourth by just a tiny bit, so it's amazing to get a trophy."
As expected, the CIML Central Conference dominated the meet. No. 1 Dowling Catholic claimed the state title with 360 points, edging No. 2 Ames by 32 points.
The Maroons won four events, including the last three races. Ames won the 200 freestyle relay.
The Hawkettes combined with their two Central Conference rivals to win eight of the 12 events.
"The girls were hungry to move up and take home a team trophy," said Stout. "With a complete, huge team effort and a little bit of strategy, we were able to accomplish that."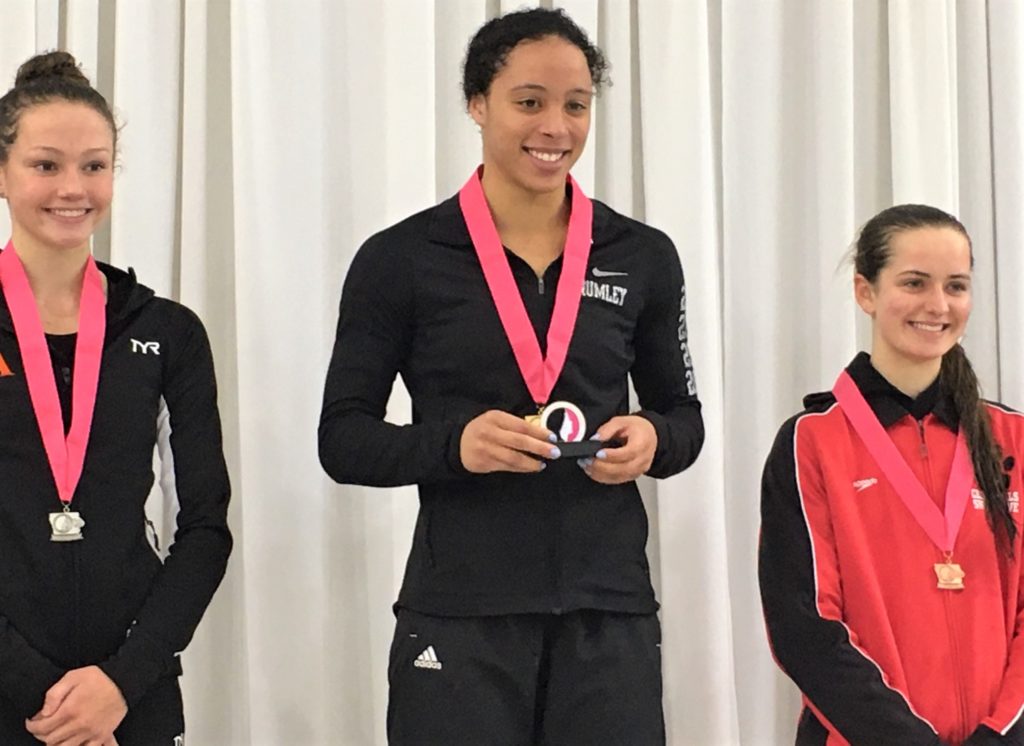 Iowa City West's Aurora Roghair and Scarlet Martin each won two individual events, but nobody was more impressive than Ankeny's Rumley, who swept the sprinting events in her final state meet and was named the state's swimmer of the year.
Rumley easily captured her third straight state title in the 50 freestyle, posting a time of 22.53 seconds. She earned automatic all-American honors while defeating runner-up Meghan Donald of Ames by .63 seconds.
Rumley fell just short, though, of toppling the state record of 22.51 that was set by Waukee's Maddie Gehrke in 2014.
"I was a little (disappointed), but I was happy that I won," Rumley won. "And it just made me even more determined for my next race."
Shortly thereafter, Rumley returned to the pool for the final in the 100 freestyle. This time, the Tennessee recruit smashed the state record.
Rumley touched the wall in 49.03 seconds, dropping .51 off the mark that was set by Ames' Amy Feddersen two years ago. She again earned automatic all-American honors, defeating runner-up Mikayla Kloth of Ames by nearly a full 3 seconds.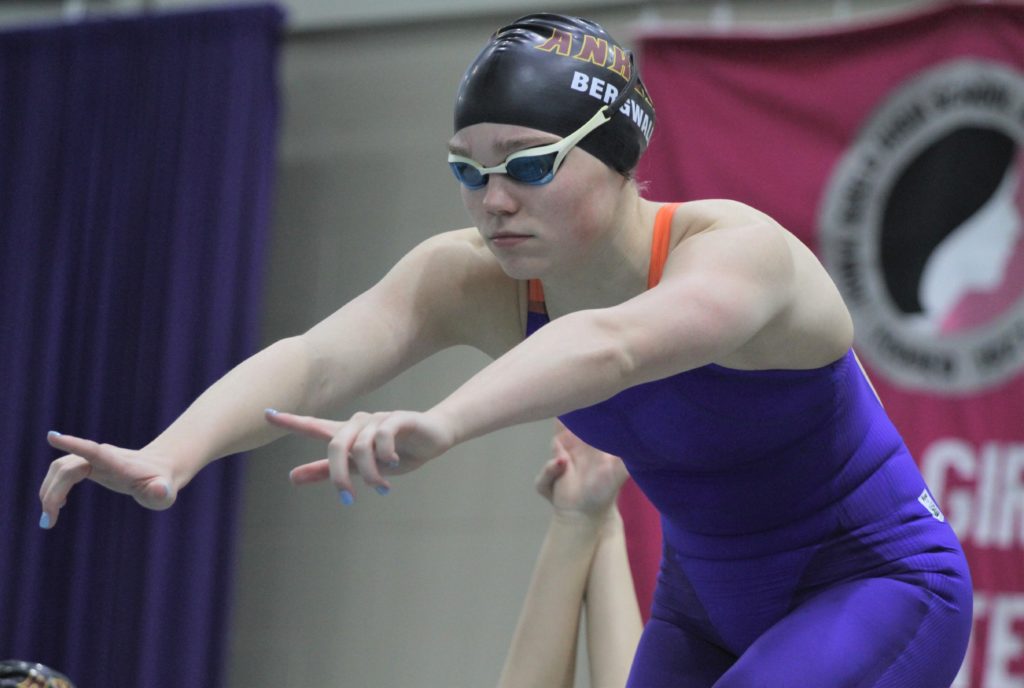 Rumley finishes her career as a five-time state champion.
"That was a stunning performance," Stout said.
Even Rumley's teammates, who are used to watching her swim in practice every day, were left in awe by her times.
"I love watching her swim," Bergwall said. "She's my best friend. It's awesome."
Rumley also anchored Ankeny to a pair of top-four relay finishes. She rallied the Hawkettes from fifth to third in the 200 medley relay with a split of 21.78 in the final 50 yards.
"It didn't feel that fast until I finally saw it, and I was like, 'Whoa!'" Rumley said. "It's the mentality that you want to do it for your team. That's really what relays are about. It's not an individual thing, so that's what I was pushing for."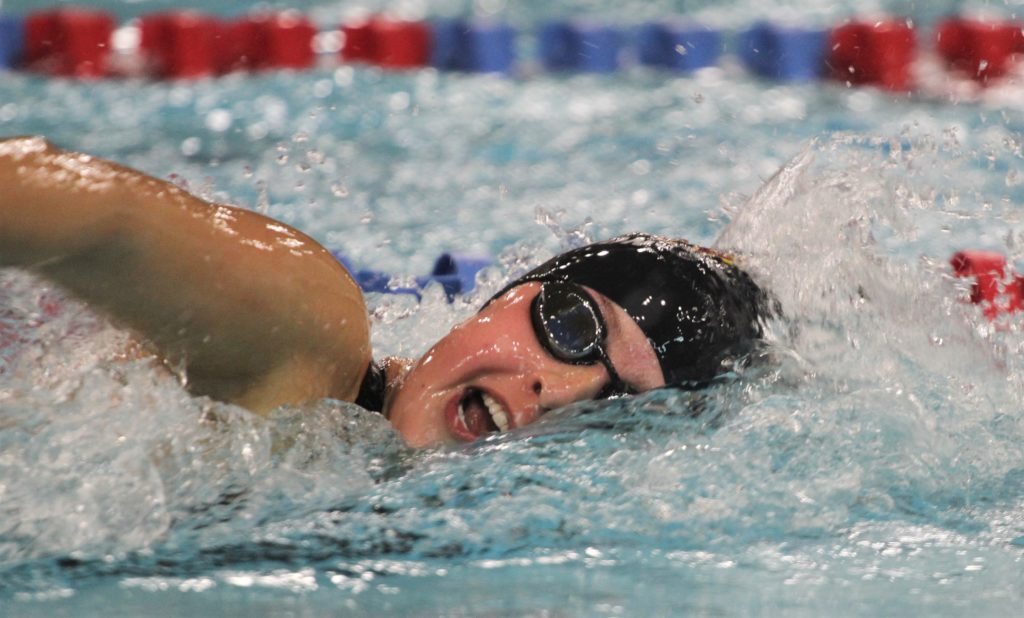 Rumley combined with Henning, Erica Peters and Bergwall to post a time of 1:45.39, which set a school record. The Hawkettes earned all-American consideration.
The final race of Rumley's career was just as spectacular. She rallied her team from eighth to fourth in the 200 freestyle relay by swimming the anchor leg in 21.80.
Rumley combined with Pearson, Bergwall and Carleton to post a time of 1:36.17. Ankeny again earned all-American consideration.
"I gave it everything I had," Rumley said. "Again, I just wanted to do it for the team."
The Hawkettes also got some crucial points from Carleton, Bergwall and Henning in the individual events on Saturday.
"Maddie peaked at the exact right time for us," Stout said.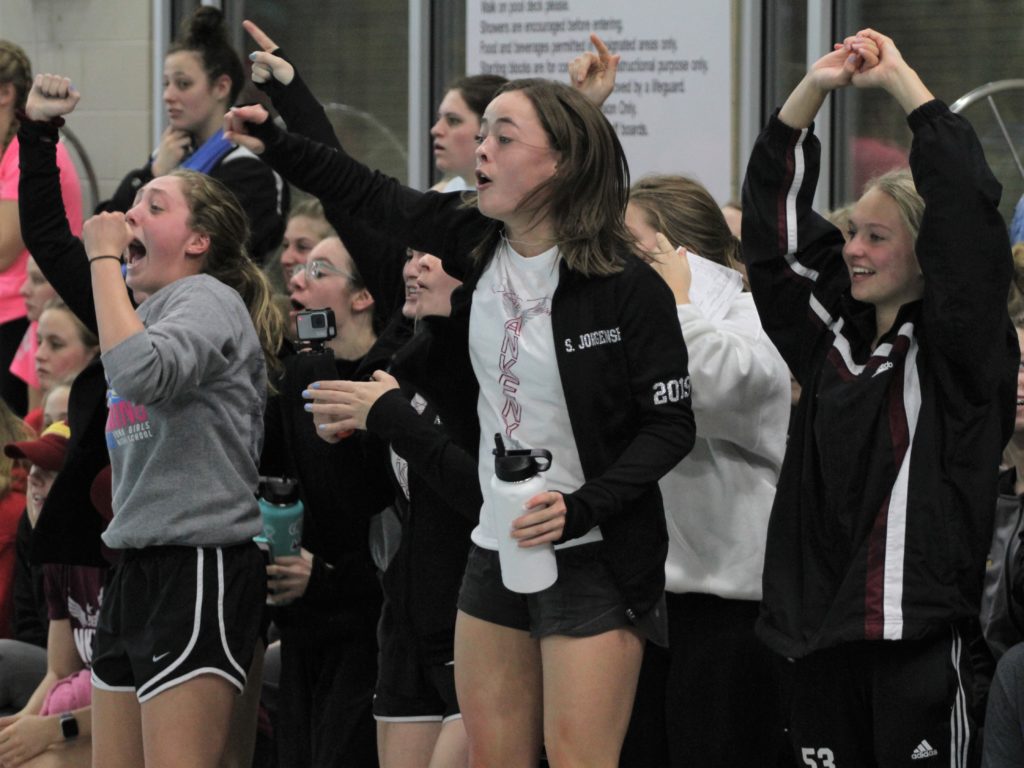 Carleton placed ninth in the 200 freestyle with a time of 1:55.63. She later took sixth in the 500 freestyle in 5:05.46.
"I was really happy," Carleton said. "I dropped some time, and I broke the school record (in the 500 freestyle)."
Bergwall finished seventh in the 100 butterfly in 57.75 seconds. She later took 13th in the 100 backstroke in 59.07.
"I'm really happy with how I did," Bergwall said. "I tried my best, and that's all you can really do and all that matters."
Henning swam alongside Bergwall in the 'B' final of the 100 backstroke, placing 12th in 58.54. She earlier finished 14th in the 50 freestyle in 24.91.
The Dowling coaches were named the coaching staff of the year after the Maroons snapped Ames' run of four consecutive state titles.