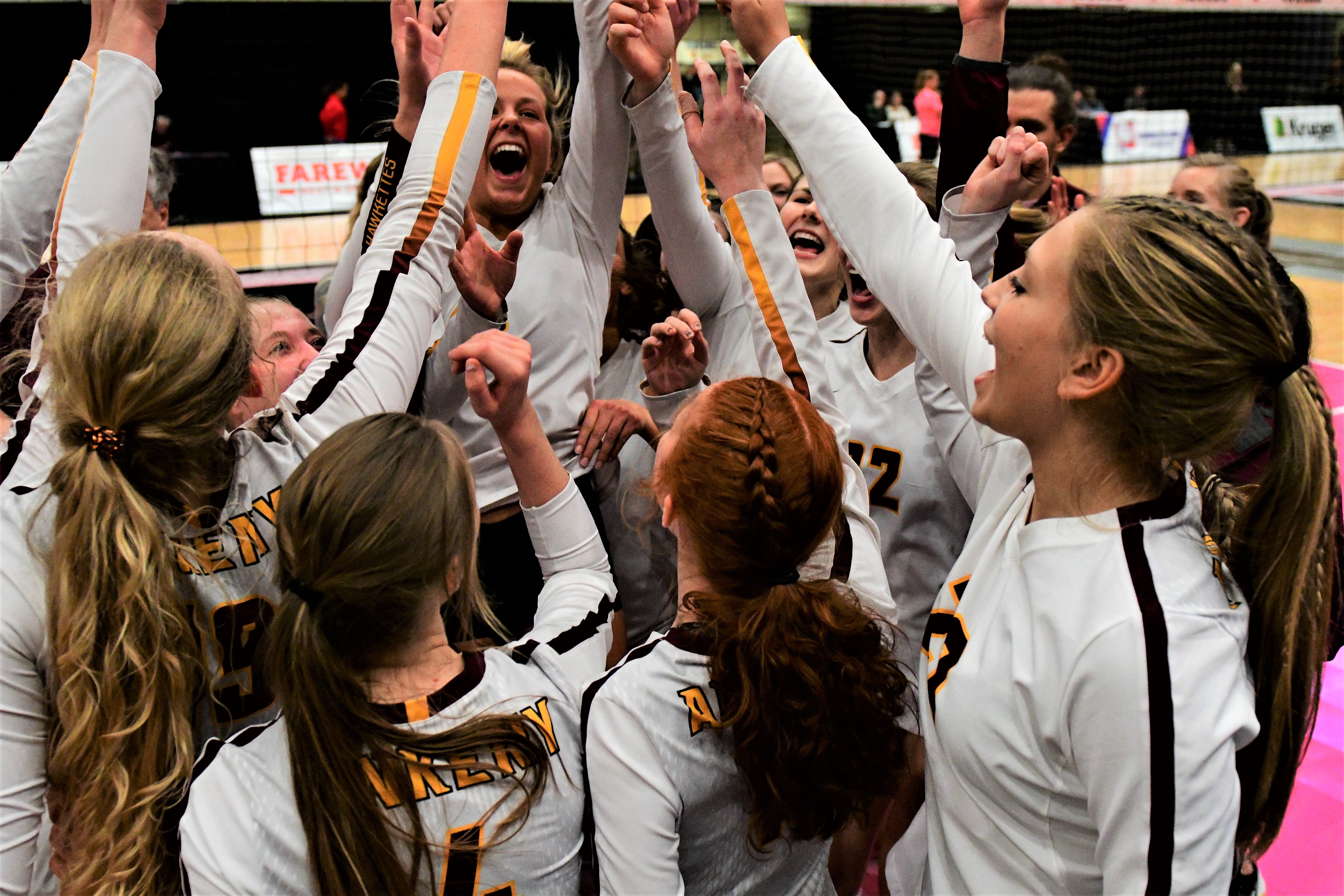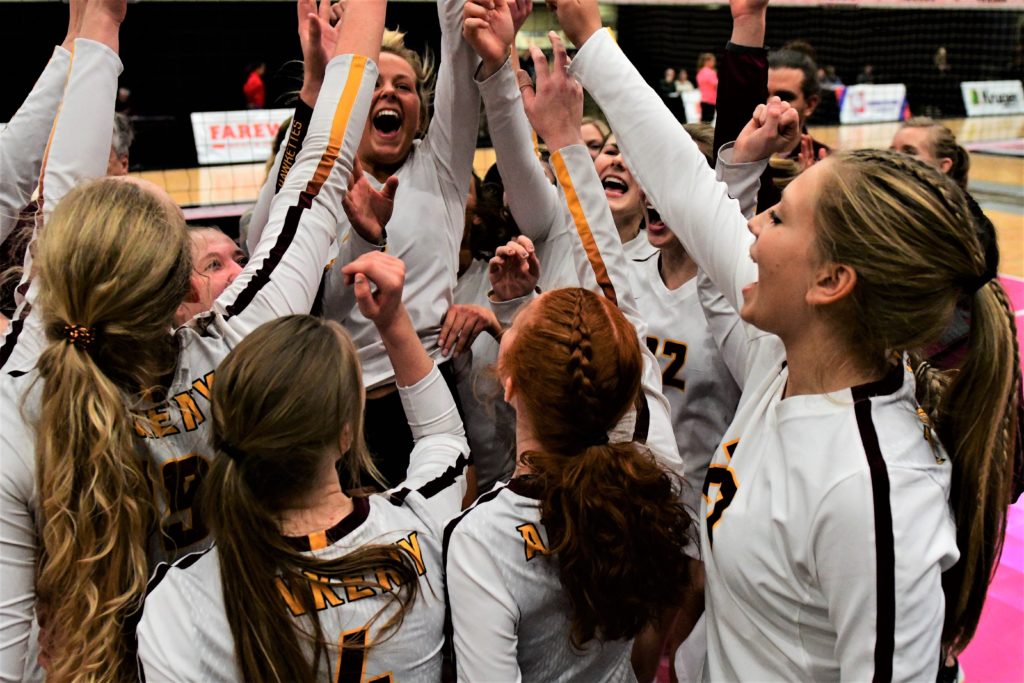 The Ankeny volleyball team played without one of its setters during the quarterfinals of the Class 5A state tournament on Tuesday.
For many squads, that would be a huge problem.
But for the fourth-ranked Hawkettes, it turned out to be only a minor inconvenience.
The team's primary setter, junior Phyona Schrader, took control of the offense and led Ankeny to a 25-20, 25-15, 25-18 victory over No. 5 Council Bluffs Lincoln at the U.S. Cellular Center in Cedar Rapids. She finished with nine kills, 25 assists, six blocks and three aces in a tremendous all-around performance.
"Our other setter was out, so we had to play a 5-1 (offense)," said Schrader. "My coach wanted me to be more active in the front row since we don't have me as a hitter anymore."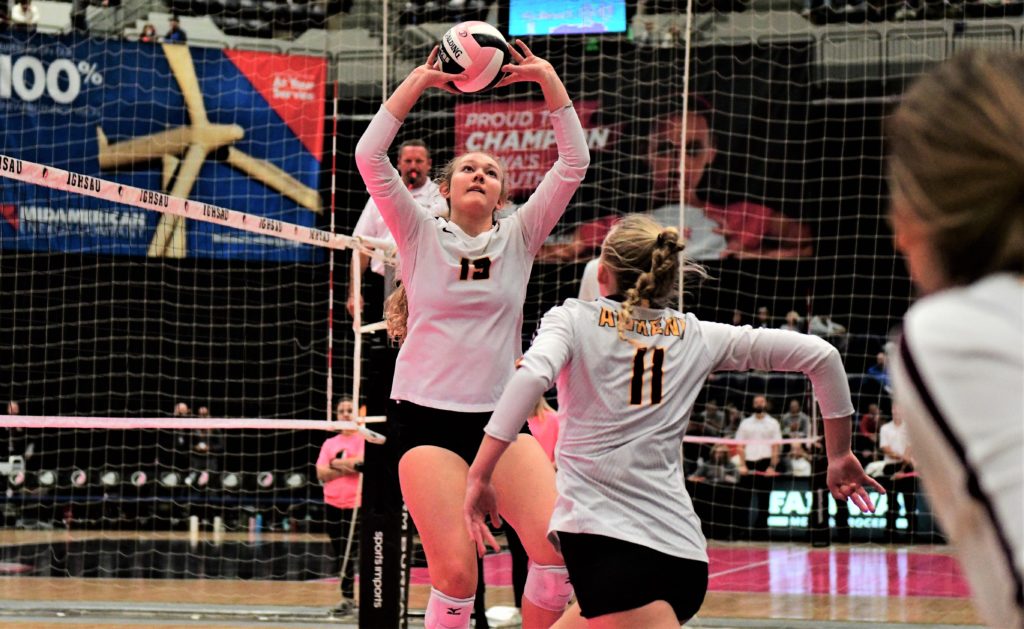 Ankeny was without junior Marissa Faber, who had racked up 333 assists this season. She was unable to play due to an illness, forcing Ankeny coach Dave Whims to make some other adjustments.
"We had to change up our offense a little bit, but Phyona's strong enough to handle that situation," Whims said. "And I thought Lauren Willets stepped up for us. She's been in and out of the lineup, but we needed her today and she served very effectively."
Ankeny (37-5) posted its 17th consecutive victory while snapping Lincoln's 21-match winning streak. The Lynx (38-4) were making their first state tournament appearance since 2014.
"Nerves played a big role tonight," Lincoln coach Katie Darrington told the Council Bluffs Nonpareil. "I felt like we were doing a lot of chasing and not playing our game. We really gave into their game."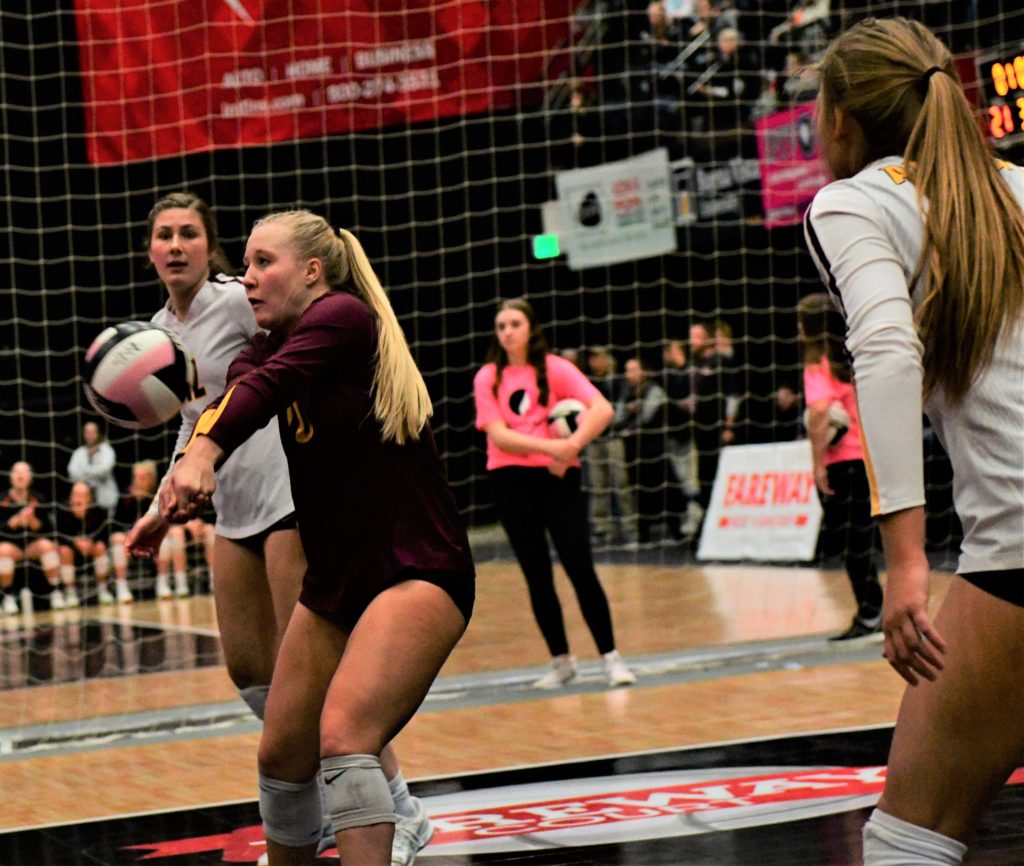 The Hawkettes outhit Lincoln by a .229 to .112 margin. Ankeny libero Kaci Behrens finished with 22 digs, nearly matching the Lynx's total of 24 kills.
"I was a little surprised," Behrens said. "I wasn't expecting a sweep, but I have full faith in our team and I'm glad we got the job done. Our defense was great. Our blocking in the front row was amazing, and everybody got a touch on the ball."
Ankeny never trailed in the opening set. The Hawkettes jumped out to a 7-2 lead and eventually built a 19-9 advantage.
Lincoln closed the gap to 20-16 before Ankeny won five of the next nine points, closing out the set on back-to-back kills by Schrader.
"We had a pretty good game plan so we felt pretty confident about this match," Schrader said.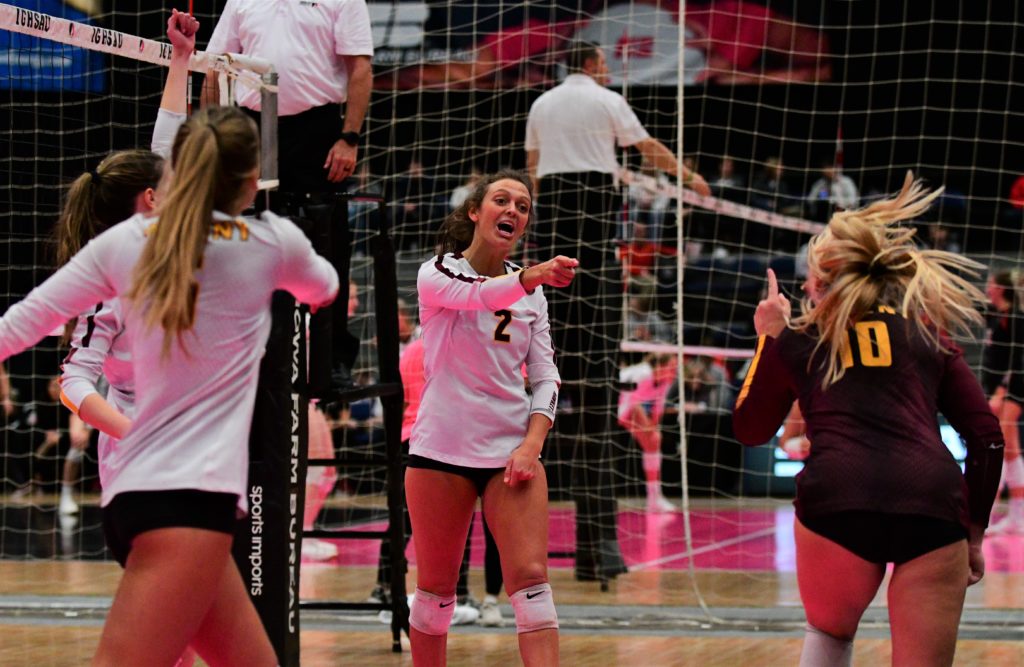 Ankeny used a 6-0 run to take an 8-3 lead in the second set. The Hawkettes later went on another 6-0 run and closed out the set on a kill by Macy Wiederin.
In the third set, Schrader pounded a kill to give Ankeny a 9-4 lead.
"We were expecting lots of dumps from them," Lincoln's Taylan Keefer told the Council Bluffs Nonpareil. "We didn't realize that (Schrader) was that tall, with that pass attempt."
The Lynx could get no closer than two points the rest of the way. The match ended on a kill by McKenna Scheib, who had three blocks to go with her six kills.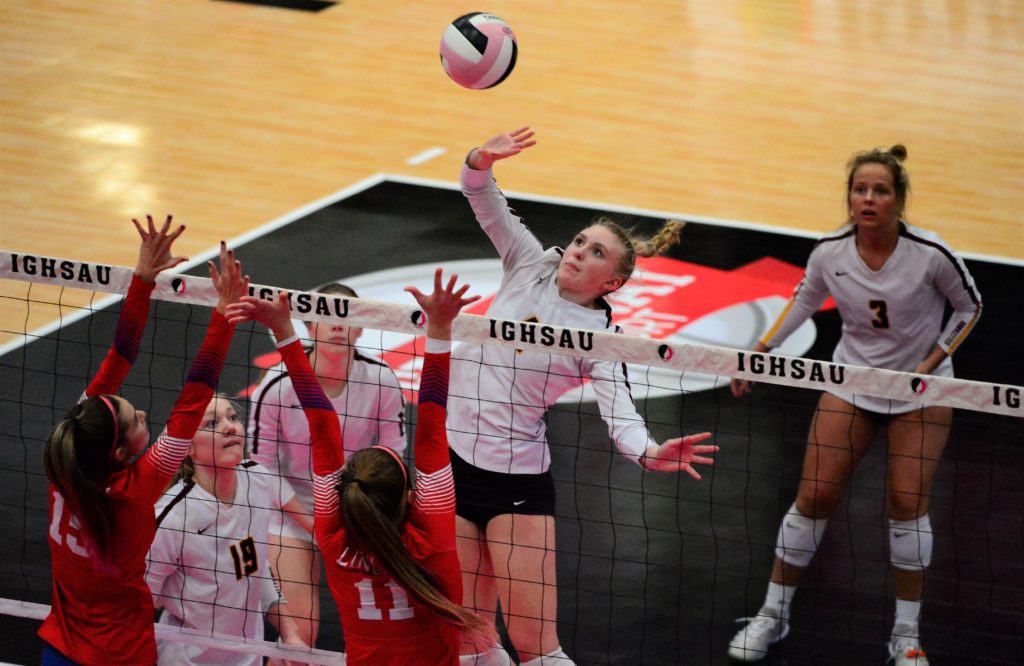 Isabelle Vacek led the Hawkettes with 10 kills. Wiederin chipped in seven, and Malea Daugherty added five.
Willets contributed 13 digs.
"It was awesome," Daugherty said. "I knew they were a great team, but we just did everything that we needed to do to pull through."
Ankeny had a 7-1 edge in aces and a 15-3 advantage in blocks.
"The girls knew what they had to do, and they executed really well. They were just right on," Whims said. "Our serving was really good. We just knew what they were going to do, and we were there in the spots that we needed to be."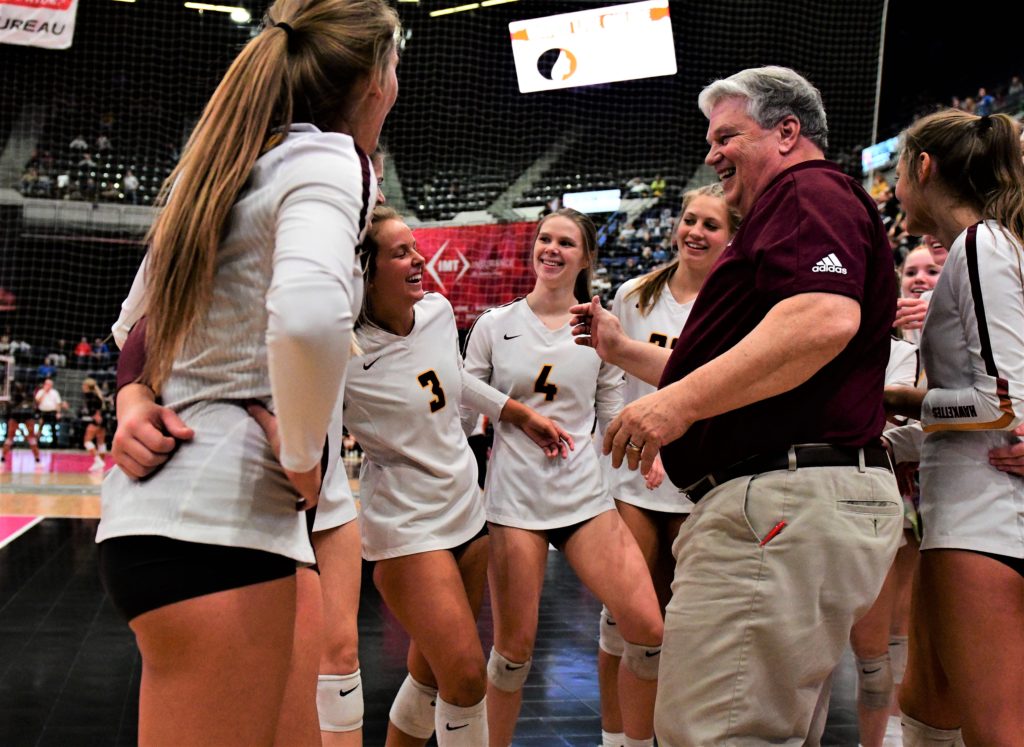 Elaina Bohnet led Lincoln with eight kills. Fellow senior Sam Christiansen dished out 20 assists.
"None of us on this team have been here before," Bohnet told the Council Bluffs Nonpareil. "I think we came out a little frantic and nervous, and we never connected as a team. I think that was our biggest issue today."
Ankeny will now face No. 1 Cedar Falls (42-1) in the semifinals on Thursday at 10 a.m. The Tigers advanced with a five-set victory over No. 8 Waukee.
"I think we need to keep up our serve receive," Daugherty said. "We did great today, so hopefully that can lead into Thursday."