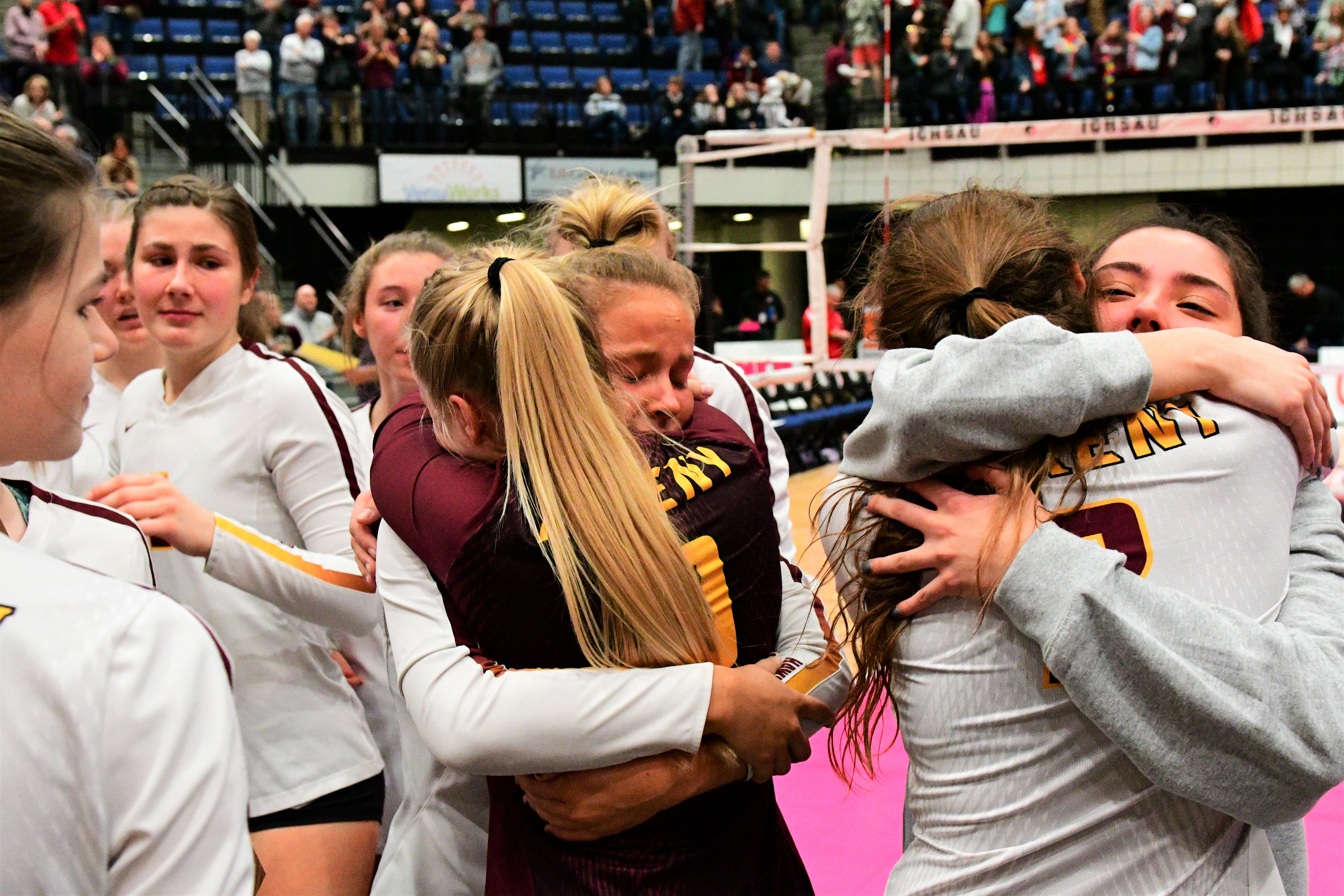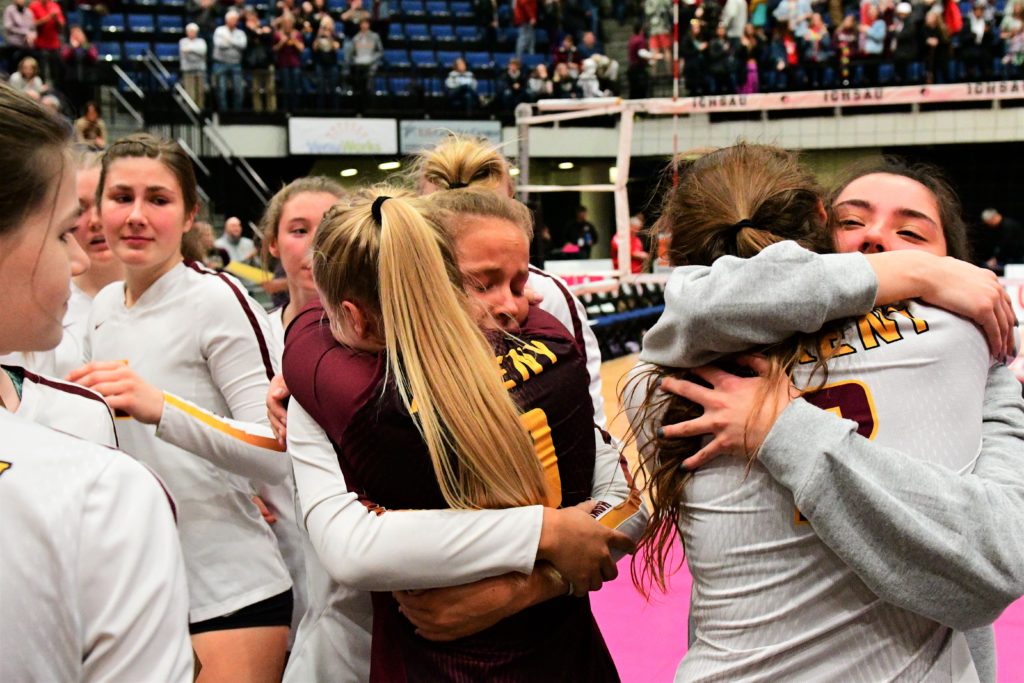 The Ankeny volleyball players accomplished something on Thursday that very few teams have been able to do.
The fourth-ranked Hawkettes put a legitimate scare into No. 1 Cedar Falls.
Ankeny won the opening set and then jumped out to a 6-2 lead in the second set before the Tigers regrouped at the U.S. Cellular Center in Cedar Rapids. Cedar Falls rallied for a 21-25, 25-18, 25-16, 25-15 victory in the semifinals of the Class 5A state tournament.
"I thought we had a great season. We did pretty well," said Ankeny defensive specialist Mallory Luther. "We didn't get the outcome we wanted, but we made it to the state semifinals. We're proud of ourselves."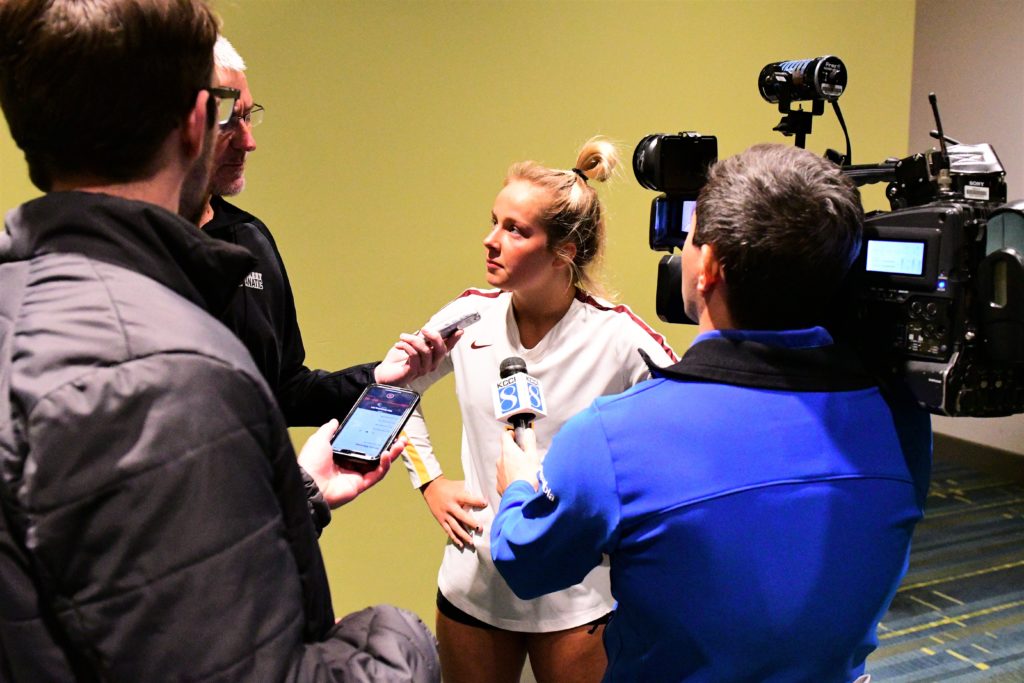 Cedar Falls (43-1) advanced to the Class 5A final for the fourth straight year. The Tigers, who won a state title in 2017, will play No. 3 Valley (42-4) for the crown on Friday morning.
The loss snapped Ankeny's 17-match winning streak. The Hawkettes finished with a 37-6 record under coach Dave Whims, who again took over the program this season after a four-year hiatus.
"Those eight seniors were just awesome kids," Whims said. "I'm glad I got the opportunity to step back into the program and work with these kids. They gave me everything they had, and we had a great time."
Ankeny got off to a great start in Thursday's match. There were eight ties in the first set before the Hawkettes took the lead for good, 19-15, with a 6-0 run.
Isabelle Vacek later had three kills to help close out the set. The senior started the match on the bench as Whims tried to defend Cedar Falls standout Akacia Brown with his tallest player in setter Phyona Schrader.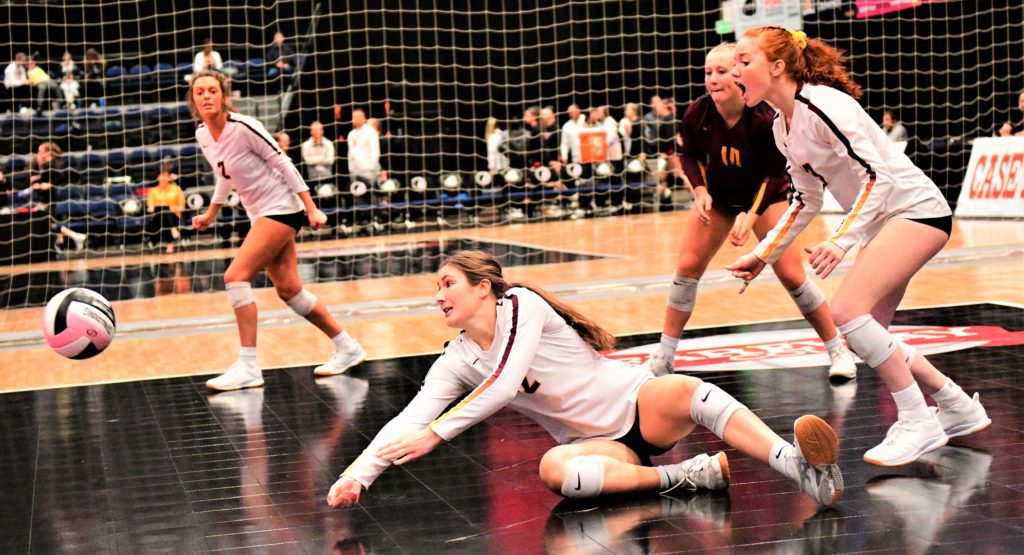 "We just rotated three rotations back, and it worked for us," Whims said. "But then (Cedar Falls) made some adjustments."
Ankeny had another 6-0 run, including a kill by Vacek and an ace by Luther, to take a 6-2 lead in the second set. But the Hawkettes were unable to sustain their momentum.
"We only had one day to prepare for them, and I think that hurt us a little bit," Luther said. "We came in strong and took the first set, and then we kind of just went down (from there). But we're proud of how we did."
Cedar Falls' rally was sparked by 6-foot-6 middle hitter Alayna Yates, who had seven of her 18 kills in the second set. She finished with a .643 hitting percentage, committing no hitting errors in 28 attempts.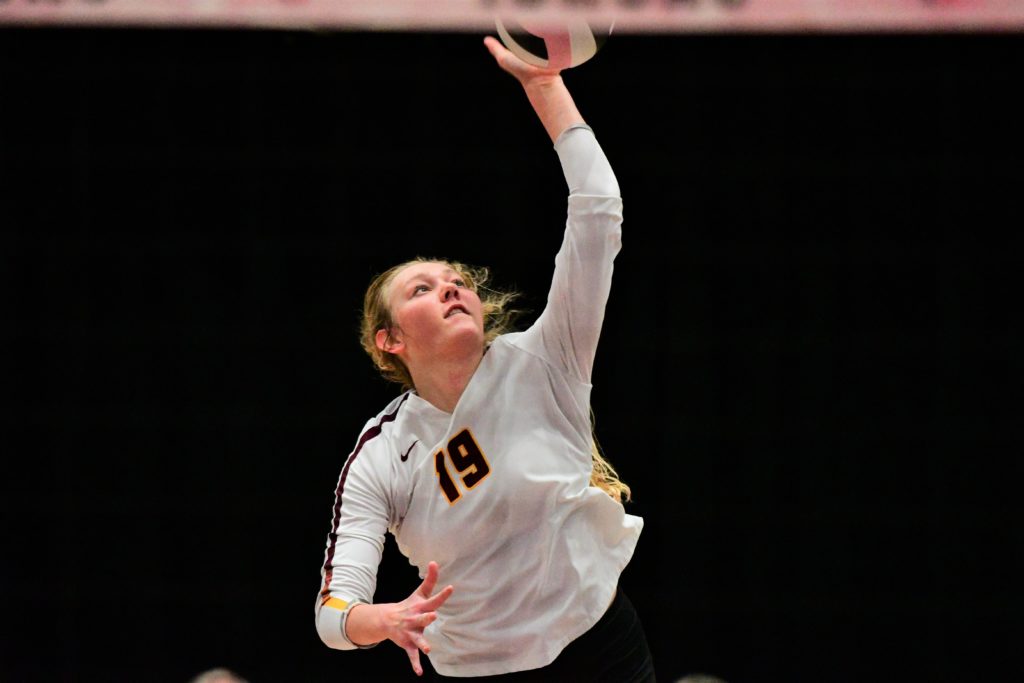 "She's one heck of a player, and she's awesome on and off the court," said Cedar Falls setter Emerson Green, who had 48 assists and four blocks in the win. "She's a big target for me, so I just totally love setting to her because I know I can error a little bit because she's so big and can get there. She's an awesome player, and Dayton's getting a good one."
Cedar Falls hit .500 in the second set, then built a commanding 16-5 lead in the third set as Yates pounded three more kills. She later had another kill to close out the set.
"She got herself a little fired up," Cedar Falls coach Matt Johnson said of Yates. "Ankeny did a good job of getting a double (block) on her in the right spot, so we moved her a little bit and tried to shift things. A lot of that comes down to our setter because Emerson can see what is working and she feels the block really well. Sometimes she sets the ball away from where she should just because she reads the block as well as she can. I thought she did a good job today of trusting her big hitters even when the block was there."
Brown led Cedar Falls with 23 kills and 12 digs. The Tigers outhit Ankeny by a .331 to .229 margin.
Brown smashed a ball in the fourth set that appeared to go out of bounds, but was ruled a kill. It broke a 9-9 tie and sparked a 16-6 run by the Tigers that closed out the match.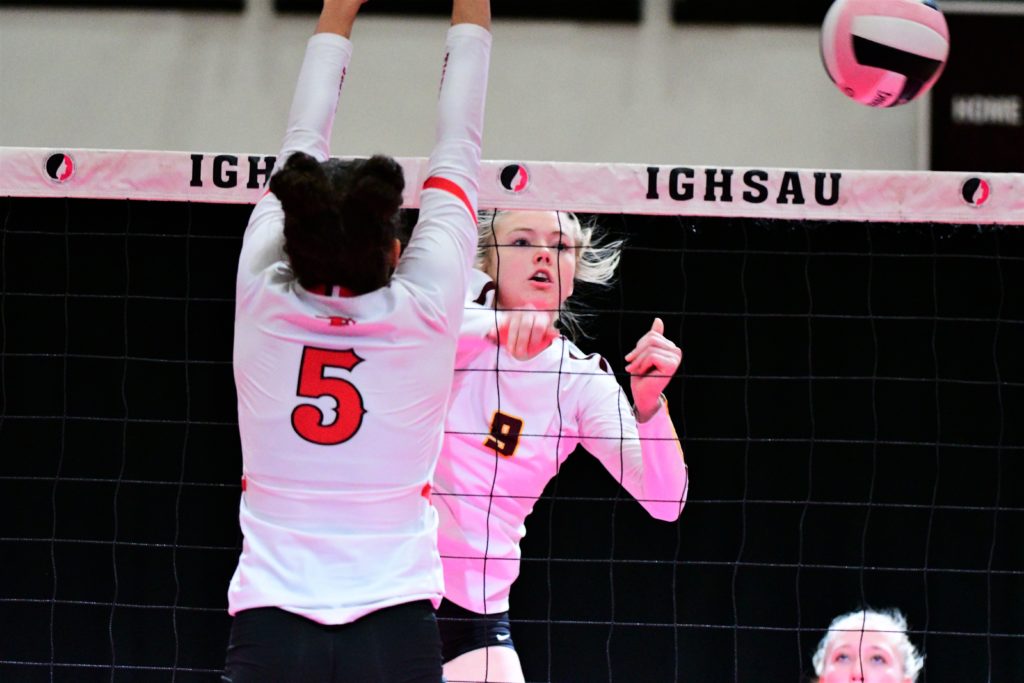 "They were just too powerful," Whims said. "Brown is very good, and the girl in the middle just killed us. We were there to block, but she could reach higher than we could and she's able to cut the ball in any direction."
Jada Golden-Smith added 10 kills for Cedar Falls, which also got two aces apiece from five different players.
"We knew they were going to come out a strong team, and they did," Green said of the Hawkettes. "Our coach told us it's not just going to be one little thing…we have to connect all the pieces. After the first set, we huddled up and we talked about how we could fix our errors and connect this puzzle. We started clicking a little better in serve receive, and working off free balls and everything coming together. We just started to show it."
Ankeny's McKenna Scheib had eight kills and two aces in the loss. Schrader also had two aces while dishing out 30 assists.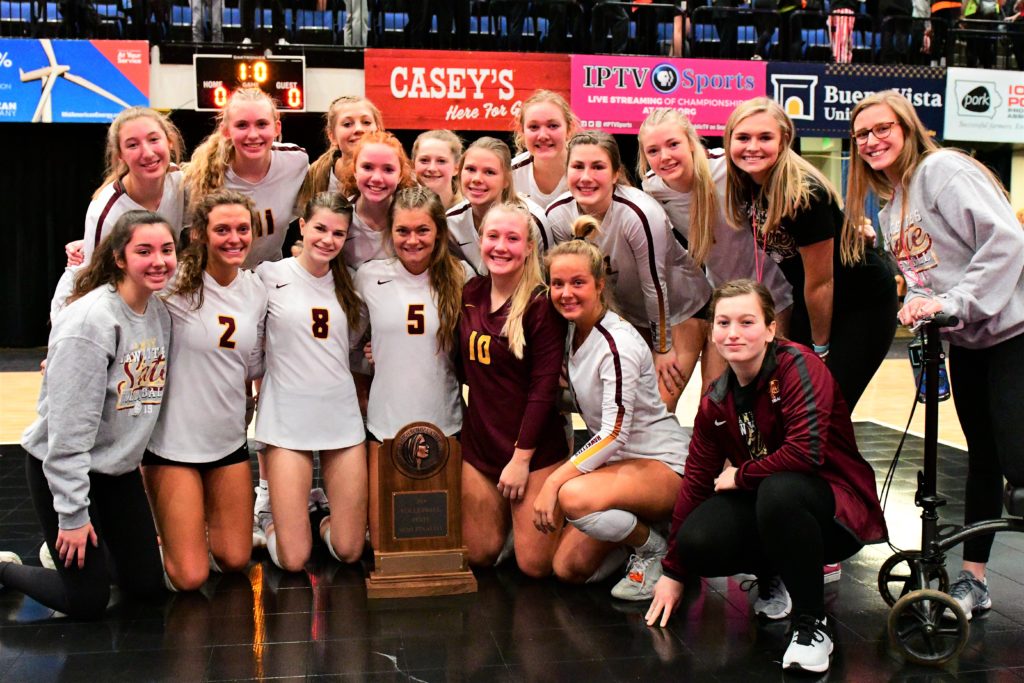 "I've been concerned for two days," Johnson said of facing the Hawkettes. "We didn't play very well Tuesday, but also knowing the caliber of the team we were playing and the diversity they have. Obviously, their setter makes that offense run, but every rotation they've got two or three really good options. It was a challenge to prepare for.
"You kind of have to feel out a match like that. It took us awhile to figure things out, especially with them moving their middles around," he added.
Macy Wiederin had seven kills for Ankeny, while Vacek added six. Malea Daugherty, Reilly Johnson and Ava Reynolds each had five.
Daugherty, Kaci Behrens and Lauren Willets each contributed eight digs.
"In the first game we did what we wanted to do and got them out of system, but then the next two or three sets they served a lot tougher and we got out of system," Whims said. "And when we got out of system, we didn't have many options."