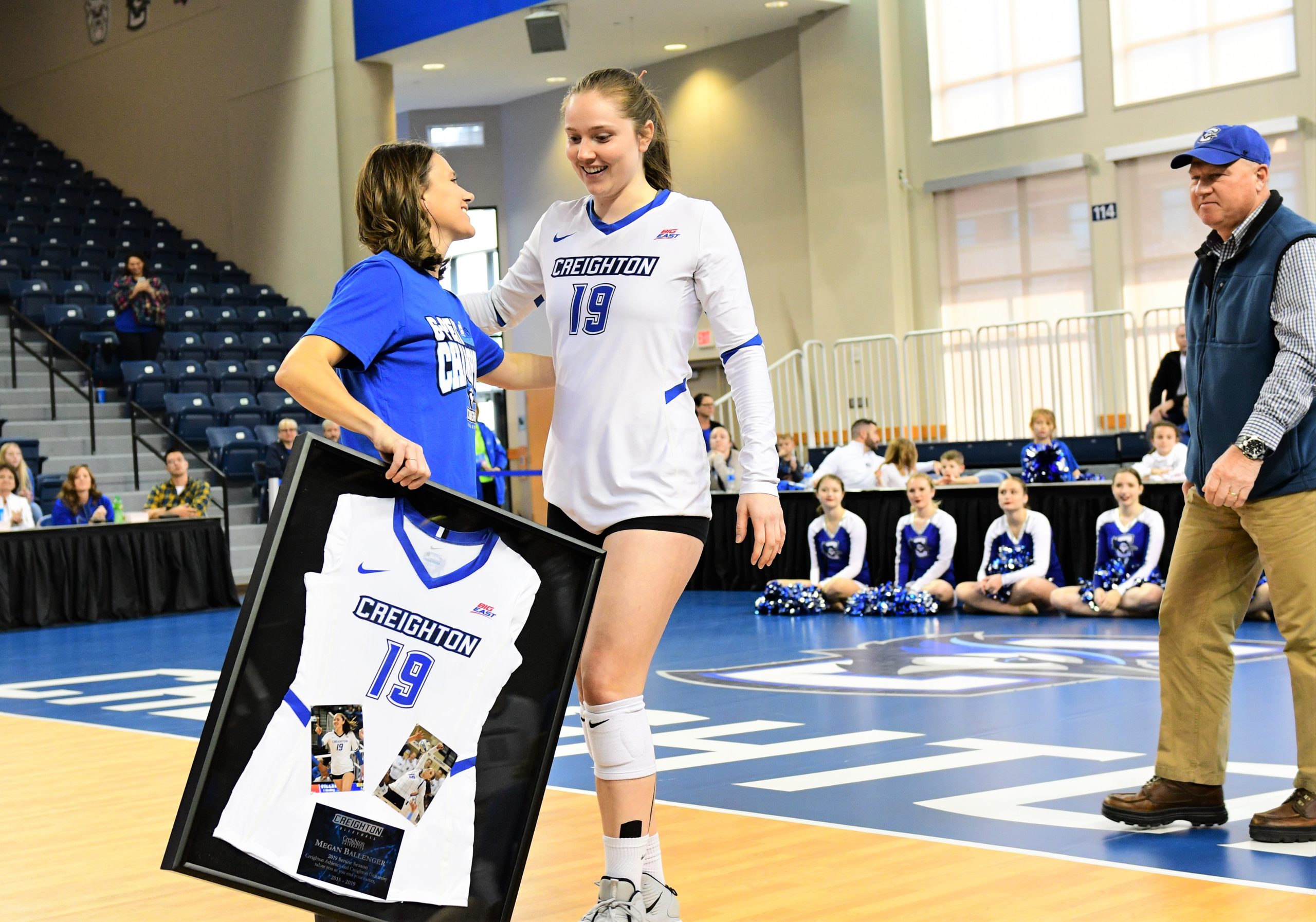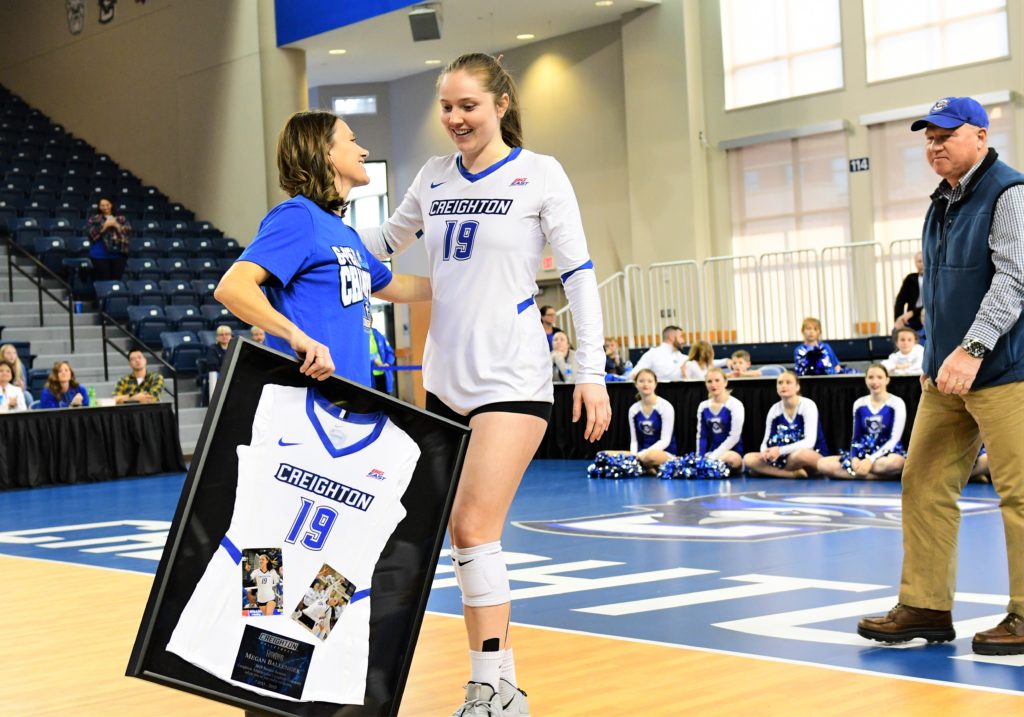 As she walked across the court at D.J. Sokol Arena, possibly for the last time in front of the Creighton volleyball fans, senior middle hitter Megan Ballenger tried to soak it all in.
The former Ankeny star was honored as part of the Bluejays' Senior Day following Sunday's four-set victory over DePaul that clinched Creighton's unprecedented sixth consecutive BIG EAST regular-season title.
"It was kind of bittersweet," said Ballenger. "It was definitely good to get two wins this weekend though, and capping it off with another BIG EAST championship. It was great to have family and friends in town and have a chance to kind of celebrate my career. It's been fun, and hopefully we'll have a few more games to play this season."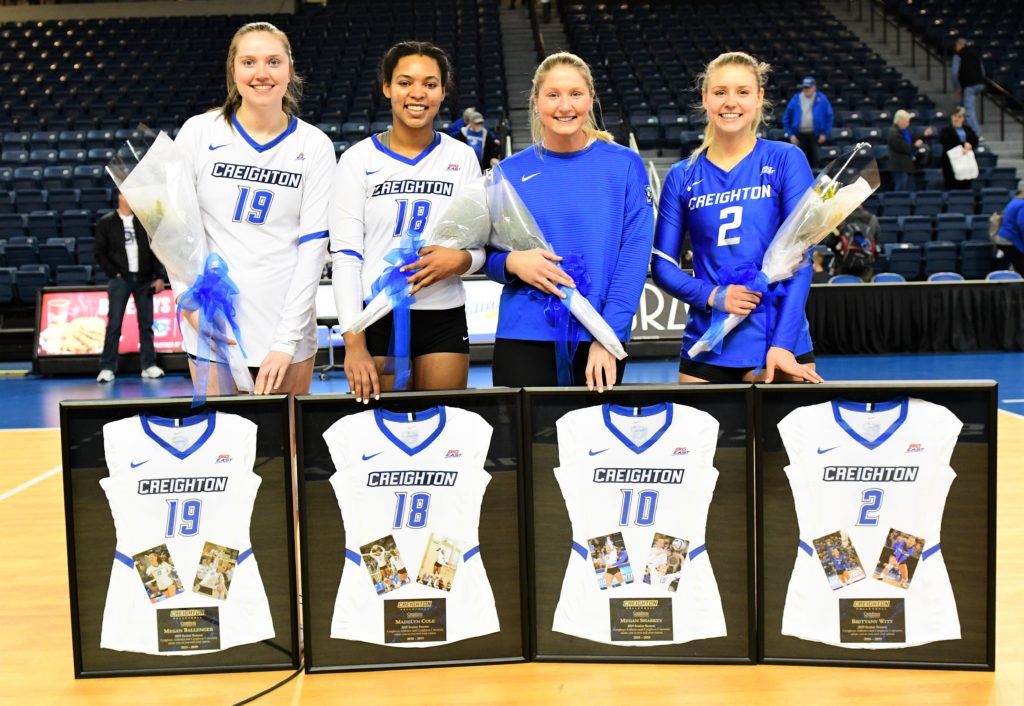 Ballenger had nine kills and four block assists as 12th-ranked Creighton improved to 24-4 on the season with a 25-19, 25-21, 25-27, 25-21 victory over the Blue Demons. After the match, she was recognized along with fellow seniors Madelyn Cole, Megan Sharkey and Brittany Witt.
Ballenger received a hug from coach Kirsten Bernthal Booth, then posed for photos with her family and friends as well as the other seniors.
"It's kind of crazy how time goes," Ballenger said. "You never think you're going to get to Senior Day, and then you do and you're like, 'Wow, it went by faster than I expected.' I think I'm ready (for the end of my career). I've gotten everything I could out of my experience. I'll feel good about what I've done here."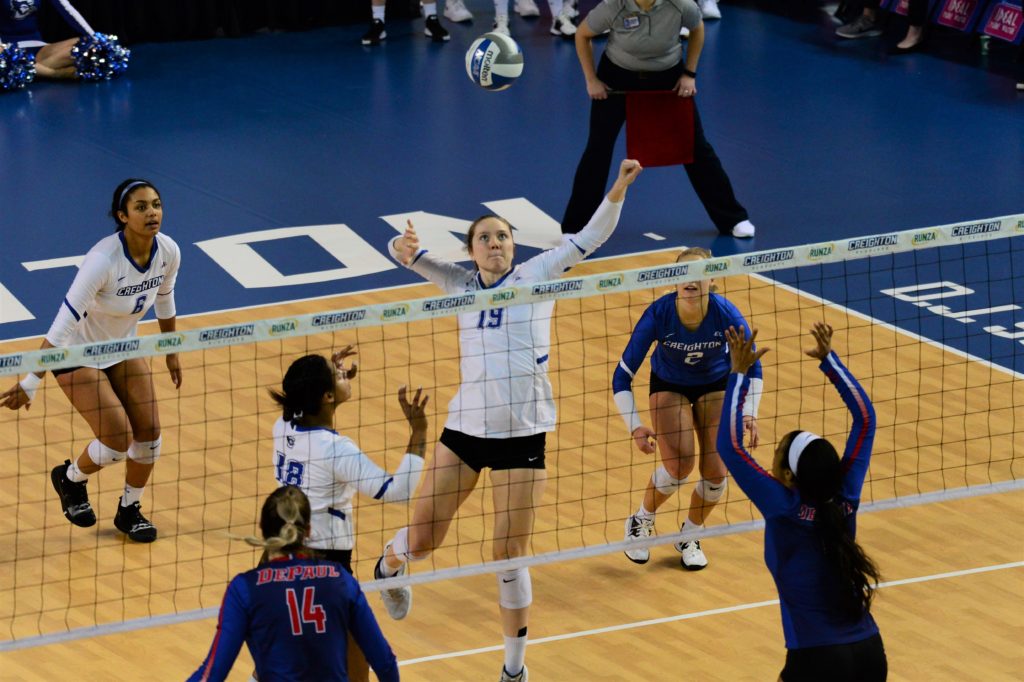 The win over DePaul followed Creighton's four-set victory over No. 9 Marquette on Friday at Omaha that broke a tie atop the conference standings. Ballenger had seven kills and four block assists in the win over the Golden Eagles.
"That was exciting to beat Marquette in front of a sold-out arena," Ballenger said. "Our RPI is up quite a bit, so our chances of hosting (the first two rounds in the NCAA Tournament) is definitely increased from what it was. I think only good things will come from that (win), and hopefully we'll get another shot at them this weekend."
The Bluejays, who rose to 10th in the latest American Volleyball Coaches Association poll, will enter the BIG EAST Championship as the No. 1 seed. They will play St. John's in Friday's semifinals at Milwaukee, with the winner to face Marquette or Villanova for the crown.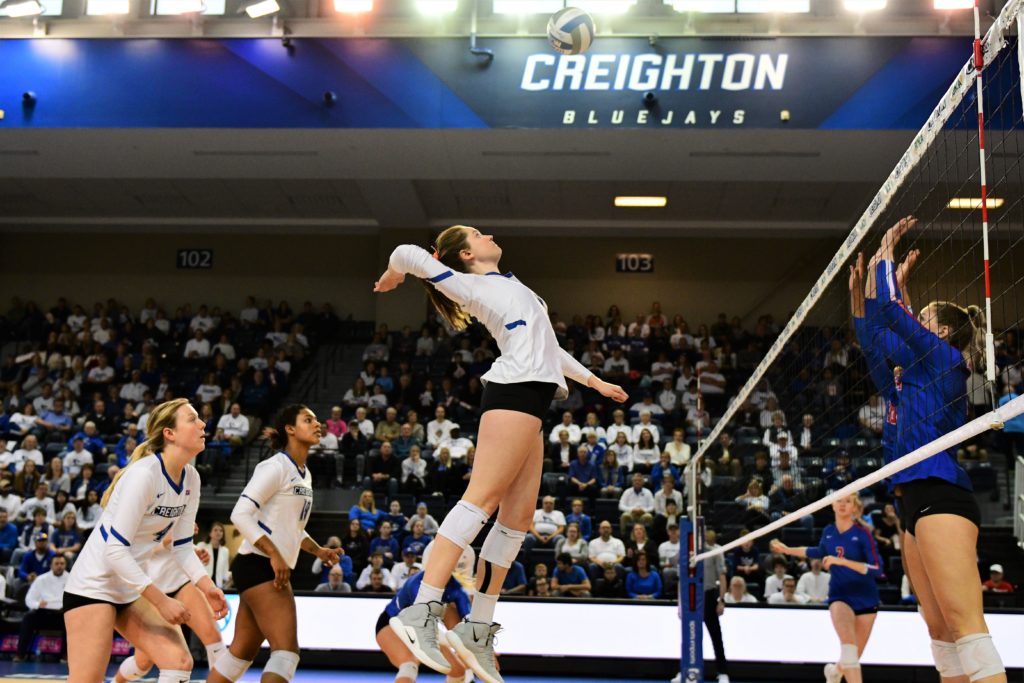 "It's going to be a dogfight for sure," Ballenger said. "The BIG EAST is a great 'win or go home' situation that gives you a feel of the NCAA Tournament. I think it'll be beneficial to help prepare us for the next weekend, and hopefully we can build some more momentum."
Creighton has won 19 of its last 20 matches. No. 1 Baylor, No. 6 Nebraska, No. 9 Washington and unranked Villanova are the only teams to beat the Bluejays thus far.
This week marks the 52nd consecutive week that Creighton has been ranked, the nation's 10th-longest active streak. The Bluejays have remained a national power this season even after suffering heavy graduation losses a year ago, including the departure of all-American Jaali Winters, the former Ankeny Centennial star who is now playing professionally in France.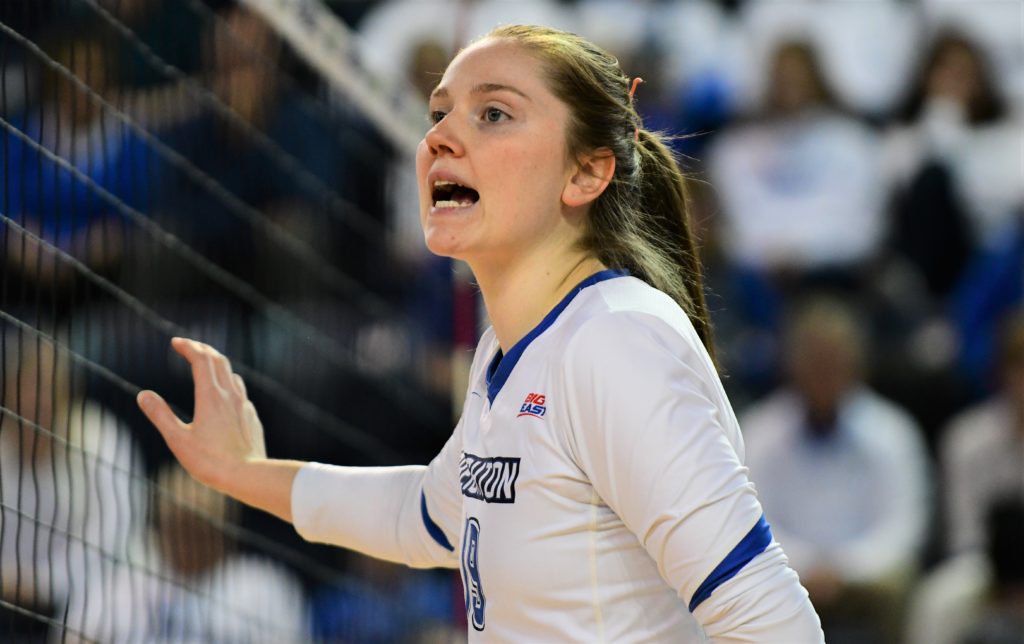 "That's the standard that we want to hold," Ballenger said. "We want to be better than the year before. There were a lot of unknowns, but everyone took that as a challenge and really performed and got themselves ready for the season. It's nice to see all the hard work paying off."
Ballenger said the chemistry on this year's team has been the key to the Bluejays' success. "Mama Meg" has been a mentor for the squad's underclassmen.
"We just came together really well, maybe better than some other teams I've played on," Ballenger said. "I'm the oldest one on the team, and we've got some young players playing key roles. They kind of keep the seniors young, and we have a lot of fun together. It's been one of my favorite years playing here."
Creighton has earned a No. 9 national seed in each of the last two NCAA Tournaments. The Bluejays would likely wrap up a similar seed with two more wins this weekend, which would allow them to open the NCAA Tournament at home.
"Sometimes I think being on the road is a little easier," Ballenger said. "There is less noise around and you can just play, but being in front of your home crowd is something you can't trade. I think we're good either way. Whatever happens happens, and we'll go from there."