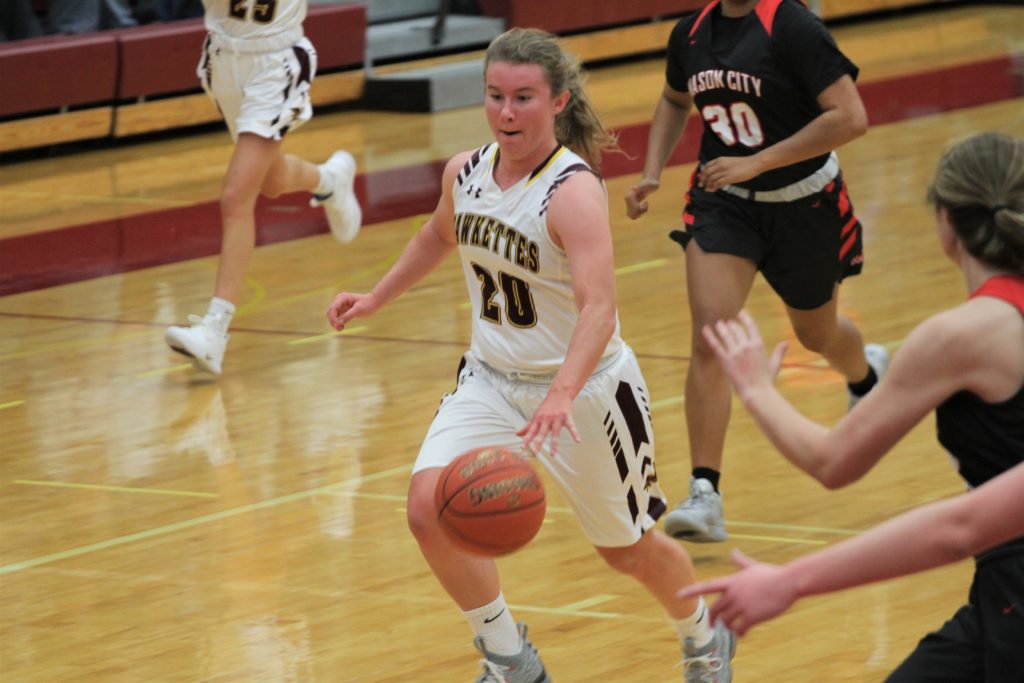 Senior guard Ashley Harrington is one of the top returning players for the Ankeny girls' basketball team. A year ago, she averaged 7.6 points per game and made 20 3-point goals while helping the Hawkettes to a 9-12 record.
Harrington scored 15 points, 13 of them in the first half, as Ankeny opened the season on Nov. 22 with an 83-61 loss to visiting Mason City. She made 7-of-8 free throws and also had a pair of assists.
Here is some inside info on Harrington:
How is the season going thus far?
So far it is going pretty well. It is hard to tell after only playing one game, but through practice and such the team is looking really solid which should lead to a good season.
Your team could not overcome a 39-point performance by Anna Deets in the loss to Mason City. Did you have any idea how good she was?
Going into the game we knew that Deets was going to be good based off of her stats from last year, but I don't think anyone could predict the 39-point performance from her. It was hard to guard her due to her versatility on the floor so props to her. We just have to put work in on defense to shut down top-notch players like her because there are plenty in the coming future that will be like her.
I know you guarded her part of the game. How were you trying to defend her?
When I guarded her I was mostly trying to guard the 3-pointer. She made six of them in the first half so I tried to get up in her face a little to block the 3 in the second half. She's just such a talented player that once you take something away she can turn to another thing and for her case that was driving the ball. So I did what I could, but she was just overall hard to guard.
Goals for the season?
Our goal for this season is to make it to the Well. I think that with our group of girls we can do some really good things. We just have to play as a team and use our advantages to the best of our abilities because we don't have very much height within our team.
Obviously, your team is depleted right now. Abby Johnson is out until mid-to-late January with a knee injury, and Holly Trimble's status is up in the air due to a rare bone growth disorder in her foot. Do you feel like you need to become more of a leader for the team, especially under these circumstances?
I definitely feel the need to become a leader on the team. I know that I am more of a leader by example, but I need to push myself to be a little more vocal and really encourage our team so that come time when the tournament is here, our team is a whole and we are all close to each other and playing for each other. If that doesn't happen, then we have a bunch of individuals on the team which won't lead us anywhere.
Do you think this team has a lot of potential if it can get everyone healthy?
I do believe our team has a lot of potential both with and without Abby and Holly. We have a really good group of girls this year and with a lot of hard work we could stun a lot of people.
This is your last basketball season, because you've signed a letter of intent to play soccer next year at Northern Iowa. What will you miss the most about playing basketball?
I think what I will miss most about basketball is playing on the court with the girls. There is nothing quite like the feeling of stepping on the court of a jam-packed gym with your teammates by your side. It is quite the thrill.
You helped lead the Ankeny girls' soccer team to a state title last spring. What is your favorite memory from the state tournament?
My favorite moment would obviously be winning (the title), but more than the celebration from winning was the assist I gave Saige (Adamson to beat Waukee in the championship game). We were all tired with a minute to go and after I passed it to Saige and she scored, I wanted to jump with joy but also cry at the same time. Our team worked so hard and after that goal we all knew that the game was over and we won. It was the greatest feeling in the world.
I know the Panthers will have to replace seven seniors from a team that posted a 5-11 record this season. Do you think you'll have a chance to play right away next year? Which position do you think you'll be playing?
Next year I am hoping to play. I know I will have to work hard for my position as a forward, but the team is lacking someone who will score the ball on a consistent basis. I am hoping that I can step in and change that.