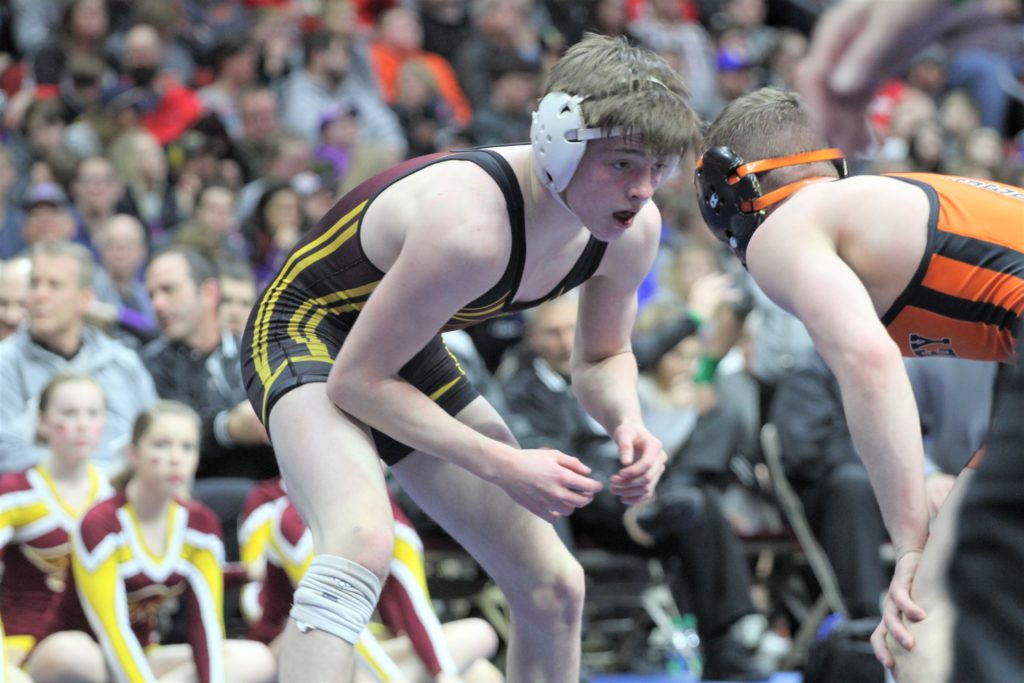 With a pair of returning state champions, the Ankeny wrestling team won't be able to sneak up on any of its opponents this season.
But Ankeny coach Jack Wignall is completely fine with that.
The Hawks are eighth in the Class 3A preseason rankings by The Predicament after placing 11th in last year's state tournament with 59.5 points, their highest finish ever under Wignall.
"Our goal is to get better every day. That can't always be measured in wins and losses," said Wignall. "We know we have some hammers, and they work like they have never won a match. We need every wrestler to work like that and push themselves. If we can stick to the standards our coaches and leaders have set, and improve each day, we feel we can contend for trophies in the state duals as well as the traditional tournament."
Ankeny posted an 11-7 dual-meet record a year ago, including a 3-2 mark in the CIML Central Conference. The Hawks placed fifth in the CIML Invitational.
Junior Caleb Rathjen and sophomore Trever Anderson are both back after winning state titles last February. Anderson is ranked first at 113 pounds, while Rathjen is No. 1 at 138.
Rathjen, an Iowa recruit, went 41-1 at 126 a year ago. He claimed his first state championship with a 3-2 decision over Nick Oldham of Valley, who is now wrestling at Ohio State.
Anderson, meanwhile, compiled a 42-1 record at 106. He won a state title in dominant fashion with a 7-0 victory over Jace Rhodes of Mason City–an opponent he could meet again on Thursday when the Hawks open their season with a dual meet at No. 9 Mason City.
"I am extremely excited to have two defending state champions in our lineup," Wignall said. "However, we also have a returning state placewinner (Sam Kallem) back this season, and Cael Cox was a 30-match winner the last two years. Throughout our early-season practices, it is incredible to see how hard Trever, Caleb and Sam work. There is a clear reason those guys are in the position they are in. Their work ethic is second to none, and their leadership is immeasurable.
"I do expect those guys to dominate!" Wignall added.
Kallem went 34-13 and placed seventh at 132 as a junior. The Grand View recruit is ranked fourth at 145.
Cox, a junior, is also listed in the preseason rankings. He is eighth at 120.
"The practices are going great," Wignall said. "We do morning practices at the beginning of the season, and we have had great attendance. And, the kids are really pushing themselves."
Other returning varsity regulars are seniors Daniel Rose, Caleb Goldner and Colby Bales. Junior Cole Pomrenke is also back.
"We also have several underclassmen that I believe will make an impact," Wignall said.
Wignall has promoted seven freshmen to the varsity room, including Jace Anderson, Trever's brother. Some of them could contribute immediately.
"This freshman class is special," Wignall said.
After Thursday's meet, Ankeny will head to Independence to compete in the Cliff Keen Invitational on Friday and Saturday. The tournament annually features many of the state's top wrestlers.
It will be a huge early test for the Hawks, even for Rathjen and Trever Anderson.
"To reach our potential, we as coaches need to ensure we keep the bar high in terms of how the kids train, day in and day out," Wignall said. "The high school season is such a grind. It is short–with a lot packed in it. Once we start competing, we basically go every Thursday and Saturday until winter break, then do the same thing after break. We wrestle the CIML tournament, then districts, then it's state tournament time. To keep 50 kids moving in the same direction can be challenging, so it's our job to make sure that happens.
"It is also very important to make sure our leaders lead and hold their teammates accountable in regards to the daily work, with the emphasis of getting better each day. Where we start–especially for some of the new kids that will be in the lineup–won't be nearly as important as how they end the season. It will come with failure and frustration, but that is what will help them grow and get better every day," he added.