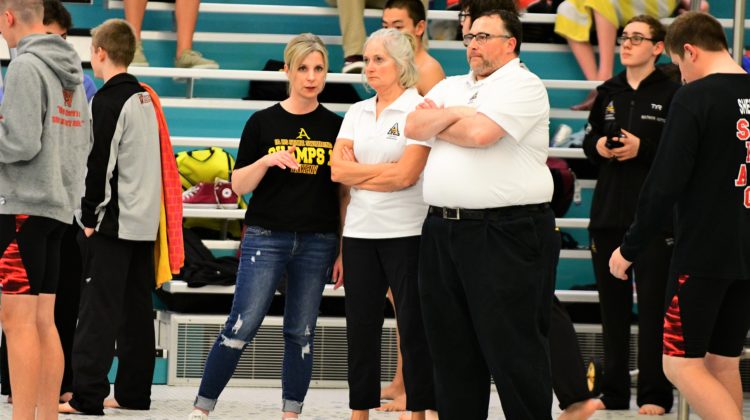 The Ankeny boys' swimming team almost won the Mike Wittmer Invitational on Saturday at Ames, even without two of their best swimmers.
The Hawks placed second in the six-team field with 263.5 points. They finished just 7.5 points behind Ames, which won the meet for the fourth straight year.
Ankeny competed without standout distance swimmers Trent Frandson and Brek Stukerjurgen. The duo is swimming at a national meet in Seattle and won't return home until next weekend.
"We swam with a lot of intensity today," said Ankeny coach Justin Crouch. "It was good to see a lot of season-best times. I felt like there were some areas for improvement as well so it is exciting we are swimming at a fairly high level at this point of the season."
Ankeny's Lance Swanepoel won two individual events. He took the 200 freestyle in 1:47.78 and the 100 butterfly in 52.22.
His brother, Jae, won the 100 freestyle in 49.14. Jae also placed third in the 50 freestyle in 22.45.
The Swanepoels teamed up with Weston Miner and Karsten Peters to win an exciting race in the 200 freestyle relay. The Hawks posted a time of 1:30.66 to edge Ames by .02 seconds.
Ankeny later closed out the meet by winning the 400 freestyle relay. The Swanepoels combined with Peters and Max Martin to post a time of 3:19.60.
Martin earlier placed second in the 50 freestyle in 22.34. He finished third in the 100 freestyle in 50.38.
Miner added a third-place finish in the butterfly, posting a time of 53.56. Nathan Neppl took third in the 100 breaststroke in 1:06.05.
"I was looking back at times from last year and most of the returners from last year's team are swimming faster times than they swam late last season," Crouch said. "It shows the hard work they have put in throughout the year and into the early part of this season."
Ames won three events, including the 200 medley relay, en route to the team title. The Little Cyclones also got victories from Drew Hawthorne in the 50 freestyle and Hanyu Ning in the 100 backstroke.
"Just a really good team effort. A lot of new faces in this meet," Little Cyclones coach Dan Flannery told the Ames Tribune. "All of them were a little nervous at first, but all the guys stepped up and took care of business with their events and dropped times off their season times."
Ankeny will host Dowling Catholic in its CIML Central Conference opener on Thursday at Trail Point Aquatics Center, beginning at 5:30 p.m. The two squads met earlier this season in the Sprint Classic at Trail Point, where the Hawks edged Dowling by 11.5 points to capture the team crown.