The Ankeny wrestling team proved over the weekend that it belongs on the mat with some of the best squads in the Midwest.
The eighth-ranked Hawks tied with Linn-Mar (Marion) for fifth place among 33 teams in the Cliff Keen Invitational on Friday and Saturday at Independence. Both squads finished with 228 points.
Simley (Minn.) won the prestigious tournament with 424 points. Lisbon–the No. 2 team in Class 1A–took second with 377 points, followed by No. 3 Fort Dodge with 316.5.
"I was really happy with our team as a whole," said Ankeny coach Jack Wignall. "We finished in the top five, and that was our goal. It was a great weekend."
Ankeny got second-place finishes from top-ranked Trever Anderson at 113 pounds and fourth-ranked Sam Kallem at 145. Top-ranked Caleb Rathjen placed third at 138 after dropping a 6-5 decision in the semifinals to Lisbon star Cael Happel, who was named the tournament's outstanding wrestler.
Rathjen, whose only loss last season came to Happel at the same tournament, could not recover after giving up two early takedowns.
"This one was a little different than our previous matches," said Rathjen. "I had usually gone out there and got on him right away and got out to a lead, but I came out a little flat-footed and didn't get my motion going, and made a couple mistakes that he capitalized on so he got out to an early lead. Once I got my motion going in the third period, I was moving him around well and I could tell I was really wearing on him and got a late takedown, but I was a little too late to give myself a chance to win."
Rathjen said he learned a few things from the loss.
"I just have to go out there and trust in my training and my motion and movement on my feet," he said. "Once I'm able to put a full 6 minutes together like I was in the last minute of that match, I'm going to put myself in a lot better position to start winning and dominating matches like those."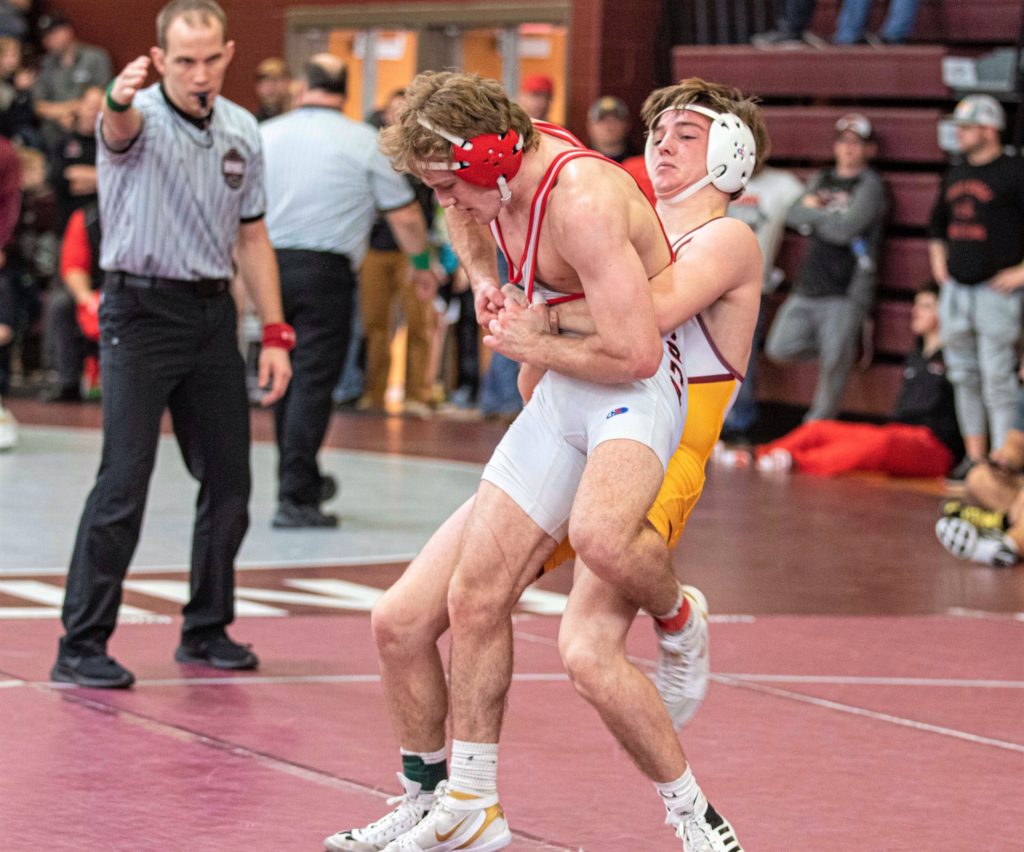 In another matchup between defending state champions, Anderson dropped an 8-6 overtime decision to Carter Fousek of Crestwood in the championship match. Fousek, who is ranked No. 1 in Class 2A, had lost to Anderson at last year's Battle of Waterloo.
Anderson got the first two takedowns before Fousek battled back to force overtime.
"In the past (Fousek) was usually the only offensive one. I never got to a lot of my attacks," Anderson said. "This time we were both offensive, and I felt it was a match that the crowd was most intrigued to watch. I got to my attacks more in this one match than I did in all the past times we have wrestled. I opened up a lot more, I got to my attacks well and defended his well, too. I felt I may have had (takedowns) multiple times with one of them being waved off and one of them just not being called. But there's nothing I can do about that because it's out of my control.
"I felt I stuck to my style. I just happened to end up on the losing end, and sometimes in this sport the points don't fall your way and that was the case this time. There's nothing I can really do besides learn, move on, and continue to improve. Carter is a great kid and a great wrestler obviously, and I've wrestled him for a long time and it gets more and more exciting every time we wrestle again. I'm excited for the battles in the future," he added.
Kallem also advanced to the finals before dropping a 7-2 decision to Hayden Taylor of Solon, who is ranked No. 1 at 138 in Class 2A. The Ankeny senior earned his 100th career victory during the tournament.
"I do think my performance boosted my confidence, but I also learned a lot about what I need to work on and get better at," Kallem said.
Wignall said he thinks Kallem wrestled tentatively in the finals–unlike his previous matches.
"Sam had a great tournament, and he came out and really dominated most of his matches," Wignall said. "But I think in the finals he just didn't have the same confidence. He still needs to work on his mental preparation, especially against those elite wrestlers."
Eighth-ranked Cael Cox pinned JT O'Rourke of Smithville in 1 minute 45 seconds to earn a seventh-place finish at 120. Jace Anderson posted a 7-2 decision over Carson Klostermann of Alburnett in the ninth-place match at 126.
The Hawks also got 12th-place finishes from Carter Davis at 106 and Daniel Rose at 160.
"I think some of our guys like Daniel and Riley Faeth (who placed 15th at 132) have really turned the corner," Wignall said. "They went to one of the toughest tournaments in the state and really learned a lot about themselves."