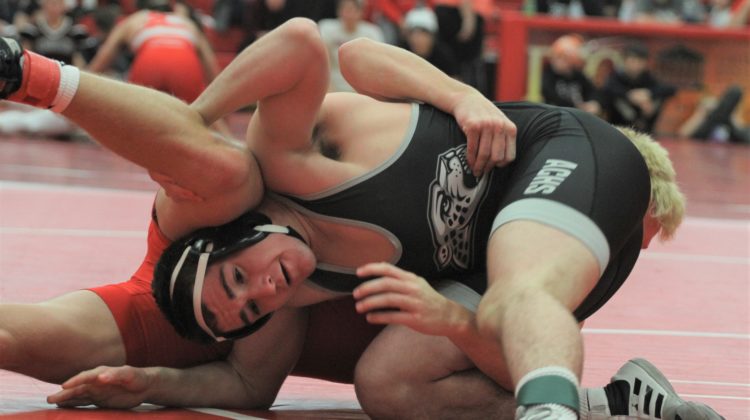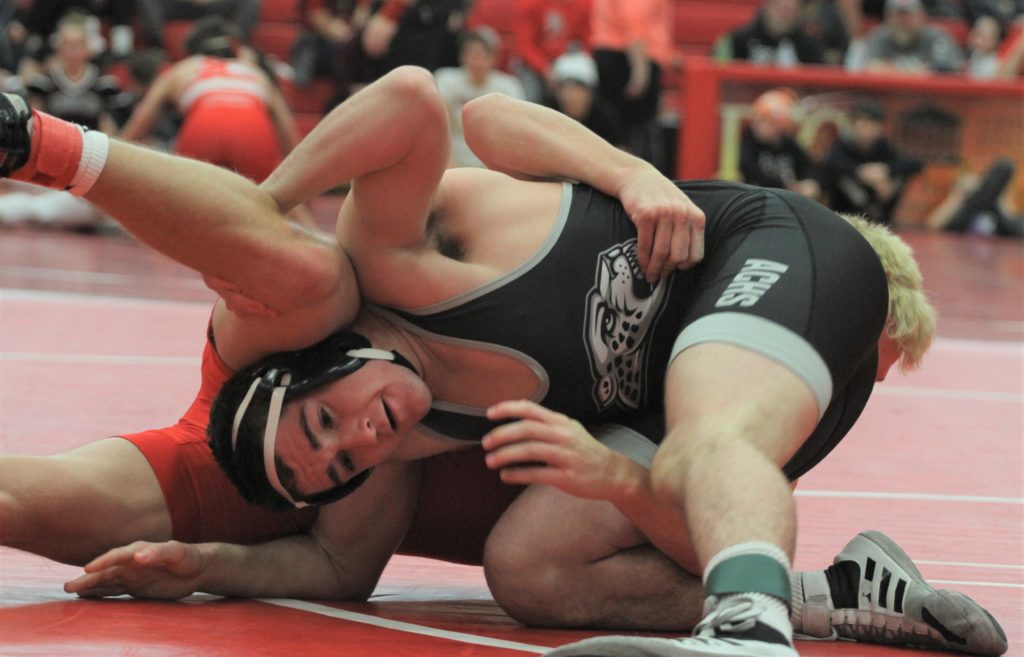 The Ankeny Centennial wrestlers crowned five individual champions and rolled to the Dallas Center-Grimes Invitational title on Saturday for the third straight year.
The fifth-ranked Jaguars racked up 256 points, 58 more than runner-up Dallas Center-Grimes. Creston/Orient Macksburg took third in the 14-team field with 158 points.
"We had a couple of hiccups, but otherwise I thought we wrestled pretty well," said Centennial coach Jay Groth. "We got after it and pushed the pace and wrestled aggressive. It was a good opening tournament for us."
The Jaguars got individual titles from Kyle Janssen at 113 pounds, eighth-ranked Jackson Helmkamp at 126, second-ranked Ben Monroe at 152, top-ranked Logan Neils at 170 and Jackie Wells at 220.
Monroe cruised to a 17-5 major decision over Grant Nason of West Marshall to win his fourth consecutive Dallas Center-Grimes crown. He won at 138 last year, at 126 as a sophomore and at 106 as a freshman.
Neils defended his 170-pound title by pinning Garrett Morris of Dallas Center-Grimes in 2 minutes 59 seconds.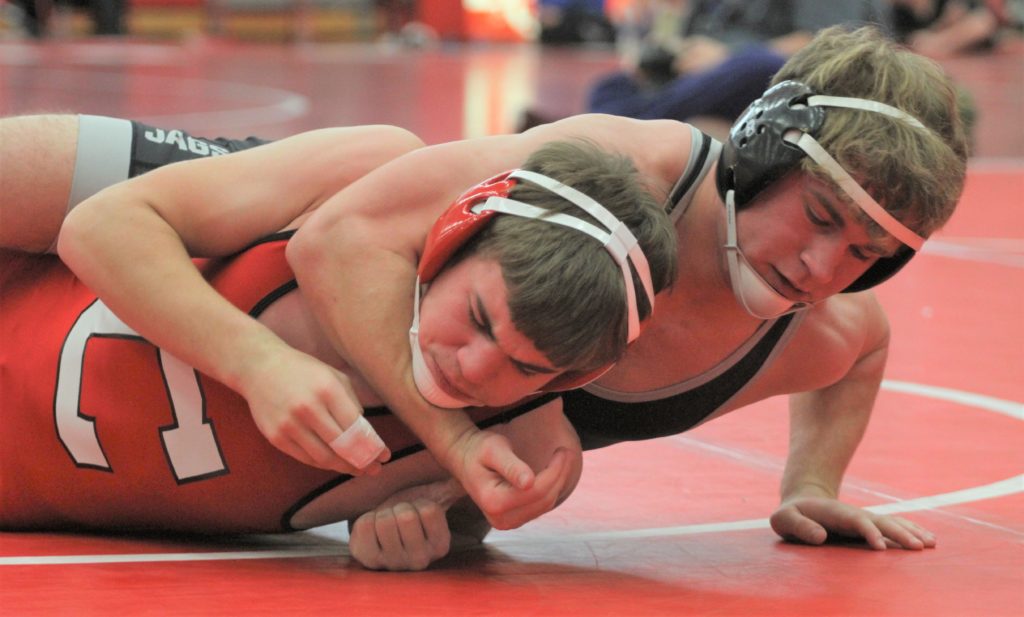 "It was good to see those two guys leading by example and scoring a lot of points for us," Groth said.
Janssen and Wells also recorded falls in the finals. Janssen pinned Logan Gard of Dallas Center-Grimes in 1:06, while Wells pinned Taylor Schwartzman of Des Moines East in 1:50.
"Janssen and Wells were both seeded last at their weights, but they pinned their way to first place," Groth said. "That was really nice to see."
Helmkamp was also victorious in the finals. He posted a 7-1 decision over Jaxson Kuhlmann of Carroll.
Ninth-ranked Carter Cahill was Centennial's other finalist at 160. He dropped a 7-1 decision to third-ranked Luke Fistler of Dallas Center-Grimes.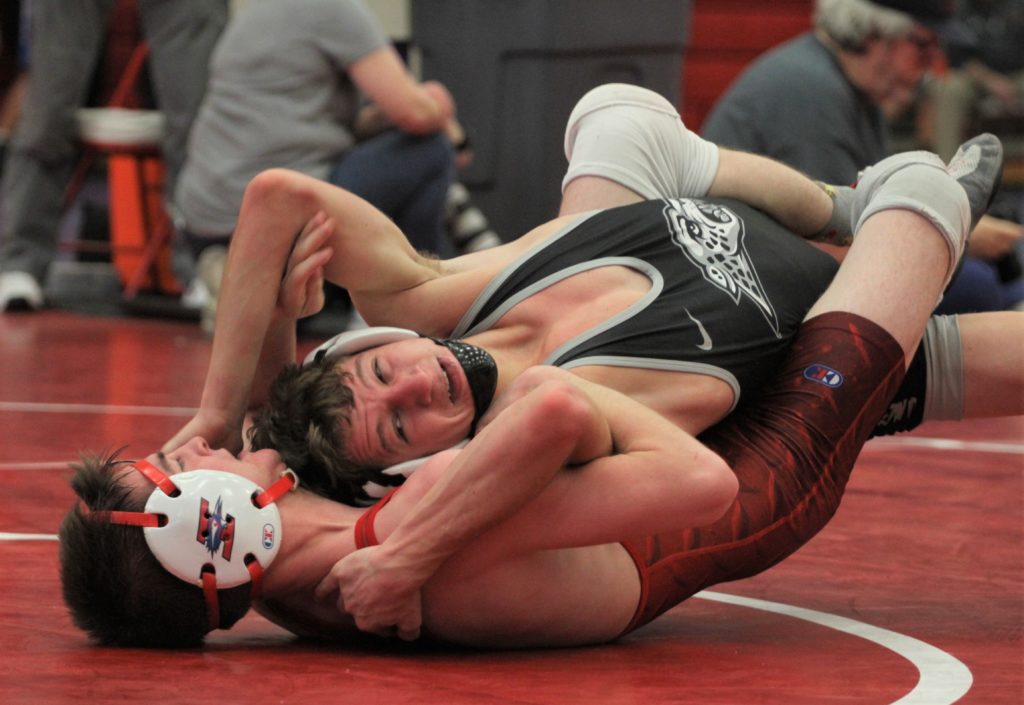 Placing third for the Jaguars were fifth-ranked Jackson Bresson at 120, sixth-ranked Ethan Frazier at 195 and heavyweight Noah Parlee. Frazier lost in the semifinals when he had control of I-35's Brock Thompson but wound up on his back and pinned himself.
"He most definitely pinned himself," Groth said. "But it was a good time to learn that lesson. It's way better to do it at the DC-G tournament in December instead of at the district tournament in February."
Saturday's tournament concluded a great weekend for the Jaguars, who also had 18 individual champions at the Des Moines North JV tournament. On Friday, Sophie Lee became the first Centennial girl to win a match when she placed first at the BGM tournament.
"That was awesome. I think she pinned all three girls in the first period," Groth said. "She's pretty excited about the sport and having a good time. We're excited about the girls' program."
The Jaguars will host Ottumwa on Tuesday.