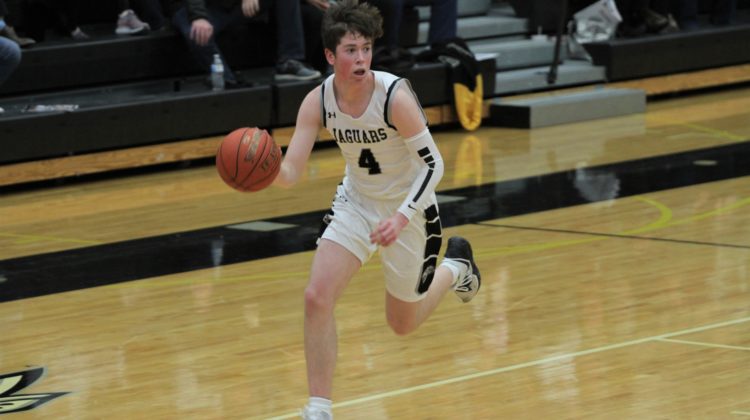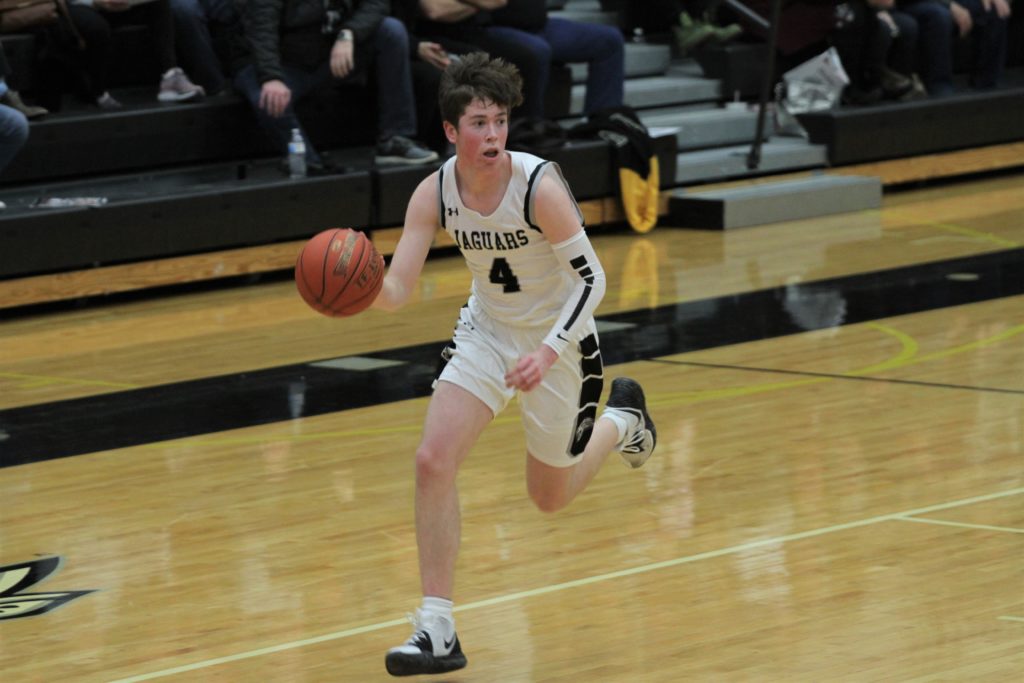 On a night when the Ankeny Centennial boys' basketball team struggled to find the basket, the Jaguars overcame their offensive woes with another strong defensive performance.
Centennial allowed a season-low for points as the Jaguars rolled to a 56-35 victory over visiting Des Moines Roosevelt on Tuesday. The Roughriders' leading scorer, Romanique Hellems, was held to just six points–nine below his average.
"We focused on Hellems in our game plan and played good team defense tonight," said Centennial senior Cody McCullough, who had 13 rebounds in the win. "If we keep playing defense the way we are, we can stay in any game that we are in."
Jaron Crews scored 14 points while Micah Johnson and McCullough each added 11 as the Jaguars improved to 5-0 on the season, matching the second-best start in school history. Roosevelt dropped to 0-5.
The Roughriders jumped out to an early 8-2 lead before Centennial rallied.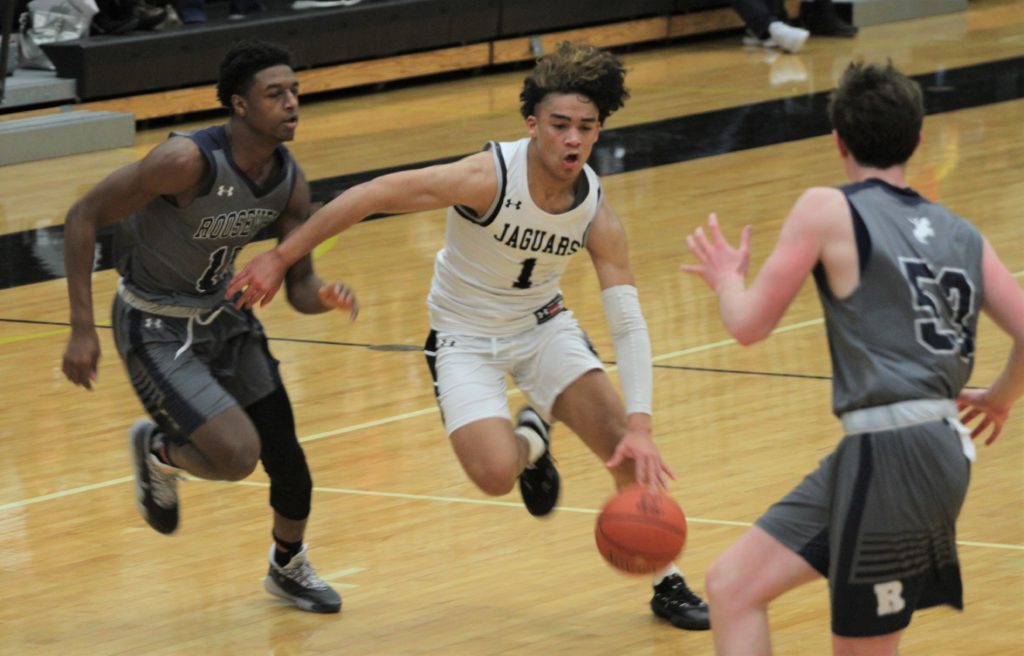 "We'll take the defensive performance even though we got off to a slow start," said Centennial coach Bob Fontana. "We did a good job on Hellems. Their point guard hit four 3-pointers, but overall I thought our team defense was pretty good."
McCullough scored the final six points of the first quarter to give Centennial a 13-9 lead. After Roosevelt tied the game at 13-13, the Jaguars closed out the first half with a 14-2 run.
Colin McAleer made a 3-pointer to put Centennial ahead for good with 4 minutes 30 seconds left in the second quarter. Crews followed with five consecutive points and then passed to Preston Kelling for a 3-pointer before Johnson converted a traditional 3-point play.
Still, Fontana was not happy with his team's offensive execution.
"Our focus was not there offensively the first half," Fontana said. "I was concerned because this was a trap game (between Johnston and Ames), and Roosevelt might be the most athletic team we've played thus far. I thought they did a good job of being aggressive, and we came out a little slow obviously. But we weathered that storm, and we did some good things after the first quarter."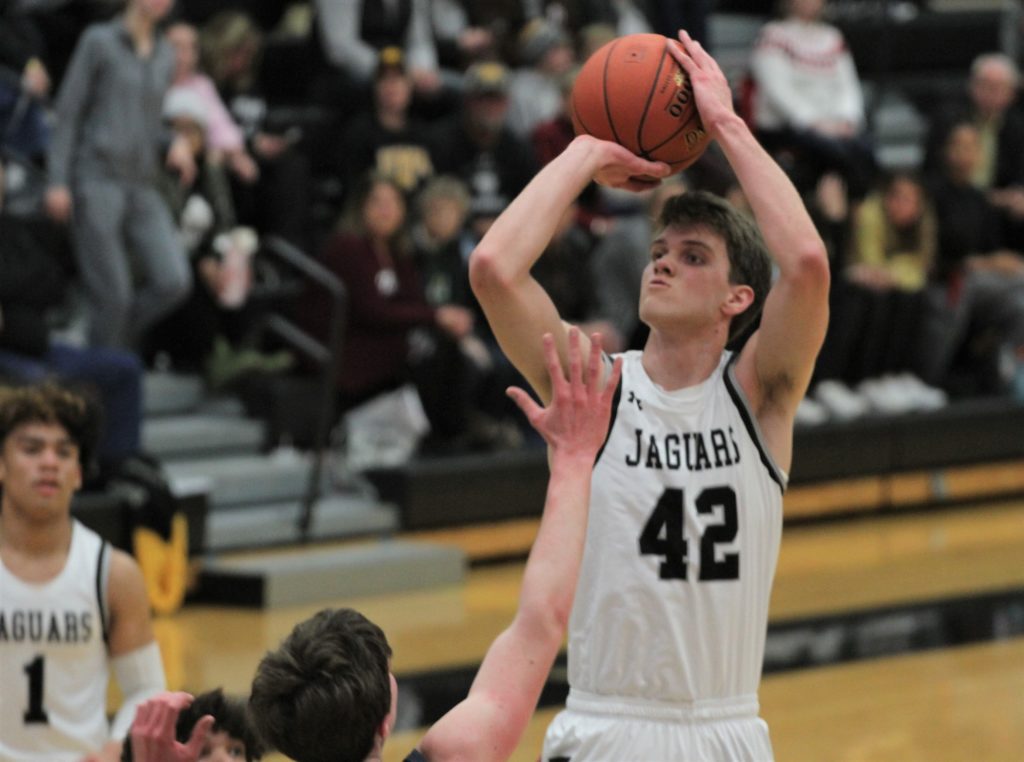 The Jaguars later broke the game open with a 12-0 run to end the third quarter. Five different players scored in the run as the lead grew to 45-21.
Reserve guard D'Eric Smith provided the biggest highlight of the night. The junior entered the game in the final seconds of the third quarter, then immediately stole the ball in the backcourt, turned and swished a 3-pointer as the buzzer sounded.
"Each day he's taking a step forward," Fontana said of Smith. "He's really good defensively, and we're just trying to work with him and mold him into a point guard type for the future. But he can pressure the basketball and he's quicker than heck, so that was a nice little play that he made."
Centennial will return to CIML Central Conference action on Friday, traveling to Ames to face the Little Cyclones (1-0, 4-2).