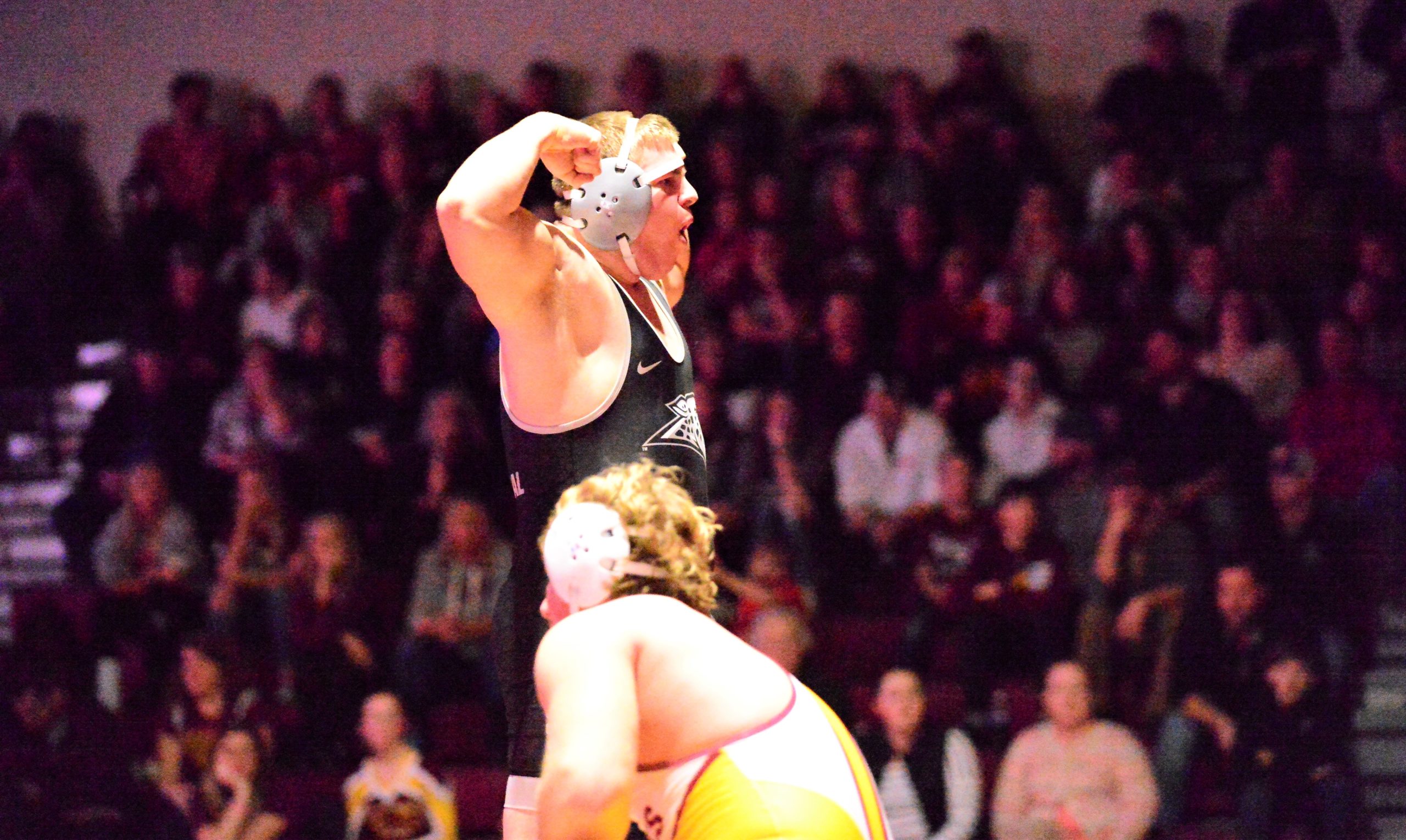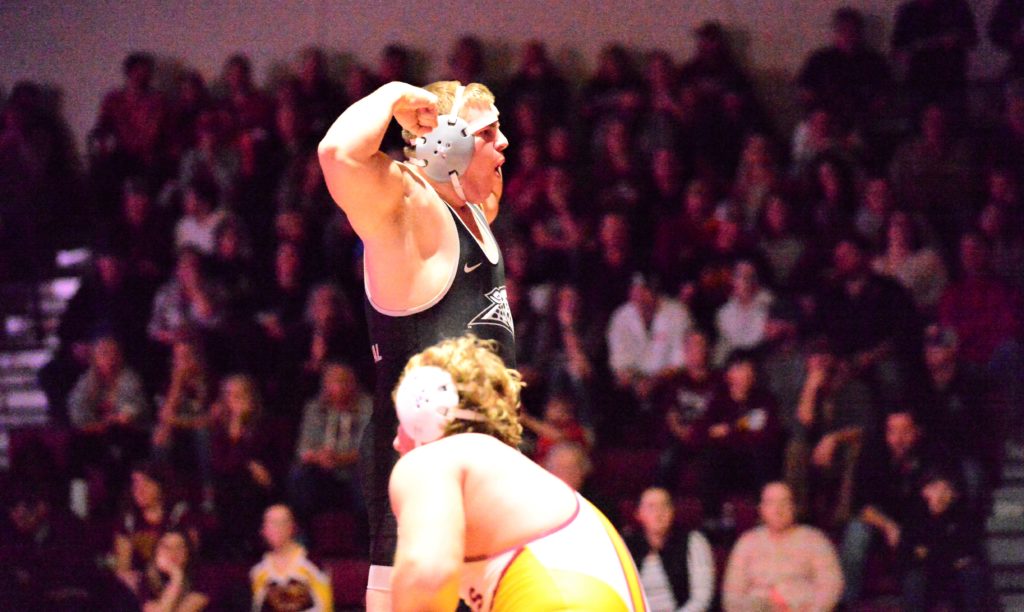 After switching places in the latest Class 3A rankings by The Predicament, eighth-ranked Ankeny Centennial and No. 5 Ankeny may have to revert back to their preseason spots.
The visiting Jaguars won the final three matches to defeat Ankeny, 38-29, in the CIML Central Conference opener for both teams on Thursday. It was Centennial's seventh win in eight all-time meetings against the Hawks.
"It was a great meet," said Centennial coach Jay Groth, whose squad improved to 7-1 overall. "I think both teams wrestled really well and put their heart out into it and got after it. I can't complain–I'm excited about the outcome."
Centennial trailed, 29-23, before second-ranked Ben Monroe won by a technical fall, 28-13, over Kayden Kolthoff at 152 pounds. Monroe racked up 14 takedowns in just 3 minutes 28 seconds to pull the Jaguars within 29-28.
"My team's tough," Monroe said. "We're tough all the way around. As long as we fight, I know that we're going to be a tough team to beat."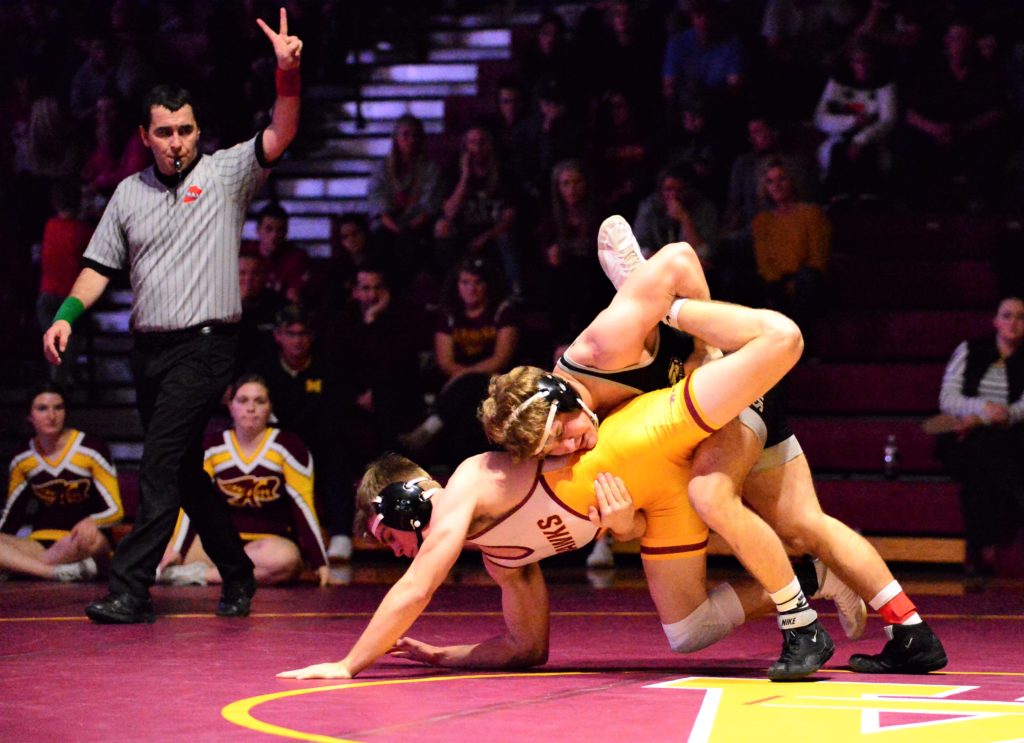 No. 10 Carter Cahill then followed with a 15-4 major decision over Daniel Rose at 160. The win gave Centennial a 32-29 lead.
"I felt good because I know I can count on those (last three) guys," Groth said. "I know that they're going to go out and perform. You've still got a little nervous energy going, but I felt confident when it got to that point. I thought we'd get the job done, and we did it real well."
The meet came to an anticlimactic finish when Centennial's top-ranked Logan Neils won by forfeit at 170. Neils was happy with the victory, but disappointed that he didn't get to compete.
"It was my last chance to wrestle Ankeny, and they didn't send anyone out," Neils said. "But we wrestled really well as a team and picked up a lot of big wins and some bonus points where we needed to."
Centennial opened the meet with four straight wins to build a 20-0 lead. Desmond Vaughan at 182 and No. 6 Ethan Frazier at 195 both recorded major decisions, then Jackie Wells at 220 and heavyweight Noah Parlee followed with back-to-back pins.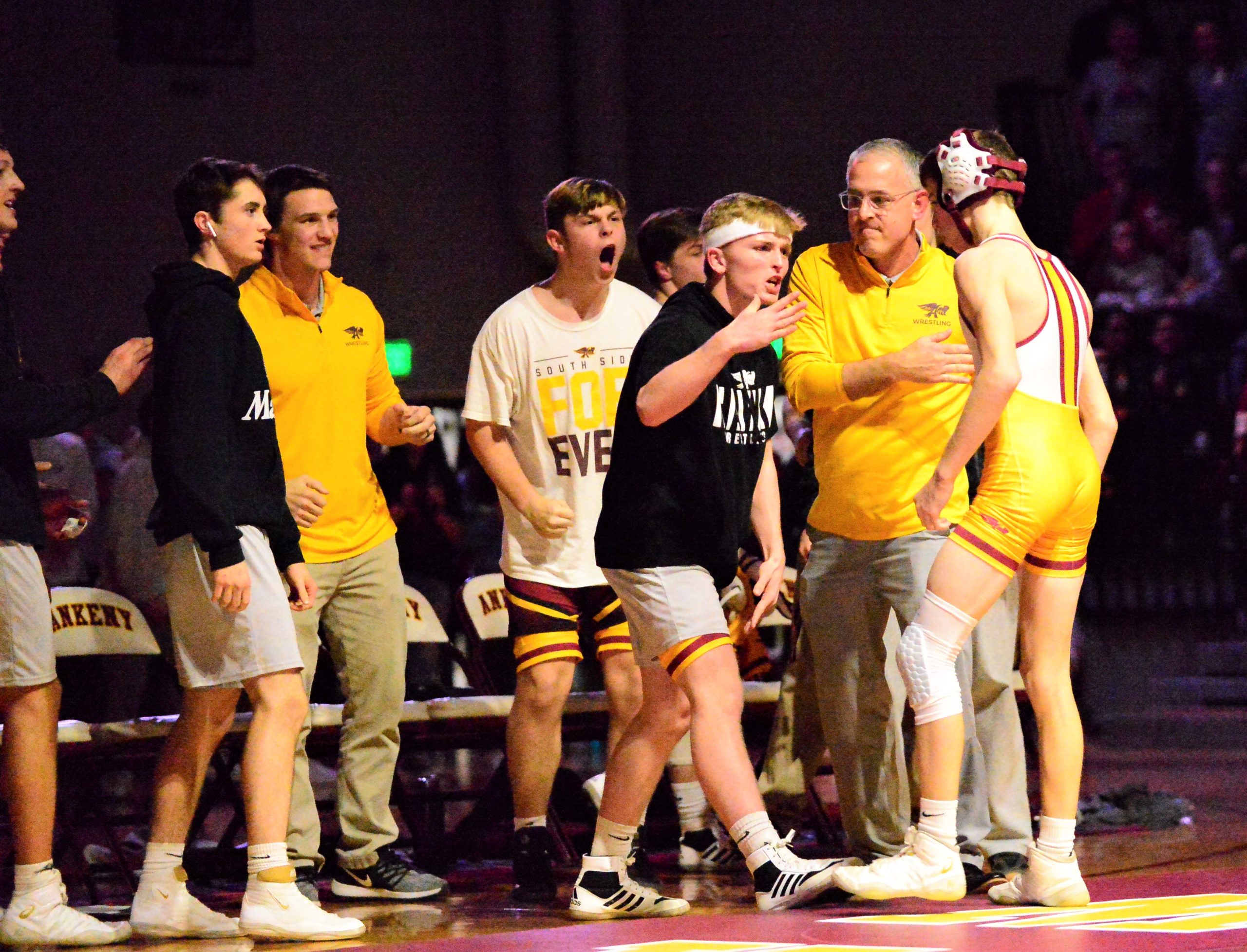 "We did some shifting with our lineup–tried to make some things happen–and we ended up in two of those matches only giving up majors to some pretty good kids," said Ankeny coach Jack Wignall. "It just didn't work out with some of the other stuff we did."
The Hawks (2-2) then won six of the next seven matches, including falls by Carter Davis at 106, No. 1 Trever Anderson at 113 and No. 9 Jace Anderson at 126. No. 5 Cael Cox also won a showdown against No. 6 Jackson Bresson, 8-5, at 120.
After No. 1 Caleb Rathjen won by a technical fall at 138, No. 3 Sam Kallem then posted a 13-3 major decision over Jacob Cuppy at 145 to give Ankeny a 29-23 advantage.
"We were trying to get as many bonus points as we could," Kallem said. "Those are the biggest part of a dual, and we just didn't capitalize in some of those matches where we got pinned."
The wins by Monroe and Cahill put Centennial ahead. The Hawks, who had earlier bumped Cade Bennethum and Cole Pomrenke up to 182 and 195, respectively, then opted not to challenge the unbeaten Neils.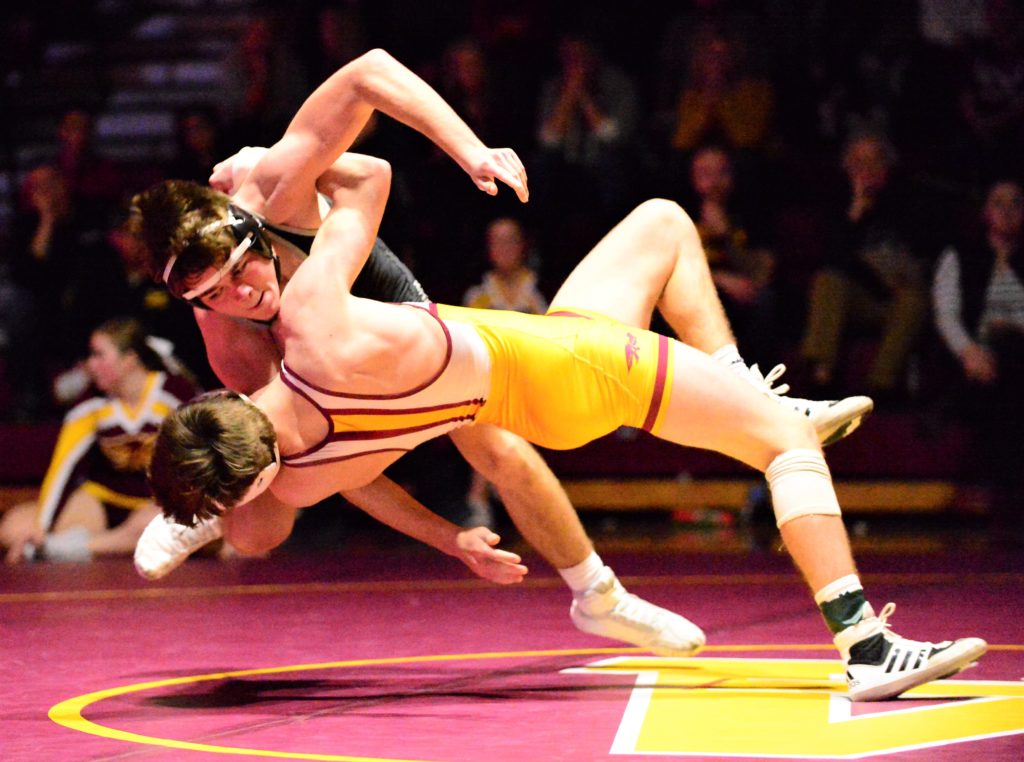 "I thought they'd have somebody to put out there," Groth said. "But Logan's a tough kid and he's pinned every kid he has wrestled so far, and I would expect he would have done the same with an opponent or not."
The meet was as close as Wignall expected it to be.
"It was going to come down to bonus points, and that's exactly what happened," he said.
Monroe and Neils finished their high school careers with a 4-1 dual record against their crosstown rival. But Monroe refused to boast after the meet.
"They're all good people, and I'm not really a big fan of smack talk," he said.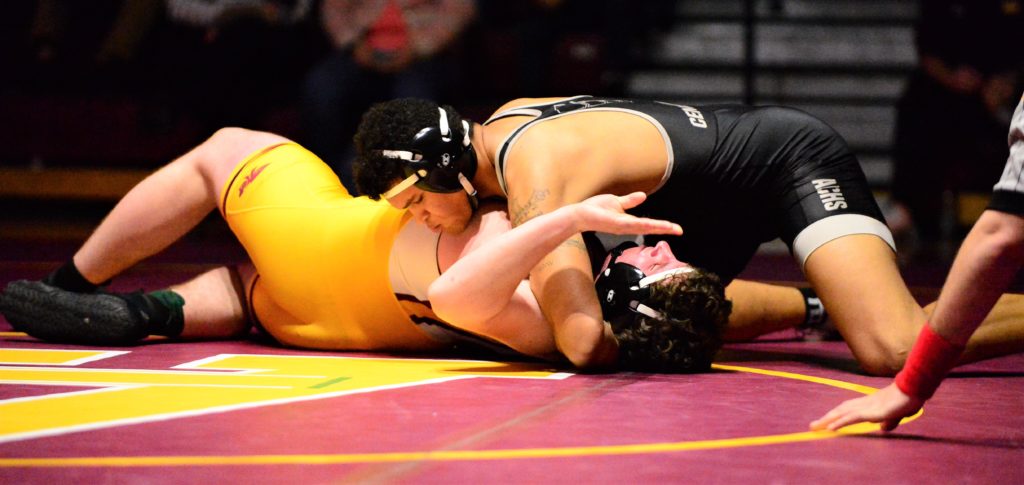 Wignall hoped that his team could learn from the loss. The Hawks were penalized a team point when Trever Anderson was called for an excessive celebration following his pin over Kyle Janssen.
"We just had that conversation as a team. He's a state champ, and he's been there before," Wignall said. "But I didn't scream and yell in the locker room, and I do do that sometimes. I did say, 'Hey, we've got to put this behind us. It's over, and we can't go back and do anything about it.' We've got six matches in two days, and that's what we need to focus on from here on out."
The Hawks will compete in the Battle of Waterloo on Friday and Saturday. They will face Clear Lake in their opening match.
Centennial, meanwhile, will travel to Fort Dodge on Saturday for the Don Miller Invitational.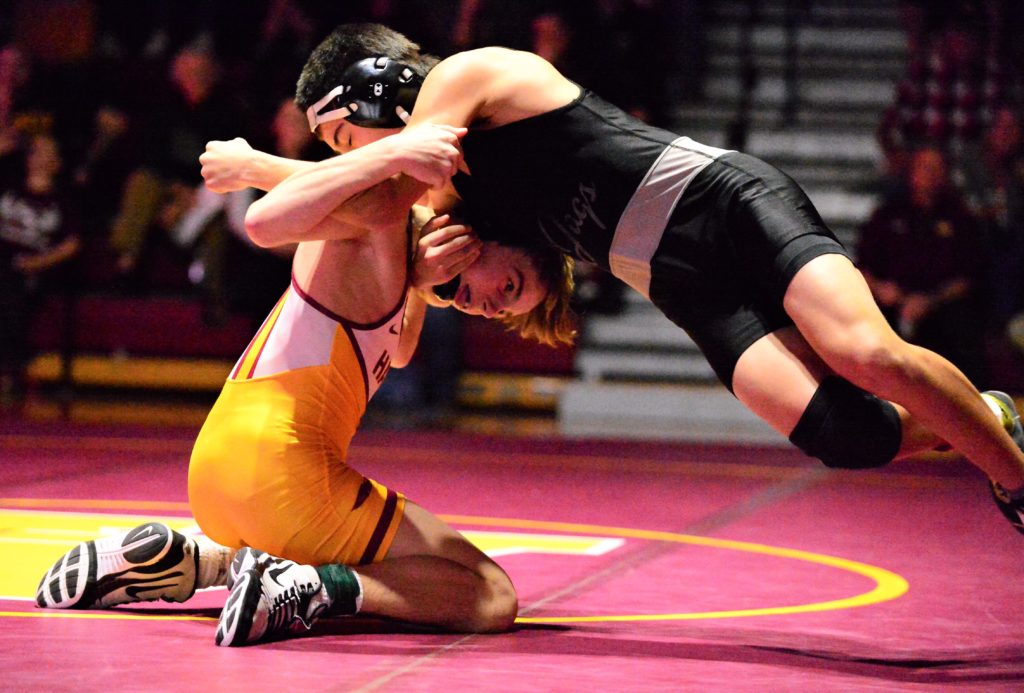 "We're both good teams, and I'm excited to see what we do the rest of the season," Kallem said.
Here are the match-by-match results:
Centennial 38, Ankeny 29
182: Vaughan (AC) beat Bennethum, 14-6; 195: Frazier (AC) beat Pomrenke, 12-1; 220: Wells (AC) pinned Bales, 3:29; 285: Parlee (AC) pinned Crimmins, :34; 106: Davis (A) pinned Wiener, 1:05; 113: T. Anderson (A) pinned Janssen, 1:29; 120: Cox (A) beat Bresson, 8-5; 126: J. Anderson (A) pinned Song, 3:56; 132: Helmkamp (AC) beat Faeth, 6-2; 138: Rathjen (A) won by technical fall over Bennett, 18-3; 145: Kallem (A) beat Cuppy, 13-3; 152: Monroe (AC) won by technical fall over Kolthoff, 28-13; 160: Cahill (AC) beat Rose, 15-4; 170: Neils (AC) won by forfeit.