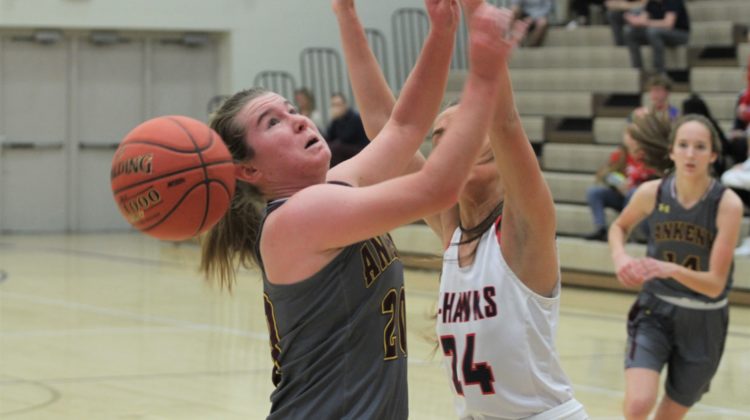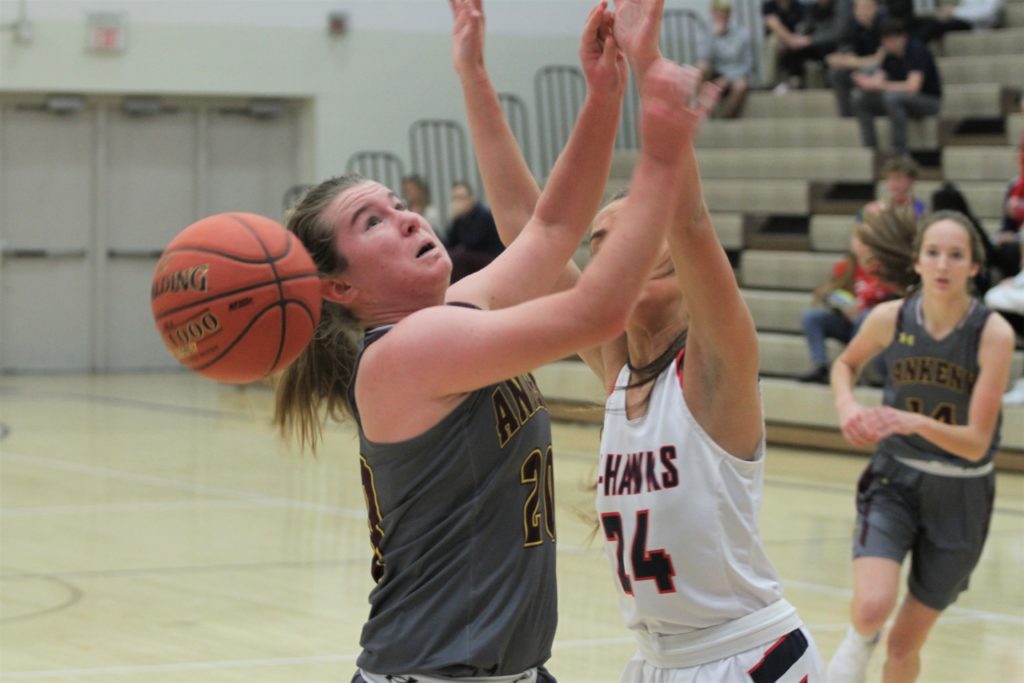 The Ankeny girls' basketball team tried to counter Urbandale's superior size with a zone defense.
The ninth-ranked J-Hawks spoiled the strategy with some deadly outside shooting.
Urbandale made nine 3-point goals and defeated the visiting Hawkettes, 65-50, in a CIML Central Conference game on Friday. Jada Gyamfi and Faith Putz each had a trio of 3-pointers for the J-Hawks, who improved to 1-1 in the league and 7-1 overall.
"That was a fear that they hadn't been shooting the ball well," said Ankeny coach Dru McAnelly, whose squad dropped to 0-2 and 4-4. "You knew that they were probably due for a breakout game, and it happened to be (against) us."
Maya Gyamfi, a Northern Iowa recruit, led Urbandale with 21 points. Putz had 13, and Jada Gyamfi added 12.
At 6-foot-2 and 6-1, respectively, Jada and Maya Gyamfi towered over the smaller Hawkettes–whose only 6-footer (Isabelle Vacek) comes off the bench.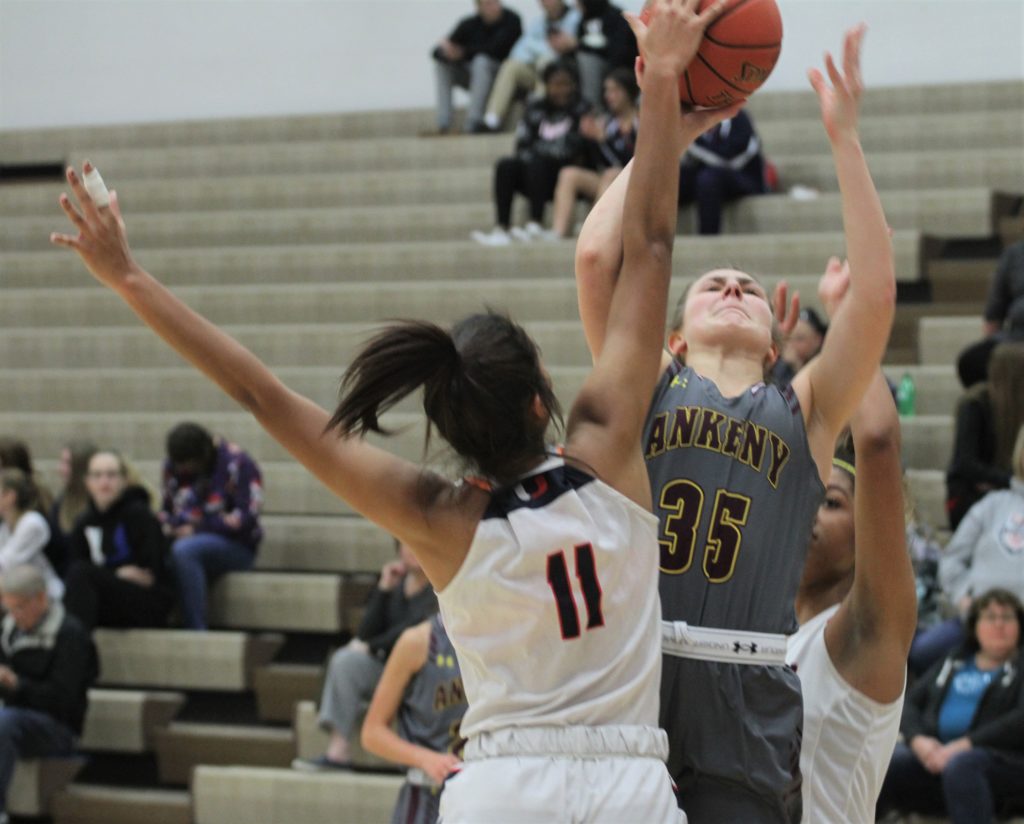 "(Urbandale) went big the second half, which gave us some matchup problems," McAnelly said. "I thought we responded well–the press did some things for us–but overall we were just a little out of sync offensively."
Kayla Pitz scored 16 points to lead Ankeny, including 13 in the second half. Calyssa Wright had a career-high 15, and Ashley Harrington added 11.
Wright scored eight of her points in the first quarter, helping the Hawkettes to a 12-10 advantage.
"I kind of just go with the flow, but I'm looking to be more aggressive and also looking for my teammates who are open, too," Wright said. "It helps when others are getting it into the post area, too."
Urbandale took the lead for good, 13-12, on a 3-pointer by Maya Gyamfi at the end of the first quarter. The J-Hawks then followed with four more 3-pointers in the second quarter, including one by Putz with 3 seconds left that gave them a 31-23 lead at the break.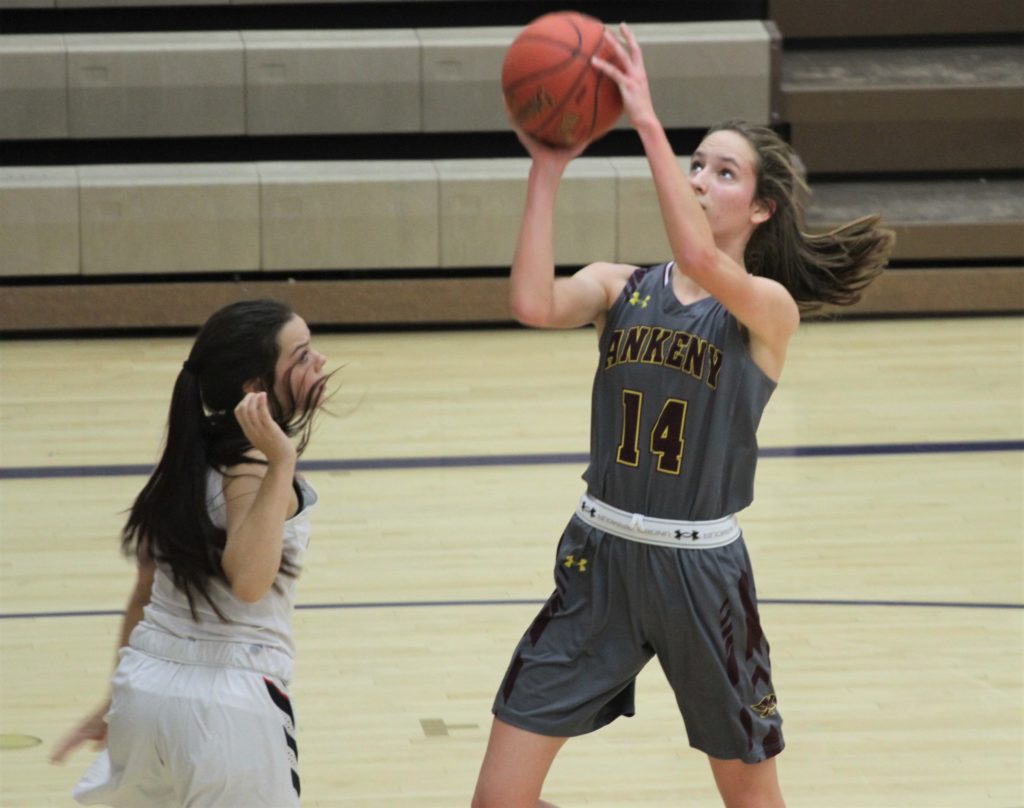 Harrington scored all 11 of her points in the first half, nine of them in the second quarter.
"Our defense wasn't bad, but sometimes when they hit a shot it gets overmagnified when we come down and have four or five straight possessions where we don't score or have a turnover," McAnelly said. "But they're No. 9 in the state for a reason. Offensively, you can't do that."
The J-Hawks extended their lead to 45-27 in the third quarter before Ankeny rallied behind Pitz, who made a pair of 3-pointers late in the period. Her long 3-pointer at the buzzer closed the gap to 46-34.
Wright later converted a steal into a layup to pull the Hawkettes within 49-39.
"She played very well," McAnelly said. "She's been doing a really good job this year."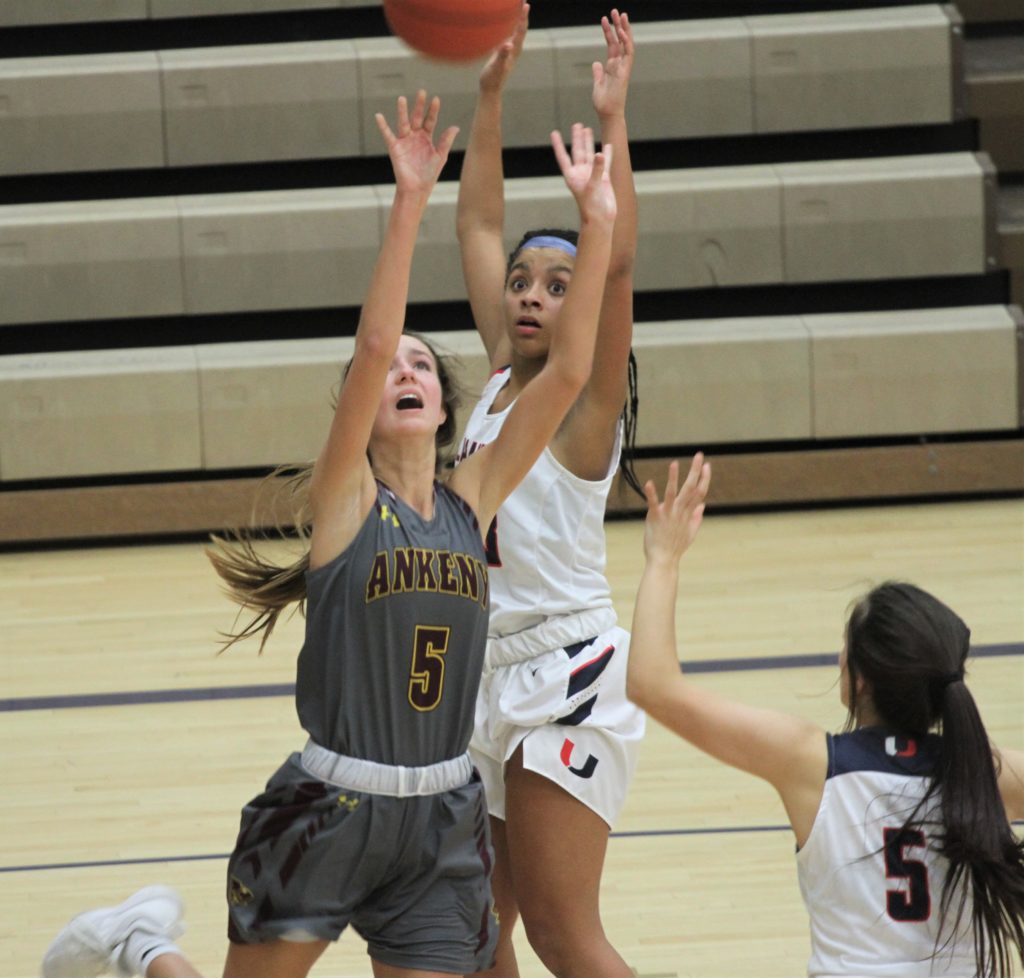 Ankeny cut the deficit to 51-42 on another 3-pointer by Pitz with 5:50 remaining.
"When we switched to (man-to-man) defense, it was working a little better," Wright said.
Urbandale eventually pulled away, however, as Ankeny went scoreless from the field until Wright made a layup in the closing seconds. It was the third consecutive loss for the Hawkettes–all of them against top-10 opponents.
Ankeny won't play again until hosting Ames on Jan. 3.
"We'll have a lot of time to work on everything that we need to get better on," Wright said.