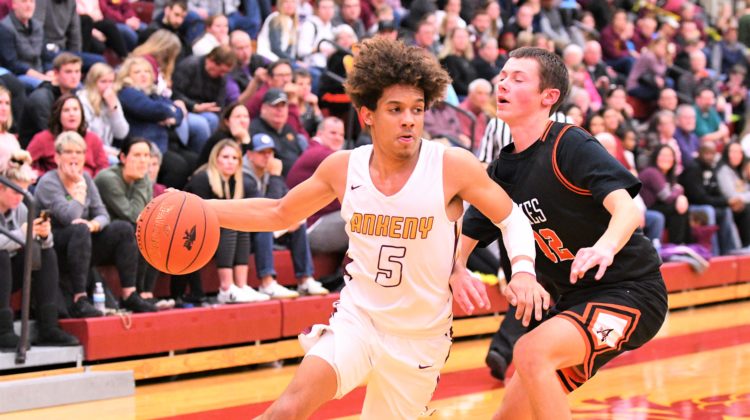 The Dowling Catholic boys' basketball team dominated the first quarter on Friday en route to a 68-55 victory over visiting Ankeny Centennial in a battle of top-10 squads.
The ninth-ranked Maroons jumped out to a 19-5 lead and No. 2 Centennial never recovered. The Jaguars closed to within 29-22 in the second quarter before Dowling pulled away to move into sole possession of first place in the CIML Central Conference.
"We got off to a really good start, and that was the difference in the game," said Dowling coach Mike O'Connor.
Ankeny, meanwhile, rolled to a 64-22 victory over visiting Ames. It was the fewest points allowed by the Hawks since a 59-20 win over Ottumwa during the 2012-13 season.
"It was a good win to start the second half of the year," said Ankeny coach Brandt Carlson.
The Hawks' victory sets up another showdown on Friday at Centennial, where Ankeny will meet the Jaguars for the first time this season. Centennial lost to the Hawks twice a year ago.
"We'll definitely be working on rebounding," Centennial senior Micah Johnson said after the loss at Dowling. "We need to be more aggressive, and we need to come out better the first quarter. Our coaches talked about how we can't give them a 14-point lead, and we all know that. We'll be working on that."
No. 3 Johnston continues to lead the Central Conference girls' race. Maya McDermott and Kendall Nead each scored 15 points to lead the host Dragons to a 62-43 triumph over No. 8 Urbandale on Friday.
Here are the current Central Conference standings:
GIRLS
Johnston 3-0 8-1
Dowling Catholic 2-1 8-2
Ames 2-1 6-3
Urbandale 1-2 8-2
Ankeny Centennial 1-2 5-4
Ankeny 0-3 4-5
Friday's scores
Ames 56, Ankeny 48
Dowling Catholic 59, Ankeny Centennial 37
Johnston 62, Urbandale 43
Saturday's scores
Ankeny Centennial 71, Fort Dodge 34
Dowling Catholic 69, Benet Academy (Ill.) 58
Urbandale 54, Council Bluffs Jefferson 35
Monday's game
Sioux City East at Johnston
Tuesday's games
Ames at Southeast Polk
Ankeny at Ottumwa
Ankeny Centennial at Marshalltown
Johnston at Mason City
Friday's games
Ames at Johnston
Ankeny at Ankeny Centennial
Dowling Catholic at Urbandale
BOYS
Dowling Catholic 3-0 6-1
Ankeny Centennial 2-1 7-1
Ankeny 2-1 6-1
Ames 1-2 4-4
Johnston 1-2 4-4
Urbandale 0-3 5-3
Friday's scores
Ankeny 64, Ames 22
Dowling Catholic 68, Ankeny Centennial 55
Johnston 63, Urbandale 52
Saturday's scores
Ankeny Centennial 84, Sioux City North 28
Davenport Central 66, Johnston 58
Urbandale 69, Council Bluffs Jefferson 40
Tuesday's games
Ames at Southeast Polk
Ankeny at Ottumwa
Ankeny Centennial at Marshalltown
Dowling Catholic at Des Moines Hoover
Johnston at Mason City
Friday's games
Ames at Johnston
Ankeny at Ankeny Centennial
Dowling Catholic at Urbandale