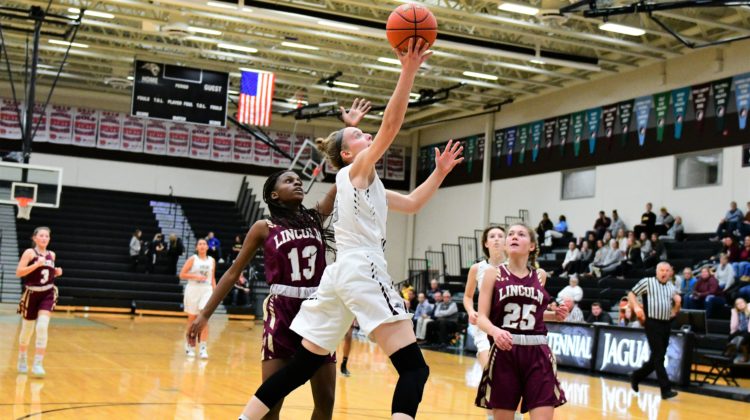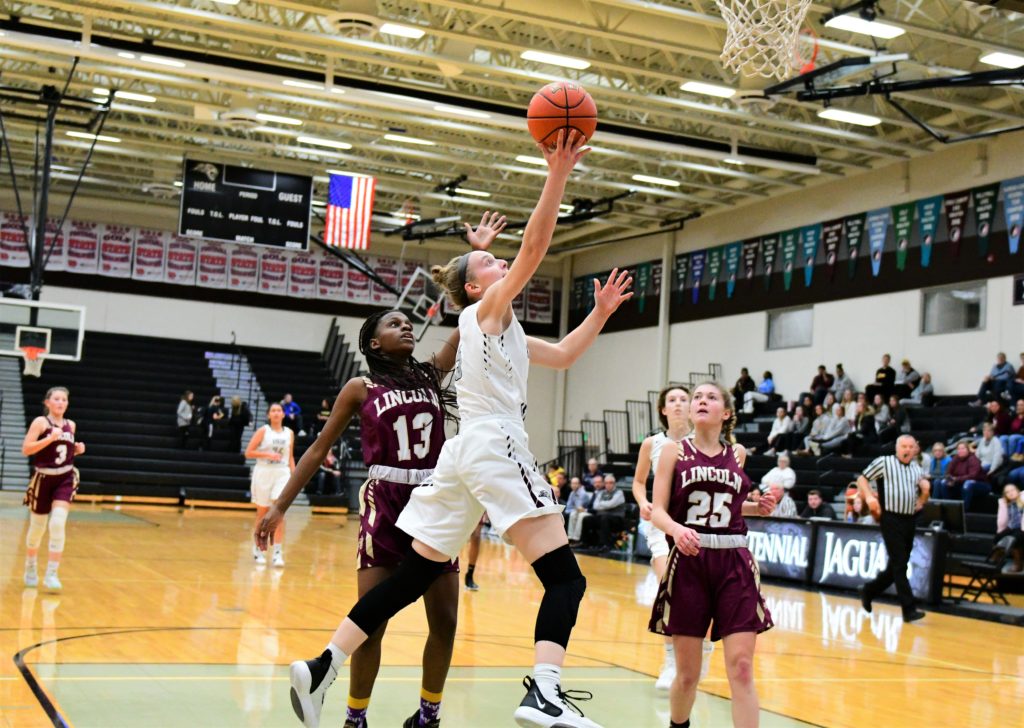 Senior point guard Taylor Runchey has helped the 10th-ranked Ankeny Centennial girls' basketball team to a 5-4 record. She scored a season-high 12 points, making 4-of-6 shots from 3-point range, and also dished out 10 assists in the Jaguars' 71-34 victory at Fort Dodge on Saturday.
Runchey is averaging 4.5 points and 2.6 rebounds per game. She is shooting 55.6 percent from behind the arc (10-of-18).
Here is some inside info on Runchey:
How is the season going thus far?
Our season has been filled with many ups and downs in terms of wins and losses, but we have definitely had periods of large growth. We are continuing to work on mental consistency and cleaning up our turnovers. Our team is filled with such great girls, and we really enjoy being around one another. We are definitely not satisfied with where we are now and are going to keep chipping away to ensure the second half of the season is one that we can be proud of!
Your team dropped a 59-37 decision at No. 4 Dowling on Friday. What did you think of your team's performance in that game?
Overall, our defense was pretty close to what we wanted it to be. We held them to 24 points in the first half and contained (Iowa recruit Caitlin) Clark. However, we were not efficient or aggressive enough on offense. In the second half, when we began to make some more shots, we allowed other players besides Clark to step up and make a difference. We were disappointed with the product we put on the court but understand that we must learn from this game and turn the corner!
What was your team's defensive strategy against Clark, who came into the game averaging 33.1 points? Were you trying to make her give up the ball?
Our strategy was to contain her as much as possible on the ball, and off of the ball to be in very strong help when it was in her hands. Later in the game we double-teamed her in the full court to try and keep the ball out of her hands coming up the court.
Your team had a few tough losses in December, including one at Johnston where the Dragons overcame a 12-point deficit in the final 6 minutes. What did you learn from that loss?
Our loss at Johnston was very hard to take because we played very well through three quarters and had them exactly where we wanted them to be. Letting the lead go at the end of the game taught us that when we have a lead, we must always keep the pedal down, (and be) aggressive and tenacious. And, when we are down, that must be our mentality as well. We learned our mindset and approach of aggressiveness must always be the same. Not finishing that game strong made us hungrier and showed us what we are capable of when we are playing our best.
Clark and Johnston's Maya McDermott are two of the state's best point guards. Are there some similarities between those two players?
Both Clark and McDermott make things easier for their teammates as they are great playmakers. They are fierce competitors and know how to make a difference in a game. They are both great ball handlers, effectively use change-of-pace dribble, and can shoot the ball from all spots on the court.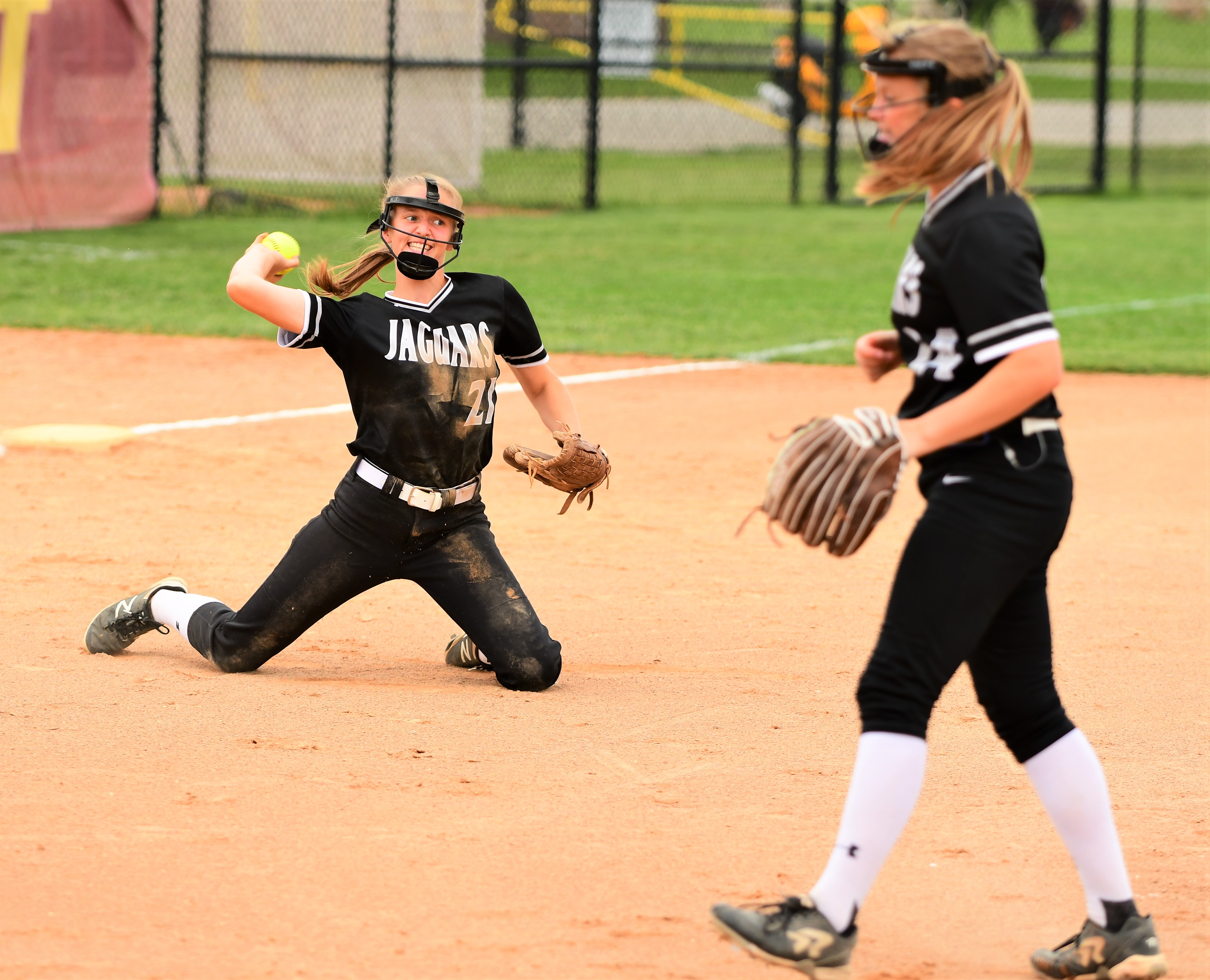 Your team will host Ankeny on Friday in the first Jag-Hawk meeting of the season. What will be the key to beating the Hawkettes?
It is always a highly intense, competitive game when we play the Hawkettes because of the awesome atmosphere and high caliber of both teams. Taking care of business on the defensive end is always our biggest focus and will need to be in order to beat them. Stopping their guard play and penetration is where that starts. And, getting a good shot up each possession will be our focus on offense.
You have never lost to Ankeny in your basketball career. Would that mean a lot to you to finish your career undefeated against the Hawkettes?
Honestly, that isn't something we really think about much. Each time we play them, it is a battle, and our only focus is on that battle. It is always a competition and really an honor to get to play in crosstown rivalry games like we do in a place like Ankeny.
Your dad, Dave, is an assistant coach for the Jaguars. When you first joined the varsity as a freshman, did it take the two of you awhile to make the adjustment from a father/daughter relationship to a coach/player one?
Well, my dad had coached me in basketball since fourth grade, so the coach/player relationship was not new. However, it was definitely different at first since it was now in a school basketball setting. Over the past four years we have found a really great balance between coach/player and father/daughter, and we understand that father/daughter must always come first. Of course there are ups and downs, but I certainly wouldn't trade our experiences together for anything and am so grateful for the ways in which it has grown our relationship.
You also play softball for Centennial, but I've been told that you're planning to play basketball in college. Have you looked at any schools yet?
I am planning to play basketball in college, and the two main schools that I looked at and visited were Northwestern College in Orange City and Wartburg College in Waverly. Both schools are amazing places, but I actually made a decision this past week that I am going to be attending Wartburg College next year!
What are you planning to study in college?
I am planning to study education to become a teacher. I am not sure of what grade level yet, but I am thinking upper-elementary or middle school.
Did you do anything special to celebrate the New Year?
Some of my friends and I went out to dinner at Lucky Bamboo on New Year's Eve, but that was about it!