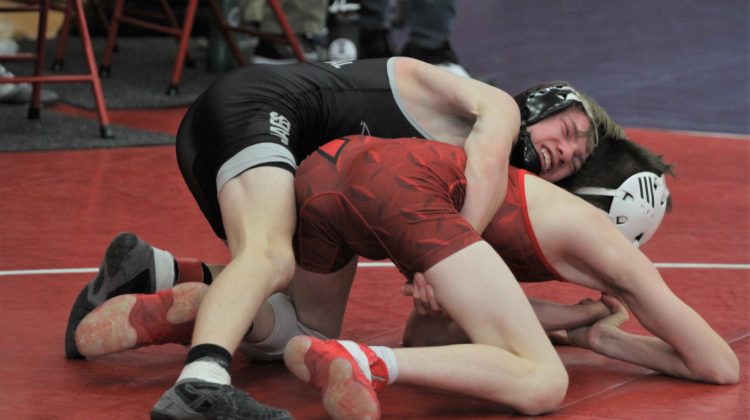 Some of the Ankeny Centennial wrestling team's weaknesses were exposed during The Clash XVIII on Friday and Saturday at Rochester, Minn.
Over the last few days, the eighth-ranked Jaguars worked hard to improve in some of those areas.
On Tuesday, Centennial racked up eight falls and rolled to a 66-9 victory over visiting Urbandale in a CIML Central Conference dual meet. The Jaguars raised their records to 2-0 in the league and 12-3 overall.
"Even though we really only had two days to work on some things, I did see some improvement," said Centennial coach Jay Groth. "Our focus in practice has been for everybody to be a good partner. Drilling doesn't mean that one guy is getting better and the other guy isn't. That's a point of emphasis for us."
Eighth-ranked Jackson Helmkamp opened Tuesday's meet with a fall in just 26 seconds at 126 pounds. No. 2 Ben Monroe later recorded a technical fall at 152, then Centennial reeled off seven straight pins.
"We wrestled pretty well with maybe one exception or two," Groth said. "The J-Hawks are very young. They have one senior in the lineup–everybody else is a freshman or sophomore. But I thought they came out and got after it. They weren't backing down from anybody."
Five of the Jaguars' falls came in the opening period, including one by Jackie Wells at 220.
"Wells looked really good, and so did (heavyweight Noah) Parlee," Groth said.
Joey Mayer posted a 14-3 major decision over Jackson Kluesner at 132.
"Mayer had to manage his weight and get down to 132 for The Clash, and he did a good job of keeping it down," Groth said. "I was happy with the way he responded to the challenge."
The Jaguars will host another Central Conference dual meet on Thursday when Dowling Catholic visits the Centennial gym.
Here are the match-by-match results:
Centennial 66, Urbandale 9
126: Helmkamp pinned Burright, :26; 132: Mayer beat Kluesner, 14-3; 138: Ross (U) pinned Bennett, 3:31; 145: Cuppy beat Daves, 2-1; 152: Monroe won by technical fall over Swick, 24-9; 160: Cahill pinned Elfvin, 2:37; 170: Neils pinned Sherwood, 1:59; 182: Frazier pinned Else, 3:55; 195: Witt pinned Teem, 1:03; 220: Wells pinned Hearne, 1:33; 285: Parlee pinned Ikeljic, 2:25; 106: Wiener pinned Smith, 1:21; 113: Janssen won by forfeit; 120: German (U) beat Bresson, 10-6.