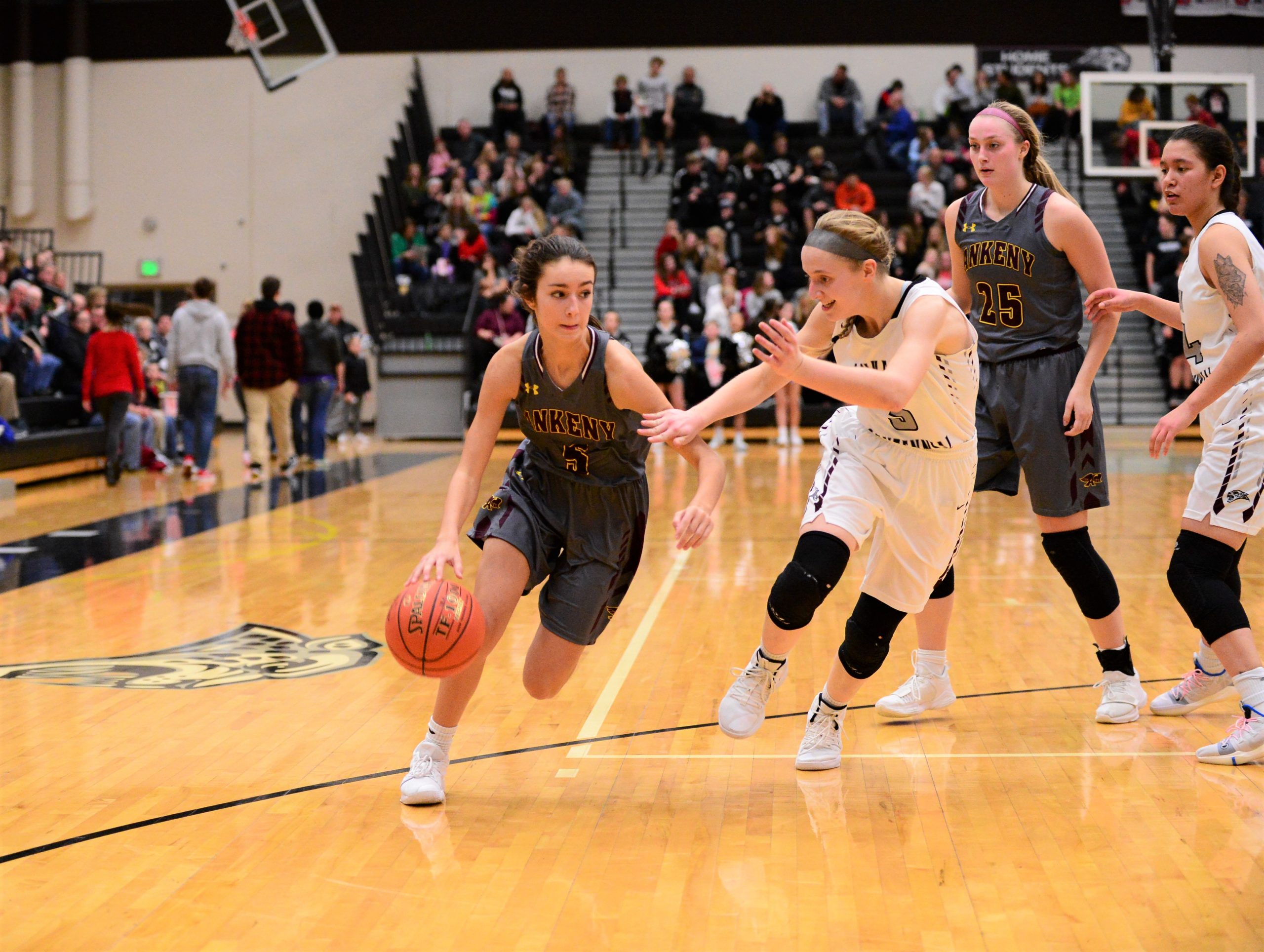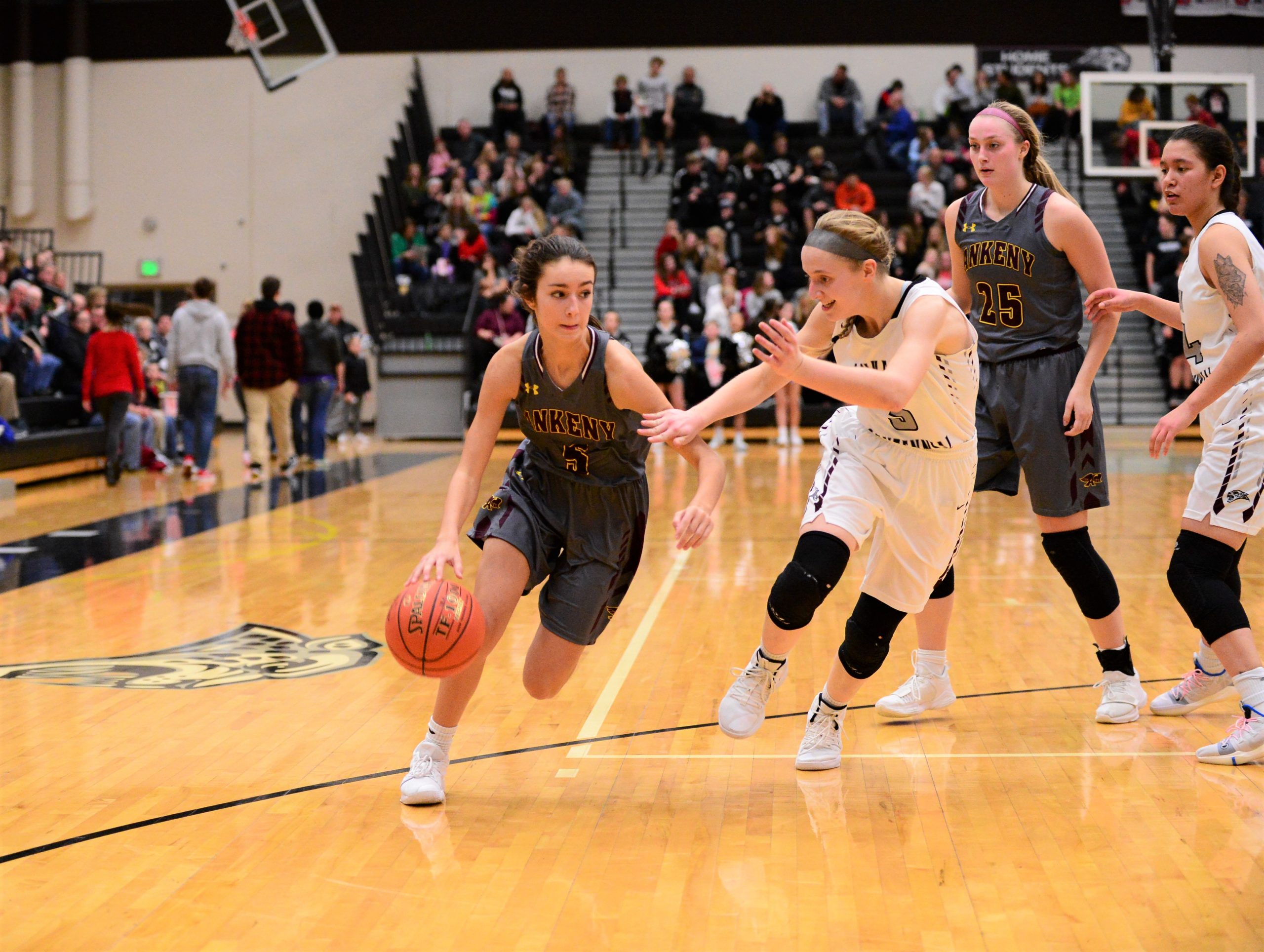 (EDITOR'S NOTE: Tonight's games have been postponed due to the weather. Make-up date to be determined.)
The Jag-Hawk basketball rivalry resumes on Friday night at Ankeny Centennial, where two good matchups are on tap. Here are some things to look for in both games:
GIRLS–Ankeny (0-3, 5-5) at 10th-ranked Centennial (1-2, 6-4)
* Can the Hawkettes score enough points to defeat Centennial for the first time ever? They have averaged just 28.5 points per game in the last six meetings against the Jaguars, who again are one of the state's best defensive teams.
* How will Centennial try to slow down Ankeny point guard Kayla Pitz, who has played like an all-CIML player in recent weeks? Pitz has averaged 19.5 points over her last six games, which has helped the Hawkettes offset injuries to key players Abby Johnson and Holly Trimble. Centennial guards Meg Burns and Taylor Runchey are both outstanding defenders. The 5-foot-10 Burns could use her length to give Pitz some problems.
* How will the Hawkettes try to defend Centennial? Ankeny has played both man-to-man and zone defenses this season, but the Hawkettes may have to go man. The Jaguars saw some zone last Saturday at Fort Dodge and responded by making a school-record 15 3-point goals. Ankeny doesn't want to give up open jumpers to Burns, Runchey and Cleao Murray. But if the Hawkettes focus on defending the perimeter, that could open things up inside for Alexandria Keahna-Harris and Jackie Pippett, who might be able to take advantage of Ankeny's depleted front line.
Prediction: Ankeny is going to beat Centennial…sometime. The Hawkettes might even be able to do it when the two teams meet again on Feb. 7, especially if Johnson is able to return before the end of the regular season. But Centennial rarely loses on its home court. The Jaguars will be severely tested, but will win a close game.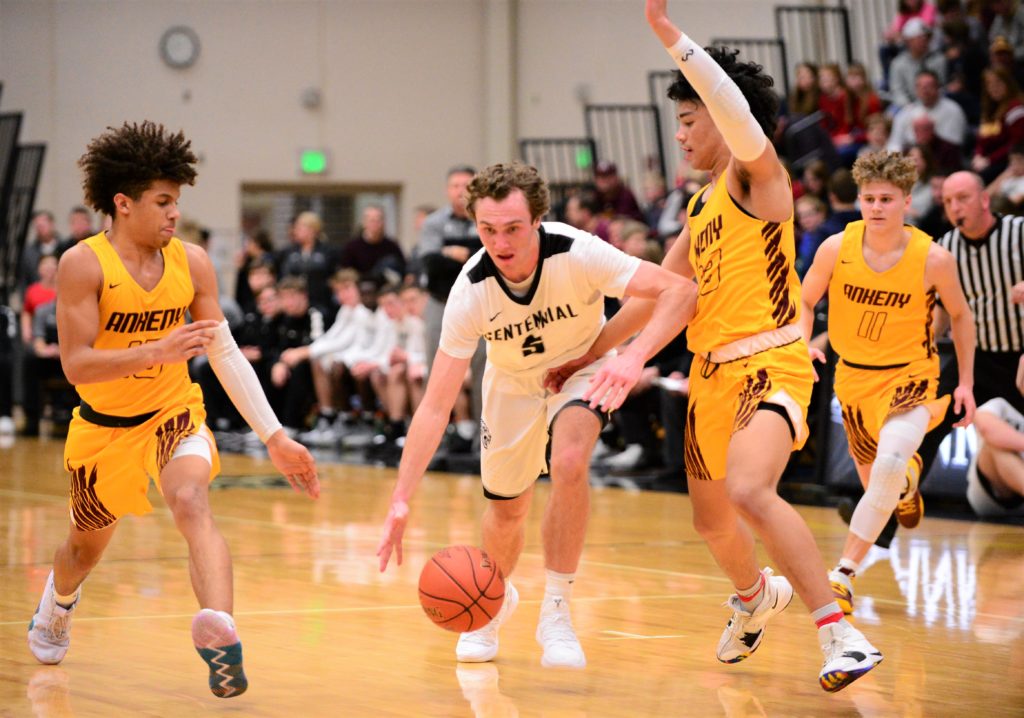 BOYS–Ankeny (2-1, 7-1) at fifth-ranked Centennial (2-1, 8-1)
* This could be the best matchup ever between the two boys' squads–both of which have lost only to No. 7 Dowling Catholic. The winner will likely move into sole possession of second place in the CIML Central Conference. The winner could even move into a tie for the league lead, if the Maroons should lose at Urbandale.
* Ankeny is seeking its fourth consecutive win over the Jaguars. The Hawks have won the last three meetings by an average of 7.3 points, including a 61-51 victory at Centennial last season. The road team has won six of the last seven meetings in the series, so the home court obviously hasn't been much of a factor.
* The key matchup, just like it was last year, will be Centennial's superior size against Ankeny's speed and quickness. The Jaguars' inside duo of 6-foot-8 Cody McCullough and 6-7 Micah Johnson is averaging a combined 22.2 points and 18.1 rebounds. The Hawks–who surround 6-3 center Nolan Otten with a lineup of four guards–simply don't have the size to match up with Centennial in the paint. If the Jaguars can limit their turnovers and get the ball inside, Johnson and McCullough could have a big night.
* Ankeny, meanwhile, counters with perhaps the state's best backcourt. The trio of Braxton Bayless, Jaxon Smith and Jordan Kumm is averaging nearly 50 points per game. The Hawks can wreak havoc with their full-court press, which often leads to turnovers that result in easy baskets. If Ankeny can force the Jaguars to play at a faster tempo than it likes, it could tilt the matchup in the Hawks' favor.
* Perhaps the biggest question: How will Jaron Crews fare in his first game against his former team? Last year, Crews scored a total of nine points in Ankeny's two victories over the Jaguars. Now, the junior guard plays for Centennial and leads the team with a 14.8 scoring average. His ability to handle the ball, shoot the 3-pointer (he's 22-of-59 from behind the arc) and create scoring opportunities for his teammates will be crucial against Ankeny's defensive pressure. Crews will also be asked to do a lot on defense. He could draw the assignment against Bayless, who has poured in 86 points in the four games that he has played since serving a four-game suspension.
Prediction: It's very hard to separate these teams. The Hawks lost by 10 to Dowling on their home court last month, but that was before Bayless joined the lineup. The Jaguars lost by 13 at Dowling last Friday. This one is going to be a classic. There has never before been an overtime game in the Jag-Hawk series, but these teams are so evenly matched that it could take an extra period to decide the outcome. Just enjoy it.