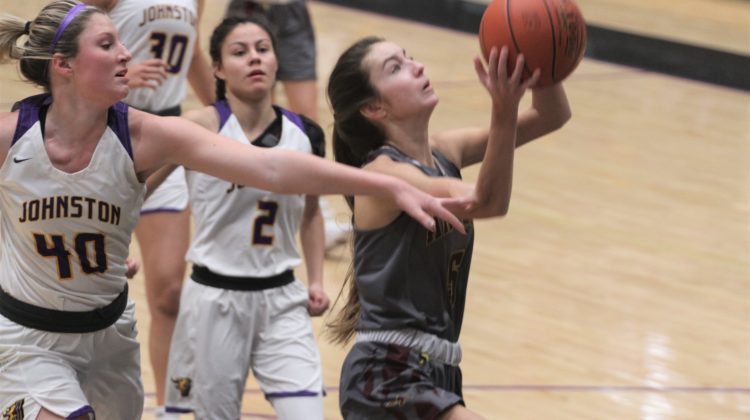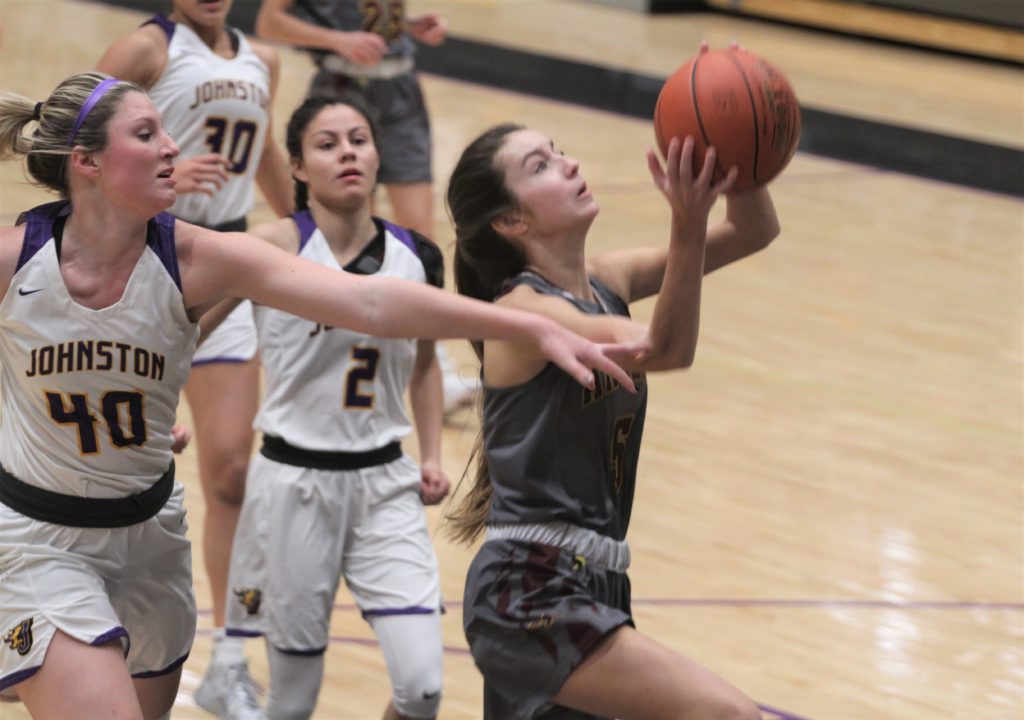 Ankeny girls' basketball coach Dru McAnelly issued a challenge to his players on Thursday.
The Hawkettes responded in a big way.
After trailing by 36-18 at halftime, Ankeny pulled within five points of second-ranked Johnston with about 5 minutes left to play before the host Dragons held on for a 70-60 victory.
The outcome was a big improvement for the Hawkettes, who were coming off a 77-27 loss at No. 3 Dowling Catholic on Tuesday.
"I challenged the girls more than I have all year," said McAnelly. "I was a little upset at halftime, and I'm so extremely proud of how they responded. We won the second half, and I'm not huge into moral victories, but you're playing the No. 2 team in the state on their court on Senior Night. To score 42 points in the second half is a pretty good statement."
Kayla Pitz scored 16 of her 21 points in the fourth quarter to lead Ankeny's rally. She had eight consecutive points in a 10-0 run that cut Johnston's lead to 50-45 with 5:10 remaining.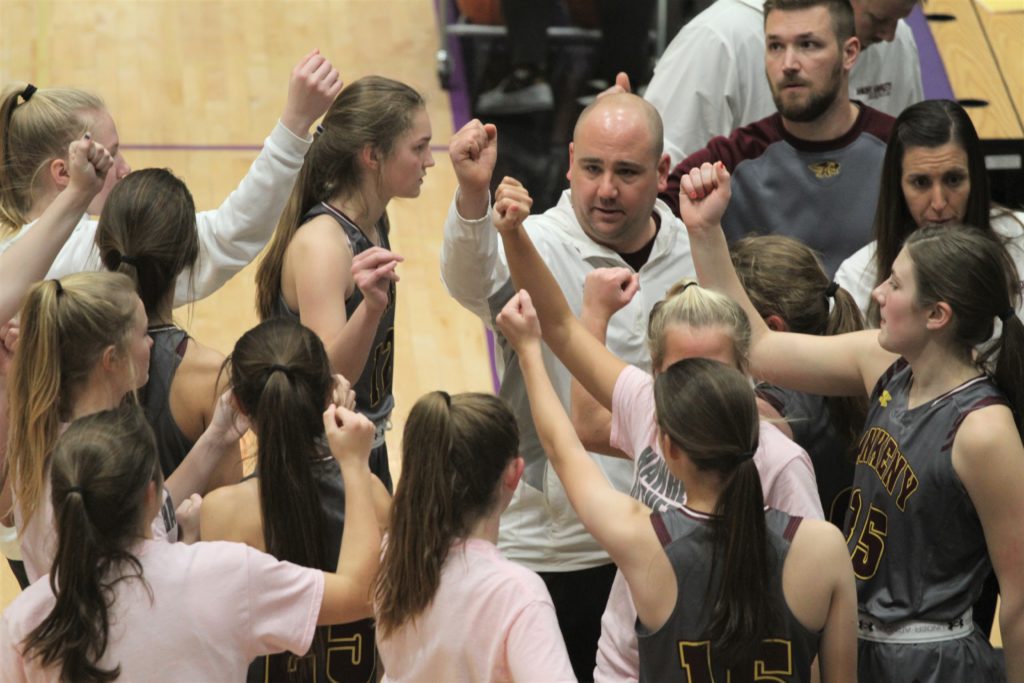 "Coach just said we needed to come out and play stronger," Pitz said. "The first half we had no effort whatsoever, so it was good to see the second half we came together as a team. It showed on the scoreboard."
With Johnston's lead slipping away, the Dragons turned to all-state point guard Maya McDermott down the stretch. The Northern Iowa recruit made a 3-point goal with 4:50 left, passed to Molly Noelck for a layup about 1 minute later, and then converted a 3-point play at the 3:31 mark to give Johnston a 58-45 advantage.
The Hawkettes could get no closer than 10 points the rest of the way.
"They're just really good," McAnelly said of the Dragons. "They are what they are for a reason."
McDermott, who went 5-for-9 from behind the arc, scored 19 of her 22 points in the second half. She also had five rebounds and seven assists.
Kendall Nead added 18 points and eight rebounds for the Dragons. She had 14 of her points by halftime.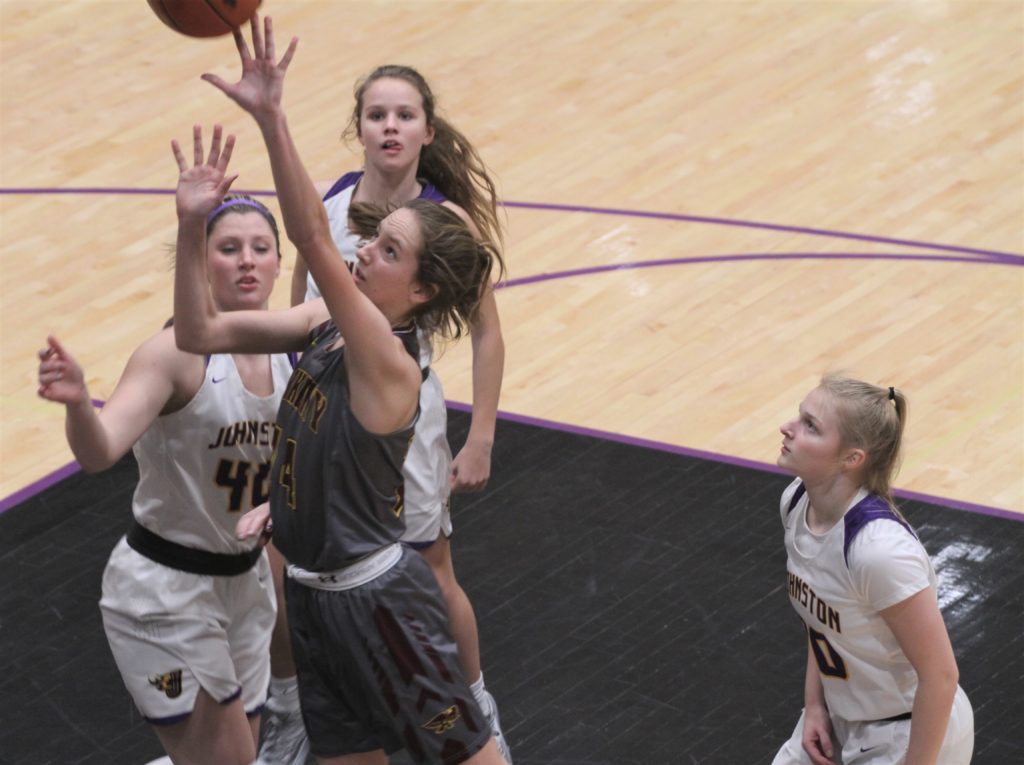 "Her first half was killer," Pitz said of Nead. "I thought we handled her a lot better the second half, but she's a great player."
Johnston had a 14-0 run in the first half that erased Ankeny's early 6-4 lead. Noelck, a freshman who finished with 12 points, later scored a basket right before the halftime buzzer.
"Obviously, Tuesday was rough and we wanted to flush it," McAnelly said. "I didn't think our effort the first half was necessarily bad. We just didn't make shots, and that can be a storyline for us sometimes. But we didn't get back and rotate on defense, and that gave them some easy looks. And a good offensive team like this, you've got to make them earn everything. They're going to score the ball, but you can't give them easy transition points. That hurt, and we didn't rebound."
A pair of McDermott 3-pointers increased the Dragons' lead to 42-21 early in the third quarter. However, a basket by Calyssa Wright then ignited Ankeny's rally.
Kayla and Jenna Pitz followed with back-to-back 3-pointers, and the Hawkettes went on to outscore Johnston, 24-8, during a run that bridged the third and fourth quarters.
"It felt good to hit some shots," said Kayla Pitz. "We had people like Ashley (Harrington) step up, and Jenna, too. It was cool to see."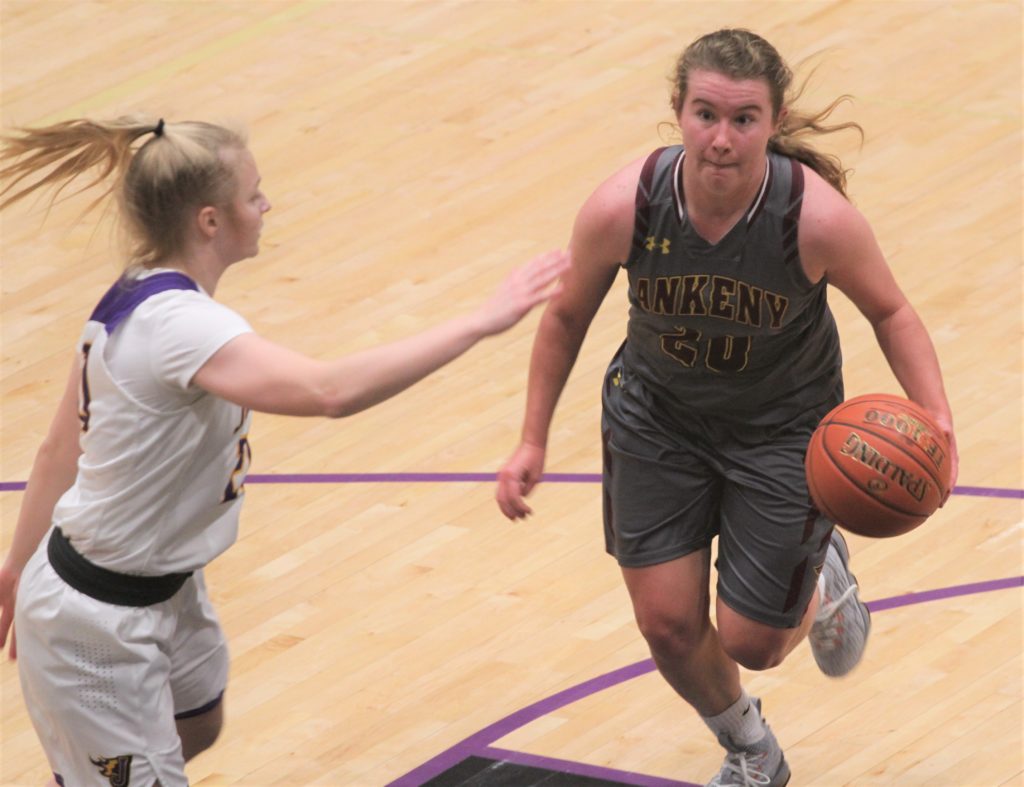 McAnelly said his team's comeback began with a better effort.
"It started with our energy level," he said. "And it's amazing how much better you shoot when you play with a lot of energy. Our margin for error is small, but when we don't play with energy and effort, our margin is even smaller."
Harrington had 12 points in the loss. Jenna Pitz and Wright each finished with 10.
The Dragons improved to 5-0 in the CIML Central Conference and 13-1 overall. Ankeny's records fell to 0-5 and 5-7.
The Hawkettes will travel to No. 10 Ankeny Centennial for a make-up game on Monday.
"We feel a lot better going to Centennial," Kayla Pitz said. "This gives us a lot of confidence. It shows we can play with those big teams."