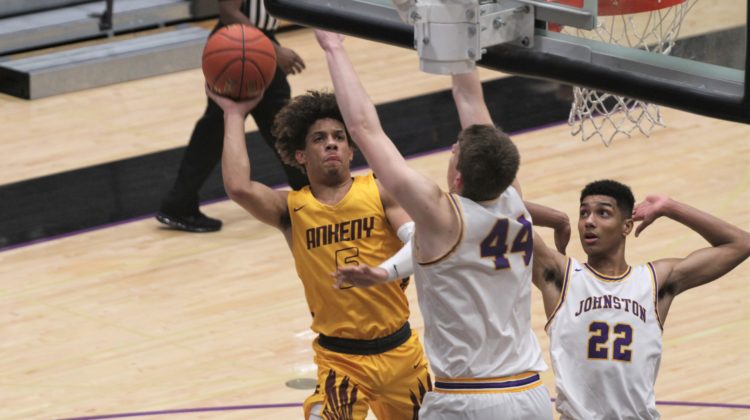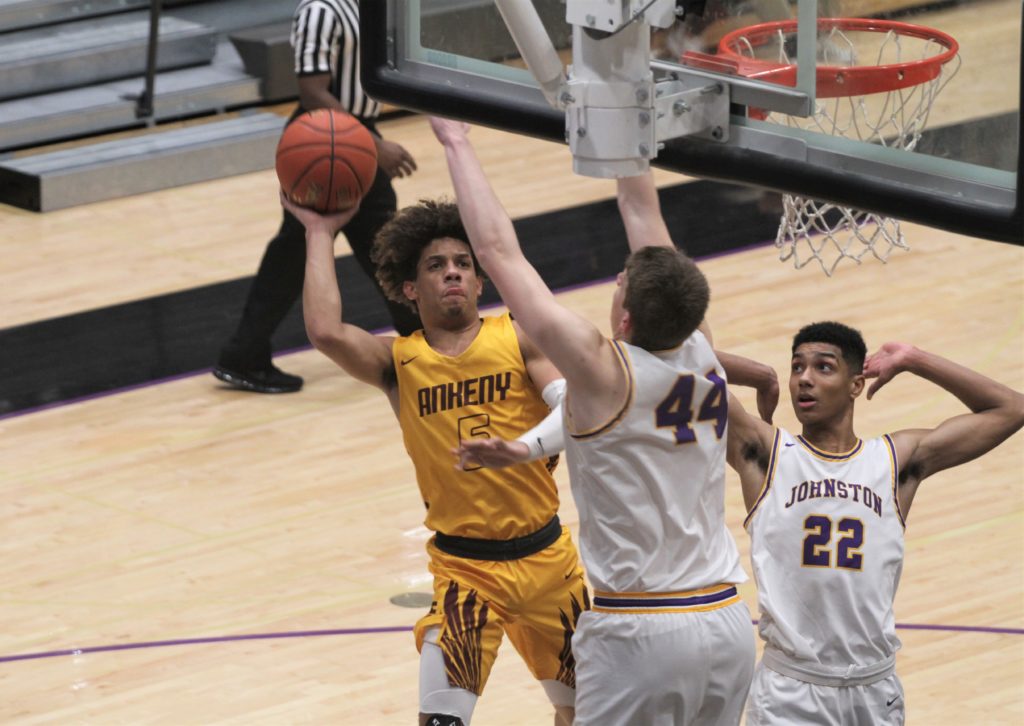 It's been a memorable season thus far for the Ankeny boys' basketball team.
Nobody knows what lies ahead, but it's going to be difficult for the Hawks to top the last 72 hours.
Just two days after knocking off seventh-ranked Dowling Catholic, Ankeny hit the road again on Thursday and rallied from a 19-point deficit in the second half to post an 80-74 victory at Johnston. It was the sixth straight win for the Hawks, who moved into a tie for first place in the CIML Central Conference.
"The way we work in practice every day, we just play hard. That's how we play," said senior guard Braxton Bayless. "We like to play fast and we got them to speed up, and we did our thing."
Bayless scored a career-high 30 points as Ankeny improved to 4-1 in the conference and 9-1 overall. The Dragons' records dropped to 1-4 and 5-6.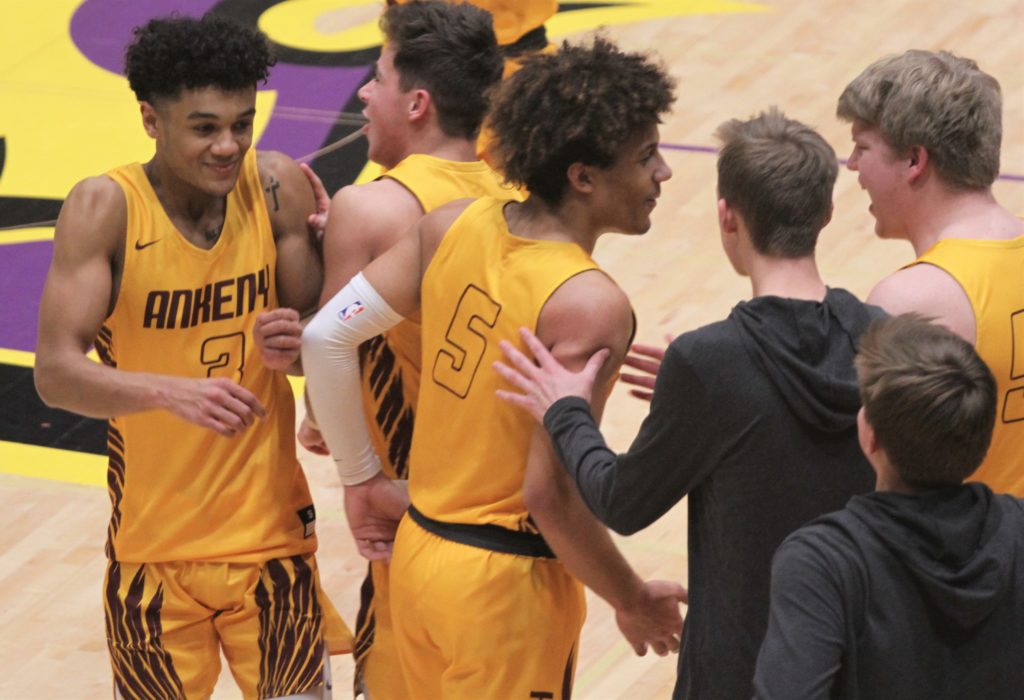 Bayless' defensive effort helped the Hawks close out the game on a 9-0 run. He converted a steal into a layup with 26 seconds left to give Ankeny a 75-74 lead.
Bayless then came up with another steal on Johnston's next possession. His shot rolled off the rim, but teammate Jordan Kumm eventually got the ball and converted a 3-point play with 10.2 seconds to go.
After the Dragons missed a 3-pointer, Bayless made two free throws to seal the victory.
"The resiliency of our seniors–the three guards–was the difference," said Ankeny coach Brandt Carlson. "And then the guys off the bench just solidified our team. We have a really tight group of guys, and that makes it fun."
Ankeny's trio of guards combined for 74 of the team's 80 points. Jaxon Smith nearly matched Bayless' total with 25 points, while Kumm added 19.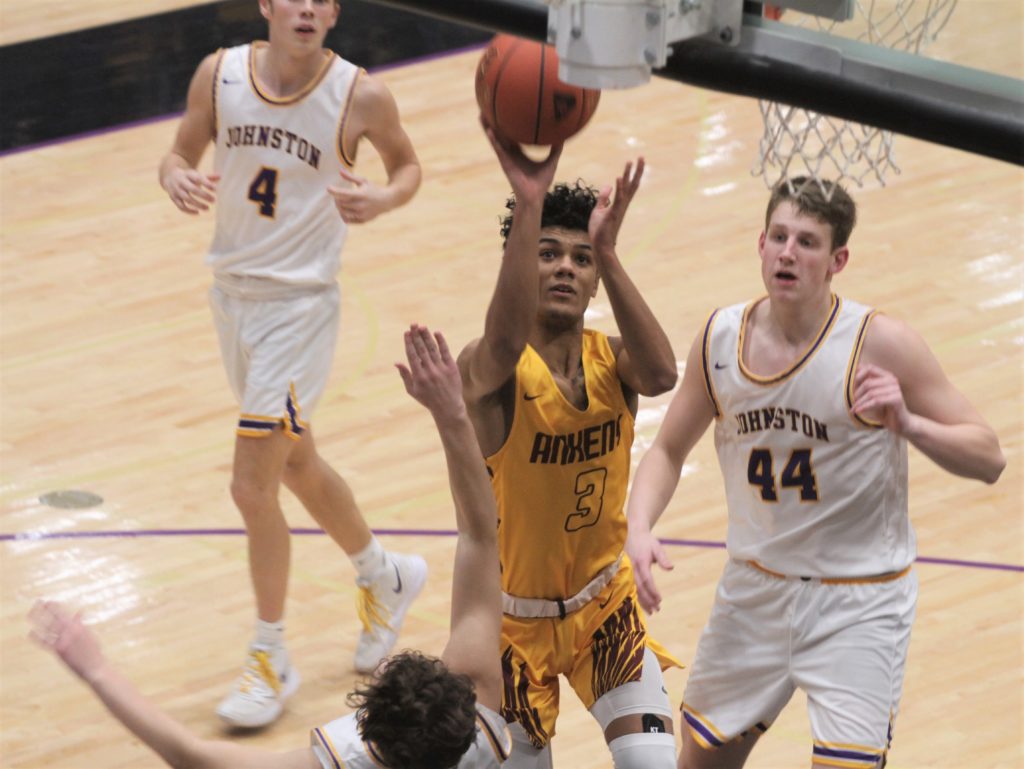 Nobody else scored for the Hawks until reserve guard Riley McWilson made the second of two free throws midway through the fourth quarter.
"Johnston played great, and they really hammered us," Carlson said. "They were missing a couple starters, and I thought their other players were awesome. We are so lucky and fortunate to come out of there with a win obviously, but again we had some guys come off the bench and help us. Ryan Crandall played great. It was one of those games you just try to enjoy and get better from."
Ankeny trailed by six points, 71-65, after Johnston's Steven Kramer made two free throws with 2:34 left. But Crandall hit a 3-pointer on the Hawks' next possession, then Kumm tied the game with another 3-pointer at the 1:51 mark.
Kumm had 14 of his points in the final period, including three treys.
"I was confident I could get to the rack every time but if they helped (on defense), I could just dish it off to my teammates," Bayless said. "They can all shoot, and Jordan hit some big 3s for us."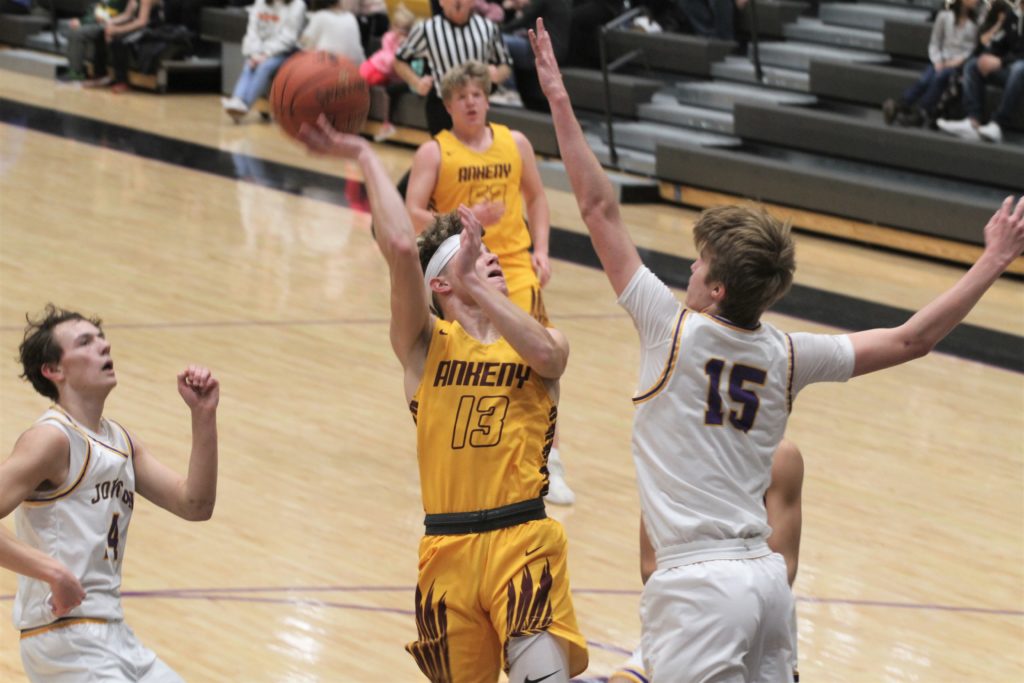 The Dragons regained a 74-71 lead before Crandall scored off a rebound with 33 seconds left. His basket ignited the 9-0 run that clinched the outcome.
The Hawks' victory sets up a huge showdown on Monday at No. 5 Ankeny Centennial. The league lead, as well as crosstown bragging rights, will be at stake.
"This will just keep us at the same level where we are now," Bayless said. "We have to go into every game and battle with everyone the same way–have the same mentality every game."
The Hawks looked like a state championship contender on Tuesday, but they didn't come out with the same fire on Thursday. Johnston took a 9-7 lead on a steal and dunk by Kramer and later went on a 13-1 run to build a 26-13 advantage.
The Dragons held a 42-26 halftime lead.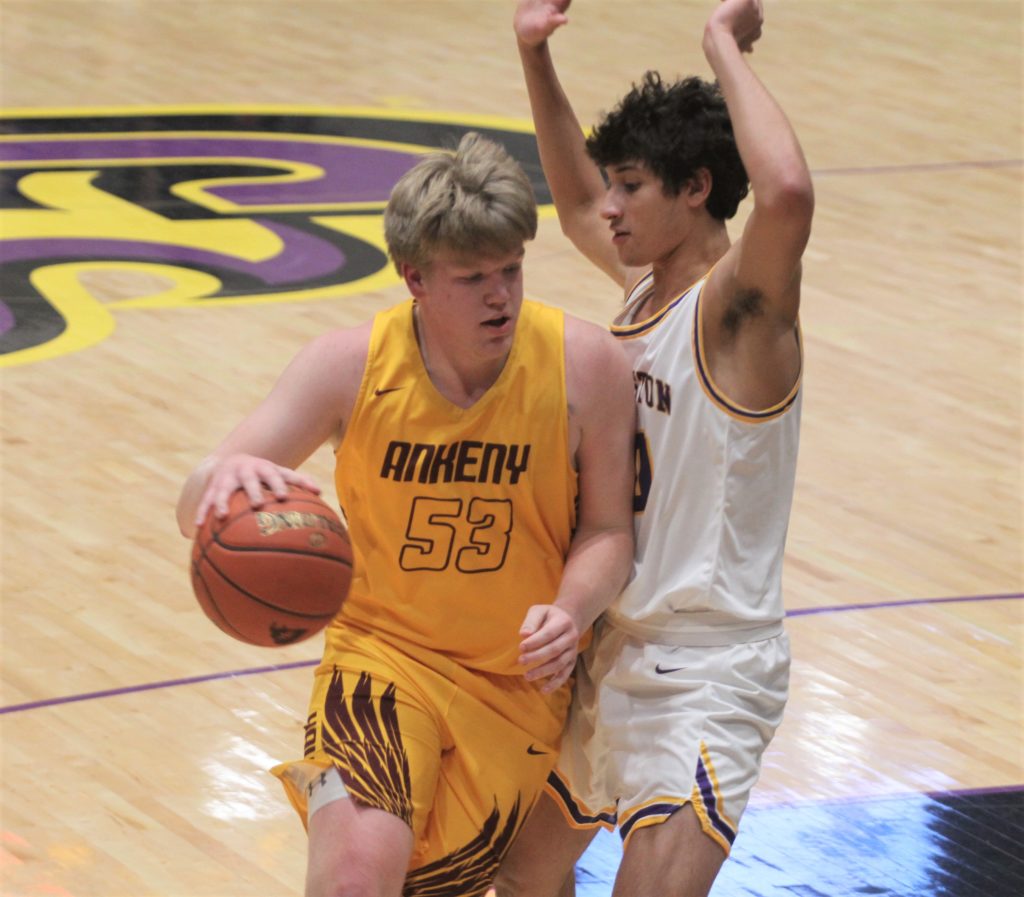 "They play well at home, and when you're missing a couple of kids, I think sometimes the other kids rally," Carlson said. "They shot really well. And when you play well at home and get the crowd into it, you can do some good things. They have a really nice team."
Kramer's 3-pointer early in the third quarter extended the margin to 47-28. The game turned around, though, when Bayless and Smith started to take over.
The duo combined to score Ankeny's next 24 points. Most of their baskets came on isolation plays.
"Every play we tried to run in the first half didn't work anyway," Carlson said. "So it was just kind of spread it out and attack, and then Jordan knocked down some big 3s and that helped us a lot. And Ryan had a big one late. It wasn't anything fancy, but anytime you're coaching and you have the players, you just use them.
"We're just really proud of these guys," he added.