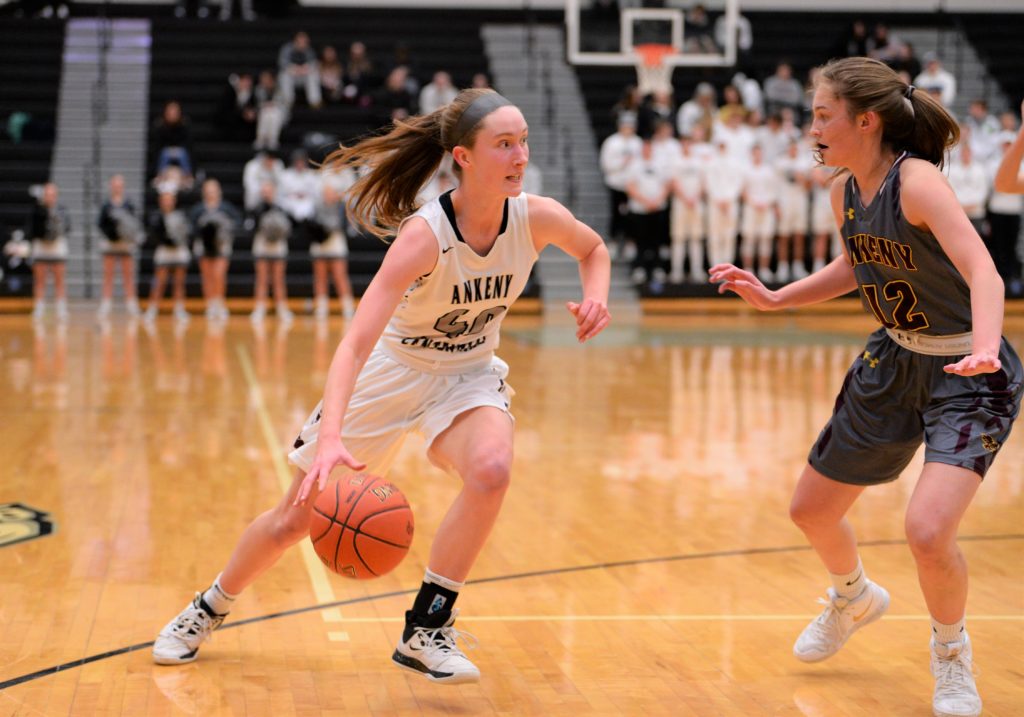 The Ankeny Centennial girls' basketball team sometimes struggles to score.
But the Jaguars' defense never seems to take a day off.
On Monday, 10th-ranked Centennial excelled at both ends of the floor as the Jaguars cruised to a 57-29 victory over visiting Ankeny.
"We had some possessions where we really locked into them well," said Centennial coach Scott DeJong. "That's what we need to do because our offense is inconsistent. Our defense has to be consistent, and tonight it was."
The Jaguars set the tone right away, forcing five turnovers in the first 4 minutes of the game. They jumped out to a 16-3 lead by the end of the first quarter without allowing a basket.
Ankeny could get no closer than nine points the rest of the way.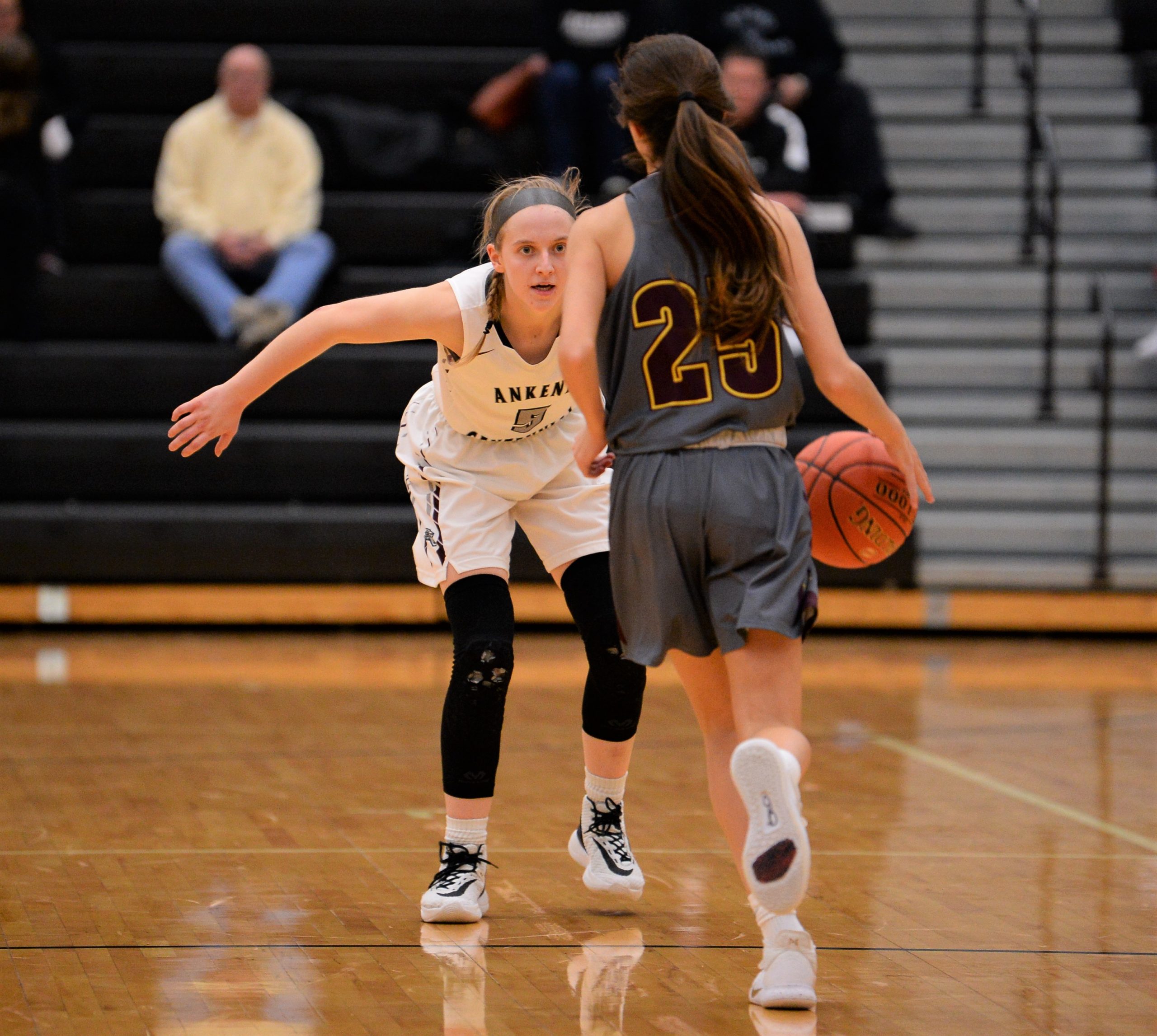 "I thought our mindset was good. We were pretty confident coming in," said Ankeny coach Dru McAnelly, whose team went 8-for-38 from the field (21.0 percent). "We had a really good game Thursday despite the loss (at Johnston)–we scored the ball against the No. 2 team in the state. (But Centennial's) length and their physicality–I'm starting to sound like a broken record with these guys–bothered us. We missed a few shots, and then we started to play hesitantly and not with confidence.
"When you play a defensive team like that, it will just eat you up offensively," he added.
Kayla Pitz scored 12 points to lead Ankeny, but six of her points came after the Jaguars had already built a 28-14 advantage. No other Hawkette scored more than four points.
"Kayla's a great player–I've seen her do a lot of good things," said Centennial senior Meg Burns, who defended Pitz most of the night. "I knew what she could do, and I was ready to play against her."
Burns also led the Jaguars on offense with 19 points. She went 7-for-9 from the field, including 4-for-6 from 3-point range.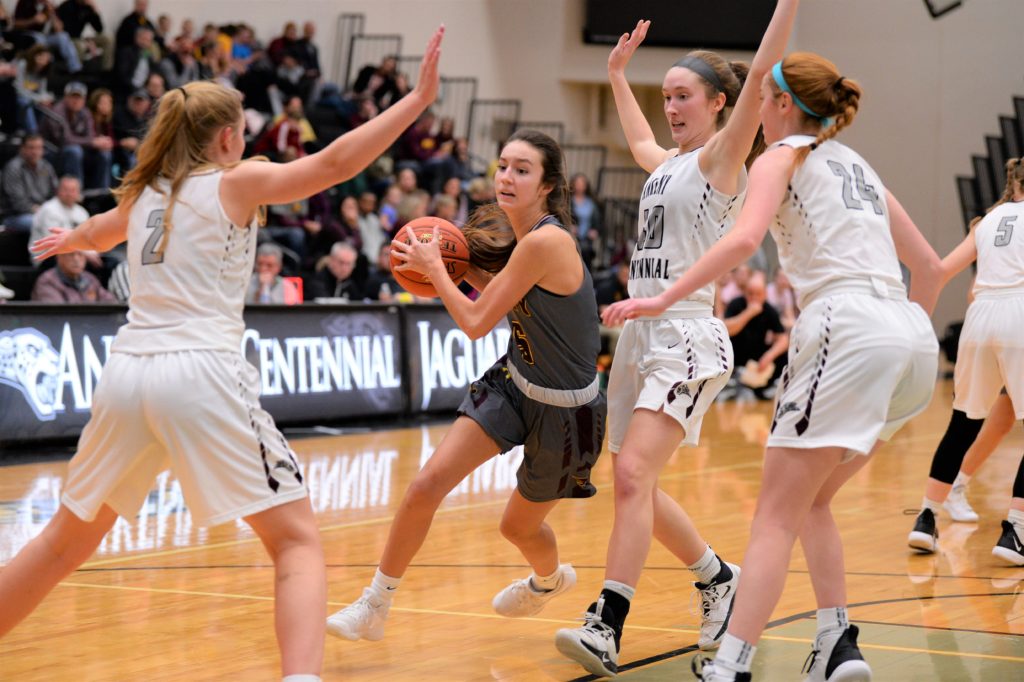 Burns had two of her treys in the first quarter as part of a 12-0 run that broke the game open.
"When you see the ball go in the hoop like it did tonight, it really gets your confidence going," Burns said. "It really gets the whole team going on both ends of the floor, and it's a good recipe for success."
Centennial's Jackie Pippett had 14 points on 6-of-9 shooting and also grabbed six rebounds. She scored six of her points during a 13-0 run in the fourth quarter that extended the Jaguars' lead to 53-23.
Pippett's performance helped offset the absence of teammate Alexandria Keahna-Harris, who missed her second straight game with a foot injury that she suffered on Jan. 14 against Johnston. Keahna-Harris could be back by the end of next week, but until then, Pippett will have to be a force in the paint.
"Jackie got off to a great start in the first game at Southeast Polk," DeJong said. "She's been in a little bit of a slump, but she's been practicing better and it was nice to see her come out and play like that."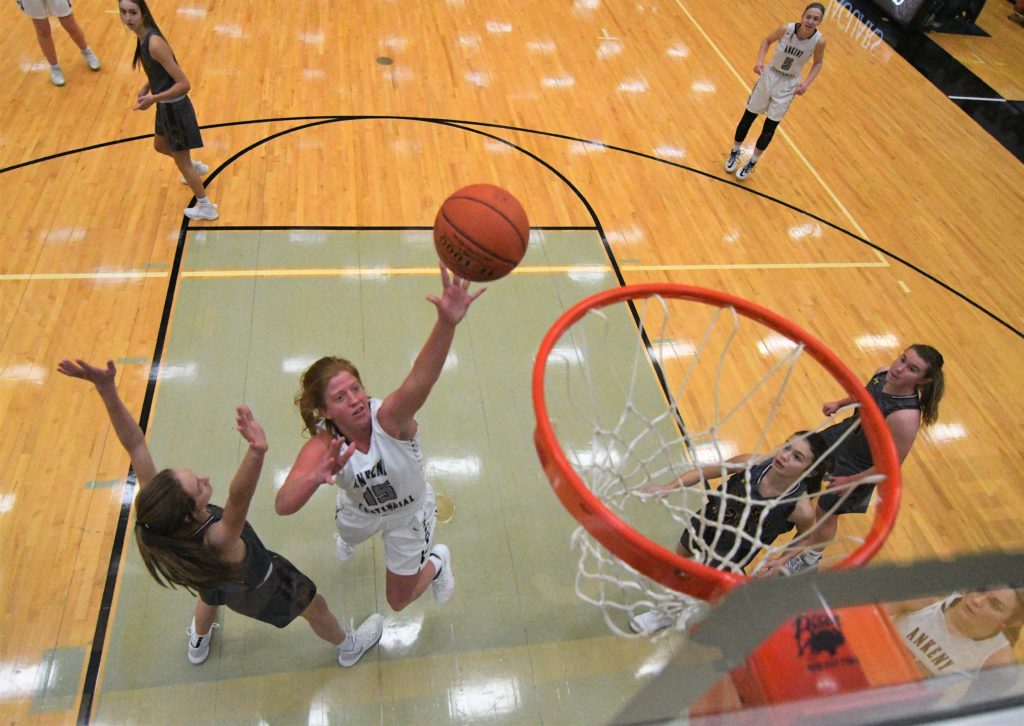 Cleao Murray had seven points, three assists and three steals for the Jaguars. Lizzie Strom grabbed six rebounds, and Bella Robben added two blocks.
Centennial improved to 2-4 in the CIML Central Conference and 7-6 overall. Ankeny's records dropped to 0-6 and 5-8.
It was the seventh loss in the last eight games for the Hawkettes, who will try to rebound on Tuesday against No. 15 Valley (6-6), the defending Class 5A champion.
"I told the girls after the game that we've had our worst defeats in the last week at Dowling Catholic and here tonight," McAnelly said. (Tuesday) is a huge character test. We'll see what we're made of. We have no choice but to respond because if we don't, the season could become real long and dark to finish up."
The Jaguars will host Des Moines North (3-8) on Tuesday.