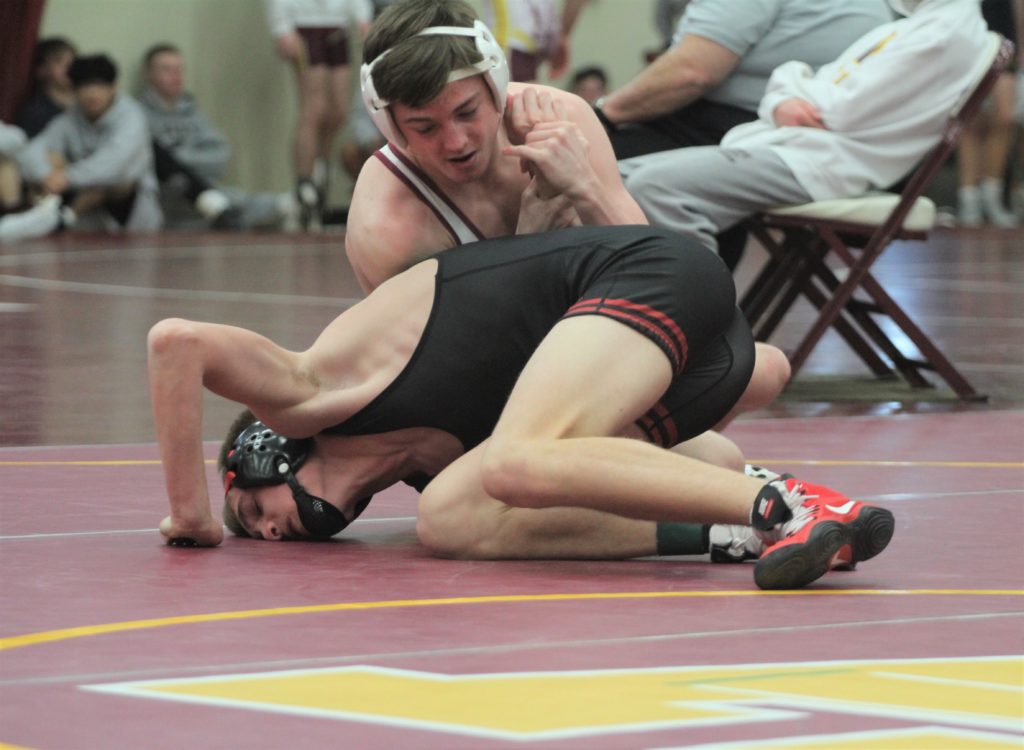 While Martin Luther King Jr. Day provided a day off for many people, that wasn't the case for the Ankeny wrestlers.
The seventh-ranked Hawks hosted the Bob Sharp Invitational after Saturday's tournament was postponed until Monday due to inclement weather. Ten of the 13 teams that were originally slated to compete traveled to Ankeny for the rescheduled event.
"It was a good tournament," said Ankeny coach Jack Wignall. "The MVP of the day was our Activities Director, Andy Umthun, for getting it rescheduled. We're thankful for what he did."
Norwalk won the tournament with 235 points, edging Indianola by 7.5 points. Ankeny took third with 185.5 points.
The Hawks had not competed in a tournament since the weekend of Dec. 20-21 at the Battle of Waterloo.
"We didn't wrestle the greatest," Wignall said. "But our kids were tired of practicing, and I was, too. We really needed some competition, so that's why we pushed so hard to get this tournament rescheduled."
Ankeny's top-ranked duo of Trever Anderson at 113 pounds and Caleb Rathjen at 138 each won a second straight Bob Sharp crown. Teammate Sam Kallem, who is ranked fifth at 145, also won his second Sharp title–he captured his first one in 2017.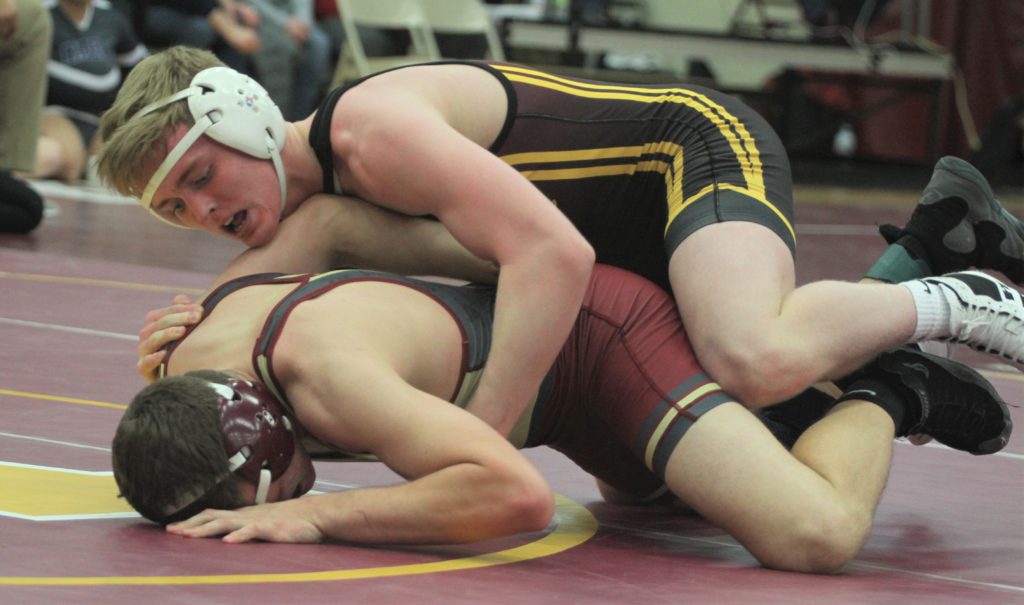 Rathjen raised his record to 24-1 by pinning No. 7 Leo Blawou of Des Moines Lincoln in 3 minutes 27 seconds.
"Caleb wrestled really well," Wignall said. "I think he faces a lot of guys who try to stall and keep it as close as they can. But (Blawou) really tried to wrestle him, and it's a lot more exciting when that happens."
Rathjen needed just 31 seconds to pin Reece Seery of Linn-Mar (Marion) in the quarterfinals. He then won by a technical fall, 20-4, over No. 10 Leland Evans of Oskaloosa in the semifinals.
"Going out and dominating my opponent has always been a mindset of mine from the get-go," said Rathjen. "But this year, for sure, I've really been working hard to really separate myself from the rest."
Anderson improved to 21-1 with a 4-1 decision over No. 4 Ryder Downey of Indianola. Downey lost for only the third time in 26 matches this season.
"He's always a tough opponent," Wignall said of Downey. "He tries to slow things down, but Trever wrestled pretty well."
Anderson posted a 10-0 major decision over Downey in the quarterfinals of last year's Class 3A state tournament. He went on to win the title.
"I feel like the key to beating him was I got to a pretty nice single leg and was able to finish on the edge and I was also able to get some back points late in the first (period)," Anderson said. "But overall, I was disappointed with my result because I feel I am a lot better than the way that match turned out. I got rode out in the third period which I'm frustrated about–I feel I should be beating that kid by more than just three points. I still got the result which I'm satisfied with, but I've got some stuff to improve on until our next meeting and I'm excited to hopefully widen the gap."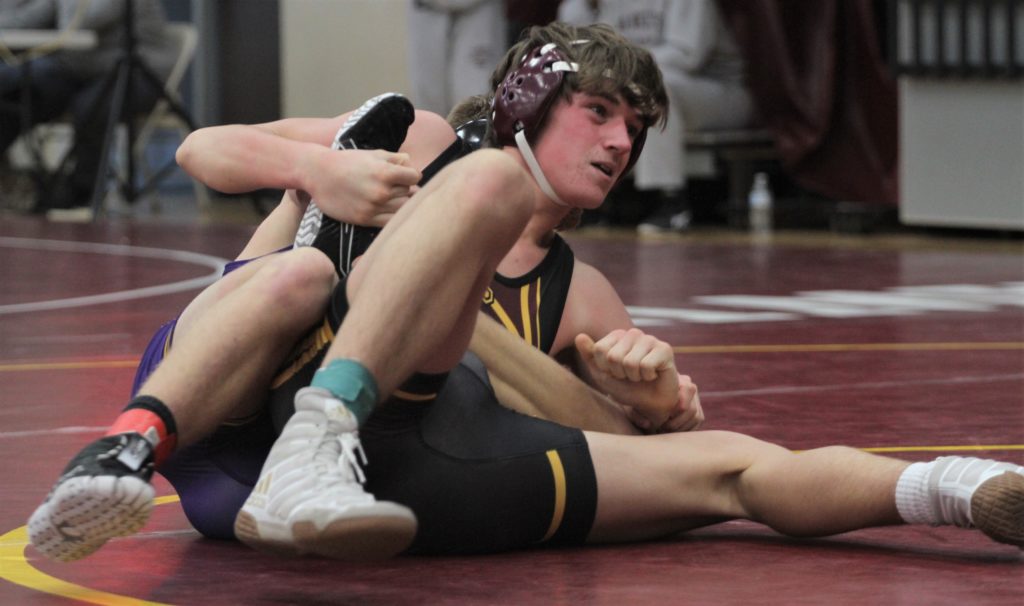 Kallem posted a 10-8 decision over No. 8 Tanner Higgins of Council Bluffs Lewis Central. He is now 17-4 on the season.
"I had never wrestled him before, but he was a tough kid," Kallem said. "I had four takedowns in the first two periods, and he had one or two in the third period. Then I gave up a couple penalty points. I wish I would have kept my foot on the gas in the third period, but overall I'm happy with my performance. I haven't won the Bob Sharp since my freshman year, so it was good to win it my senior year."
Kallem pinned his first two opponents in the opening period. He was then forced to wrestle the full 6 minutes against Higgins.
"Sam wrestled well for two periods and then kind of hit a lull in the third and slowed down," Wignall said. "We need to work on our conditioning, for sure."
The Hawks got second-place finishes from Carter Davis at 106 and No. 7 Cael Cox at 120. Davis (18-8) dropped a 7-0 decision to Bowen Downey of Indianola, while Cox (16-7) suffered a 5-3 loss in overtime to No. 10 Donovan Card of Norwalk.
Ankeny got a third-place finish from No. 10 Jace Anderson at 126. Xander Kenworthy took fourth at 182.
The Hawks will host a CIML Central Conference dual meet against Dowling Catholic on Thursday, then will host the Dave Ewing Duals on Saturday.