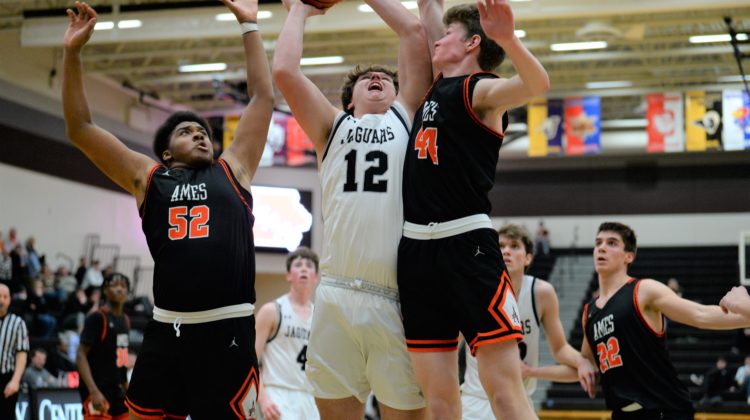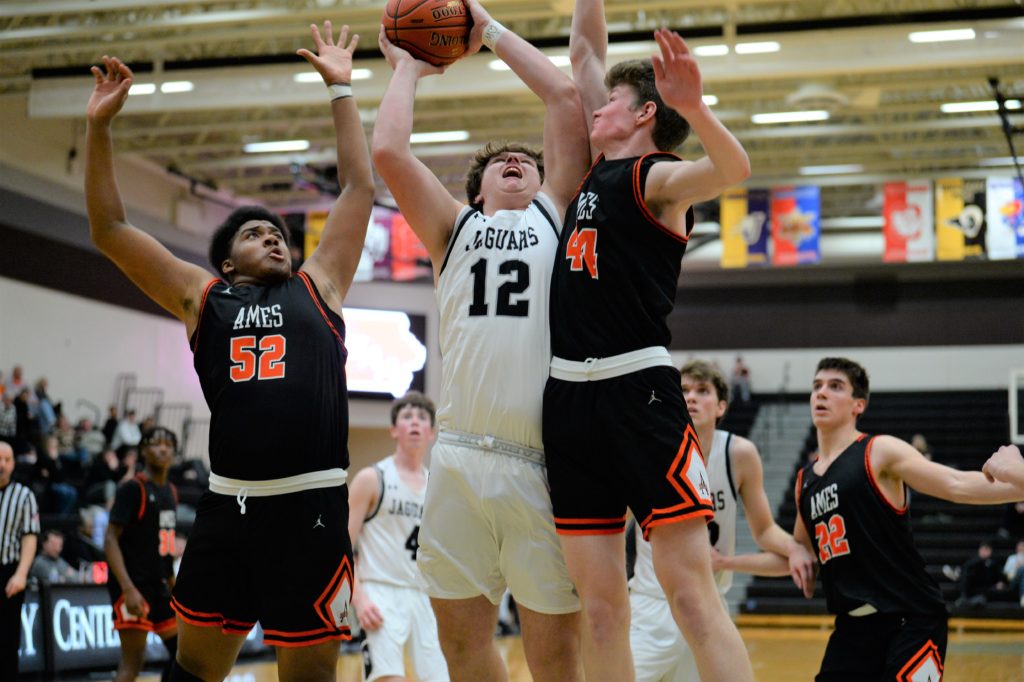 The race for the CIML Central Conference boys' basketball title could be turning into a two-team battle.
Ankeny Centennial maintained sole possession of the league lead with a 50-29 victory over visiting Ames on Friday. Ankeny remained one game behind the Jaguars as Braxton Bayless scored the winning basket in the final seconds to give the Hawks a 65-63 triumph over visiting Urbandale.
Dowling Catholic, meanwhile, fell out of a tie for second place by suffering a 60-55 loss to visiting Johnston. It was the third straight conference defeat for the Maroons after getting off to a 4-0 start.
Here is the remainder of the Hawks' and Jaguars' conference schedules:
Ankeny–at Ames on Friday, vs. Centennial on Feb. 7, vs. Johnston on Feb. 14
Centennial–vs. Dowling on Friday, at Ankeny on Feb. 7, vs. Urbandale on Feb. 14
In girls' play, Dowling moved into first place with a 75-57 victory over Johnston, avenging an earlier loss. Caitlin Clark poured in 42 points as the Maroons snapped Johnston's 11-game winning streak.
Here are the current Central Conference standings:
GIRLS
Dowling Catholic 6-1 13-2
Johnston 5-1 13-2
Urbandale 4-3 12-3
Ames 3-3 8-6
Ankeny Centennial 2-5 8-7
Ankeny 0-7 5-10
Tuesday's scores
Ames 77, Des Moines Hoover 33
Ankeny Centennial 80, Des Moines North 23
Dowling Catholic 79, Waukee 65
Urbandale 63, Indianola 42
Valley 62, Ankeny 59
Friday's scores
Ames 44, Ankeny Centennial 43 (OT)
Dowling Catholic 75, Johnston 57
Urbandale 59, Ankeny 57 (OT)
BOYS
Ankeny Centennial 6-1 13-1
Ankeny 5-2 11-2
Dowling Catholic 4-3 8-5
Ames 3-3 7-6
Johnston 2-4 6-6
Urbandale 0-7 5-8
Tuesday's scores
Ames 43, Des Moines Hoover 35
Ankeny 55, Valley 45
Ankeny Centennial 85, Des Moines North 74
Indianola 55, Urbandale 36
Waukee 78, Dowling Catholic 54
Friday's scores
Ankeny 65, Urbandale 63
Ankeny Centennial 50, Ames 29
Johnston 60, Dowling Catholic 55