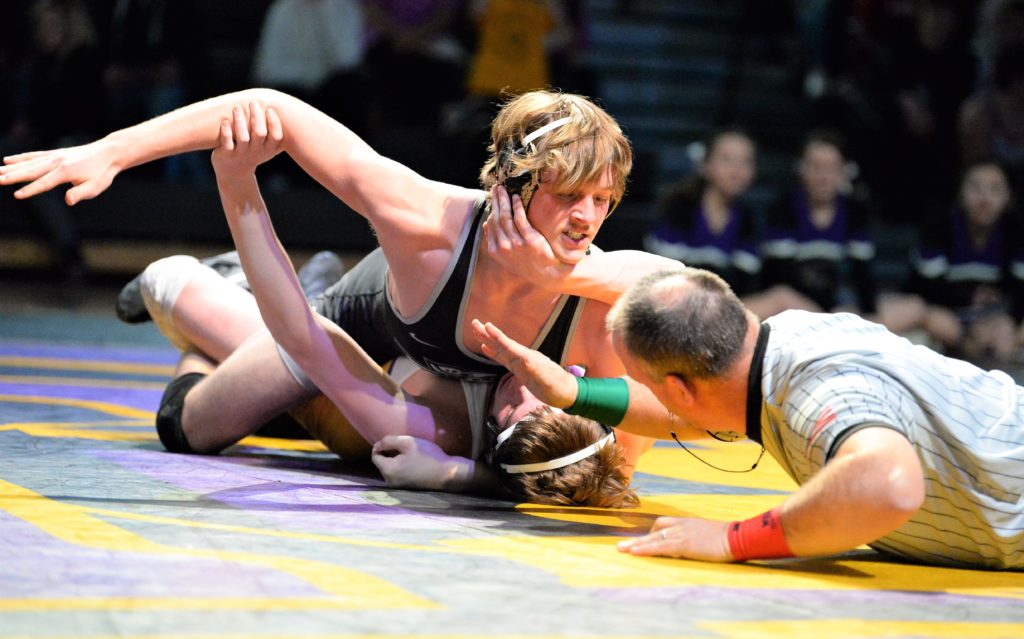 One of the reasons Ankeny Centennial wrestling coach Jay Groth wanted his team to compete in the Ed Winger Invitational was to prepare the Jaguars for the stretch run of the season.
It remains to be seen how things will turn out.
On Saturday, Centennial placed sixth in the 19-team field at the Urbandale tournament. The eighth-ranked Jaguars racked up 134.5 points.
No. 2 Southeast Polk won the meet with 223.5 points. North Scott was second with 165.
"We had some pretty bright spots, but we also had some kids who didn't perform as well as they can," said Groth.
Centennial's top-ranked Logan Neils remained unbeaten by capturing the title at 170 pounds. He posted a 5-3 decision over No. 2 Mickey Griffith of Des Moines Lincoln in the finals.
Neils recorded falls in his first two matches, then posted a 6-1 decision over No. 7 Bradley Hill of Bettendorf before handing Griffith his first loss of the season. The senior improved to 29-0.
"Logan wrestled great," Groth said.
The Jaguars got second-place finishes from No. 1 Ben Monroe at 145 and No. 8 Jackie Wells at 220. Wells pinned No. 6 Cael Thorson of Waukee in the semifinals before losing to No. 2 Kalob Runyon of Southeast Polk by fall in the finals.
Wells is now 24-5.
"Jackie did some really good things," Groth said.
Monroe suffered his first loss of the season in the finals, dropping a 5-3 decision to No. 2 Devon Strief of North Scott. He is now 27-1.
"Losing in January doesn't really matter if we can learn from it," Groth said. "And Ben is the type of kid who will learn from it."
Centennial's Michael Witt placed fourth at 195. Earning sixth-place finishes were Cael Wiener at 106, No. 9 Jackson Helmkamp at 126, Lucas Henderson at 152 and No. 9 Ethan Frazier at 182.
Groth said some of his wrestlers got caught looking ahead.
"If you're not worried about the kid you have right now, you may not make it to the finals," he said. "And some of our guys found that out on Saturday."
The Jaguars finished one point behind No. 10 Johnston just two nights after the two teams collided in a dual meet at Johnston, where the Dragons posted a 39-29 victory to capture the CIML Central Conference title. Centennial finished 4-1 in the league and dropped to 15-4 overall.
"Johnston's got a good team," Groth said. "I thought our guys fought hard, but I'm still looking for our guys to step up and embrace our skill level. We need to have a little more confidence when we compete."
Tensions flared during the meet following the match at 138, where Johnston's No. 2 James Edwards pinned Carter Bennett in 1 minute 30 seconds. A policeman came onto the mat to help restore order after Centennial's coaches argued with coaches and administrators from Johnston.
"Things got a little crazy," Groth said. "But in the end, nobody got ejected. Each team lost a team point, but nobody got penalized beyond that. In the end we shook hands and we competed against Johnston on Saturday as well. It was a heat-of-the-moment thing, and there were probably a couple poor decisions by both benches. It is what it is, but wrestling's a contact sport and everyone gets excited. If nothing else, the fans were entertained and we learned a couple things, and it won't happen again."
The Dragons avenged a 54-19 loss in last year's Class 3A regional final. The two teams will see each other again on Friday in the CIML Invitational at Southeast Polk.
"I'm excited about the tournament for our guys," Groth said. "It'll be fun."
Here are the match-by-match results from Thursday's meet: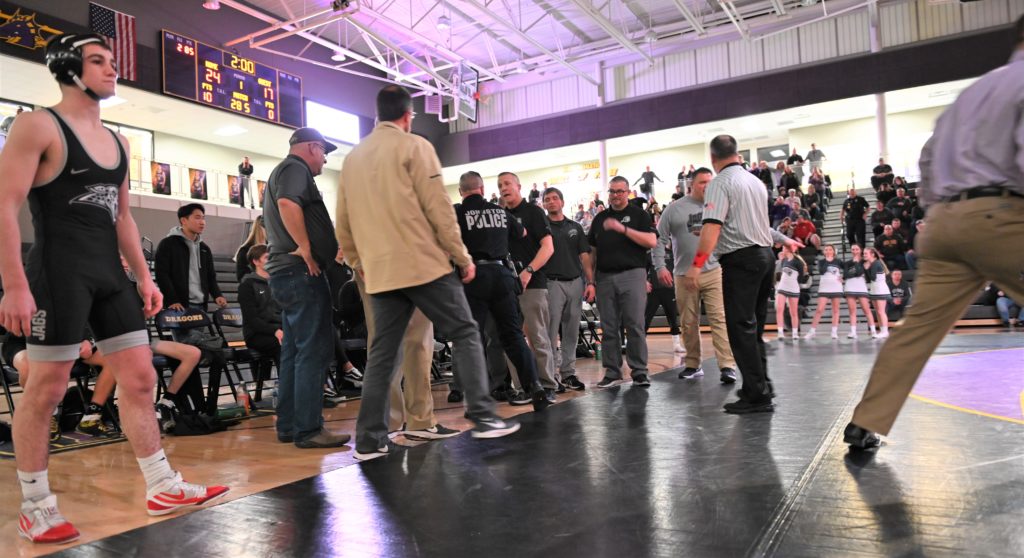 Johnston 39, Centennial 29
195: Witt (AC) beat Rowland, 10-7; 220: Wells (AC) pinned Dolan, 1:19; 285: Reese (J) pinned Parlee, :51; 106: O. Helgeson (J) pinned Vega, 1:32; 113: Madison (J) beat Wiener, 12-5; 120: Bresson (AC) pinned King, :17; 126: T. Edwards (J) beat Helmkamp, 12-0; 132: Mayer (AC) beat Honkomp, 8-1; 138: J. Edwards (J) pinned Bennett, 1:30; 145: Monroe (AC) won by technical fall over Erickson, 25-10; 152: Zindel (J) beat Cuppy, 1-0; 160: C. Helgeson (J) won by technical fall over Cahill, 28-13; 170: Neils (AC) pinned Hutchison; 182: Brinker (J) pinned Frazier.
Regional Dual
Centennial has been selected to host one of the Class 3A regional duals by the Iowa High School Athletic Association. The Jaguars are ranked fifth in Class 3A by the Iowa Wrestling Coaches and Officials Association.
Centennial, which placed third in last year's Class 3A state duals, will host the regional on Feb. 12. The meet begins at 6 p.m.
The Jaguars will face the winner of a first-round match between No. 11 Valley and No. 19 Iowa City West for the right to advance to the state duals, which will be held on Feb. 19 at Wells Fargo Arena in Des Moines.