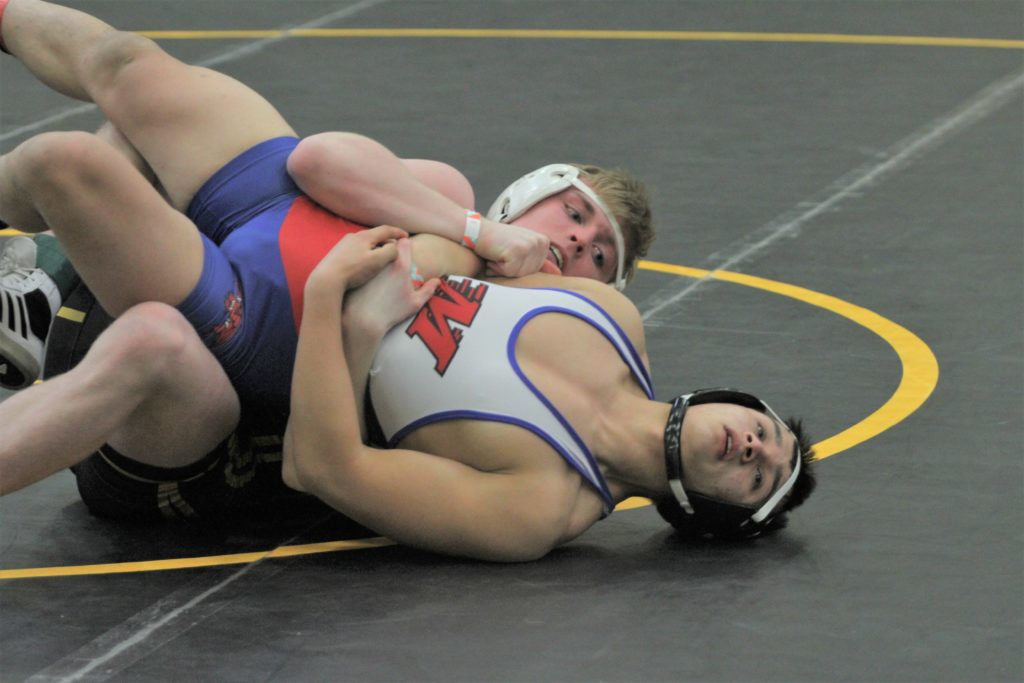 If Friday's CIML Invitational at Southeast Polk was any indication of what's going to happen later this month at the Class 3A state wrestling tournament, then both Ankeny and Ankeny Centennial could make a lot of noise at Wells Fargo Arena.
The eighth-ranked Jaguars placed second in Friday's 16-team tournament, while the No. 7 Hawks took fourth. It was the highest finish ever for both teams since Ankeny split into two high schools in 2013.
"I thought overall as a team we wrestled pretty well," said Centennial coach Jay Groth. "We finished above our seed in most cases and got some bonus points, and we won some matches that we had lost (before). So I was very pleased."
No. 2 Southeast Polk claimed the team title for the ninth time in 10 years. The Rams crowned four individual champions and racked up 266 points.
Centennial edged No. 3 Fort Dodge by 2.5 points, 193-190.5, for the runner-up spot. The Jaguars were led by Logan Neils, who won the 170-pound title for his second CIML crown.
Ankeny had three individual champs and finished with 151.5 points, but coach Jack Wignall said his team could have performed even better.
"Where we were good we were really good, and where we were not so good we were not good at all," he said. "We had five guys that didn't win a match tonight, so to finish fourth with that was pretty good. But it was kind of frustrating to know that we had some guys who didn't contribute. It was kind of disappointing. We've got to have more from those guys."
Friday's event wasn't officially the conference tournament, because No. 6 Waukee did not participate. But it was still a mini-state tournament featuring five of the top 10 teams in Class 3A.
Ankeny had a pair of repeat champions in the top-ranked duo of Trever Anderson at 113 and Caleb Rathjen at 138. The Hawks also got an unexpected title at 145 from No. 5 Sam Kallem, who defeated No. 1 Ben Monroe of Centennial for the first time ever by pinning him in 2 minutes 41 seconds.
"It feels pretty good," said Kallem. "I've never placed higher than fourth at CIML, so it was nice to win it my last year. Ben is a great competitor and wrestler. I just got to my offense on my feet and when I do, good things happen."
Kallem posted a 7-5 decision over No. 7 Brandon Mills of Fort Dodge in the semifinals. He then upset Monroe to raise his record to 28-4.
"Ben got in on a shot and was working his way up, and Sam hooked his leg and pancaked him to his back and didn't let him get up. It was great wrestling by Sam," Wignall said. "Sam has won a lot of matches–over 100 (in his career). But that marquee win that would really propel him so that he could believe he was that type of wrestler has just eluded him. And he got it tonight in pretty dramatic fashion. He's putting the time in, and things are really starting to click for him."
Monroe was denied a second straight title while losing for only the second time in 32 matches this season. He lost to No. 2 Devon Strief of North Scott, 5-3, in the finals of the Ed Winger Invitational last Saturday.
"Sam hit a nice throw and caught Ben off-balance and put him on his back and finished the job," Groth said. "Sam's a good wrestler, so we've got to be on our toes all the time when we're wrestling guys like that. I'm still not worried (about Monroe). We'll figure it out."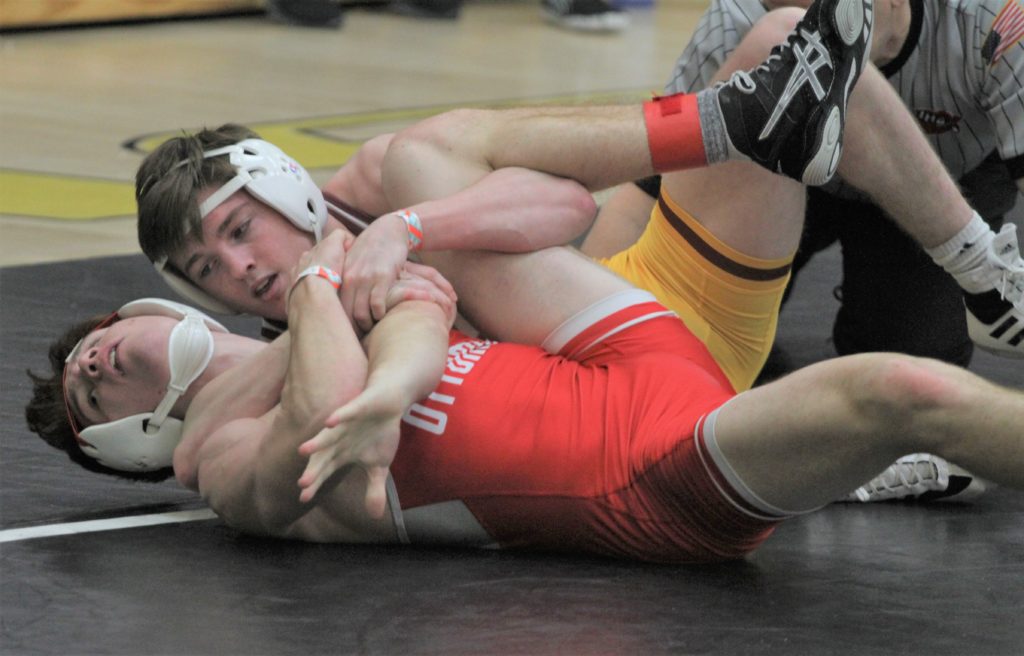 Anderson posted a 3-0 decision over No. 5 Jace Rhodes of Mason City to improve to 31-1. It was a rematch of last year's state championship match at 106, which was also won by Anderson, 7-0.
"Trever has wrestled (Rhodes) a lot," Wignall said. "Kids are really hanging on Trever and slowing him down. That makes the score closer than what it really was. Trever rode him for probably 4 or 5 minutes today. Trever dominated the entire match."
Rathjen also dominated en route to a 10-4 decision over No. 3 Dreyzon Phillips of Fort Dodge. He is now 35-1 on the season.
After pinning his first opponent in just 50 seconds, Rathjen recorded a pair of technical falls in his next two matches. He rolled past No. 6 Carter Martinson of Southeast Polk, 20-5, in the semifinals.
"Caleb looked good against a couple of the top guys at his weight (in the state)," Wignall said. "He's just on another level from everybody in 3A."
Neils, meanwhile, posted a 3-1 decision over No. 2 Mickey Griffith of Des Moines Lincoln to remain unbeaten. He is now 33-0.
"He wasn't very happy with his performance," Groth said of Neils. "He wanted to open up more, but he didn't open up as much as he should. But obviously, we're pleased that he won a title against a really good kid. Griffith is a good wrestler."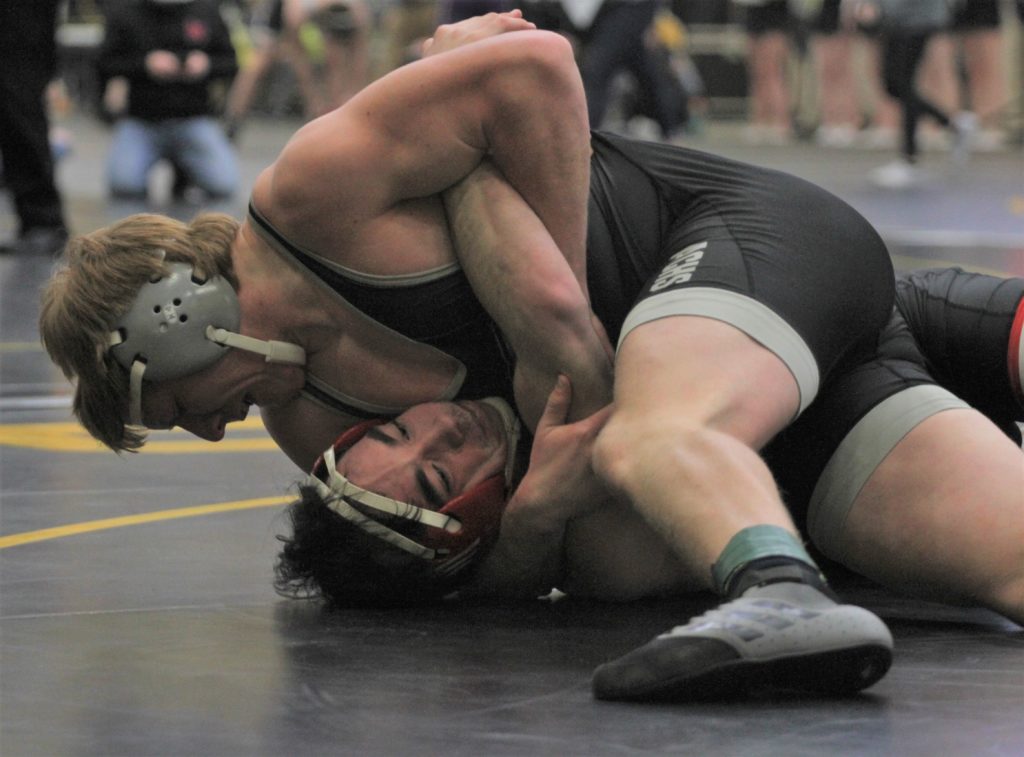 Neils has handed Griffith (29-2) both of his losses in the last week. He posted a 5-3 decision over the sophomore in the Ed Winger finals.
"I was pretty sure I could beat him," said Neils, who also won a CIML title in 2018. "He switched it up. Last week he tried to push the pace and shoot, and today he hung back and waited for me to shoot."
The Jaguars got a second-place finish from Michael Witt at 195. He posted a 10-4 decision over Ankeny's Colby Bales in the semifinals before losing by a technical fall, 16-1, to No. 1 Gabe Christenson of Southeast Polk.
"He's really coming on right now," Groth said of Witt, who lifted his record to 15-9. "He's working hard and putting in extra time. It took him awhile to find the right spot for him on the team, but we're very pleased with the way he's wrestling right now."
Ankeny got a runner-up finish from No. 9 Cael Cox at 120. He posted a 9-7 decision over No. 7 Kaleb German of Urbandale in the semifinals before losing by a technical fall, 23-8, to No. 1 Drake Ayala of Fort Dodge.
Cox is now 24-9.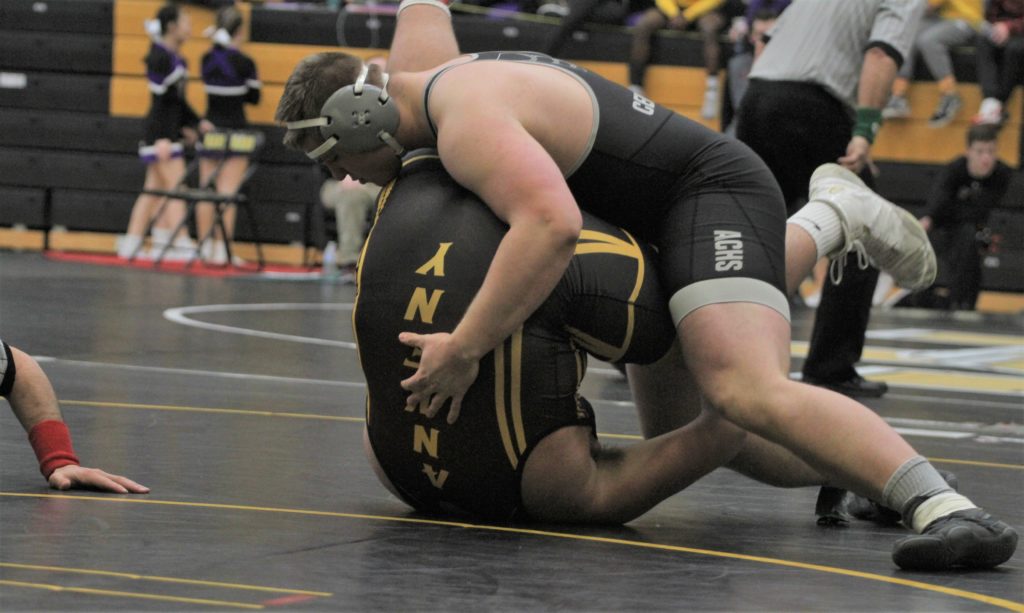 "Pound-for-pound, Ayala is one of the best kids in the country," Wignall said. "But you can't get tech falled in a minute and 34 seconds. Cael is a better wrestler than that. I know Drake is really, really good, but Cael just needs to not worry about who he is wrestling and just go out there and wrestle."
Centennial got third-place finishes from Cael Wiener at 106, No. 9 Jackson Helmkamp at 126 and Carter Cahill at 160. No. 8 Jackie Wells finished fourth at 220.
Five other Jaguars placed seventh or higher.
"We wanted to take the tournament," Neils said. "We still have stuff we need to improve before districts, but overall we're happy with today."
Bales placed third for the Hawks. Carter Davis at 106 and Nike Coulthard at 126 each finished sixth.
Coulthard filled in for No. 10 Jace Anderson, who sat out with an injury. The Jaguars were without No. 10 Jackson Bresson at 120, but both Bresson and Anderson should be back in the lineup next week.