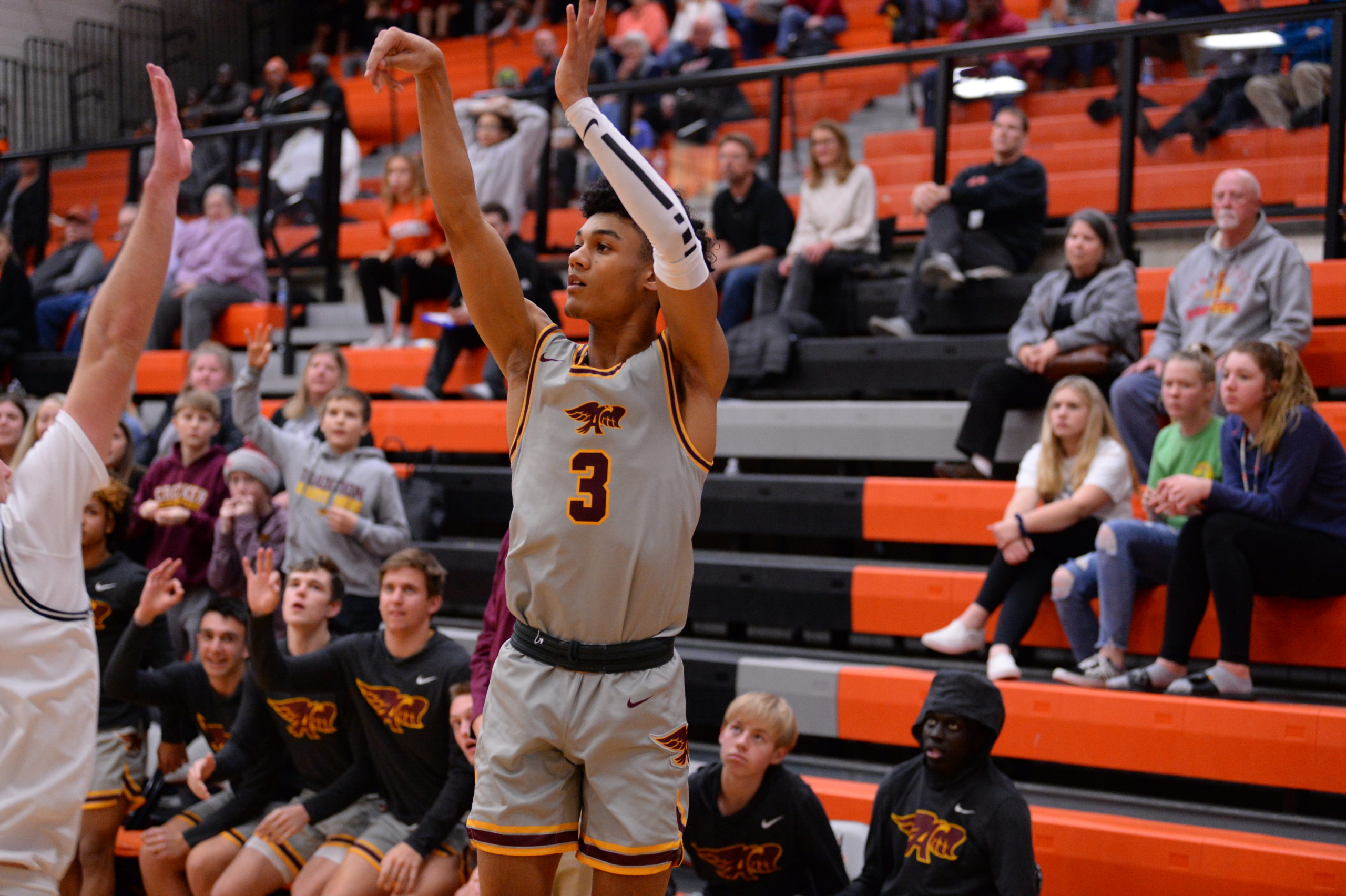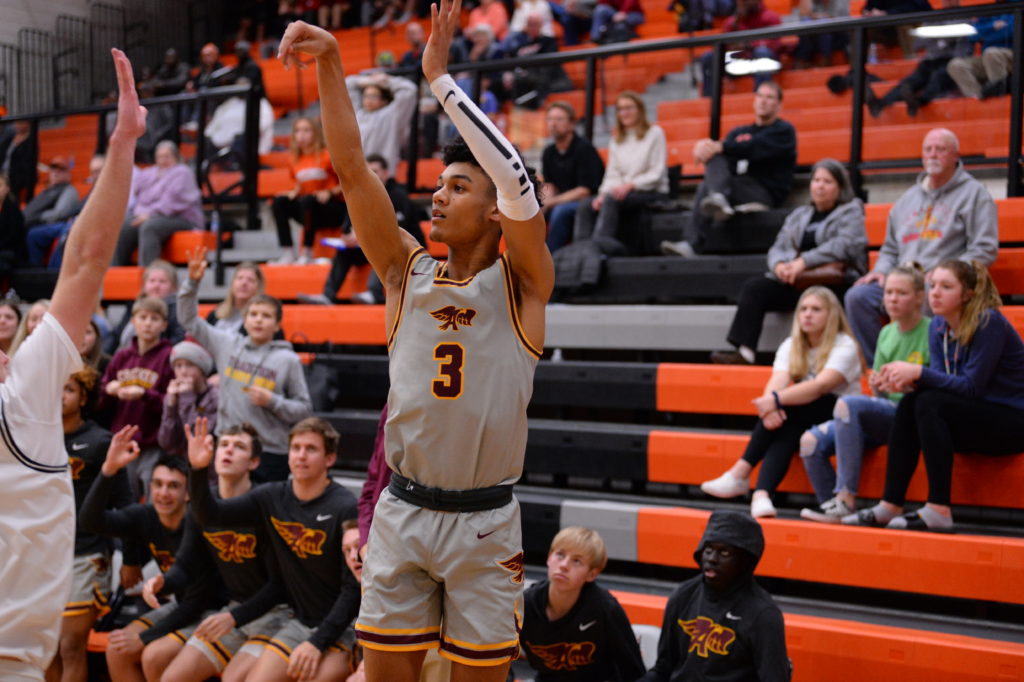 A 3-point goal by Jaxon Smith with 2 seconds left gave the Ankeny boys' basketball team a 45-42 victory at Ames on Friday, keeping the Hawks alive in the race for the CIML Central Conference title.
Ankeny remained one game behind crosstown rival Ankeny Centennial, which avenged its only loss of the season with a 63-48 win over visiting Dowling Catholic. The Hawks will host Centennial on Friday and can move into a first-place tie with a victory, while the Jaguars can clinch the outright league crown by completing a sweep of the season series against Ankeny.
In girls' play, Dowling and Johnston remained tied atop the conference standings with victories on the road. The Maroons posted a 56-49 win at Centennial, while the Dragons rolled to a 62-45 triumph at Urbandale.
Here are the current Central Conference standings and the upcoming schedule:
GIRLS
Johnston 7-1 15-2
Dowling Catholic 7-1 15-3
Urbandale 4-4 13-4
Ames 3-5 8-9
Ankeny Centennial 2-6 8-9
Ankeny 1-7 7-10
Monday's score
Johnston 64, Ames 50
Tuesday's scores
Ankeny 48, Des Moines Roosevelt 45
Dowling Catholic 84, Des Moines East 27
Urbandale 88, Des Moines Lincoln 9
Valley 57, Ames 43
Waukee 55, Ankeny Centennial 33
Friday's scores
Ankeny 60, Ames 49
Dowling Catholic 56, Ankeny Centennial 49
Johnston 62, Urbandale 45
Saturday's score
Iowa City High 75, Dowling Catholic 73
Tuesday's games
Des Moines East at Ankeny Centennial
Des Moines Lincoln at Johnston
Des Moines Roosevelt at Ames
Marshalltown at Ankeny
Mason City at Dowling Catholic
Southeast Polk at Urbandale
Friday's games
Ankeny Centennial at Ankeny
Johnston at Ames
Urbandale at Dowling Catholic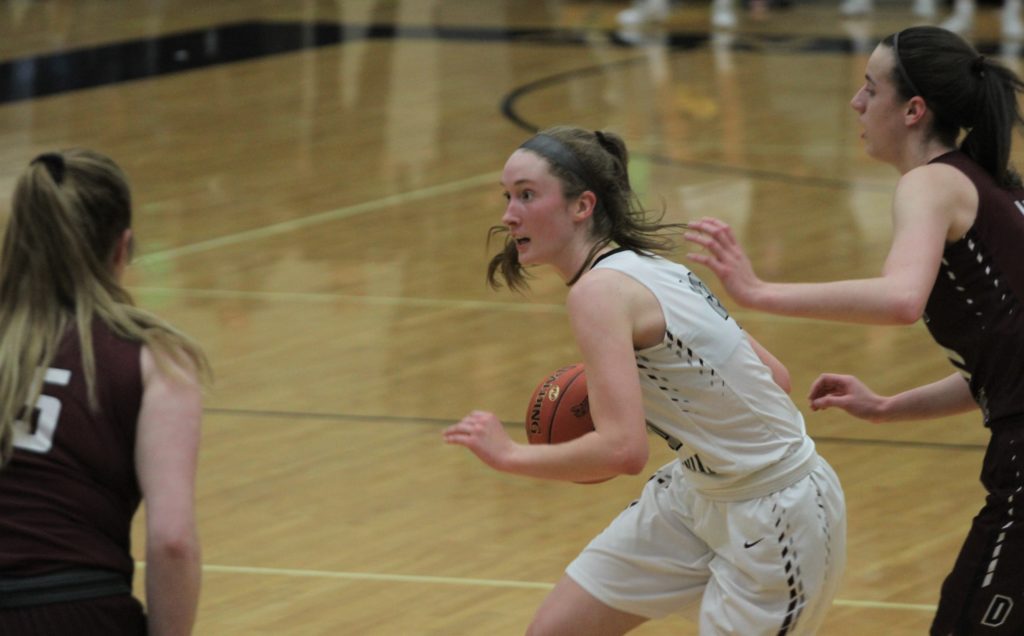 BOYS
Ankeny Centennial 7-1 15-1
Ankeny 6-2 12-3
Dowling Catholic 4-4 9-6
Johnston 3-5 8-7
Ames 3-5 7-9
Urbandale 1-7 6-9
Monday's score
Johnston 67, Ames 40
Tuesday's scores
Ankeny Centennial 78, Waukee 70
Des Moines Lincoln 55, Urbandale 53
Des Moines Roosevelt 65, Ankeny 60
Johnston 66, Fort Dodge 47
Valley 70, Ames 46
Friday's scores
Ankeny 45, Ames 42
Ankeny Centennial 63, Dowling Catholic 48
Urbandale 66, Johnston 62 (OT)
Saturday's score
Dowling Catholic 51, Dubuque Hempstead 42
Tuesday's games
Des Moines East at Ankeny Centennial
Des Moines Lincoln at Johnston
Des Moines Roosevelt at Ames
Marshalltown at Ankeny
Mason City at Dowling Catholic
Southeast Polk at Urbandale
Friday's games
Ankeny Centennial at Ankeny
Johnston at Ames
Urbandale at Dowling Catholic