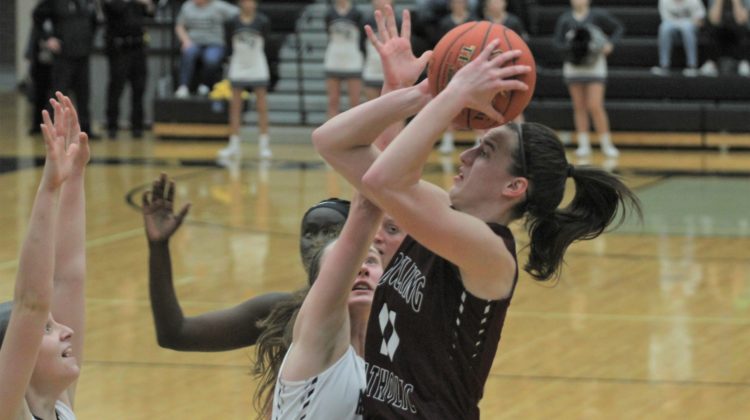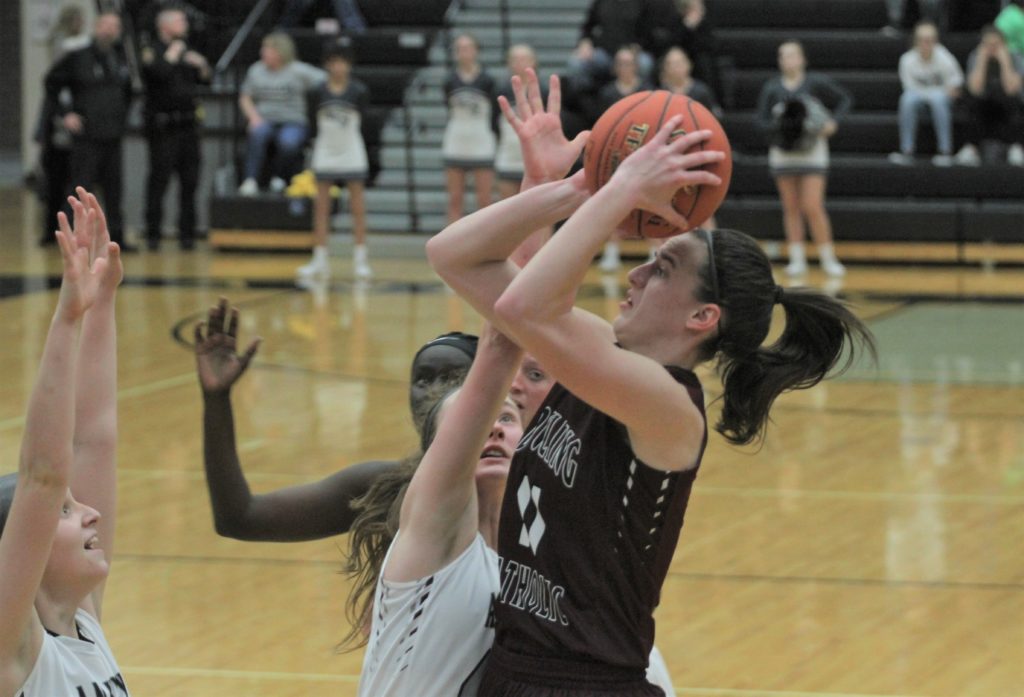 The Ankeny Centennial girls' basketball team held Dowling Catholic star Caitlin Clark to just two 3-point goals during Friday's game at Centennial.
The Iowa recruit found other ways to score, though, and finished with 32 points in leading the second-ranked Maroons to a 56-49 victory.
Clark wreaked havoc on defense, turning several steals into layups at the other end of the court.
"Those were killers," said Centennial coach Scott DeJong. "We're close, and then she had those breakaways. We're hard to score against, but when she's going down the floor with nobody ahead of her, that's not good."
Dowling led from start to finish, but could never pull away. The Maroons had to hold off several rallies by No. 13 Centennial.
Each time the Jaguars got close, Clark found a way to make a play.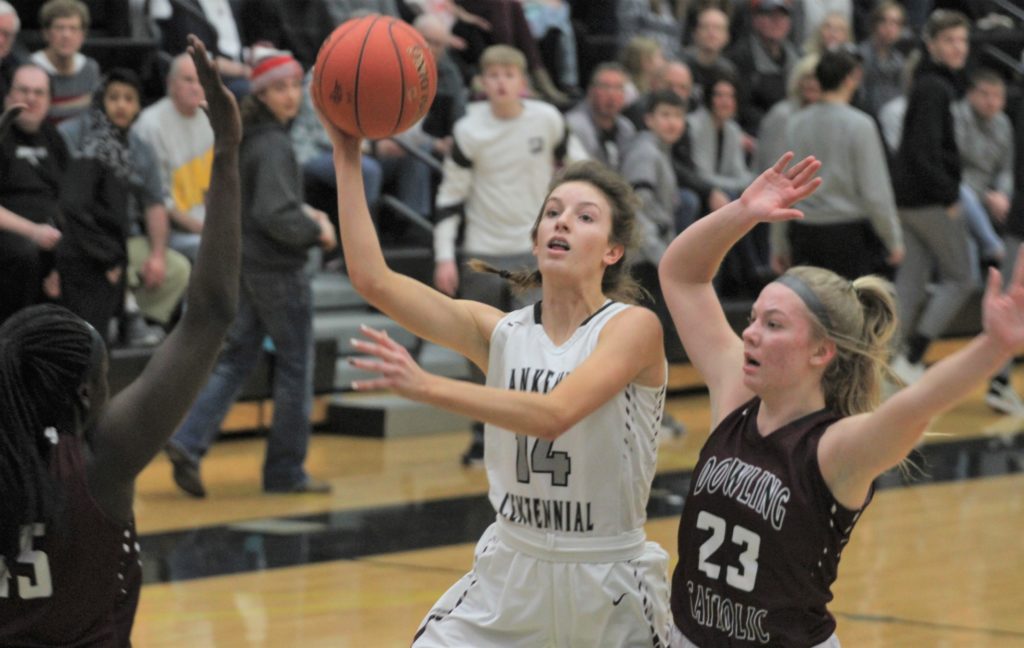 After Centennial pulled within 19-18 in the second quarter, Clark immediately turned a steal into a layup. She then converted a 3-point play off an offensive rebound to give Dowling a 24-20 halftime lead.
The Jaguars twice closed the gap to one point in the third quarter, but each time Clark answered with a basket–one of them off a steal.
"She got in the passing lanes and read off the ball really well," Centennial's Meg Burns said of Clark. "She just killed us (on those steals)."
Burns led the Jaguars with 10 points. She made a 3-pointer with 5 minutes 48 seconds left to cut Dowling's lead to 42-41, but Centennial was unable to score on its next two possessions when it had a chance to go ahead.
Clark later made four consecutive free throws, then turned another steal into a layup by Ella McVey to seal the victory. It was the ninth straight win for the Maroons, who improved to 7-1 in the CIML Central Conference and 15-2 overall.
"I'm proud of our kids," DeJong said. "We practiced really hard the last couple of days, and it showed out there. But give Dowling a lot of credit. They're a team that a lot of people think can win the state championship. We're close, but we've just got to keep climbing a little bit."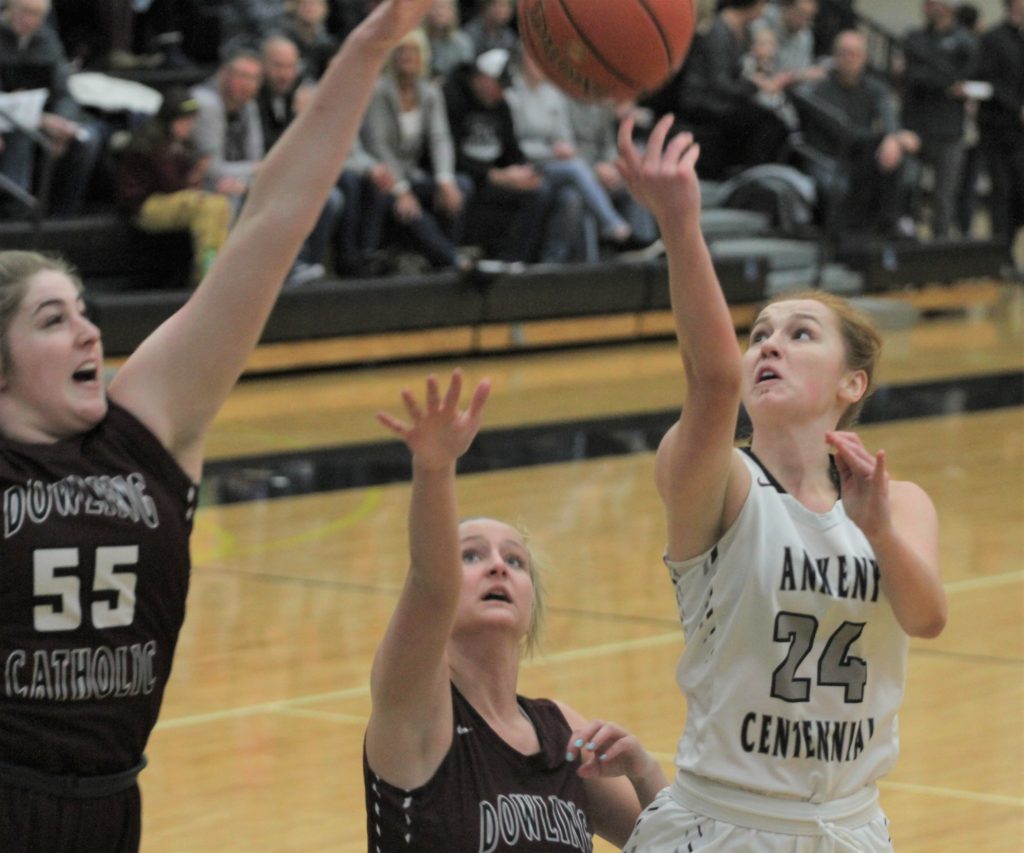 Jackie Pippett had nine points for the Jaguars, while Cleao Murray added eight points and four assists. Bella Robben contributed seven points, nine rebounds, two steals and three blocks.
"We've been getting after it in practice," Burns said. "We've had a couple of tough losses our last few games, so we're really trying to get over that hump. I thought we were closer tonight, and I was really proud of how the team played."
It was the third straight loss and the fifth in the last seven games for Centennial, which dropped to 2-6 in the league and 8-9 overall. The Jaguars were without starting center Alexandria Keahna-Harris, who reinjured her foot during Tuesday's loss at Waukee and sat on the bench in a boot.
"She's our big inside player, and it's tough (without her)," Burns said. "She works really hard inside, and she gets us a lot of easy points down there. But we had some other girls step up."
The Jaguars will host Des Moines East on Tuesday before traveling across town on Friday for a rematch against Ankeny.
"We're going to keep working and making each other better and ourselves better," Burns said. "Hopefully, with these next couple of games, we can get a big win."