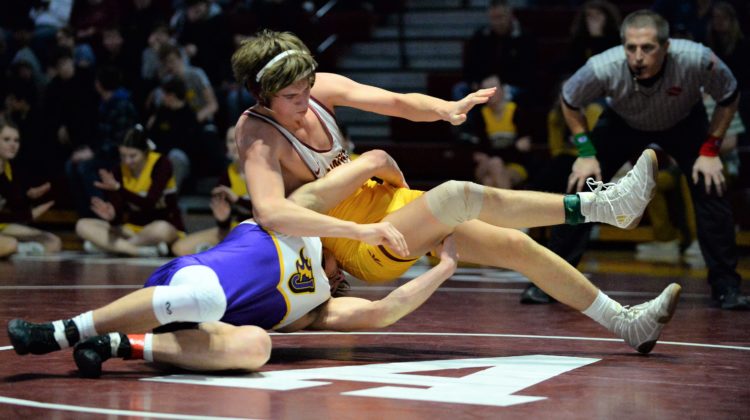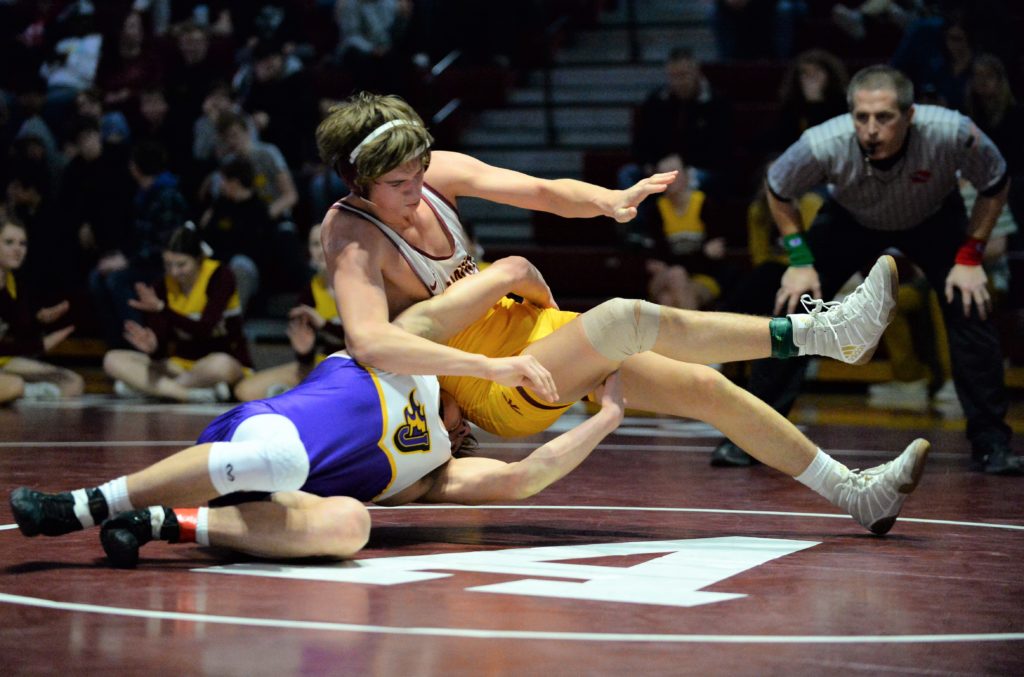 The Ankeny wrestlers tuned up for the postseason with a 65-16 victory at Marshalltown in a non-conference meet on Thursday.
The Hawks, who are 13th in the Class 3A dual rankings by The Predicament, improved to 14-5 on the season. Marshalltown dropped to 8-14.
"We had some kids get a win tonight that really needed it," said Ankeny coach Jack Wignall. "I was happy with the way our kids wrestled."
The Bobcats got off to a fast start, building a 16-0 lead after the first three matches. Julian Gomez recorded a major decision at 195 pounds, then seventh-ranked Carson Williams at 220 and No. 4 Jordan Anderson at 285 followed with back-to-back pins.
Anderson raised his record to 25-1 by pinning Joe Kingston in 1 minute 45 seconds.
"Our upper weights struggle a little bit sometimes, and Marshalltown has some good kids there," Wignall said. "So we lost the first three matches."
Ankeny then responded by winning the final 11 matches. The Hawks had nine pins and a technical fall, while No. 1 Caleb Rathjen won by forfeit at 138.
Wignall said he wasn't worried that Rathjen, a defending state champion, didn't get to wrestle.
"It doesn't matter," Wignall said. "He's locked in and ready to go."
After Rathjen's win, the Hawks closed out the meet with five consecutive falls, beginning with No. 5 Sam Kallem's pin over Bennett Hageman in 1:19 at 145. Hageman, who is ranked 10th at 138, was bumped up by the Bobcats.
"Sam handled him pretty well," Wignall said.
Marshalltown then bumped Jay Drummer up to 152, but he was pinned by Cole Lansing in 2:53.
"(I thought) we could maybe win two there, but then Hageman gets caught and that turned out to be a bummer and then Drummer had his guy on the ropes and finally (Lansing) won out," Bobcats coach Mike Mann told the Marshalltown Times-Republican.
Cade Bennethum later got a fall at 170. He pinned Coltin Grimm in 2:38.
"Cade wrestled pretty well tonight and beat a decent kid, so that was good," Wignall said.
Marshalltown lost for the second time in three nights. The Bobcats dropped a 59-12 decision to No. 4 Fort Dodge in a make-up meet on Tuesday.
"The results are the same, but the feelings are a lot better," Mann told the Marshalltown Times-Republican. "(Tuesday) just felt worse. We went out and looked like we were beat before we had even wrestled.
"These wouldn't be the two teams you'd pick to want to build some confidence on, but life is what it is," he added.
Ankeny will now prepare for a Class 3A regional dual on Wednesday at Southeast Polk. The Hawks will face Norwalk in a first-round match at 6 p.m., with the winner to meet the host Rams for the right to advance to the state duals tournament.
Here are the match-by-match results from Thursday's meet:
Ankeny 65, Marshalltown 16
195: Gomez (M) beat Bales, 13-5; 220: Williams (M) pinned Crimmins, 2:38; 285: J. Anderson (M) pinned Kingston, 1:45; 106: Davis (A) pinned Almanza, 1:46; 113: T. Anderson (A) won by technical fall over Rodriguez, 18-3; 120: Cox (A) pinned L. Hageman, 3:30; 126: Coulthard (A) pinned De La Cruz, 3:31; 132: Shanks (A) pinned Whitehead, 3:28; 138: Rathjen (A) won by forfeit; 145: Kallem (A) pinned B. Hageman, 1:19; 152: Lansing (A) pinned Drummer, 2:53; 160: Rose (A) pinned Rebik, 1:10; 170: Bennethum (A) pinned Grimm, 2:38; 182: Pomrenke (A) pinned Zaragoza, 2:33.