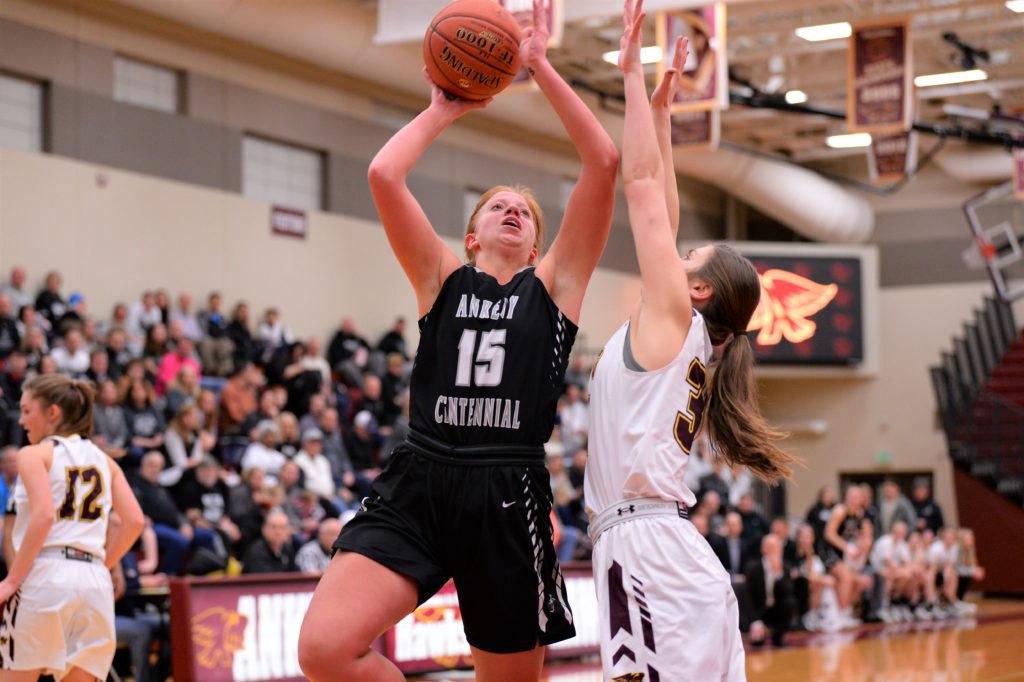 The Ankeny girls' basketball team turned in a spectacular defensive effort on Friday.
It wasn't enough to knock off archrival Ankeny Centennial.
The 12th-ranked Jaguars pulled away in the fourth quarter to post a 43-27 victory at Ankeny. They closed out the game with a 16-2 run.
"This is the way it's been down here for the last seven years. It's always been a slugfest," said Centennial coach Scott DeJong. "I'm really proud of our kids. We didn't play great at all the first half–we had some foul trouble–but we played a lot better the second half. Give Ankeny a lot of credit–their kids played really hard. They just couldn't solve our defense."
Ankeny kept the game close with some timely 3-pointers and by getting to the free-throw line, where it made 13-of-18 attempts. But a 6 1/2-minute scoring drought in the fourth quarter spelled doom for the Hawkettes, who did not make a 2-point basket until Calyssa Wright connected on a jumper with 32 seconds remaining.
"We knew going into the game that Centennial was one of the best defenses in the state," said Ankeny guard Kayla Pitz, who was held to five points, 10 below her average. "We tried to match their intensity on defense tonight and that's ultimately what kept us in the game. We got the open looks we wanted on offense but weren't able to convert as well as we would have liked."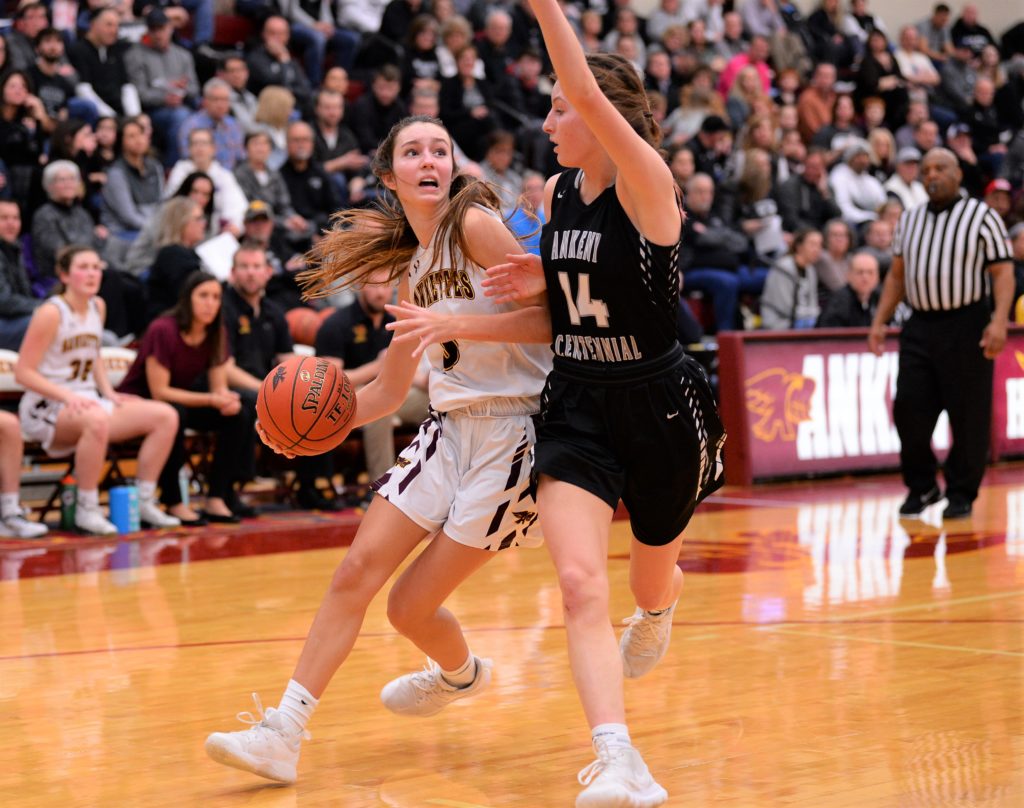 Jackie Pippett scored a game-high 13 points on 5-of-7 shooting as Centennial improved to 3-6 in the CIML Central Conference and 10-9 overall. She also grabbed seven rebounds.
Pippett had 14 points in the Jaguars' 57-29 triumph over Ankeny last month.
"They came out hard," Pippett said of the Hawkettes. "I think they were looking for a win because of last time."
Ashley Harrington had six points for Ankeny, which dropped to 1-8 in the league and 8-11 overall. Ellie Maschoff added five points.
"Outside of the scoreboard, I couldn't be more proud of a group of girls," said Ankeny coach Dru McAnelly. "When we played them earlier, we looked like we didn't belong on the same court. Tonight, we were right there. But credit to Centennial–they're so well-coached and they executed and they grinded it out."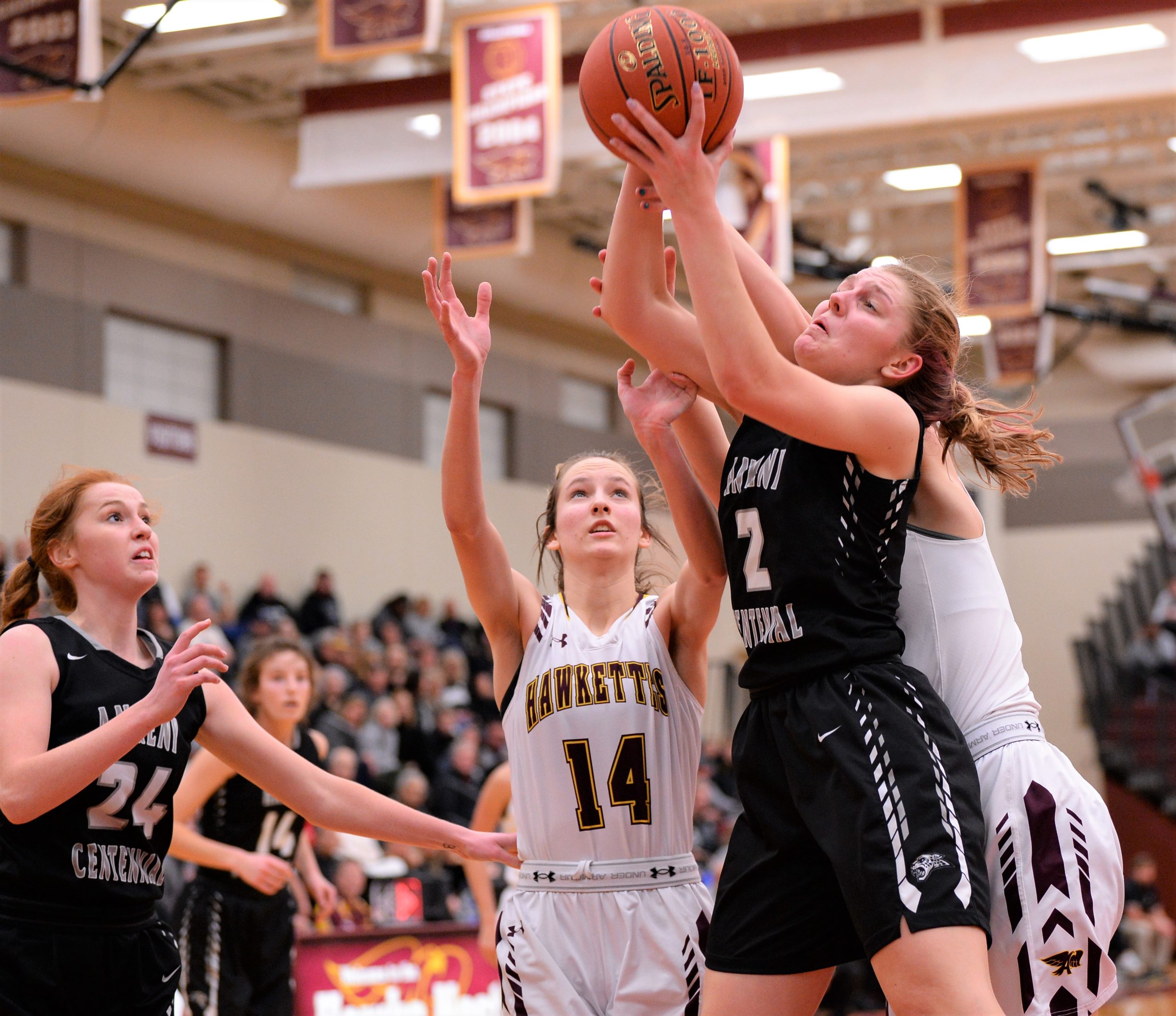 The Jaguars jumped out to an early 10-1 lead before Ankeny rallied. The Hawkettes closed the gap to 17-15 at halftime.
"I didn't think we played well offensively–to their credit," DeJong said. "We were out of sync and a little tight, but we were a lot better the second half."
Ankeny pulled within 27-25 on a pair of free throws by Pitz with 7 minutes left. The Hawkettes then missed two 3-pointers on their next possession with a chance to take the lead.
"I told the girls in the locker room that in my 17 years of coaching, I don't know if I've had a group be more locked in to a game plan and come out and execute," McAnelly said. "Centennial plays great defense, and as cliche as it sounds though, we had some really good looks in the second half. Shots just didn't go in.
"For about 30 of the 32 minutes, we really defended about as well as we could. I think because of that, on the flip side, we lost our legs a little bit with our shooting because we were working so hard on the defensive end," he added.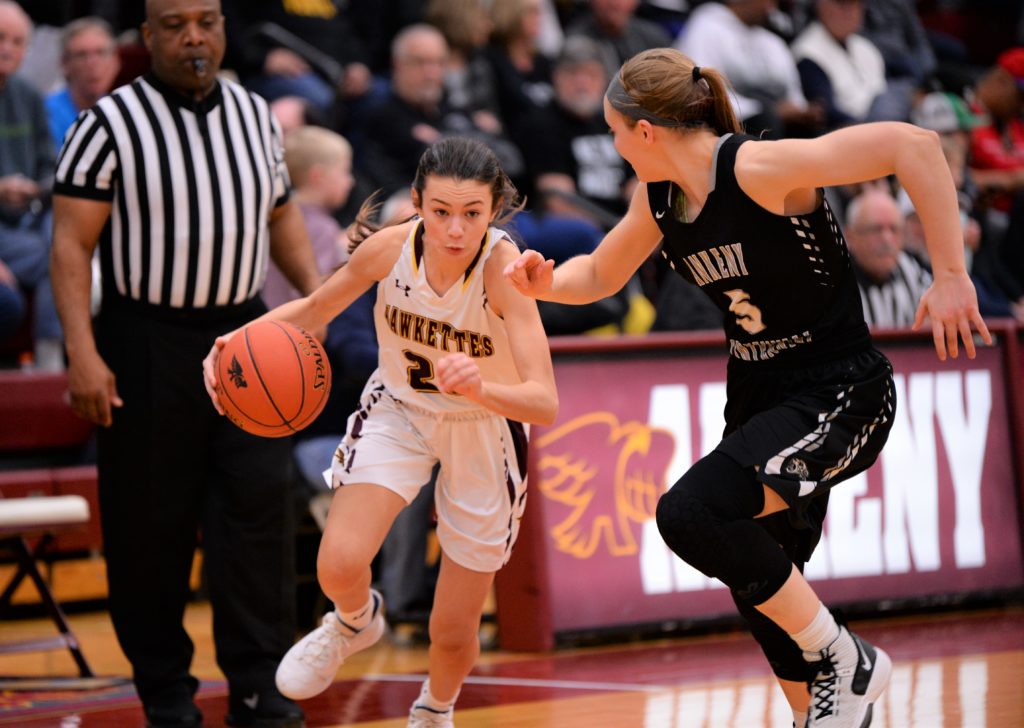 A basket by Pippett ignited Centennial's late run. Meg Burns hit a 3-pointer with less than 4 minutes left to give the Jaguars a 35-25 advantage.
"It feels amazing," Pippett said. "It's always good (to beat Ankeny). It's always a big game every year."
Burns and Cleao Murray each had nine points for the Jaguars. Murray also dished out five assists.
Bella Robben grabbed nine rebounds, and Lizzie Strom added eight. Those two helped overcome the loss of starting center Alexandria Keahna-Harris, who has been sidelined by a foot injury.
The Jaguars learned on Friday that Keahna-Harris will be out for the season.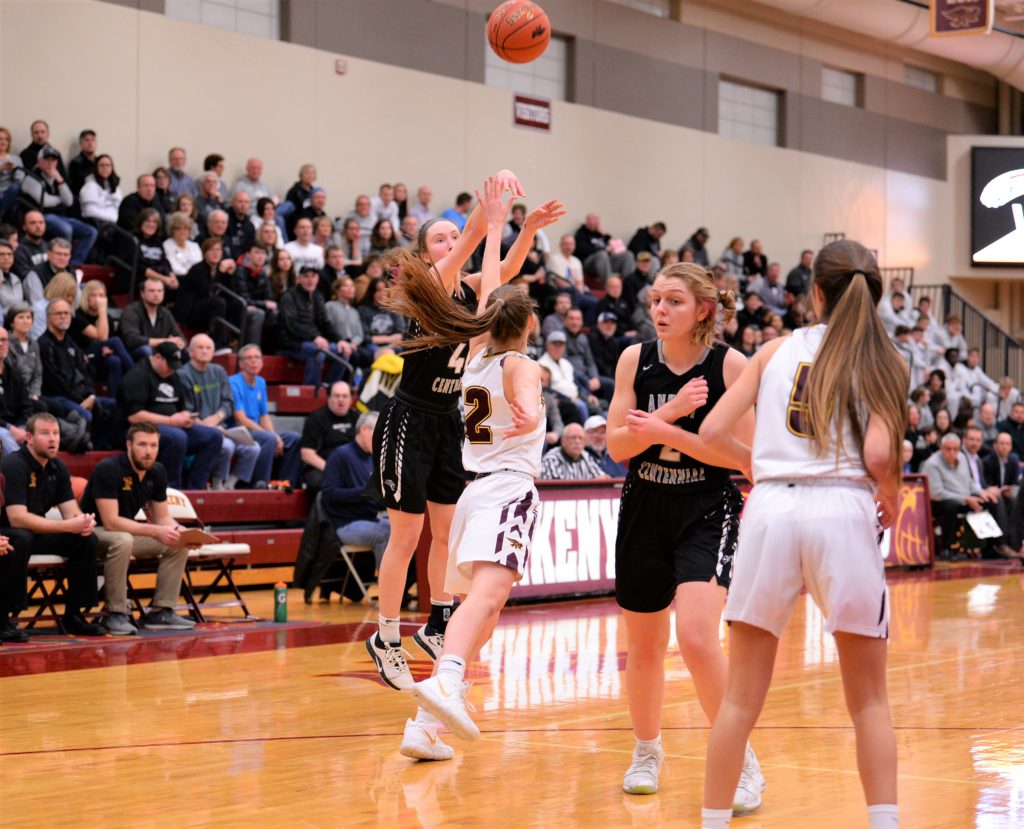 "It's a big loss, but I think our team has the capabilities to bounce back," Pippett said.
Pippett will have to continue to step up, like she did on Friday when she opened the second half with a 3-point play.
"That was big," DeJong said. "She's going to have to play a few more minutes without Alex in there, and she gets a little tired. But we need her out there."
Both teams will be back on the court Tuesday. The Jaguars will play at Mason City, the No. 13 team in Class 4A, while the Hawkettes will visit Des Moines Hoover.
"Aside from the loss, I think we can take a lot of positives away from this game," Pitz said.