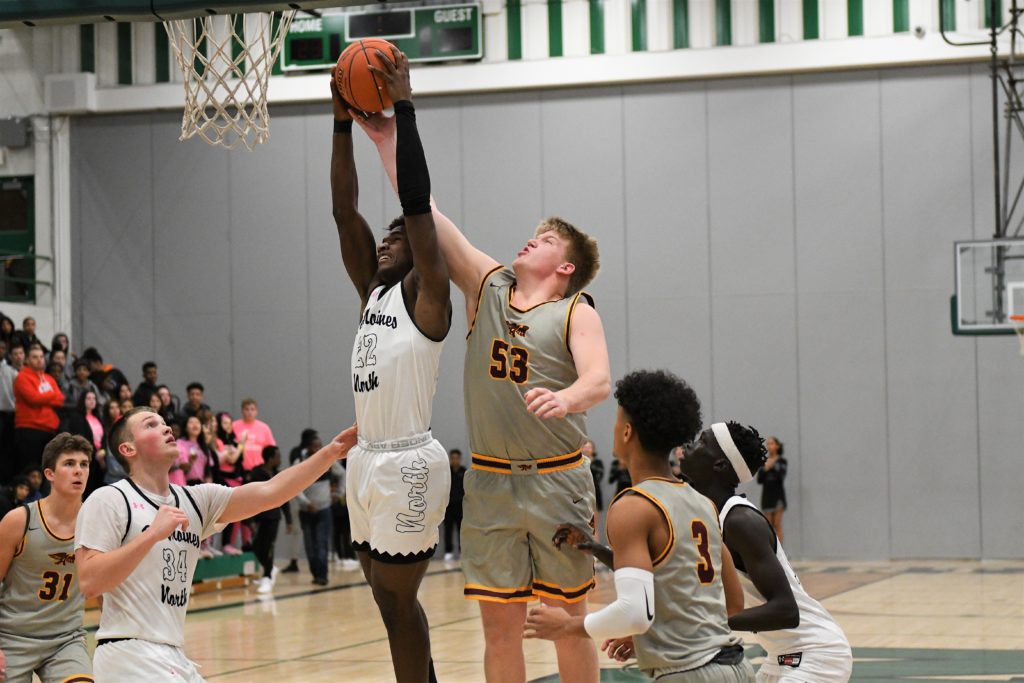 In Friday's loss to top-ranked Ankeny Centennial, the Ankeny boys' basketball team got a game-high 26 points from Braxton Bayless, but none of his teammates scored more than six.
On Tuesday, Bayless again led the way with 20 points, but he got some much-needed help as the Hawks posted a 65-58 victory at Des Moines Hoover in a non-conference game.
Jaxon Smith had 17 points and three steals in the win. Nolan Otten added 12 points, including a pair of 3-point goals, and three blocks.
"That was big for Nolan to get into double figures," said Ankeny coach Brandt Carlson. "He really did a great job. He was a lot more assertive than he's been in a while, and that was very much needed."
Bayless scored 20 or more points for the 10th time in 14 games this season, going 14-for-17 at the free-throw line. He also grabbed 16 rebounds and dished out five assists.
Ankeny needed another big game from Bayless to overcome a slow start. The Hawks trailed after the first quarter, 14-10, and by 28-25 at halftime.
"Hoover always makes it tough on us over the years," Carlson said. "Their young guys really played great."
Ankeny outscored the Huskies in the third quarter, 15-8, to take a 40-36 lead. The Hawks then held off Hoover in the final period.
Carlson was happy with the way his team responded in the second half, but was nevertheless concerned about the rough start.
"These kind of games have hurt us in the past in tournament play," he said. "I hope we can use this opportunity to grow. Our attention to detail just wasn't very good.
"I felt like our guys weren't really mature and ready to play. That's my job to get them ready to go. I'm kind of disappointed in that aspect, but at the end of the day we made enough plays to win. I guess we move on from there," he added.
Ankeny improved to 14-4 on the season. The Huskies dropped to 7-12.
The Hawks will host Johnston (10-7) in their CIML Central Conference finale on Friday. They overcame a 19-point deficit to win the first meeting at Johnston, 80-74, on Jan. 16.
Ankeny can wrap up a second-place finish in the conference with a victory.