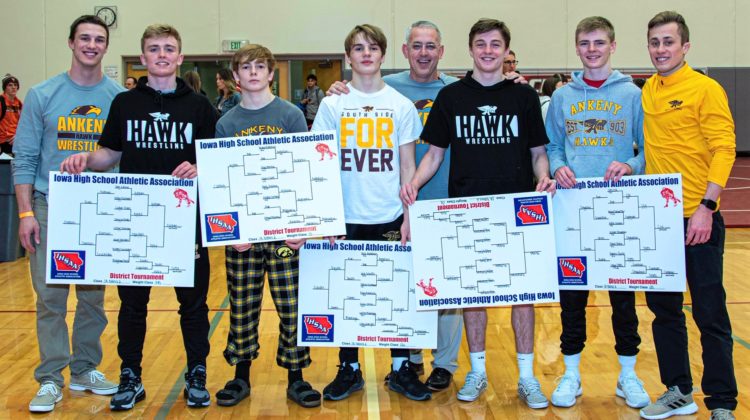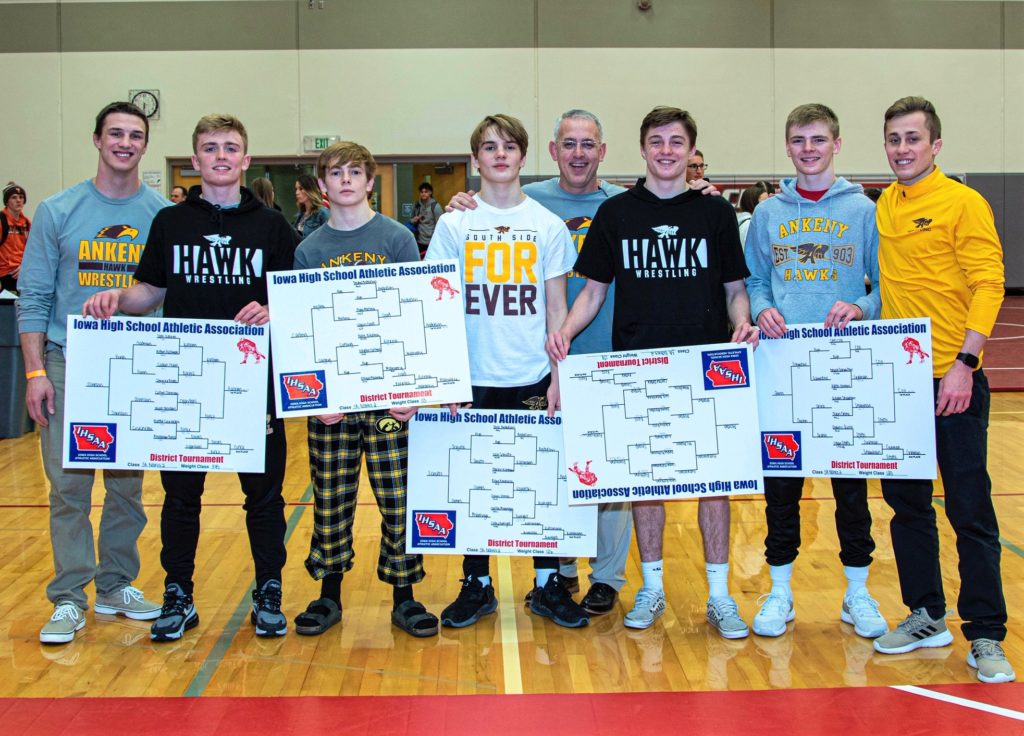 The Ankeny wrestling team crowned five individual champions en route to a second-place finish in a Class 3A district tournament on Saturday at Dallas Center-Grimes.
Leading the way were defending state champions Trever Anderson at 113 pounds and Caleb Rathjen at 138. The top-ranked duo easily captured district titles to punch their ticket to next week's state tournament at Wells Fargo Arena.
Three of their teammates also advanced by winning crowns. They are No. 10 Cael Cox at 120, No. 9 Jace Anderson at 126 and No. 3 Sam Kallem at 145.
"I always wish we could get one or two more in, but we just haven't had that luck the last couple of years," said Ankeny coach Jack Wignall. "But to go 5-for-5 (in the finals) with five champs, that's pretty awesome."
Valley won the district title with 196.5 points. Sixth-ranked Ankeny was second with 188.5, edging Dallas Center-Grimes by a half-point.
Trever Anderson pinned both of his opponents to raise his record to 33-1. In the finals, the sophomore pinned No. 9 Ethan Mahoney of Dowling Catholic in 5 minutes 13 seconds.
"I felt I was pretty dominant in that match," said Anderson. "I think I was up by nine or 10 (points) before I pinned him."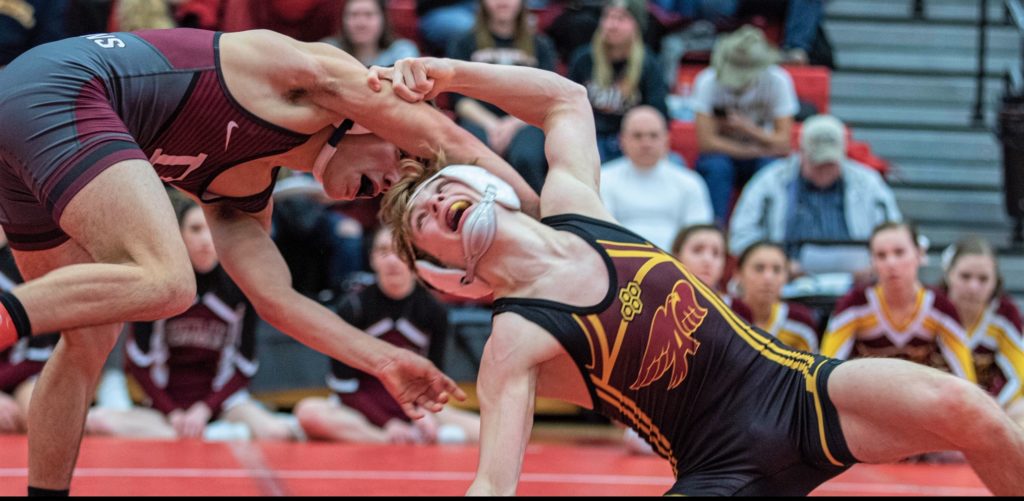 Rathjen, meanwhile, was just as impressive in improving to 39-1. The junior pinned Kacey Ross of Urbandale in the finals in just 37 seconds for his 100th career victory.
Rathjen also pinned his quarterfinal opponent, Chase Hutchinson of Valley, in just 45 seconds. He then won by a technical fall over Kyle Sharp of Boone, 23-8, in the semifinals.
"I'm really happy with the way I wrestled, and I feel like I'm wrestling really well right now," said Rathjen. "I feel I'm ready for the tougher opponents (at state) with the way I've been wrestling."
Cox claimed his title with a 5-3 decision over No. 8 Logan Stotts of Valley. The junior lifted his mark to 26-9.
"Cael is starting to peak at the right time," Wignall said. "He has put in so much time and just overcome so much adversity. To see him break through that ceiling (Saturday) was emotional for me."
Jace Anderson made a successful return to the mat after recovering from an injury. The freshman posted a 4-3 decision over Jaxson Kuhlmann of Carroll in the semifinals, then rolled to a 13-6 victory over Colby Burright of Urbandale to raise his record to 19-5.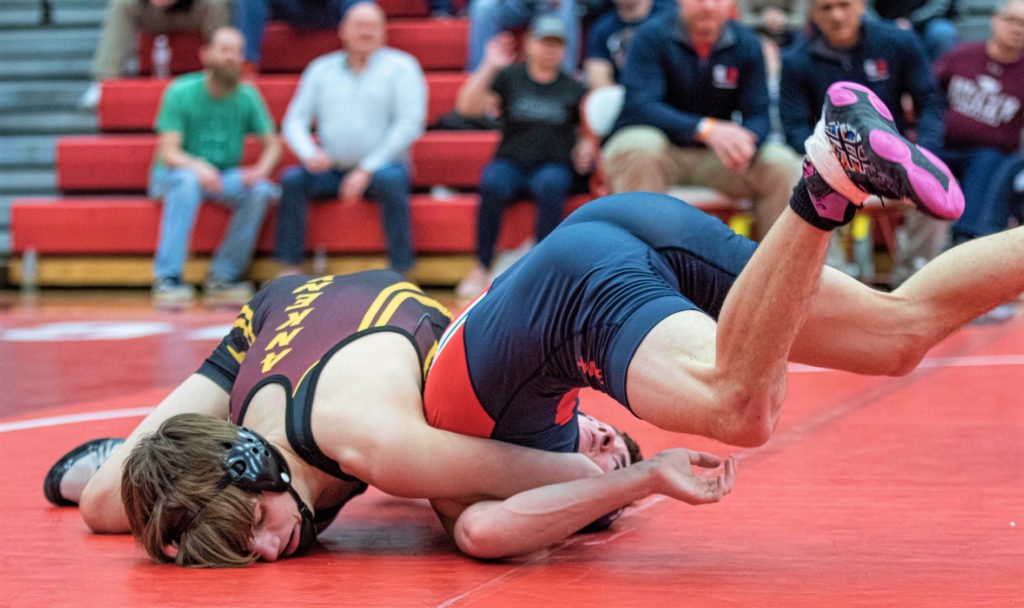 "Jace got hurt at the Battle of Waterloo in December, then got re-injured at the Bob Sharp tournament (last month)," Wignall said. "He was really frustrated with his performance, but he just needs to get some more time on the mat. He knows where he needs to be."
Kallem is now 32-4 after posting a 7-2 decision over Abraham Dirkx of Carroll. The senior pinned his first two opponents in the opening period.
"Sam had a good kid in the finals," Wignall said. "I knew it was going to be a tough match for him, and it was. But Sam is wrestling well right now."
Ankeny got a third-place finish from Daniel Rose at 160. He completed his high school career with a 6-0 decision over Leo Araujo of Denison-Schleswig in the third-place match.
Placing fourth for the Hawks were Lincoln Folkers at 106, Logan Shanks at 132, Kayden Kolthoff at 152, Cole Pomrenke at 182 and Colby Bales at 195.
"I thought we wrestled well as a team," Rathjen said. "We had five champs and a few other guys that were close to getting out. Overall, it was a good day, and I cant wait to be down at Wells Fargo with them on Thursday!"