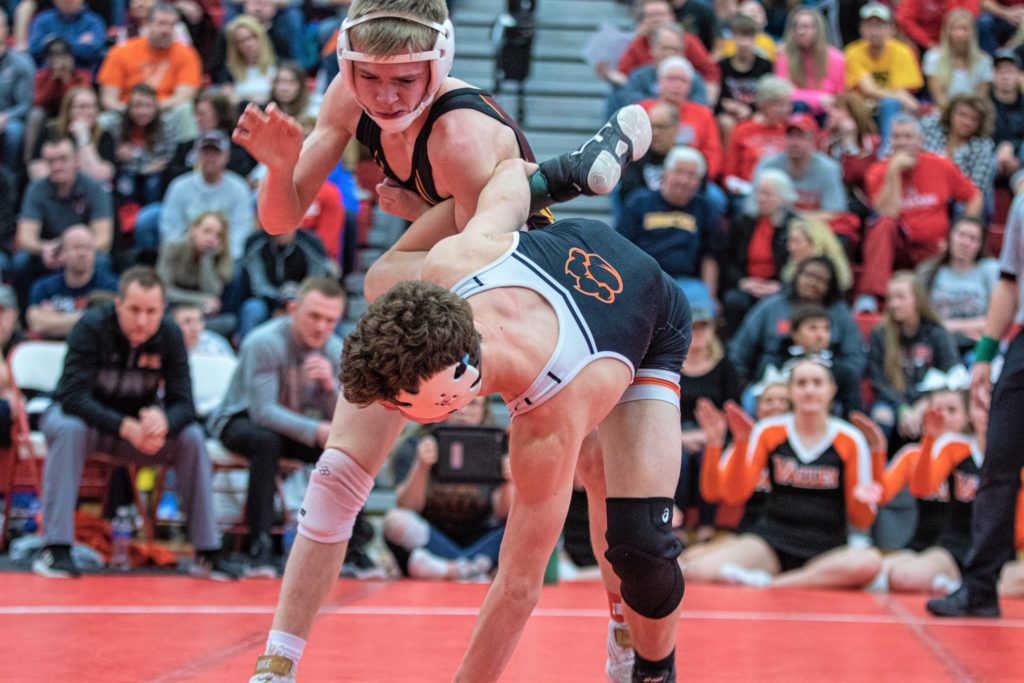 Ankeny junior Cael Cox won a Class 3A district title at 120 pounds on Saturday to qualify for this week's state wrestling tournament at Wells Fargo Arena. He helped the Hawks to a second-place finish in the district at Dallas Center-Grimes.
The 10th-ranked Cox posted a 5-3 decision over No. 8 Logan Stotts of Valley in the finals. He raised his record to 26-9 on the season.
Here is some inside info on Cox:
Congratulations on qualifying for state. How does it feel to be a state qualifier?
It feels amazing to qualify for state. I wish we would've qualified a few more from our team, but the qualifiers we do have will make some noise. I'm not content with just being a qualifier. I'm eager for the chance to earn a spot on the podium.
What was the key to beating Stotts?
The key to beating Stotts was hand-fighting to get my ties and my shots. Also, finishing after getting to leg attacks was very important.
I know you had beaten Stotts at the Johnston tournament earlier this season. Did that give you confidence that you could do it again?
I've always had confidence in my ability to beat Stotts. He's a good matchup for me, and we wrestle at the same club so I'm familiar with his style.
Coach Wignall told me that he got a little emotional after your victory. Could you tell how much your win meant to him?
I saw tears in his eyes as I was walking off the mat after my final match. He knows all I've been through not just this season, but in prior district tournaments. In that moment, we both saw the blood, sweat and tears finally pay off.
Coach mentioned that you've had to overcome some adversity this season. I know you injured your elbow during a practice, and that set you back a little bit. Are you healthy now?
My elbow feels great now. I wear the brace on it to prevent tweaking it again and for a little extra support.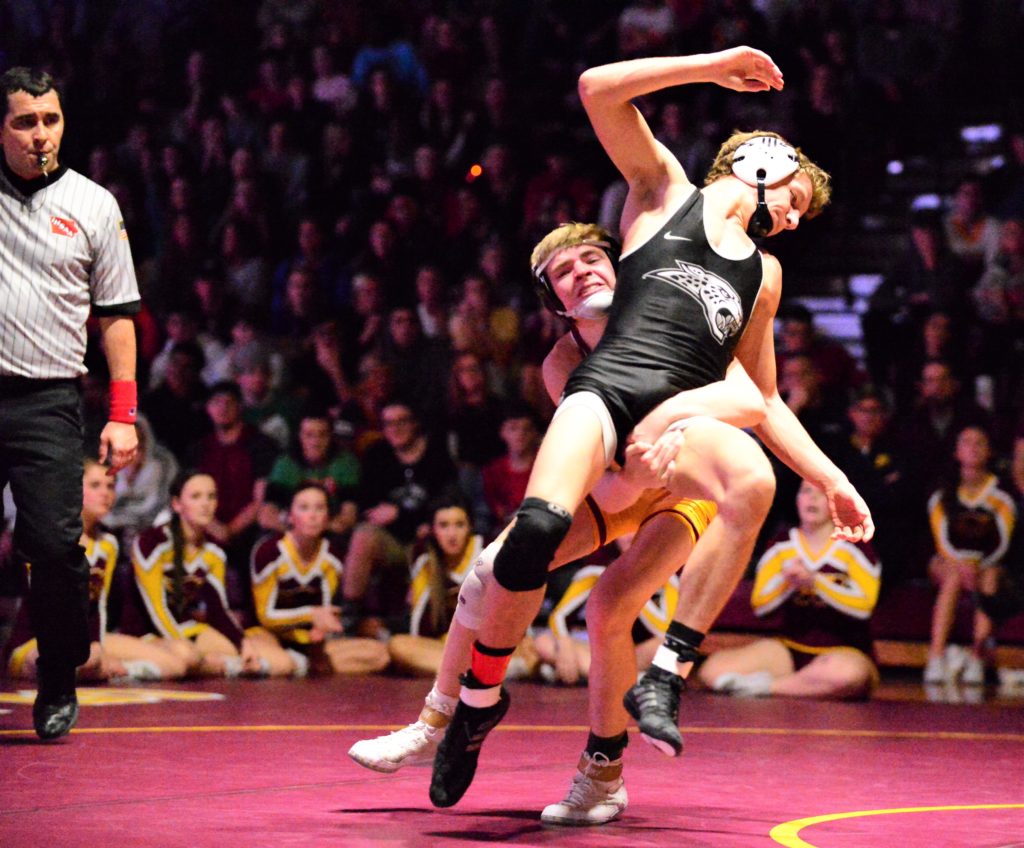 You defeated No. 9 Donovan Card of Norwalk in the regional duals on Wednesday, avenging an earlier loss to him at the Bob Sharp Invitational. How big was that win for you, and do you think you are peaking at the right time?
The win over Card at regional duals wasn't too big because I felt I should've beaten him at the Bob Sharp. The Bob Sharp was the first tournament back after injuring my elbow and I was in control of the match, but I just didn't wrestle well that day. I'm getting my timing down, and I'm gaining confidence in my offense again.
Your team qualified five district champions for the state tournament. How high do you think your team can finish at state?
All five of us are going there with the mindset to win, and we will see where that puts us.
This will be your first trip to the tournament. Do you think you'll have some butterflies when you step on the mat for the first time?
I'm sure I'll have some butterflies, but it won't be anything I haven't experienced before. Wrestling at big tournaments like Fargo Nationals and Folkstyle Nationals have prepared me for big stages.
Will you rely on your teammates like Sam Kallem, Caleb Rathjen and Trever Anderson for any advice on how to deal with the atmosphere down there?
I will definitely ask my teammates about what to expect. I'm sure they will help me be prepared for that atmosphere.
The state tournament brackets are out. Do you know anything about your first-round opponent, Owen Kruse of Fort Madison?
I know that he was in my Independence bracket, but we didn't wrestle. At the end of the day, the real focus will be on me getting to my offense and wrestling to the best of my ability.
You could meet top-ranked Drake Ayala of Fort Dodge, one of the best wrestlers in the nation, in the quarterfinals. I know you've wrestled him before. What's it going to take for someone to beat him?
Drake is obviously a very good wrestler, but I can't think about rankings, records or seeds. All I can do is wrestle my style and catch him out of position.