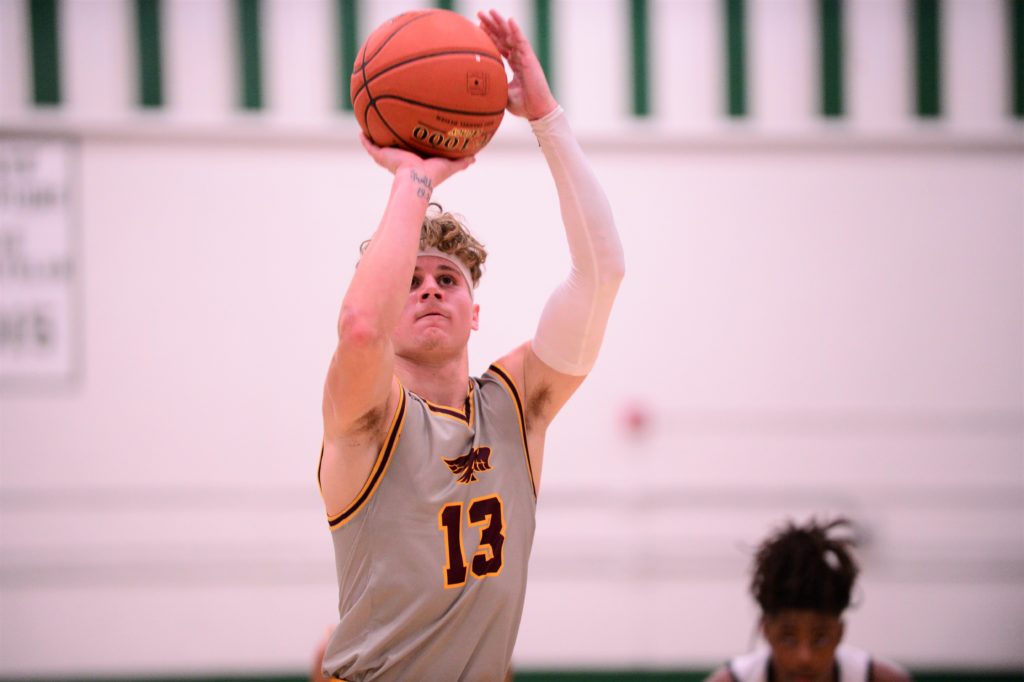 Jordan Kumm broke out of a shooting slump Tuesday in a big way.
That could be a good sign for the Ankeny boys' basketball team's postseason hopes.
The senior guard poured in 23 points on 8-of-15 shooting to lead the Hawks to a 99-54 victory at Des Moines East. He went 5-for-11 from 3-point range.
"It felt good for some shots to fall," said Kumm. "Braxton (Bayless) will do his thing and Jaxon (Smith) and I will be there for the kick out and look to attack or shoot, and (Tuesday) I did a pretty good job of that. I just have to be more consistent as we head to the postseason."
Kumm had struggled in the previous three games, scoring a total of just 16 points. He went 5-for-22 from the field during that stretch.
"Kumm did a great job," said Ankeny coach Brandt Carlson. "He finally got the 3-point shot going for himself. He just led us really well and kept their best player from scoring in the first half. He just played like a senior should, and it was good to see.
"It's essential that he plays well obviously. Just to get our entire team confident from the perimeter because we know we're going to face a lot of zone and different things to try to take Braxton out. Other guys are going to have to step up. This was a good night to start, and hopefully it continues," he added.
Matt Stueckradt also stepped up, scoring a career-high 12 points. He went 4-for-9 from behind the arc.
Bayless and Ryan Crandall each chipped in 11 points. Crandall tied his career-high.
All 15 players saw some action for Ankeny, including Brecken Manus and David Robran, who each grabbed eight rebounds. Ron Mamuya added three blocks.
Junior Bentor Neyail contributed seven points and five rebounds off the bench.
"Bentor is a young guy who used to go to East," Carlson said. "It was fun to see him play and have success."
Ankeny built a 57-26 halftime lead. The Hawks went on to finish with 99 points, their highest total since they scored 102 in a substate win over East in 2008.
"We got out quick and just put some space between us," Carlson said. "We got a lot of guys in the game, which was great. It was fun to see everybody celebrate each other's success."
Ankeny improved its record to 15-5. The Scarlets dropped to 0-20 with their 35th consecutive loss dating back to last season.
The Hawks rebounded from a 70-55 loss to Johnston on Friday.
"Anytime you can win, it's helpful this time of the year," Carlson said. "It's a long season, and you look across the state and there's a lot of really good teams that are dropping one or two (games) in the last couple of weeks. It's just tough to maintain your focus and edge all the way through, but it was good for us to go on the road and continue our momentum toward the postseason."
Ankeny will close out the regular season on Friday by hosting Mason City (7-12). The Hawks have already set a program-high for wins in their four seasons under Carlson.