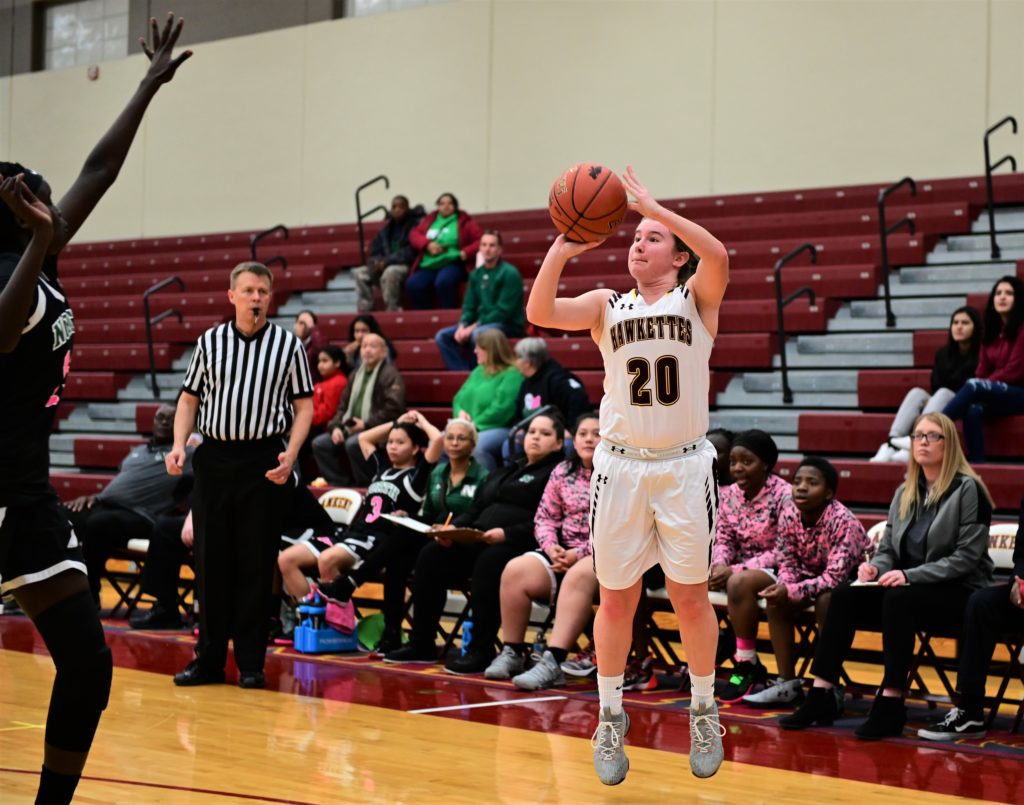 During Golden State's recent dominance of the NBA, the Warriors have been known as the Splash Brothers.
On Wednesday night, the Ankeny girls' basketball team looked like a version of the Splash Sisters.
The Hawkettes made 14 3-point goals and rolled to a 76-32 victory over visiting Des Moines North in a Class 5A regional quarterfinal. The Polar Bears used a zone defense, but Ankeny's deadly outside shooting quickly turned the game into a rout.
"Dating back to that Valley game (on Jan. 21) when we had a tough loss at home–that's what, eight or nine games outside of the Johnston game on Friday–we've really shot the ball a lot better," said Ankeny coach Dru McAnelly. "We spend a lot of time on it–probably more than some people–shooting the ball in practice, just because we need to. But it's starting to pay dividends here late in the year."
Ashley Harrington had five 3-pointers to lead the scoring barrage. She finished with a career-high 19 points.
"As soon as you start making shots, everybody gets excited," Harrington said. "I think the energy can carry over to almost every single person on the court."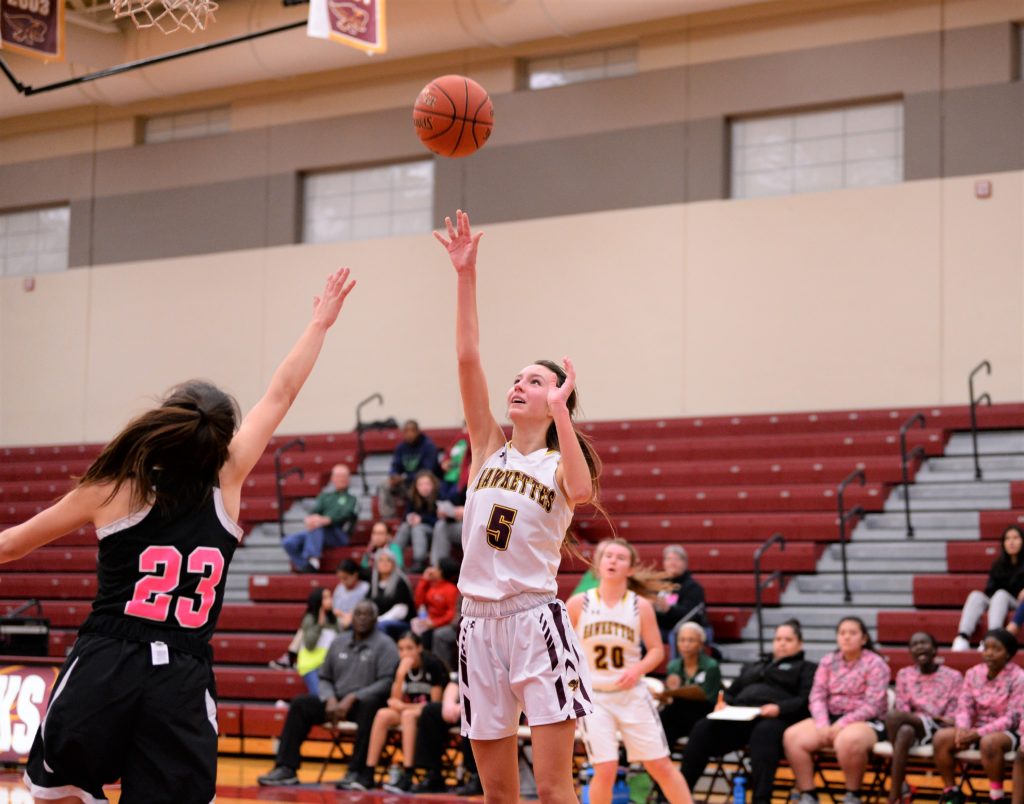 Kayla Pitz also had 19 points for the Hawkettes. Ellie Maschoff added 11.
Pitz and Maschoff each had a trio of 3-pointers. Rachael Christmann chipped in two, and Kathryn Hersom added one.
Wednesday's game was one of eight first-round contests in Class 5A. The majority of the large schools–24 of the 40–received a bye into Saturday's semifinal round.
"This is my fourth year, and we've had a bye the first three years," McAnelly said. "I haven't seen an advantage or a disadvantage really. I think playing tonight and getting some game reps can't hurt anything. I think it's tough when you're used to playing every Tuesday and Friday and then all of the sudden you have eight days off (if you have a bye). That can be a little tough to stay in game mode."
Harrington said she didn't mind having a game on Wednesday.
"We don't have that full week of practice–we had a game to separate those," she said. "You're playing live, and I think that could help us in the long run."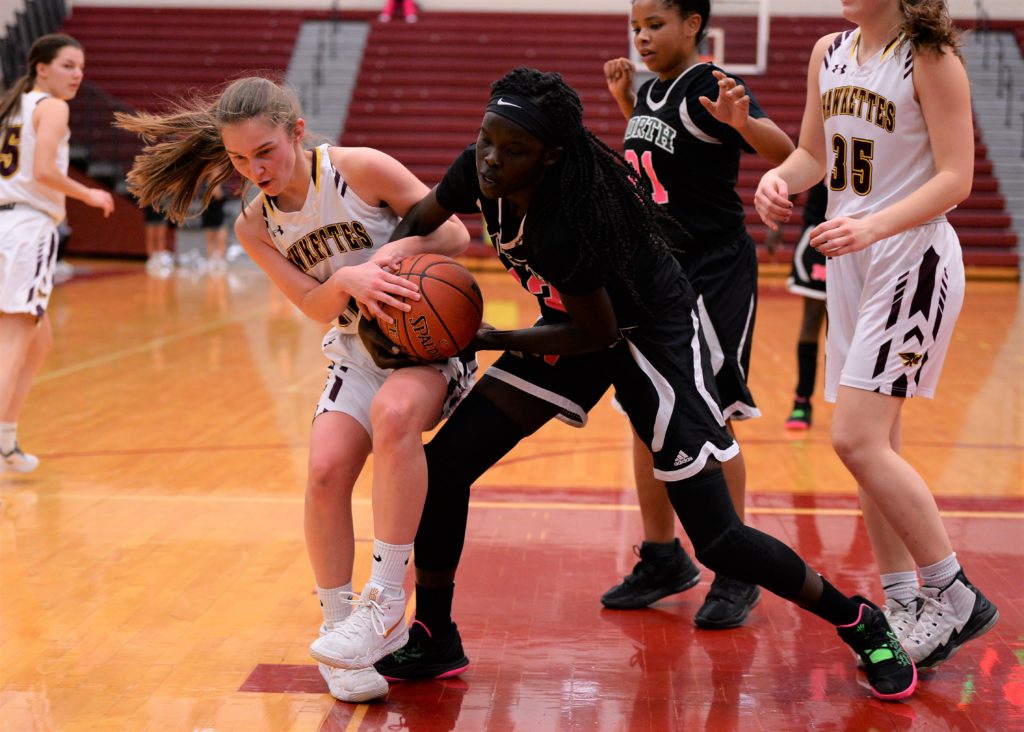 Nya Mach scored 13 points to lead North, while Elizabeth Puot added 12. The Polar Bears, who had won four of their previous five games, finished the season at 8-15.
Ankeny (10-12) played on its home court for the final time. The Hawkettes will play at No. 15 Council Bluffs Lincoln (15-6) in a regional semifinal on Saturday at 5 p.m.
"They're a really good team," McAnelly said. "They're going to play solid, half-court man defense. And if you have 15 wins, you're a pretty good basketball team. We're going to have our hands full, but I like our chances if we come out and play our game."
Harrington said she had already checked out the Lynx on QuikStats.
"They've got a good record, and they've got three girls averaging in double figures," she said. "We'll definitely start looking into them after tonight."