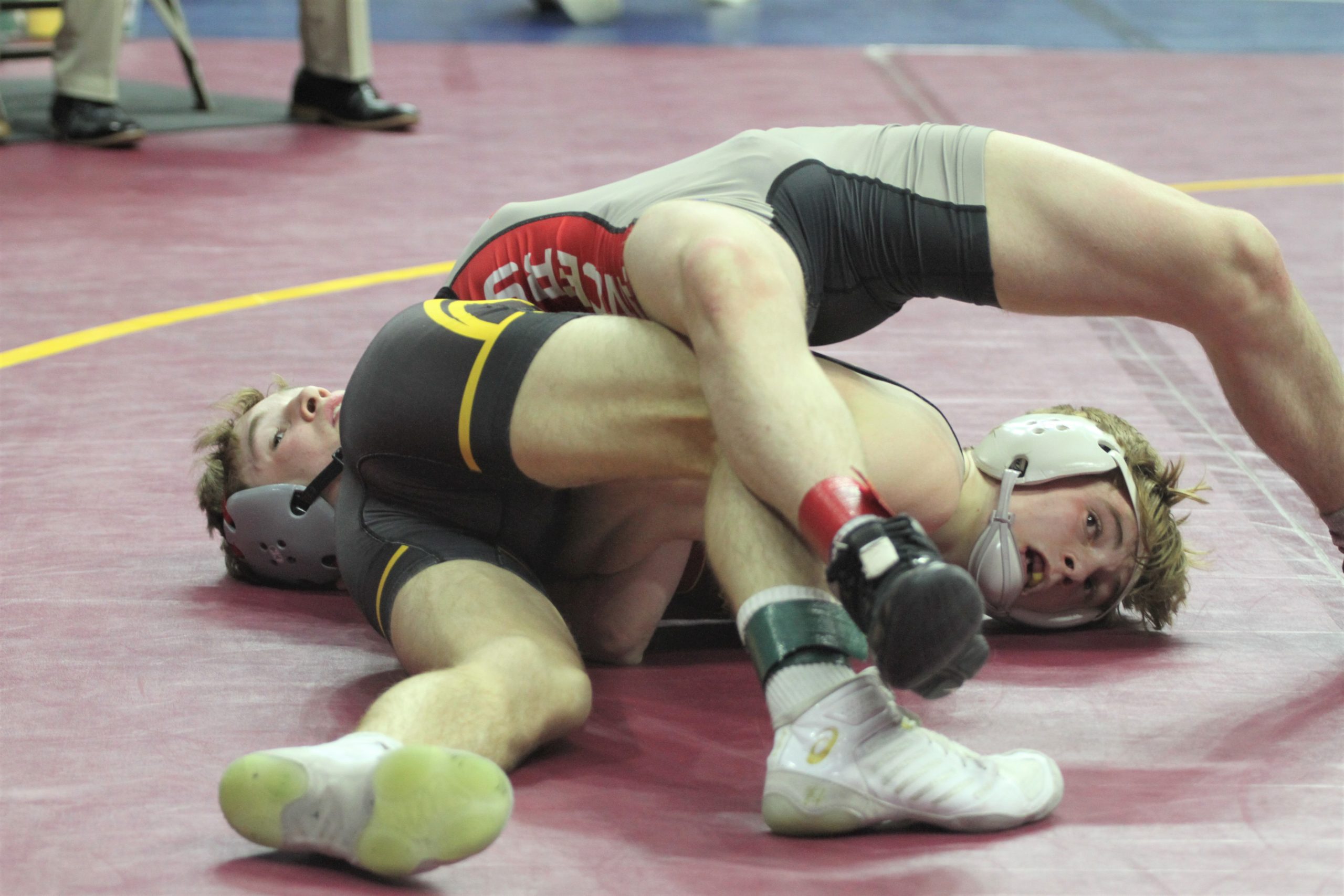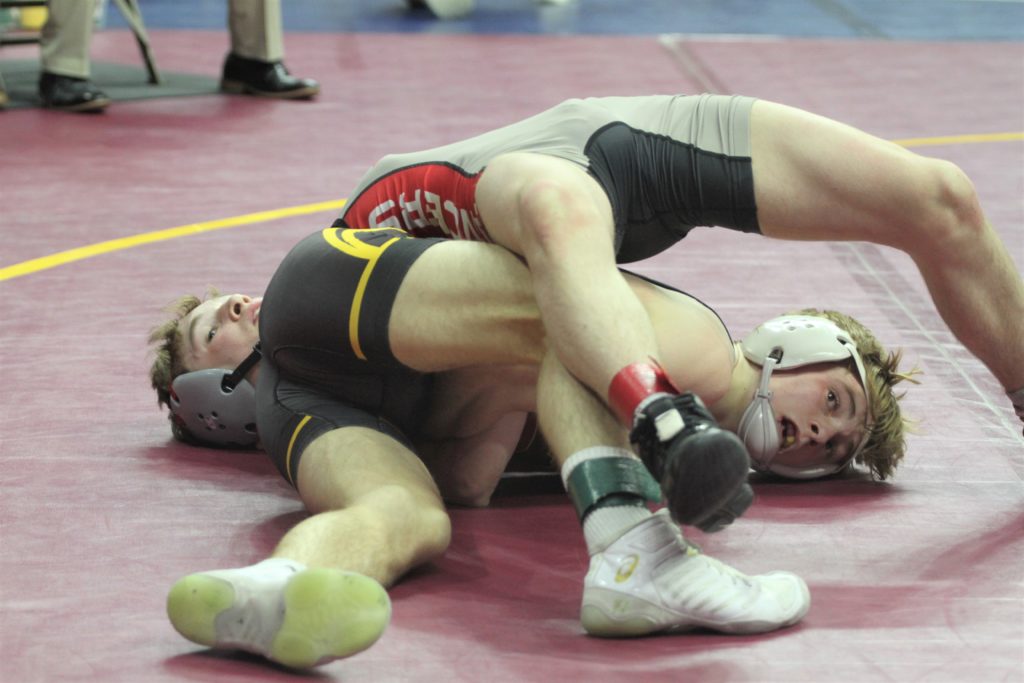 The Ankeny wrestling team stormed through the opening round of the Class 3A state tournament on Thursday at Wells Fargo Arena.
The sixth-ranked Hawks advanced four of their five qualifiers to Friday's quarterfinals, and all four of them recorded falls.
"It's kind of what I hoped for and what I expected out of those four guys," said Ankeny coach Jack Wignall.
The top-ranked duo of Trever Anderson at 113 pounds and Caleb Rathjen at 138 each moved a step closer toward a second consecutive state title. No. 3 Sam Kallem at 145 and No. 10 Cael Cox at 120 also had pins for the Hawks, who are in 12th place with 16 points heading into Friday's action.
"(Former Ankeny) coach (Dave) Ewing asked me if that was our best-case scenario, or if I could have dreamed that it would go like that," Wignall said. "But I kind of did. I thought we could get four pins in that first round, and that's exactly what we did. I'm very happy with our guys."
Rathjen recorded the fastest fall. He needed just 58 seconds to pin Cole Wilcox of Sioux City East.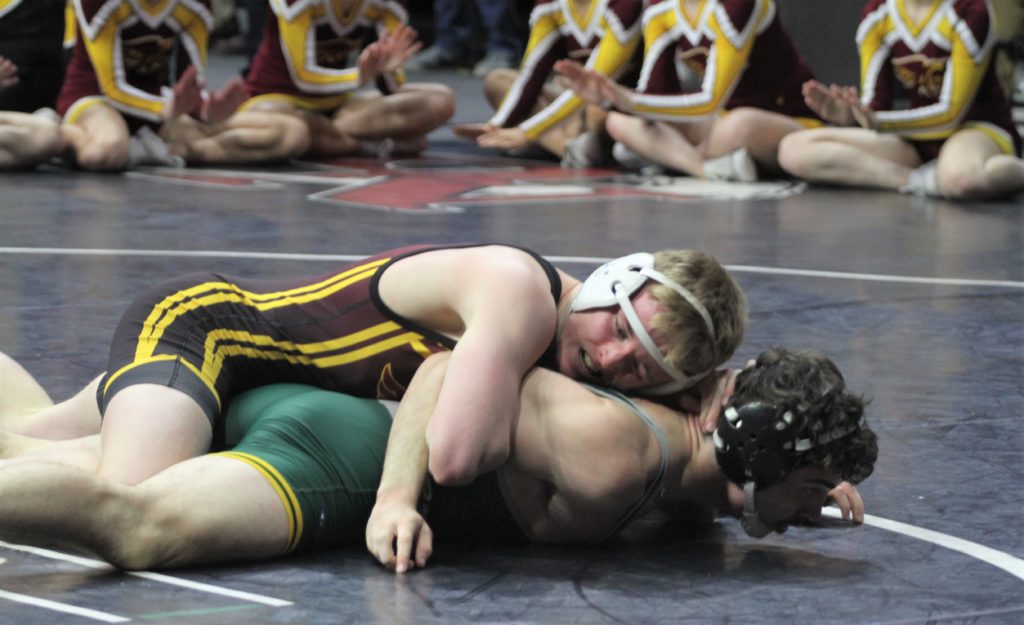 Rathjen, who raised his record to 40-1, will meet No. 7 Carter Martinson of Southeast Polk (30-10) in Friday's quarterfinals.
"That's always the goal–to go out and pin, and get off your feet for the rest of the day," said Rathjen. "I'm glad we could do it!"
Anderson pinned Trace Gephart of North Scott in 3:33 to improve to 36-1 on the season. He will face No. 8 Aime Mukiza of Des Moines North/Hoover (26-6) on Friday.
Kallem pinned No. 10 Dylan Falck of Cedar Rapids Kennedy in 2:27 to lift his mark to 33-4. He will meet No. 6 Carson Martinson of Southeast Polk (35-10) on Friday.
Cox pinned Owen Kruse of Fort Madison in 5:08 in his state tournament debut.
"I locked up a cradle as I was finishing a shot," Cox said. "The cradle was tight so I knew he was pinned."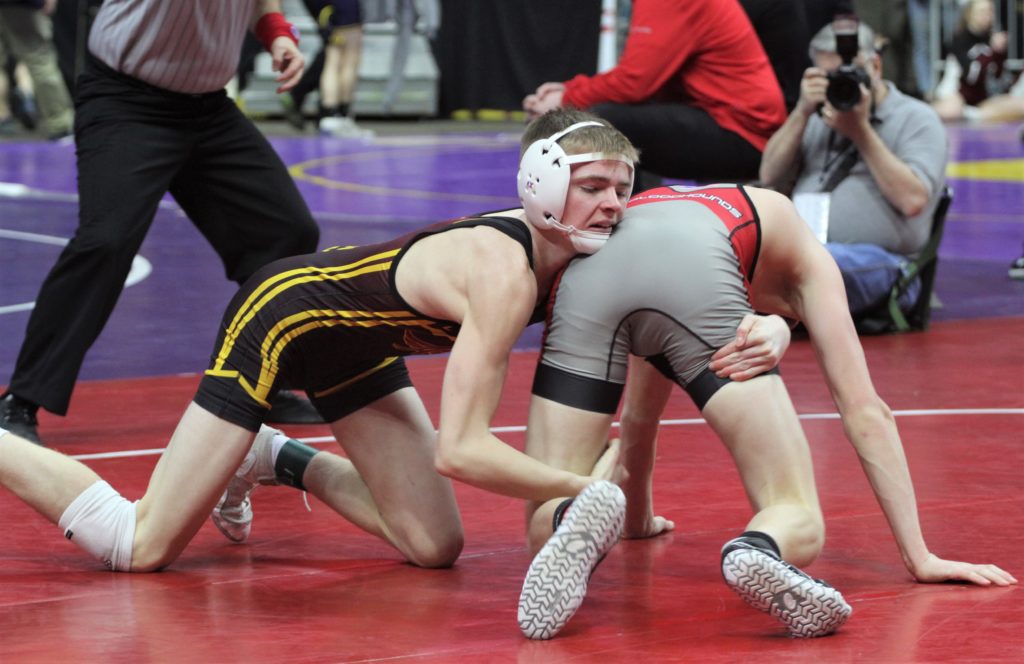 Cox is now 27-9 on the season. He will meet No. 1 Drake Ayala of Fort Dodge (42-0), a defending champion, on Friday.
"The feeling after the match was incredible," Cox said. "Seeing my coaches and all of the Ankeny fans supporting me was something I'll never forget."
Ankeny's other qualifier, No. 9 Jace Anderson at 126, was eliminated from the tournament after losing his first two matches. The freshman was pinned by No. 4 Bryce Parke of Linn-Mar (Marion) in 2:39 in the opening round, then dropped a 7-4 decision to No. 6 Ayden Kingery of Southeast Polk in a consolation bout.
Anderson, who was injured for most of the last two months, ended the season at 19-7.
"We were hoping to pull Jace through, but it just didn't quite happen," Wignall said. "He wrestled a good match. He probably could have used another week or two of live wrestling if this season was a little bit longer. But we had to put him out there, and he did everything we asked of him. I'm proud of him."