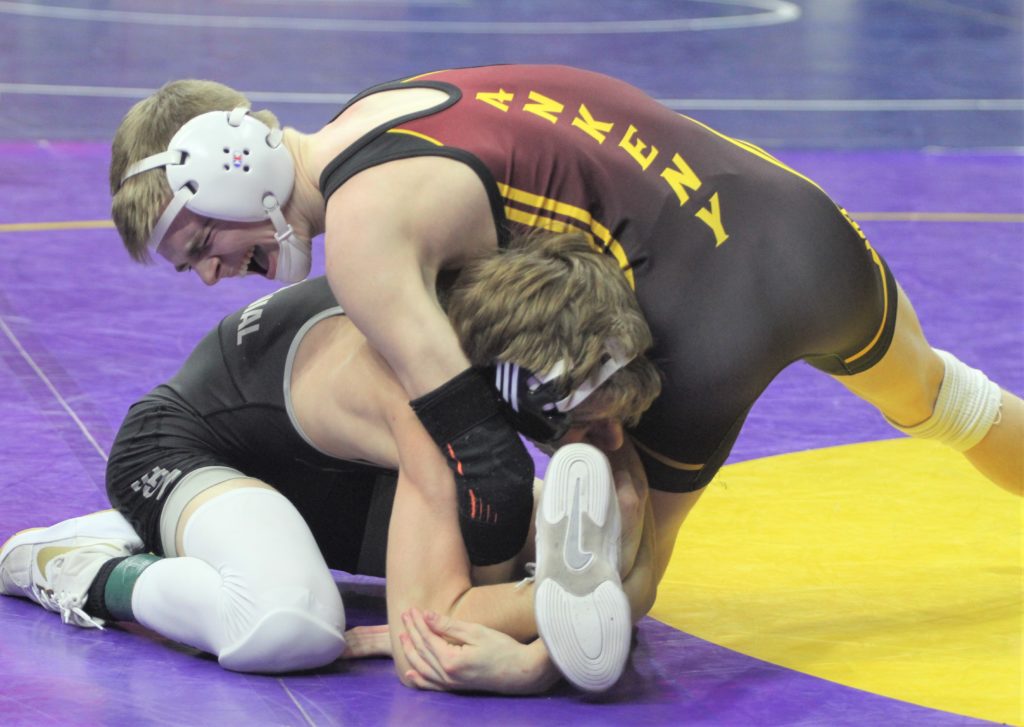 Sixth-ranked Ankeny has surged into eighth place in the Class 3A state tournament after advancing three wrestlers into the semifinals on Friday afternoon at Wells Fargo Arena.
The Hawks will also have a fourth placewinner in 10th-ranked Cael Cox at 120 pounds. The junior lost to defending state champion Drake Ayala of Fort Dodge in the quarterfinals on Friday morning before rebounding with a 7-3 decision over Jackson Bresson of Ankeny Centennial in a second-round consolation match.
"So far, so good," said Ankeny coach Jack Wignall, whose team has racked up 37 points. "It would be a big deal if we can win three more this afternoon and get three in the finals, but to get Cael Cox to place too, that's great. We're wrestling really well right now."
Ankeny's top-ranked duo of Trever Anderson at 113 and Caleb Rathjen at 138 both advanced with their second falls of the tournament. Anderson pinned No. 8 Aime Mukiza of Des Moines North/Hoover in 1 minute 41 seconds, while Rathjen pinned No. 7 Carter Martinson of Southeast Polk in 4:56.
No. 3 Sam Kallem at 145 will make his first semifinal appearance for the Hawks. He posted a 4-2 decision over No. 6 Carson Martinson of Southeast Polk.
"I had confidence in those three guys, but this is the state tournament and you see kids get beat all the time," Wignall said. "You want to be confident, but not overconfident. You want to go in there and take it a match at a time and a shot at a time, and I think that's what we did."
While the Hawks moved into the top 10, Centennial dropped into a 16th-place tie with Iowa City High heading into the Friday afternoon session. Both the Jaguars and Little Hawks have scored 19 points.
Centennial entered the day with two state championship hopefuls, but both of them lost in the quarterfinals. No. 4 Ben Monroe lost a 7-6 decision to No. 5 Graham Gambrall of Iowa City West at 145, then No. 1 Logan Neils suffered his first loss of the season by dropping a 12-4 major decision to No. 9 Bradley Hill of Bettendorf at 170.
Monroe bounced back with a 16-5 major decision over Johnny Washburn of Cedar Rapids Prairie in a second-round consolation match. He will become a four-time placewinner for the Jaguars.
Centennial's Jackson Helmkamp will also be a placewinner at 126. He pinned Jackson Barth of Cedar Falls in 3:05.
Neils, however, was eliminated from the tournament. He dropped a 3-2 decision to No. 8 Tim Nimley of Muscatine in a second-round consolation match.
Check back later tonight for more coverage of the tournament.