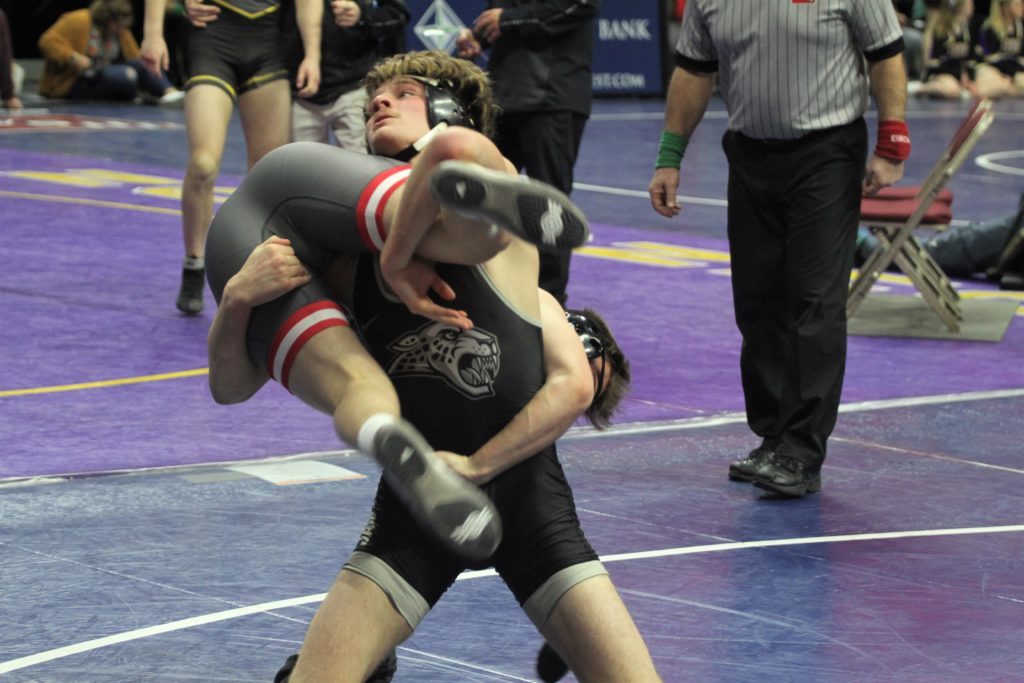 A .500 record on the opening day of the Class 3A state tournament left Ankeny Centennial with two quarterfinalists and two more wrestlers alive in the consolation bracket.
Top-ranked Logan Neils at 170 pounds and No. 4 Ben Monroe at 145 each won their first-round matches on Thursday at Wells Fargo Arena. Teammates Jackson Bresson at 120 and Jackson Helmkamp at 126 both bounced back from a loss to win a consolation match.
The Jaguars are in 15th place with 12 points heading into Friday's action.
"We seemed to have a slow start from every kid," said Centennial coach Jay Groth. "Nobody really came out on fire. I think we were nervous and maybe looking past–looking at who we're going to see in the semis or whatever. Even though we keep preaching that, it's hard to change that in a kid. But we'll keep working at it because we've got to go two more days. We'll see what happens."
Neils raised his record to 40-0 by pinning Tucker Pederson of Fort Dodge in 5 minutes 33 seconds. Pederson, a freshman, wrestled at 160 for most of the season.
"It always feels good (to win). The first (match) is a little scary," Neils said. "(Pederson) bumped up to wrestle at 170 to make it through districts, and he did well for a freshman."
Neils will face No. 9 Bradley Hill of Bettendorf (33-7) in Friday's quarterfinals. The senior is confident about his chances to close out his high school career with a state title.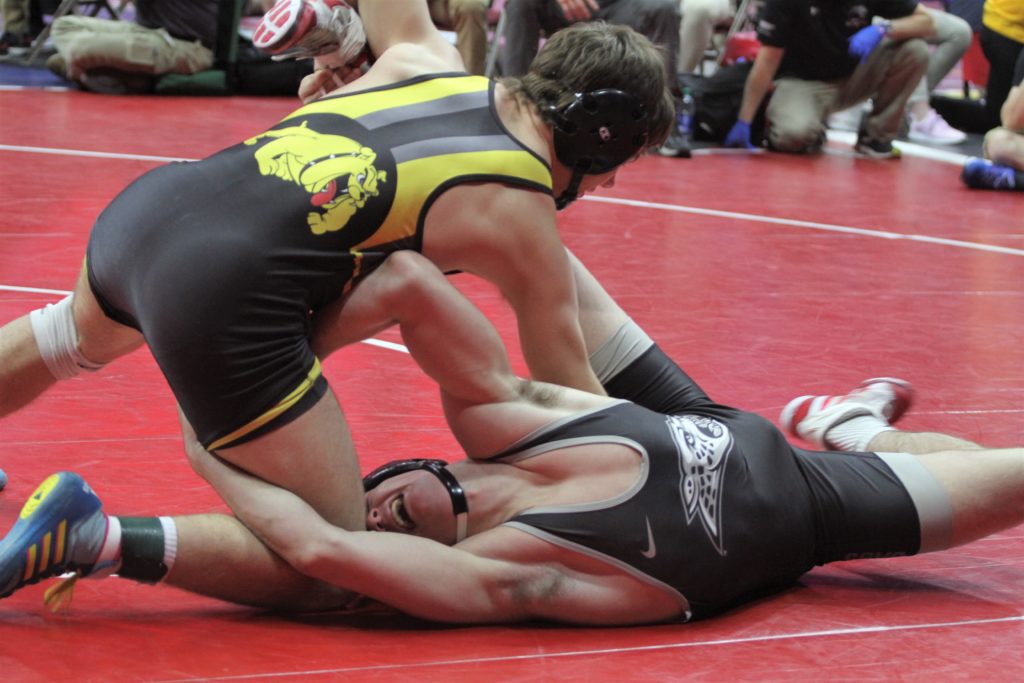 "We looked at the bracket and everyone we're projecting to get I've wrestled either this year or last year, so we know a lot about them," Neils said.
While Neils cruised into the quarterfinals, Monroe didn't have the same luxury. The three-time state runner-up escaped with a 6-5 victory over Logan Adamson of Bettendorf.
Monroe built a 4-1 lead with a pair of takedowns, but Adamson rallied to take a 5-4 lead. Monroe got an escape in the second period to tie the score, then got another one in the final period for the go-ahead point.
Monroe held off numerous takedown attempts by Adamson in the final minute.
"I thought I could hang on," Monroe said.
Monroe improved to 36-2 on the season. He will face No. 5 Graham Gambrall of Iowa City West (33-5) on Friday.
"Ben got off to a good start," Groth said. "He wrestled well in the first period and then kind of got overly cautious and slowed it down a little bit. He knows (what he has to do). He'll be more aggressive (Friday)."
Bresson dropped a 9-2 decision to Tanner Wink of Council Bluffs Lewis Central in the opening round. He then pinned No. 6 Garrett Bormann of Iowa City High in 4:52 in a consolation match.
Bresson is now 23-14. He could meet No. 10 Cael Cox of Ankeny in a second-round consolation match on Friday.
Helmkamp lost by a technical fall, 17-2, to No. 2 Carson Taylor of Fort Dodge, a defending champion. He then improved to 31-12 by pinning Jaxson Kuhlmann of Carroll in 5:29.
Centennial's other qualifier, Cael Wiener at 106, was eliminated from the tournament after losing to a pair of ranked opponents. He was pinned by No. 2 Ryder Block of Waverly-Shell Rock in 1:45, then dropped a 6-4 decision to No. 10 Nathan Canfield of Davenport Central.
Wiener, a freshman, finished the season at 24-16.