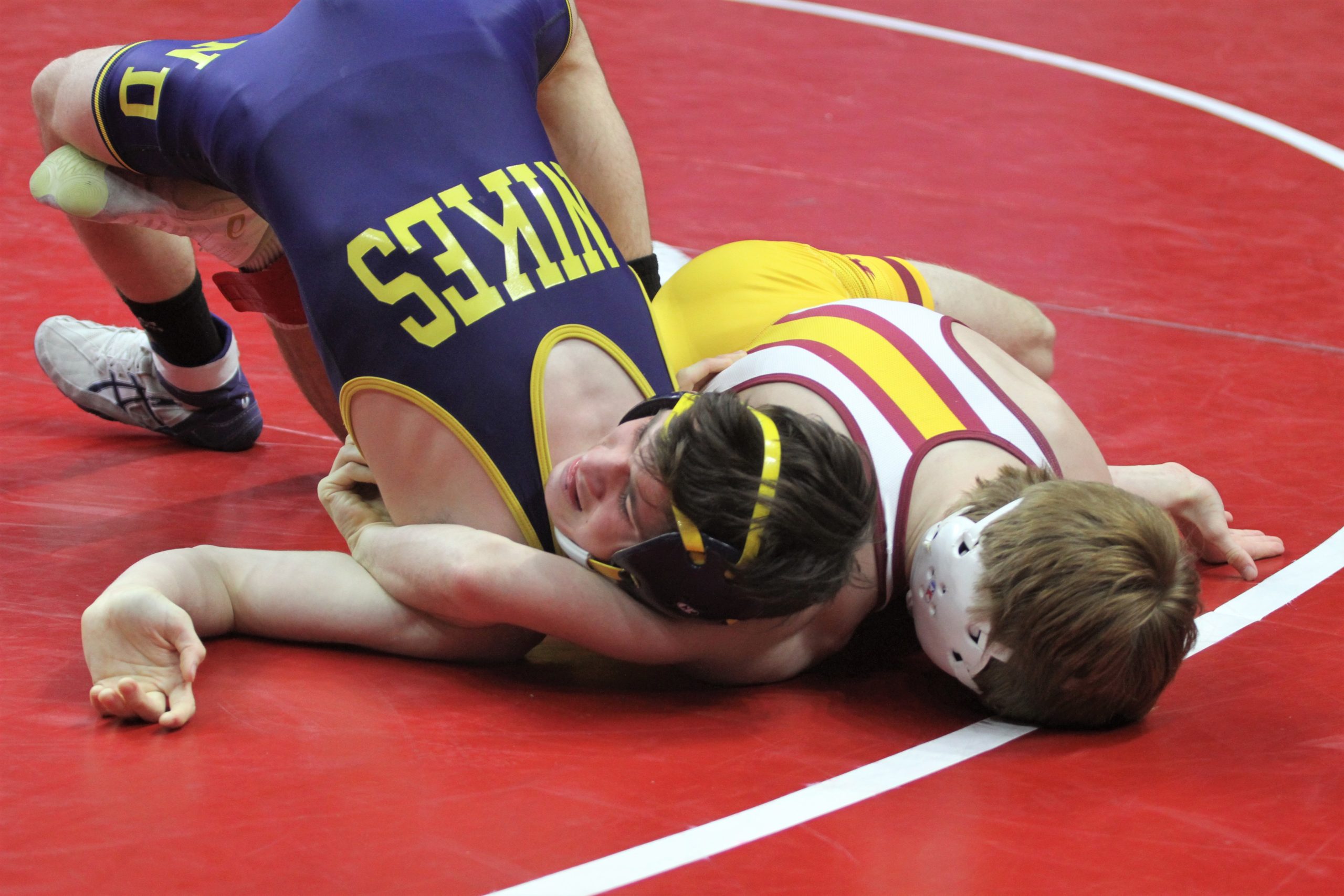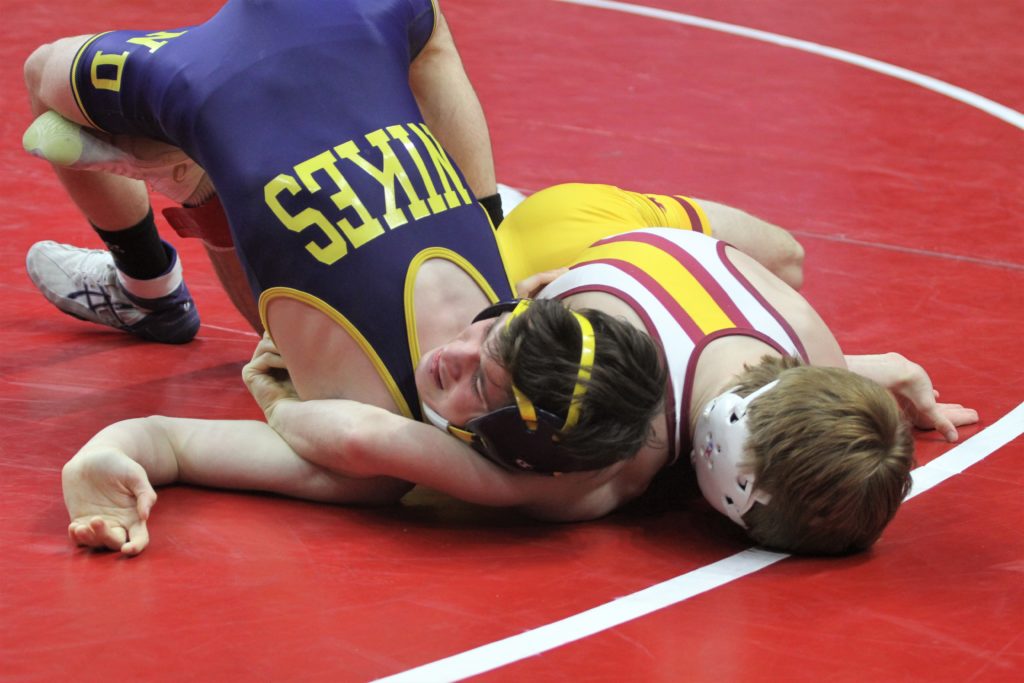 It took Ankeny's Trever Anderson a little while to recover from his semifinal loss in the Class 3A state wrestling tournament on Friday.
The top-ranked sophomore dropped a 5-2 decision to No. 4 Ryder Downey of Indianola, ending his bid for a second straight title.
"At first my mindset was that I failed a lot," said Anderson. "I failed myself and a lot of people. But then my coaches helped pick me up. They told me to get the next best thing because it's over, and there was nothing I could do about it. So I went back and got the best thing I could."
Anderson rebounded on Saturday with a pair of victories to earn a third-place finish at 113 pounds. He finished the season with a 37-2 record.
Anderson posted a 2-1 decision over No. 6 Ethan Wood-Finley of Iowa City High in a consolation semifinal. He then flipped No. 3 Blaine Frazier of West Burlington onto his back and pinned him in 1 minute 11 seconds in the third-place match.
"It's a move I kind of altered myself," Anderson said. "It's kind of my go-to sometimes against good kids. They don't expect it."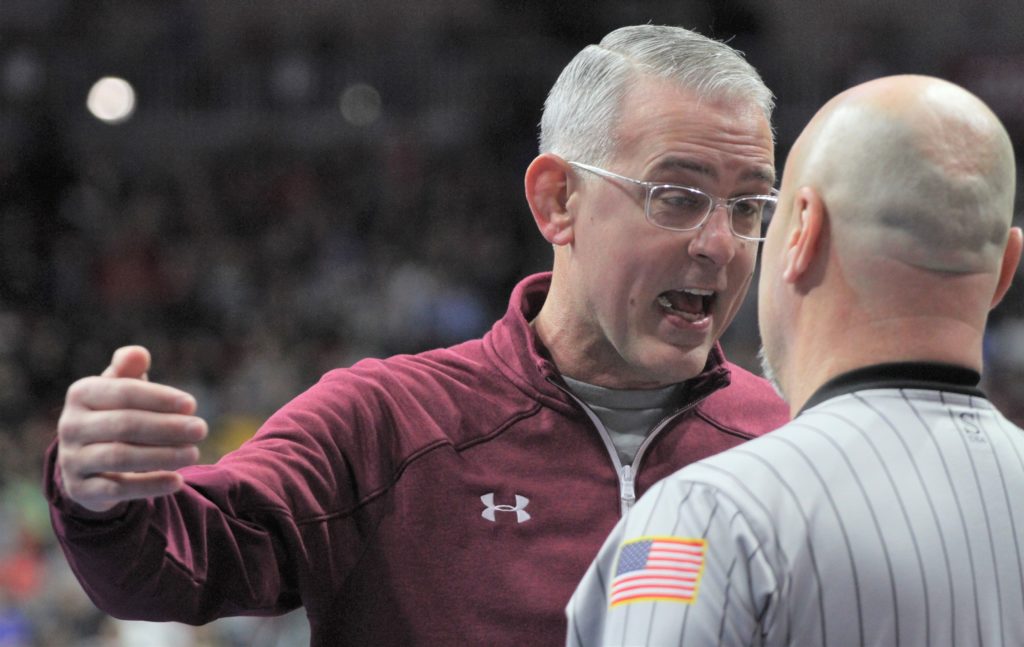 Anderson said he learned a lesson from Friday's loss to Downey, an opponent that he defeated, 10-0, in last year's quarterfinals.
"I've learned to approach every match the same and don't treat anybody different," he said.
Anderson sat in the bowels of Wells Fargo Arena and was despondent following Friday's loss. Less than 24 hours later, his spirits had soared.
"I feel a lot better," Anderson said. "I didn't think I would, but it feels a lot better."
The Hawks also got a sixth-place finish from No. 10 Cael Cox at 120. The junior finished the season at 29-12.
"There were some good matches in there," Cox said. "I know I didn't wrestle my best, but this is the best I've wrestled all year. I thought I wrestled really well (Friday). I was able to finish my shots. Today was a different experience–these placement rounds."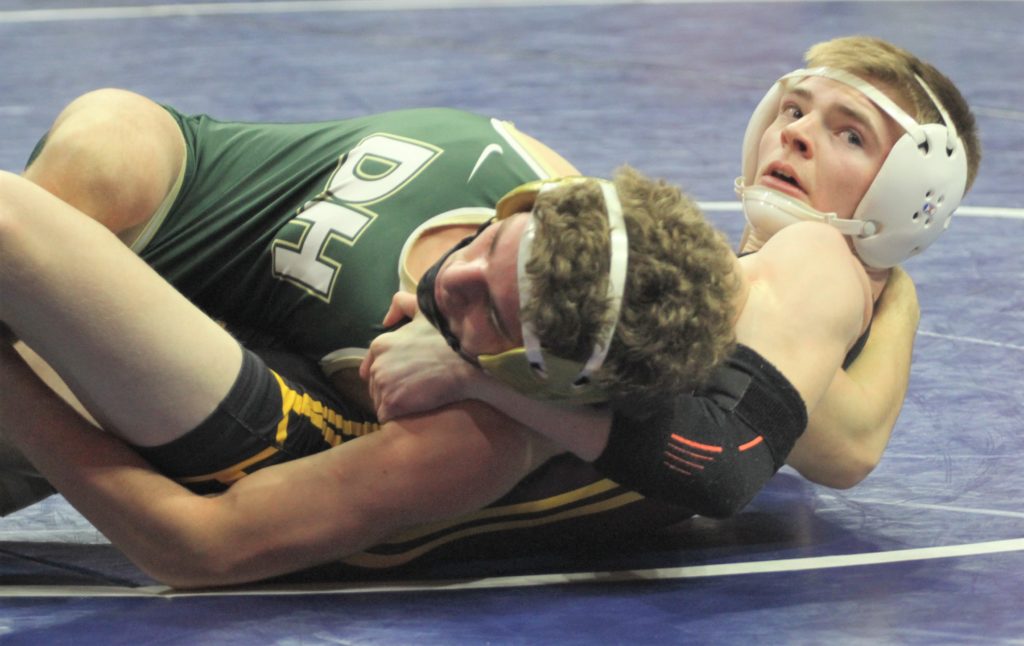 Cox dropped a 10-2 major decision to No. 3 Thurman Christensen of Waukee in a consolation semifinal. He then lost a 5-4 decision to No. 5 Adler Kramer of Dubuque Hempstead in the fifth-place match.
Kramer got a takedown with less than 30 seconds left to break a 3-3 tie, but was penalized a point for an illegal hold. Cox, though, was unable to escape as the match ended.
"I'm already looking forward to next year. This was a blast," Cox said. "I can't wait to take the experience I got this year and carry it over to next year. We'll see where that gets me."
Ankeny is currently in seventh place in the team standings with 73 points. The Hawks have a chance to add to their total on Saturday night, when No. 1 Caleb Rathjen at 138 and No. 3 Sam Kallem at 145 will wrestle for state titles.
"We've had a pretty good performance considering we only had five qualifiers," Cox said.