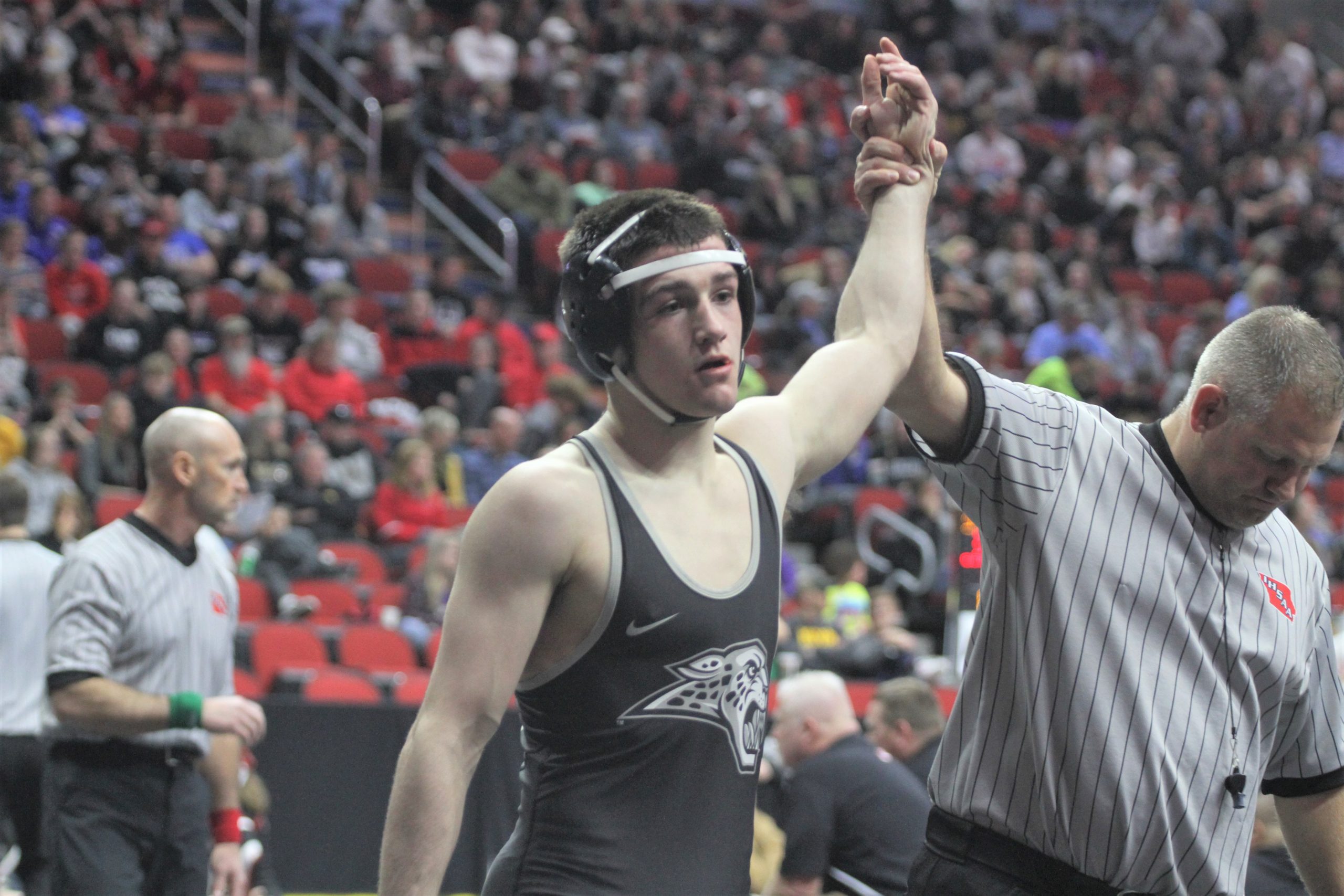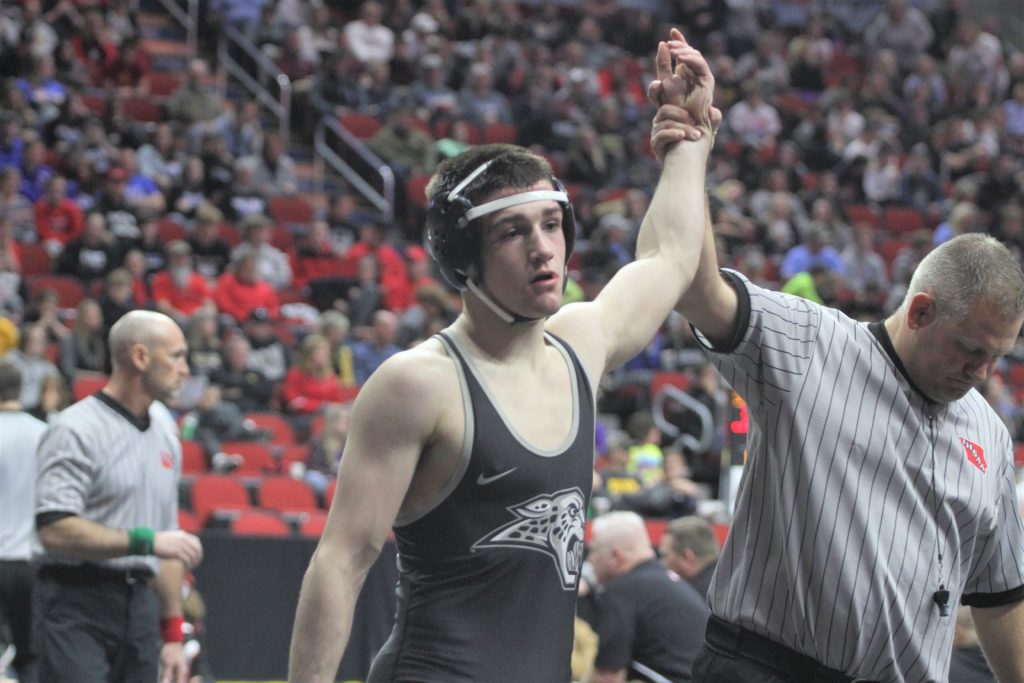 Ankeny Centennial's Ben Monroe closed out his illustrious high school wrestling career with one of his biggest victories.
The fourth-ranked Monroe posted a 7-5 decision over No. 1 Deven Strief of North Scott to earn a third-place finish at 145 pounds in the Class 3A state tournament on Saturday at Wells Fargo Arena. He finished the season with a 40-3 record.
"The key to beating Strief was getting tough and enjoying myself out there," said Monroe. "I didn't achieve my goal and that's my fault–I didn't wrestle to the best of my capabilities in the quarterfinals, but I am proud that I sucked it up and got third."
Monroe, who was a state runner-up in each of the previous three seasons, avenged one of his three losses. He had lost to Strief, 5-3, in the Ed Winger Invitational on Jan. 25 at Urbandale.
"After the setback we had Friday morning, we saw the real Ben Monroe," said Centennial coach Jay Groth. "He just had the attitude that 'I'm going to go out and there kick some butt', and he did. It was great to see him end his career getting his hand raised in his last match at the state tournament."
Monroe dropped a 7-6 decision to No. 5 Graham Gambrall of Iowa City West in Friday's quarterfinals. He then rebounded to win his next four matches, including a 7-2 decision over No. 8 Brandon Mills of Fort Dodge in a consolation semifinal earlier on Saturday.
"He's set a high bar for the rest of the kids at Centennial to try to rise up to that level," Groth said. "But we still need to unlock that secret to get our first state title."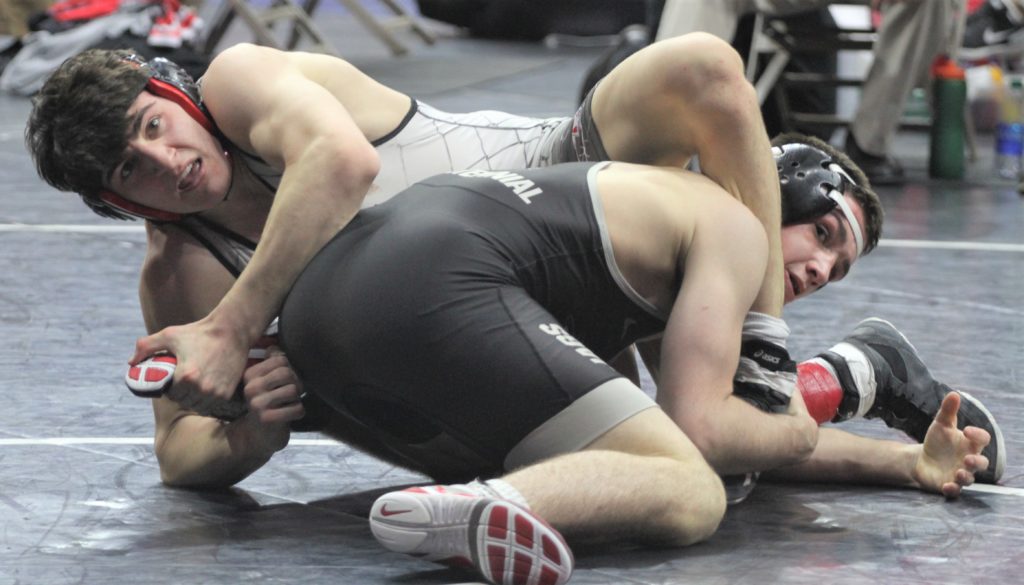 Monroe ends his career as the winningest wrestler in school history.
"I am so grateful for all of my coaches, teammates and partners throughout the years," Monroe said. "I love the Jaguars and the coaching staff. I couldn't be more happy to have them in my life!"
After holding on to beat Strief, Monroe shook his opponent's hand and then walked off the mat to hug his coaches. That qualified as a huge celebration for the mild-mannered Monroe.
"He doesn't really talk trash to anybody. He's not good at it," Groth said. "But he just does everything the right way, and I think it bodes well for Ben and what his career at Iowa State is going to be like."
The Jaguars also got an eighth-place finish from sophomore Jackson Helmkamp at 126. He dropped a 9-0 major decision to No. 10 Connor Kelley of Waukee in the seventh-place match.
"That was my goal for the season (to place)," said Helmkamp, who finished with a 32-14 record. "I wanted to do better, but I've got the next two years."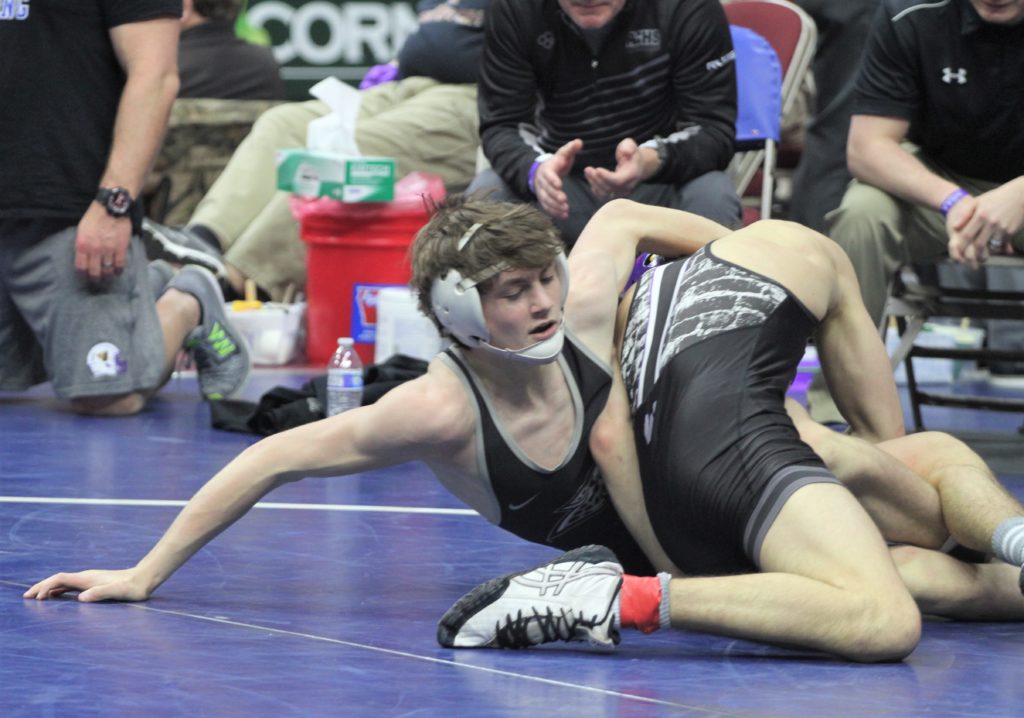 As a freshman, Helmkamp lost his first two matches at the state tournament and was eliminated. He lost by a technical fall to No. 2 Carson Taylor of Fort Dodge in Thursday's opening round, but then bounced back with a pair of falls to become a placewinner.
"Wrestling good kids (like Taylor) is only going to make you better," Helmkamp said. "I just had to win the next match and keep going."
Helmkamp will be back next year along with fellow state qualifier Cael Wiener. Monroe will graduate along with Centennial's other two qualifiers, Logan Neils and Jackson Bresson.
"The seniors have taught me a lot and being around them has been fun," Helmkamp said. "I'm going to miss them next year."
Centennial is currently in 18th place with 30 points heading into the finals on Saturday night.