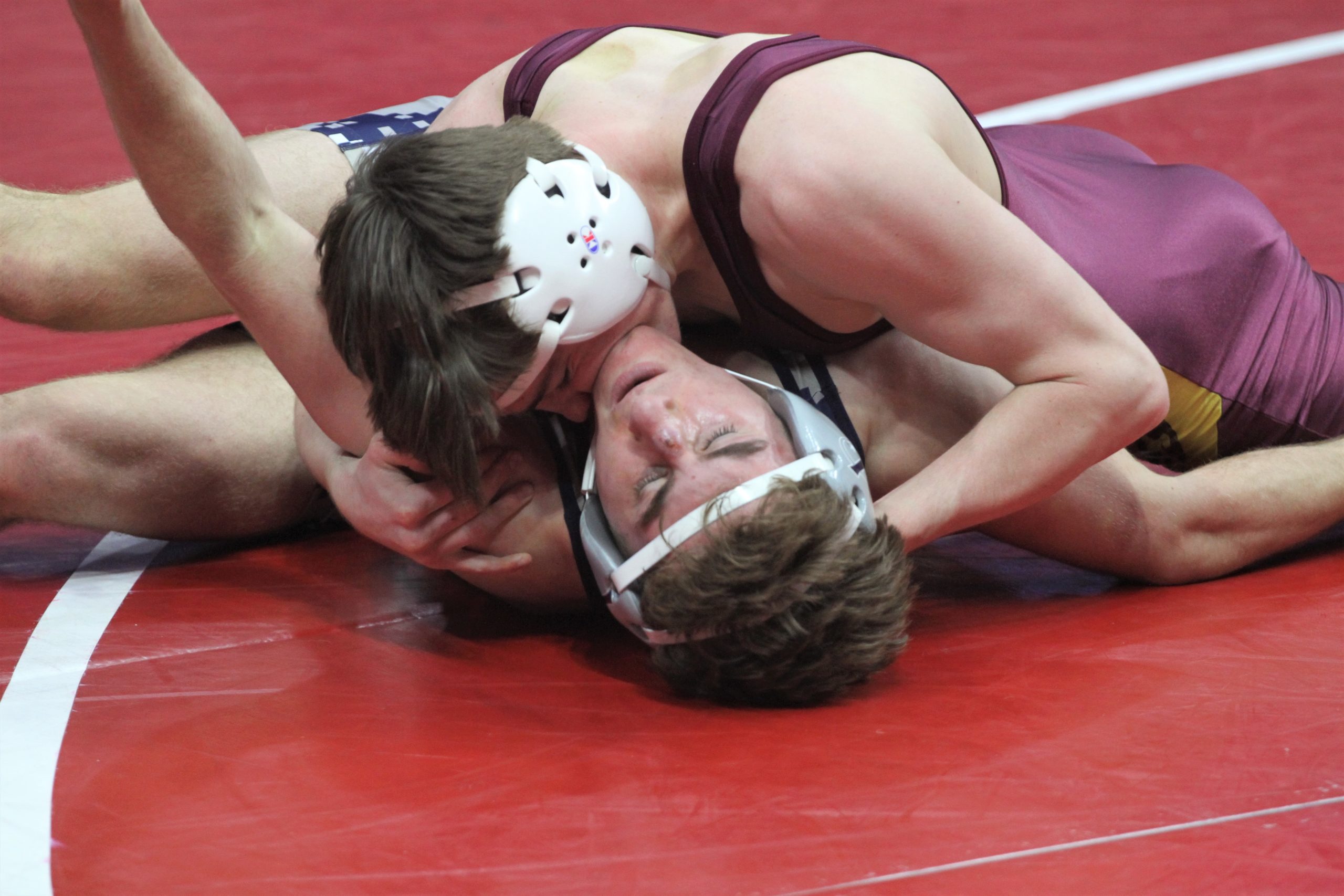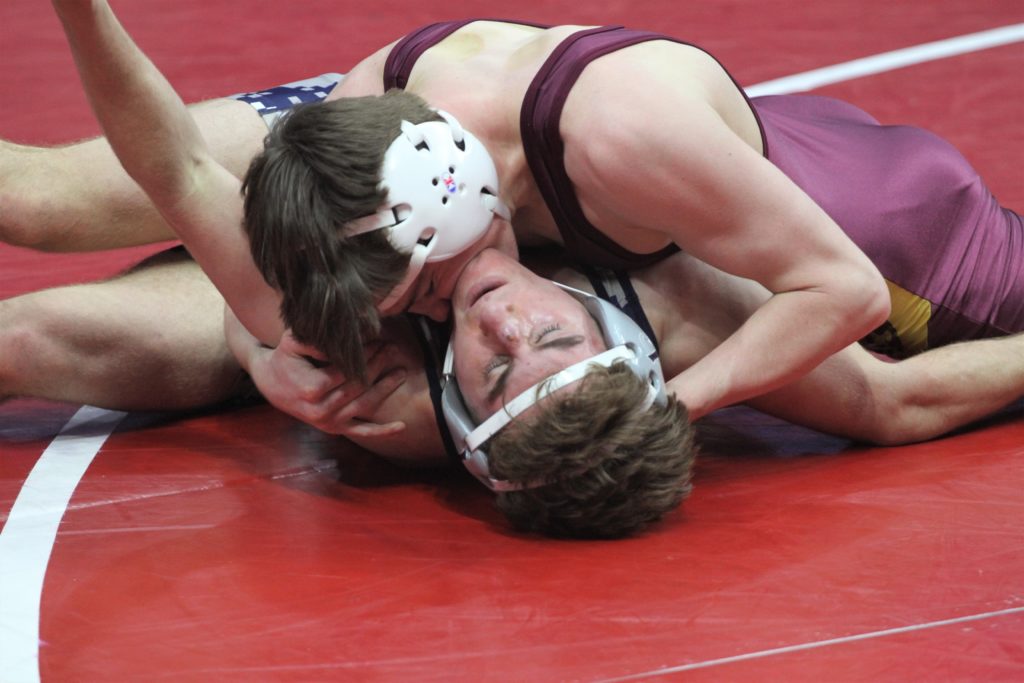 Whenever Caleb Rathjen steps on the wrestling mat, he brings a ton of confidence with him.
His teammate on the Ankeny squad, Sam Kallem, boasts just as much confidence in his own abilities.
Both Rathjen and Kallem advanced to the Class 3A finals on Saturday night with a pair of victories on Friday in the state tournament at Wells Fargo Arena. The duo helped the sixth-ranked Hawks move into a tie for sixth place with Bettendorf in the team standings–both squads have 64 points.
"I'm really proud of Caleb and Sam," said Ankeny coach Jack Wignall. "For Sam to battle through everything and to get to the finals, what a great thing for him. And Caleb looked so dominant."
The top-ranked Rathjen continued his march toward a second consecutive state title. He pinned No. 7 Carter Martinson of Southeast Polk in 4 minutes 56 seconds in a quarterfinal match at 138 pounds on Friday morning, then pinned No. 4 Christian Stanek of Cedar Rapids Xavier in 2:32 in the semifinals on Friday afternoon.
"It feels good," said Rathjen, who is now 42-1 on the season. "It's a goal, and I got back to it. It always feels good to make the finals."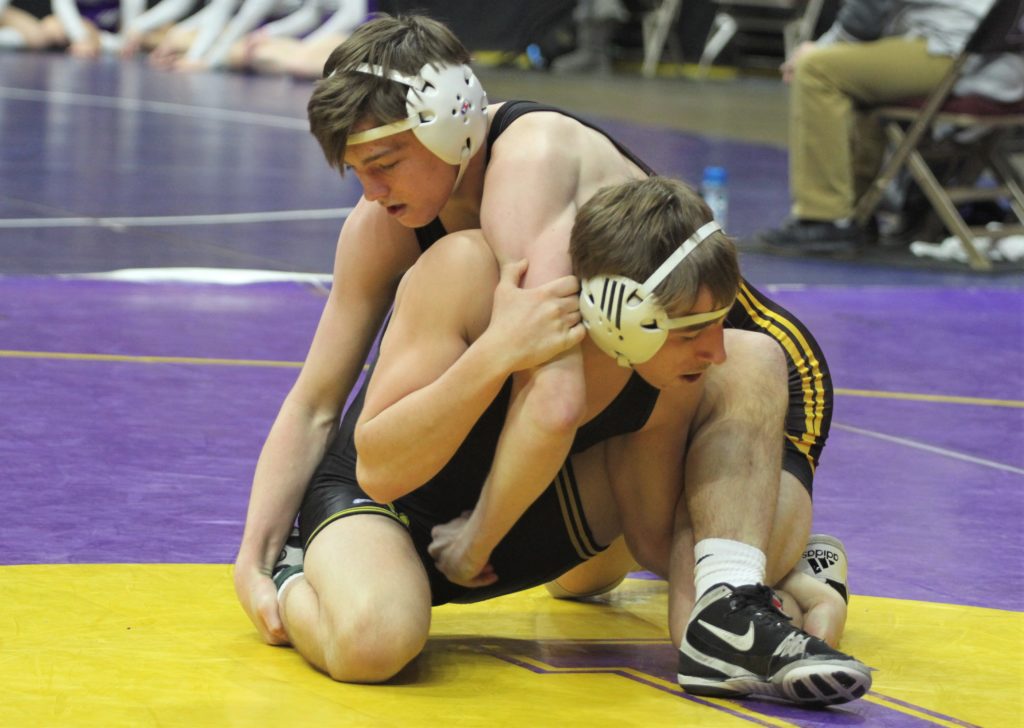 Rathjen has pinned five of his last six opponents dating back to the district tournament last Saturday. He pinned his first-round opponent, Cole Wilcox of Sioux City East, on Thursday in just 58 seconds.
"I'm just trying to score as many team points as possible," Rathjen said. "Just going out there and dominating–a pin is the most dominant thing you can do."
This will be Rathjen's third straight trip to the finals. He will face No. 2 Dreyzon Phillips of Fort Dodge (39-7) for the crown.
"I think it gives me the edge. I've been there before–I've been there twice," Rathjen said of his experience. "I can't overlook it, and I can't think I'm too big for the stage. But I definitely have a lot of confidence. I feel really good going into this match.
"I've wrestled him twice this year so far, and he goes up to Sebolt. So I wrestle with him a little bit in practice," he added.
Wignall is confident as well that Rathjen will bring home another gold medal.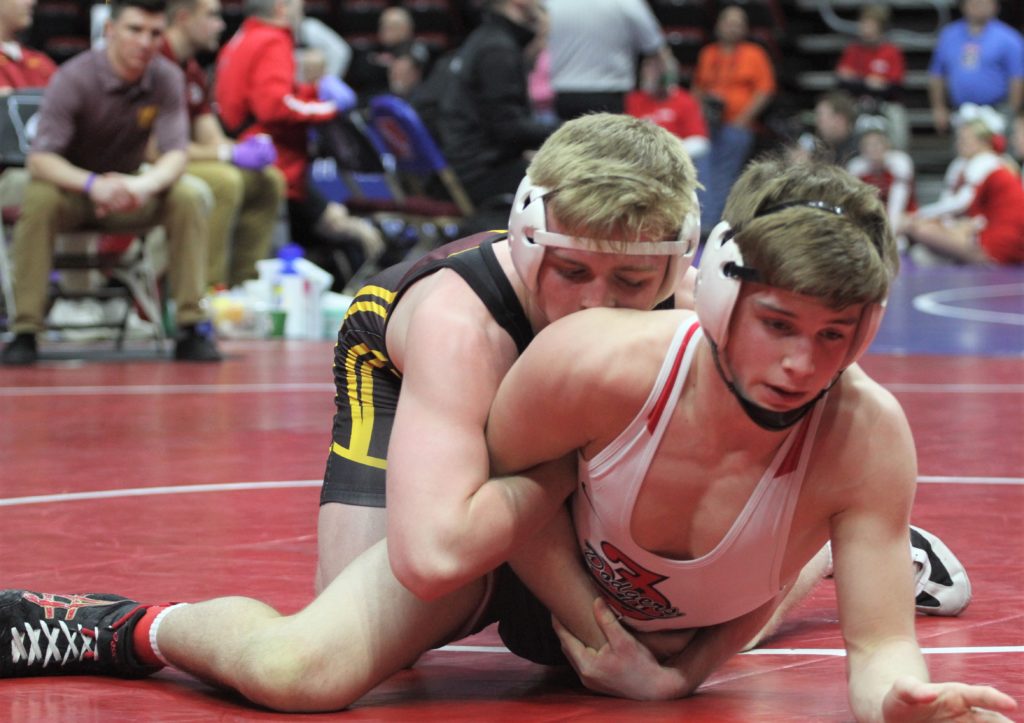 "Caleb's on fire," he said. "That's the best I've seen him wrestle. He just keeps getting better and better."
The No. 3 Kallem, meanwhile, advanced to the finals at 145 with a 6-2 decision over No. 8 Brandon Mills of Fort Dodge. He raised his record to 35-4.
"It feels great," Kallem said. "I've been working toward this my whole life. To finally get it done–I still have one more–but to make the finals, it's a great feeling."
Earlier on Friday, Kallem posted a 4-2 decision over No. 6 Carson Martinson of Southeast Polk in the quarterfinals.
"I knew I was one of the best wrestlers in this tournament," Kallem said. "I just had to go out and prove it."
Kallem will face No. 5 Graham Gambrall of Iowa City West (35-5) for the title. Gambrall rallied to beat No. 4 Ben Monroe of Ankeny Centennial in the quarterfinals, then used a similar rally to upset No. 1 Deven Strief of North Scott in the semifinals.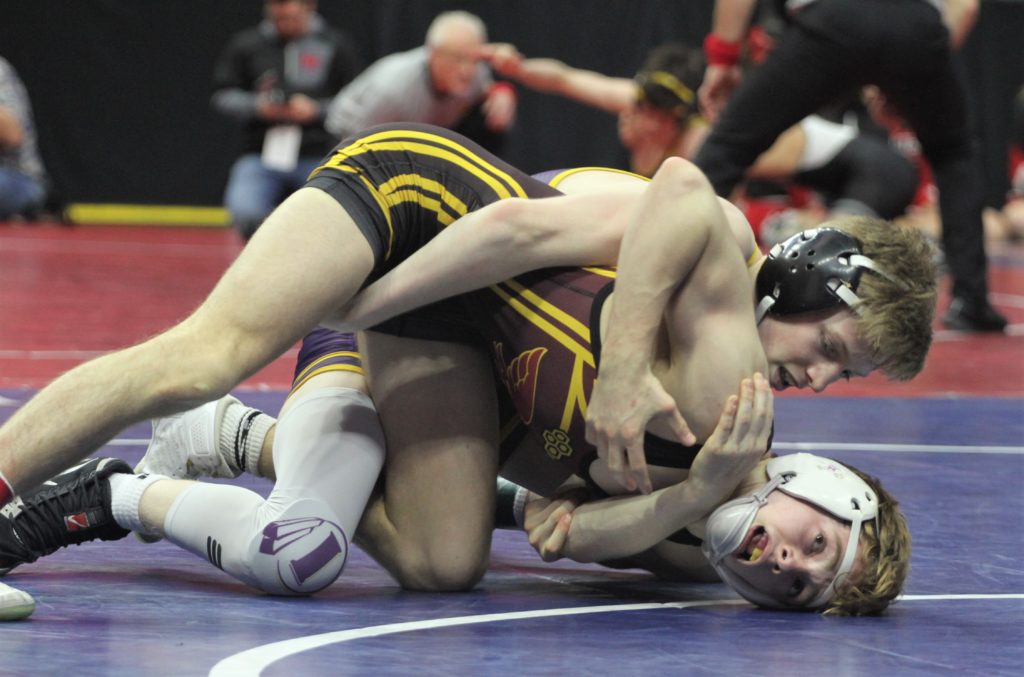 "I know he's pretty long and lengthy, and he's a really good wrestler," Kallem said. "I'm excited. It's going to be a good match."
Ankeny was hoping to have three finalists, but top-ranked Trever Anderson suffered a 5-2 loss to No. 4 Ryder Downey of Indianola in the semifinals at 113. Downey got a three-point near-fall in the second period to erase an early 2-0 deficit.
"Trever just wasn't able to get out from underneath," Wignall said. "That was a good turn (by Downey), and that was the difference. It was a close one, but now Trev can come back and get the next best thing. He's got to come back and get third now."
Anderson, who pinned No. 8 Aime Mukiza of Des Moines North/Hoover in 1:41 in the quarterfinals, is now 35-2 on the season. He will meet No. 6 Ethan Wood-Finley of Iowa City High in a consolation semifinal on Saturday.
The Hawks will have a fourth placewinner in No. 10 Cael Cox at 120. He posted a 7-3 decision over Jackson Bresson of Ankeny Centennial on Friday morning, then later defeated No. 4 Kaden Karns of Waterloo West, 7-4, in a third-round consolation match.
Cox improved his record to 29-10. He will face No. 3 Thurman Christensen of Waukee in a consolation semifinal on Saturday.