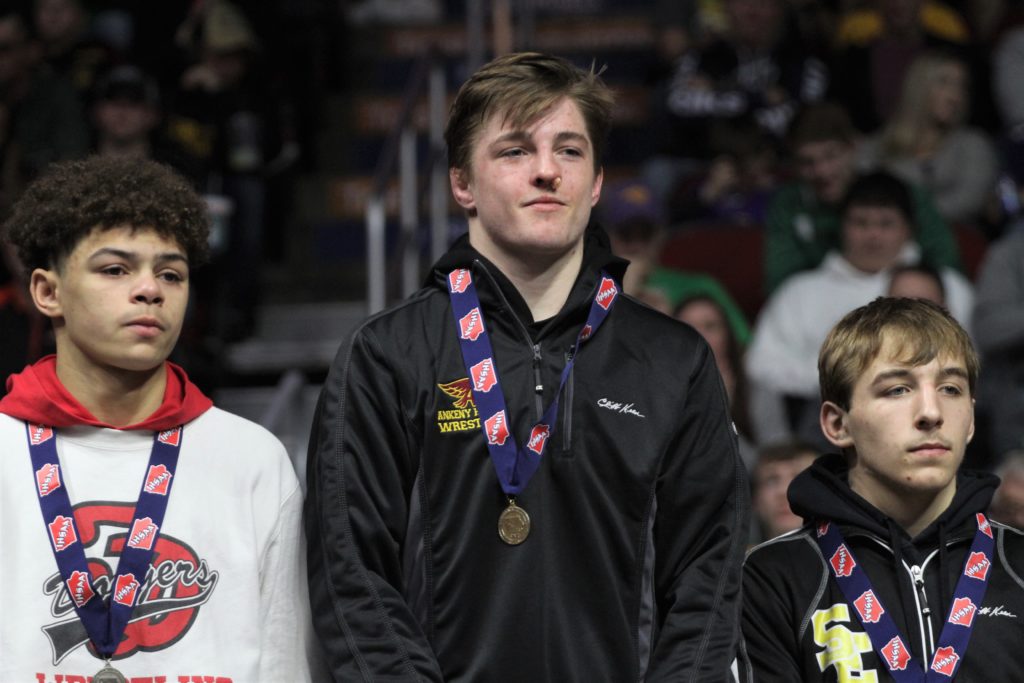 Ankeny junior Caleb Rathjen captured his second straight state wrestling title on Saturday night at Wells Fargo Arena, despite getting a bloody nose for the second year in a row.
The top-ranked Rathjen rolled to a 17-6 major decision over No. 2 Dreyzon Phillips of Fort Dodge to win the Class 3A crown at 138 pounds. He finished the season with a 43-1 record.
Rathjen has been a three-time finalist for the Hawks. He placed second at 113 as a freshman before claiming the 126-pound title as a sophomore.
Rathjen led sixth-ranked Ankeny to a seventh-place finish in Class 3A, its highest under coach Jack Wignall. The Hawks scored 78 points.
Ankeny senior Sam Kallem earned runner-up honors at 145. The third-ranked Kallem dropped a 10-5 decision to No. 5 Graham Gambrall of Iowa City West, finishing the season at 35-5.
Ankeny Centennial took 19th place. The Jaguars had two placewinners and scored 30 points.
Check back later on Sunday for more coverage of the tournament.