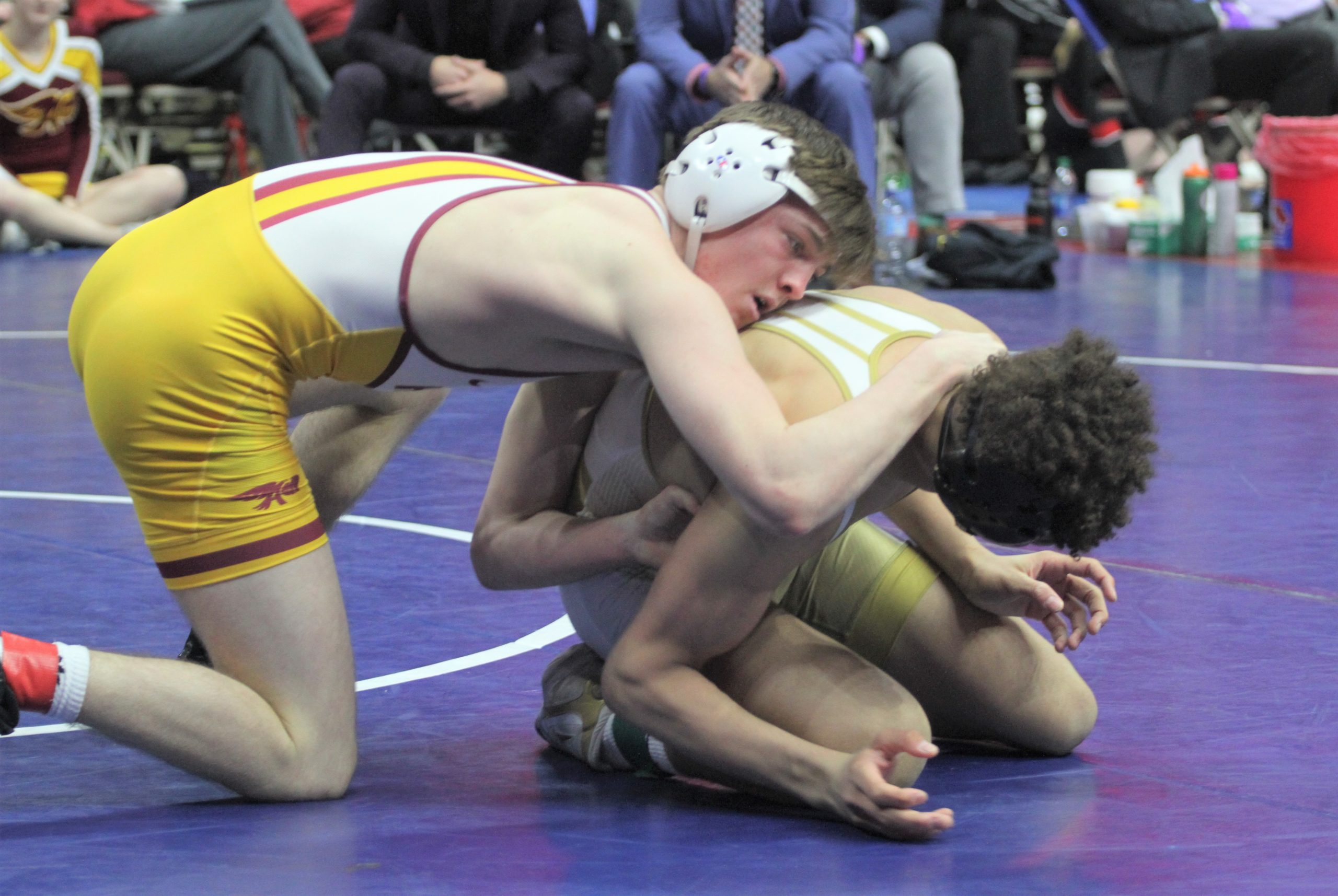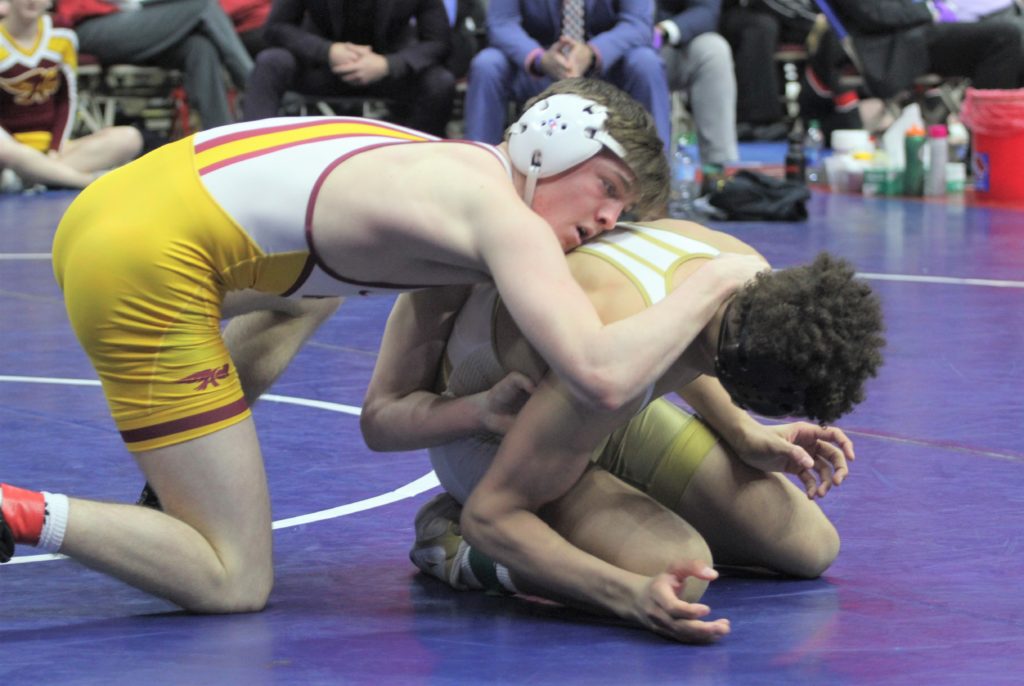 Ankeny's Caleb Rathjen doesn't want to just win state titles.
He also wants to dominate his opponents on the wrestling mat.
On Saturday night at Wells Fargo Arena, Rathjen did both of those things.
The top-ranked junior racked up eight takedowns and rolled to a 17-6 major decision over No. 2 Dreyzon Phillips of Fort Dodge to win the Class 3A crown at 138 pounds. It's the second consecutive title for Rathjen, who won at 126 a year ago.
"It's good. It's the second one," Rathjen said. "State titles feel good. It's what I train for during the year."
Rathjen, an Iowa recruit, finished the season with a 43-1 record. His only loss came to Lisbon star Cael Happel, who won the Class 1A title Saturday on an adjoining mat to become the 28th four-time champion in Iowa prep history.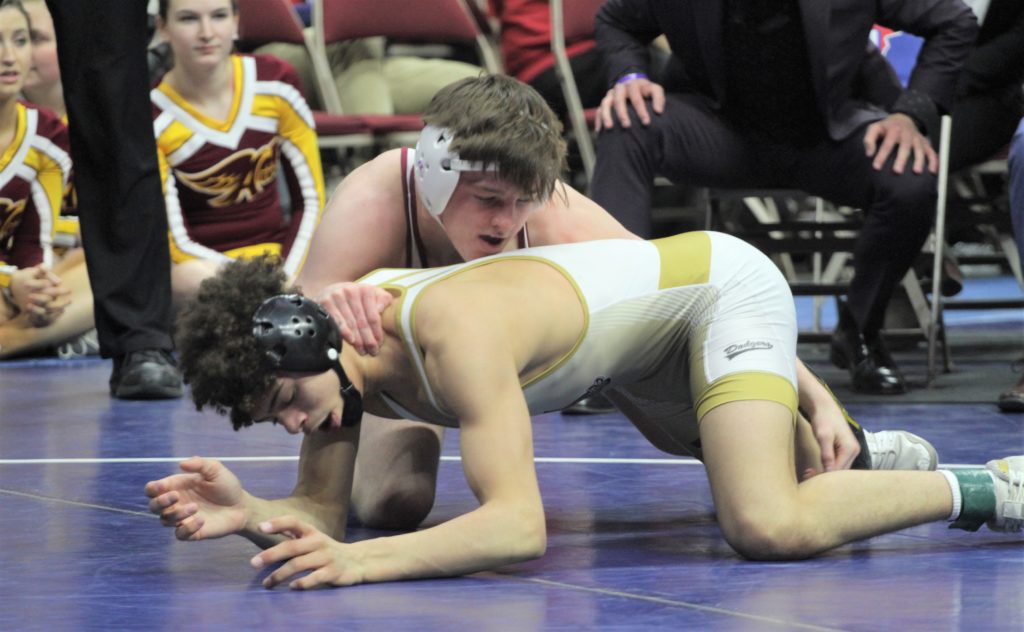 It's losses like the 6-5 decision to Happel at the Cliff Keen Invitational in December that drive Rathjen to spend countless hours on the mat perfecting his craft. His work ethic paid off with a dominant performance at the state tournament, which began with three consecutive falls.
"This is the best I've seen him wrestle," Ankeny coach Jack Wignall said of Rathjen. "I talked to his dad afterwards and he said, 'Caleb put his foot on the gas in the first match he wrestled and never let up.' He just dominated everybody he wrestled. From the opening whistle of that match tonight, he dominated it. (Phillips) didn't have a chance. It was phenomenal to be a part of it."
Rathjen defeated Phillips for the third time this season. He also works out occasionally with the Fort Dodge junior at the Sebolt Wrestling Academy.
"Staying on him (was the key)," Rathjen said. "(Keep the) pace high (with) heavy hands (and) heavy feet. Keep the feet moving. That was going to do it."
Rathjen relied on his quickness to repeatedly take Phillips down. Phillips only scored when he escaped.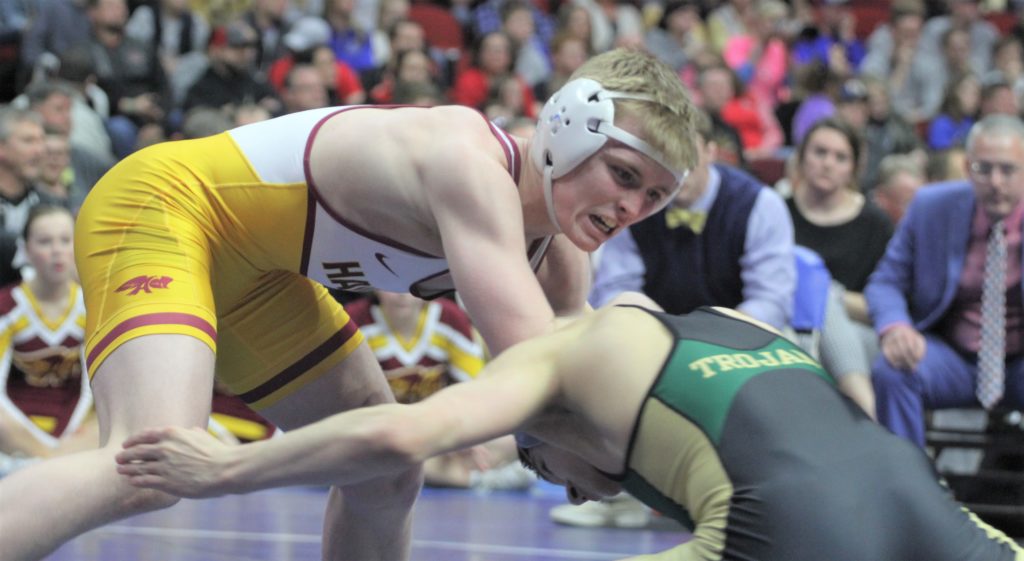 "We talk about (his quickness) all the time in the wrestling room when he's wrestling Sam (Kallem) or one of the assistant coaches," Wignall said. "His lateral movement on his feet is so fast, it's mind-blowing. It is just crazy to watch how quick he is and how he moves, and then he just replicates that in a match."
Rathjen is believed to be the fourth two-time champion in Ankeny history. Eric Norris won in 1970-71, then his brother Mike won in 1972-73. Ross Larson won in 2012 after winning a Class 2A title at Ballard (Huxley) the previous year.
But Rathjen is more than just a wrestling phenom.
"You get past all the wins and the incredible wrestler that he is, and then you get him in a van full of boys going down to the state wrestling tournament and he's just a normal kid," Wignall said. "He fits in and he's goofy, and he says crazy things and he's just part of the group. It's so much fun to see the dynamic of such an outstanding wrestler on the mat and then he's a good friend and a good teammate. It's great to see that contrast."
Rathjen led sixth-ranked Ankeny to a seventh-place finish in Class 3A, its highest ever under Wignall. The Hawks scored 78 points.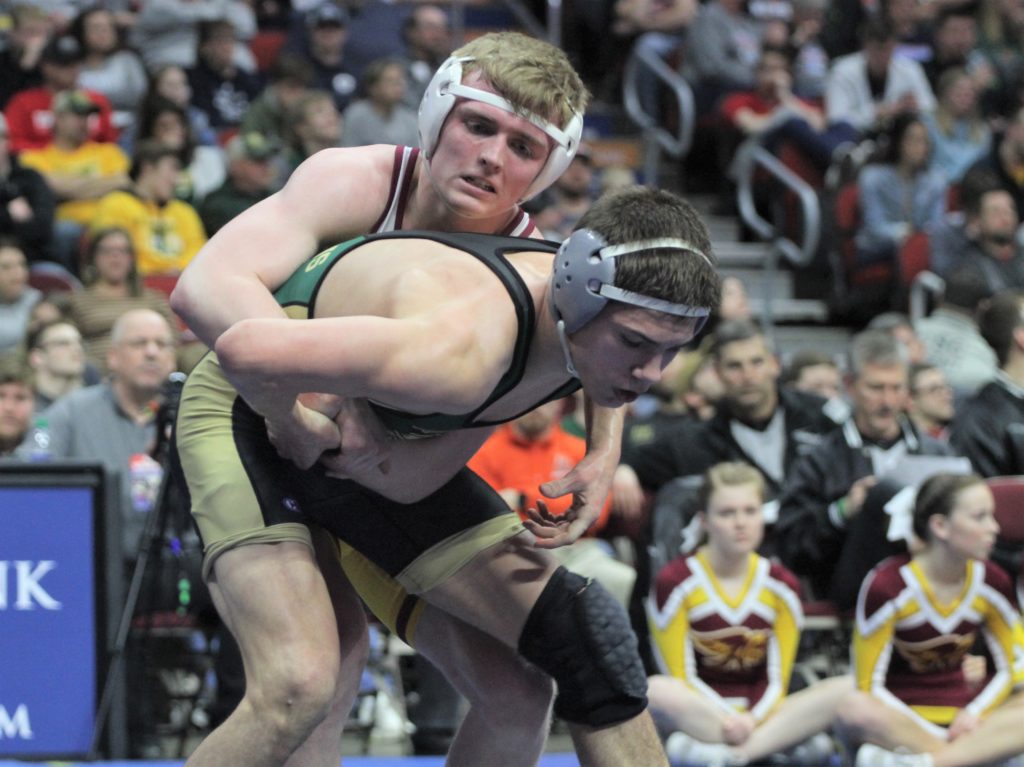 Ankeny got a second-place finish from No. 3 Kallem at 145, a third-place finish from No. 1 Trever Anderson at 113 and a sixth-place finish from No. 10 Cael Cox at 120.
"We took five kids (to state) and four of them scored," Wignall said. "That's pretty darn good."
Kallem took the mat following Rathjen's win and was hoping to give the Hawks back-to-back champions, but he dropped a 10-5 decision to No. 5 Graham Gambrall of Iowa City West. The senior finished with a 35-5 record.
"Wrestling in the finals is the best experience I've had in wrestling yet," said Kallem, a Grand View recruit. "It was hard (not to get caught up in the atmosphere), but you have to treat it like another match because in the end it is just another match."
Kallem had a chance for a takedown early in the first period, but Gambrall fought him off and eventually took control of the match.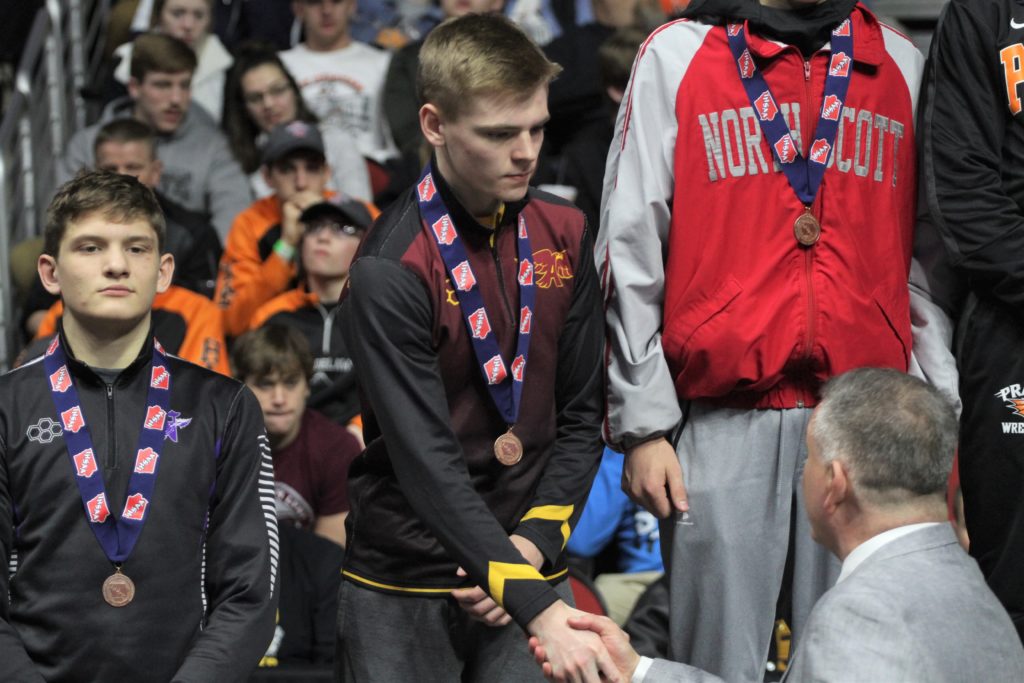 "If he finishes that, I think momentum in that match is just different and his confidence goes up," Wignall said. "I wish we could have gotten that first takedown. I think it would have changed the match."
Instead, Gambrall built a 7-3 lead before Kallem got his only takedown with about 30 seconds remaining. Kallem then let Gambrall escape, and the Iowa City West junior got another takedown as the match ended.
"Gambrall was very long and lengthy, and he used it to his advantage," Kallem said. "He tried staying out of tie-ups where I would usually get my offense."
Gambrall helped the Trojans to a fourth-place finish overall. He rallied from behind to defeat No. 4 Ben Monroe of Ankeny Centennial in the quarterfinals, then used a similar rally to beat No. 1 Deven Strief of North Scott in the semifinals.
"That kid wrestled a great tournament," Wignall said. "He was long and lengthy, and he was strong. He got in on Sam's legs that first time or two and took him down. I've seen Sam wrestle in that position 100 times and fight and get away from that, but that kid was able to get the leg and just hold onto it."