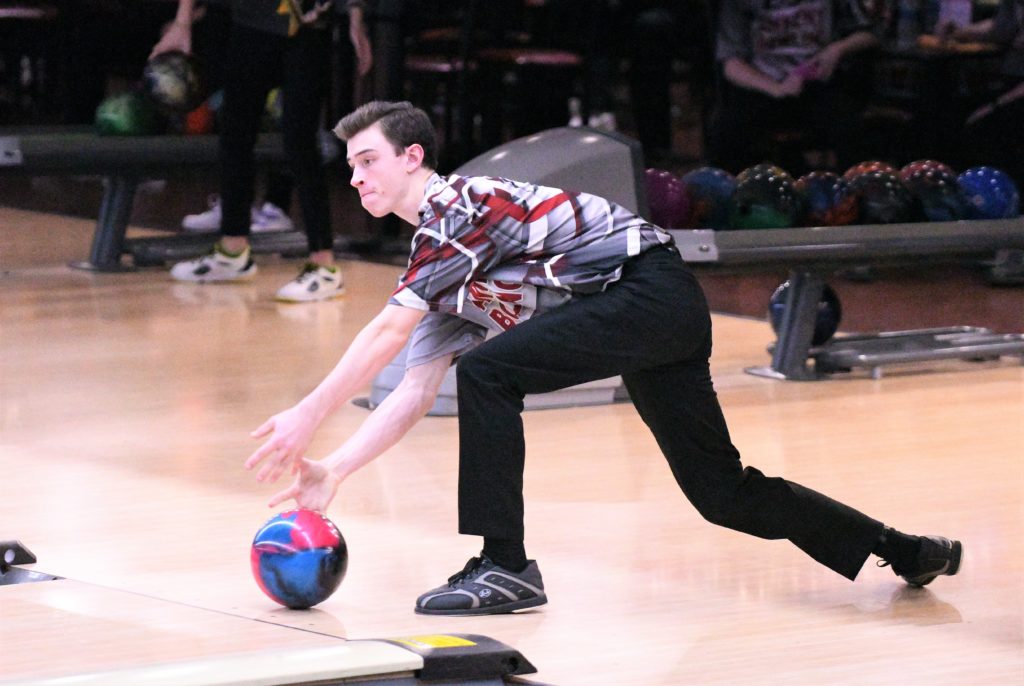 Chris Winters helped the Ankeny boys' bowling team qualify for this week's Class 3A state tournament. The Hawks will compete against seven other teams on Wednesday at Cadillac Lanes in Waterloo.
Winters has posted a 375.3 series average this season, which ranks third among the Hawks. He bowled a career-high total of 456 during a dual meet at Ottumwa on Jan. 14.
Here is some inside info on Winters:
Congratulations on qualifying for state. Were you surprised that your team made it?
I was a little surprised at first, but our team has been bowling great the past couple weeks and we've been really on top of things as a whole and we showed up again that day so it was just really cool that we've been given this opportunity to go show up again at state.
You bowled a 447 series, one of your highest ever, in the district meet at Marshalltown. Did you like the lanes at Wayward Social?
I really did. The entire facility was extremely nice and bowling there was a really cool experience.
When did you first start bowling?
I first started really bowling around the end of last June, which is about eight months ago, so it hasn't been very long.
What do you like about the sport?
Bowling alone and practicing or just going out for fun just helps to keep your mind off of things that you are going through or just everyday stresses. It's something that you can do alone when you just need to think too, but at the same time as a team you bowl as a team and everyone there treats you like family. And at meets, we all get hyped up and excited and loud so it's a combination of peace and excitement, depending on what you're there for.
In the photo above it looks like you're a two-handed bowler, but maybe it's just an illusion. Are you a two-handed bowler?
Yes, I am.
Your team has a new head coach this season in Lane Richtsmeier, who seems to bring a lot of enthusiasm to the sport. Do you enjoy playing for him?
I really do, and as a team I think we all do. He's extremely enthusiastic about the sport and it's a big passion for him but as a coach he doesn't just show up and only teach us how to bowl or just show up to be there–he actually cares about each and every one of us.
Have you learned a lot from him?
Coach has had a big influence on me even for my personal life, like being able to cope with being too quick to get angry when something doesn't go your way because that's bowling in a nutshell. You could do everything perfect and things won't always go your way, but as a bowler he's helped me with being consistent in my game and I've noticed myself getting a lot better over the course of the year.
Coach has told me that you guys call Brandon and Blake Schumacher by the nicknames Right Shoe and Left Shoe. Do you have a nickname?
I don't think I have a nickname. If I do, they haven't said it around me yet.
What are the team's goals for the state tournament? Do you think you can contend for the title?
Our goal as a team is to go and have fun and bowl the best we can, and if we do that I think we have a real shot at winning the whole thing.
Which teams are the ones to beat?
Des Moines Lincoln and Marshalltown are definitely the two big contenders. They have been scoring really well lately, and Lincoln posted the highest score at districts. Marshalltown got pretty close to that, but bowling is weird, so any team there is in the game and could surprise everyone and show up, so we should see every team there as a contender.
Do you have an individual goal?
I want to bowl my highest series so far this year, but I also just want to go there to have fun. It is going to be a really cool experience and one most of us haven't ever had before.
Are you familiar at all with Cadillac Lanes?
I have never been to Cadillac Lanes before so it's going to be completely new to me. Hopefully, I'll be able to adjust to the pattern well and stay consistent.