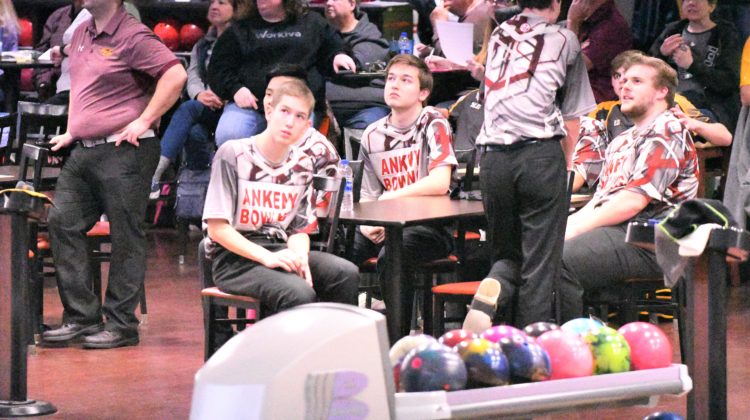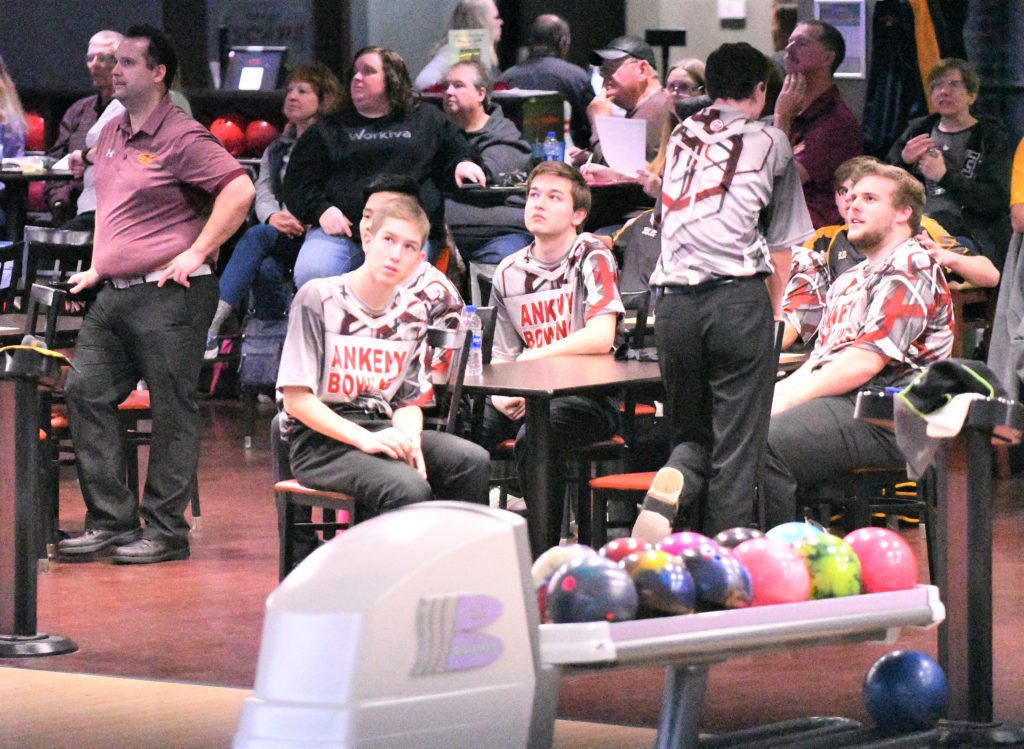 Ankeny boys' bowling coach Lane Richtsmeier could hardly contain his excitement while watching his team compete in the Class 3A state tournament on Wednesday at Cadillac Lanes in Waterloo.
He wasn't even concerned about the Hawks' scores.
"This was a dream come true today, not just for me but for the boys as well," said Richtsmeier. "Going into today, the only goal we had was to have fun and not come in last. We weren't going to worry about what everyone else was doing–we were going to just bowl our game! I told the kids, 'No matter what, we're bonus bowling and everything is gravy today!'"
Ankeny went on to place fifth in the eight-team field with a score of 3,067. It was the highest finish in school history.
"I was really pleased with how the team performed," said Ankeny junior Gage Payton. "To see how the team has meshed throughout the season is a great feeling and something that I will always be proud to be a part of."
The Hawks were in seventh place following the individual rounds, but then closed out the meet with back-to-back scores of 245 and 219 in the last two Baker games. That allowed them to move ahead of Dubuque Hempstead and Davenport Central in the team standings.
"I was very happy with everything," said Ankeny senior Chris Winters. "We all did the best we could with what we were given and finished strong."
Waterloo West won the Class 3A crown with a total of 3,265. The Wahawks edged Marshalltown by 39 pins.
The Bobcats took the lead during the individual rounds behind Lucas Kramer, who bowled a 532 series to capture a state title. William Putney of Des Moines Lincoln was the runner-up with a 492.
Spencer Kirk of Cedar Rapids Prairie, who placed fourth with a 479, bowled a perfect game in the second round. He became just the fourth boy to accomplish the feat at the state tournament.
Ankeny was led by Payton, who placed 15th with a 438 total. After posting a 180 in his first game, Payton recorded strikes in eight of his first nine frames en route to a 258 in his second game.
"(In the first game) I was still feeling the nerves and was trying to relax and make good shots," said Payton, whose career-best score is a 279. "The second game I was able to relax and slow down to repeat good shots."
Teammate Jeff Carothers finished 20th with a 425 series. He had five straight strikes and went on to post a 213 in his first game, then was on pace to score even better in the second game before an open frame in the seventh proved costly and he had to settle for a 212.
Winters posted scores of 191 and 222 for a 413 total.
"It was a great experience to even be there," Winters said. "We all agreed beforehand no matter what happened we were happy with our season and everything we had done to get there, so no matter what we were proud to be there."
Brandon Schumacher bowled a 203 in his first game and had a 396 series. He closed out his second game with a turkey in the 10th frame.
His brother, Blake Schumacher, also had a turkey in the 10th frame of his first game. He bowled back-to-back games of 195 for a 390 series.
Aidan Doruska rounded out Ankeny's lineup. He finished with a 333 total.
"For me, this wasn't even on the radar to be coaching eight months ago, let alone to be at state," Richtsmeier said. "Today was just amazing for me. I said at Christmas break, these guys had a chance at state and the kids just kept bowling better and better and having great team chemistry. They wanted it more and more every single day!
"I couldn't be more proud of these young men and how far they have come since November," he added.
Richtsmeier will have to replace Carothers, Winters and Brandon Schumacher next year.
"The only regret I have is, I wish I wasn't losing three of them. I wish I had one more year with these guys!" Richtsmeier said. "But overall, I'm extremely happy. This really was a dream season for me!"