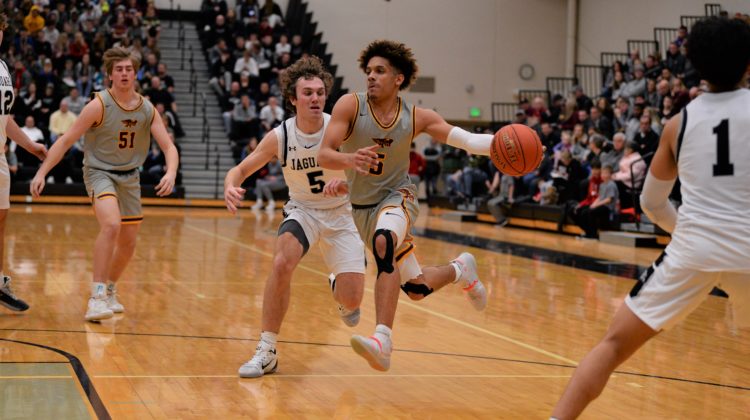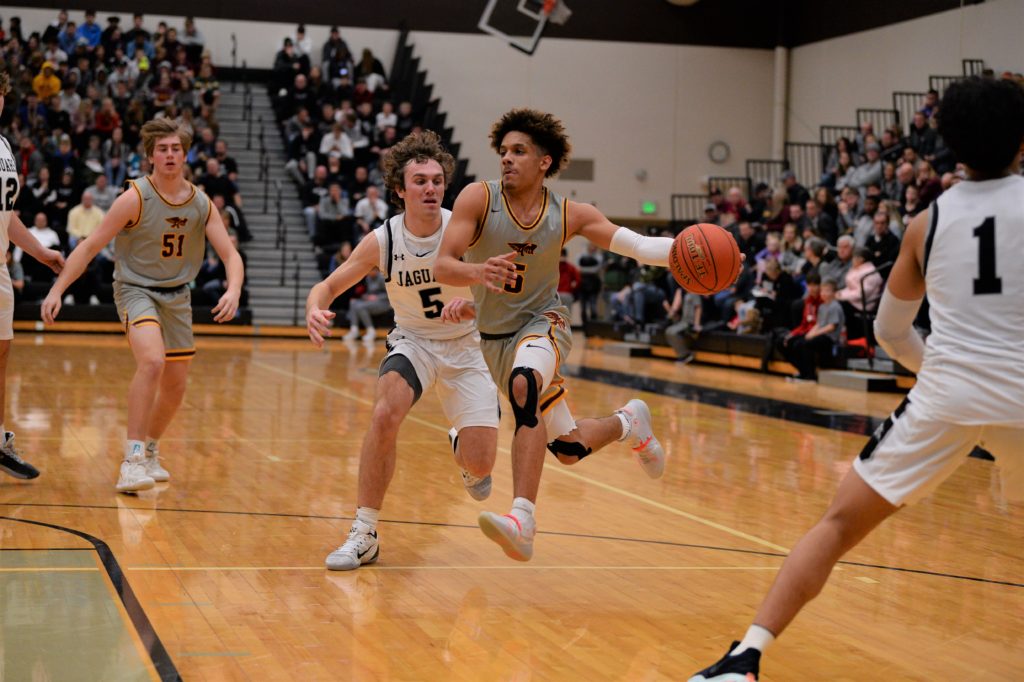 Here's a quick look at each of the boys' basketball teams in the Class 4A state tournament:
No. 4 seed Waukee (21-2): The Warriors avenged one of their two losses with a 59-55 victory over Valley in a substate final. Waukee boasts two of the state's top players in the Class of 2021, Tucker DeVries and Payton Sandfort, who combined for 39 points in the win. DeVries suffered an injury late in the game, but it was not believed to be serious. He will make a recruiting visit this weekend to Creighton, where his father–Drake head coach Darian DeVries–was a longtime assistant under both Dana Altman and Greg McDermott. With a win over North Scott on Tuesday, Waukee could get a chance to avenge its only other loss against Ankeny Centennial in Thursday's semifinals.
No. 5 seed North Scott (22-1): The Lancers advanced to the state tournament for the third straight year in dramatic–and miraculous–fashion. North Scott got an improbable 3-pointer from Northern Iowa recruit Ty Anderson at the buzzer to beat Waterloo West, 41-40, at the U.S. Cellular Center in Cedar Rapids. With only .6 seconds on the clock, Trent Allard fired a three-quarter court baseball pass on the run to Anderson, who caught the ball, turned and buried a desperation heave from 28 feet as time expired. The Lancers enter the state tournament on a 21-game winning streak. Their only loss came at Cedar Rapids Prairie, 52-44, on Dec. 7.
No. 1 seed Ankeny Centennial (23-1): The Jaguars are making their first trip to the state tournament under coach Bob Fontana, who previously guided Cedar Rapids Kennedy to state three times. Centennial is riding a 17-game winning streak into the tournament. The Jaguars' only loss came at Dowling Catholic, 68-55, on Jan. 3. Centennial boasts one of the state's best inside duos in senior post players Cody McCullough and Micah Johnson, who are averaging a combined 26.2 points and 18.3 rebounds per game. Former Ankeny player Jaron Crews has also been a huge key to the Jaguars' turnaround from a 9-13 record a year ago. He is averaging 13.7 points and leads the team with 111 assists.
No. 8 seed Davenport North (16-8): The Wildcats are the Cinderella story of the Class 4A field. They went 1-4 to finish the regular season, but then won three substate games to qualify for state for the first time since 2003. Davenport North stunned Dubuque Senior, last year's 4A runner-up, in the substate final. Jayden Houston took an inbounds pass from Quincy Wiseman with less than 1 second remaining and knocked down a shot at the buzzer to give the Wildcats a 50-48 victory. North is a young team–only one of its top five scorers is a senior. Juniors Houston and Wiseman lead the way with averages of 17.3 and 14.3, respectively.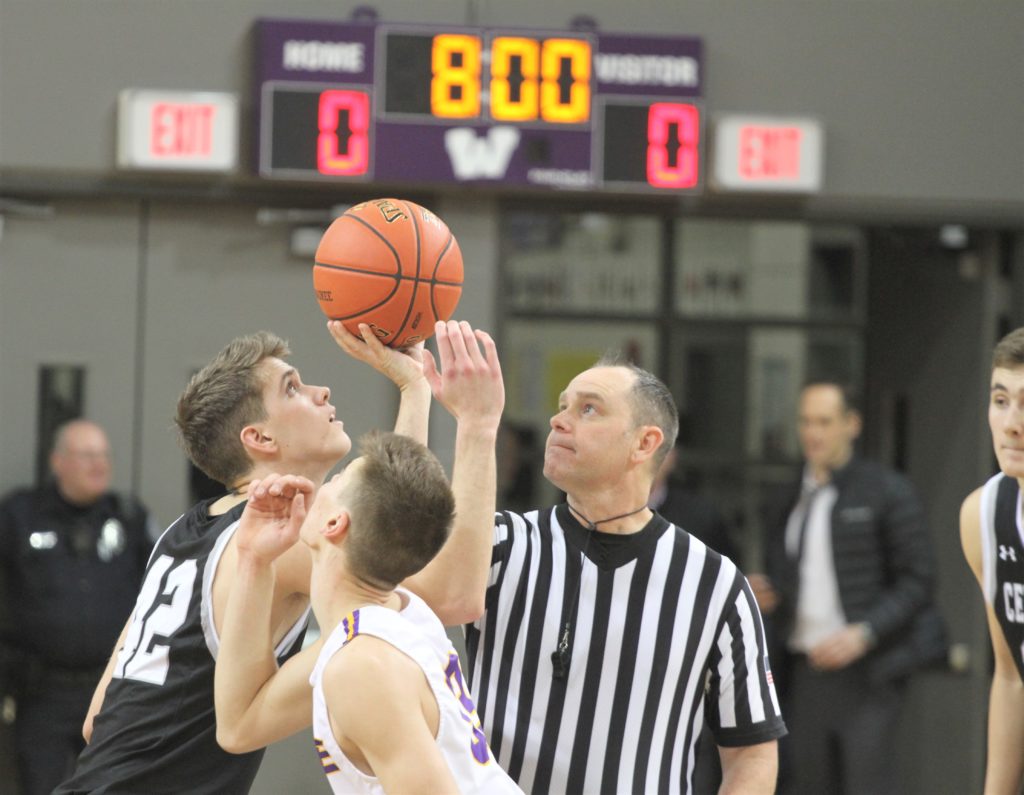 No. 3 seed Iowa City West (21-2): The Trojans cruised to another state tournament berth with a 55-36 victory over Pleasant Valley. Iowa City West has been a fixture at the state tournament under veteran coach Steve Bergman. This year's team is led by 6-foot-9 center Even Brauns, a Belmont recruit who averages 15.1 points and 7.3 rebounds. Junior Marcus Morgan, who averages 9.8 points while shooting 44.3 percent from 3-point range, is one of the state's best all-around athletes. He's being recruited in baseball, football and basketball. Morgan's brother, Jeremy, played on the Iowa City West team in 2011 that lost to Ankeny, 76-70, in the Class 4A third-place game.
No. 6 seed Ankeny (18-5): The Hawks are making their first trip to state since 2012, and it's also the first trip since Ankeny split into two high schools in 2013. The Hawks survived a back-and-forth thriller against Sioux City East in the substate final, posting a 73-67 victory after trailing by eight points late in the third quarter. Ankeny is led by senior guard Braxton Bayless, who filled up the stat sheet against the Black Raiders with 25 points, nine rebounds and six assists. Perhaps no player in the Class 4A field is more important to his team than Bayless, who leads the Hawks in scoring, rebounding, assists and steals. Bayless doesn't shoot a lot of 3-pointers, but he makes them at a 46.7 percent clip (21-of-45).
No. 2 seed Cedar Falls (21-2): The Tigers are seeking their third consecutive state title. They won the crown in 2018 behind A.J. Green, who is now the Missouri Valley Conference player of the year at Northern Iowa. Cedar Falls won again last year behind Logan Wolf, who then joined Green on the Panthers' roster, and Jack Campbell, who is now playing football at Iowa. Wolf's younger brother, Landon, leads a balanced attack for the Tigers, averaging 11.7 points. Josh Ollendieck and Chase Courbat are also averaging in double figures. Both of Cedar Falls' losses came to Waterloo West, 79-55 on Dec. 10 and 46-31 on Jan. 31. The Tigers have won 10 straight games.
No. 7 seed Dowling Catholic (16-7): The Maroons are the third team from the CIML Central Conference in the field, joining Ankeny and Centennial. Dowling struggled midway through the season, suffering a five-game losing streak that began with a 77-73 loss to Ankeny on Jan. 14. But the Maroons have since won eight of their last nine games, including a 58-35 victory over Council Bluffs Lincoln in the substate final. Dowling has a championship pedigree–starters Michael Keough and Matt Stilwill were both key members of the Maroons' football squad that won a record seventh consecutive state title last fall.