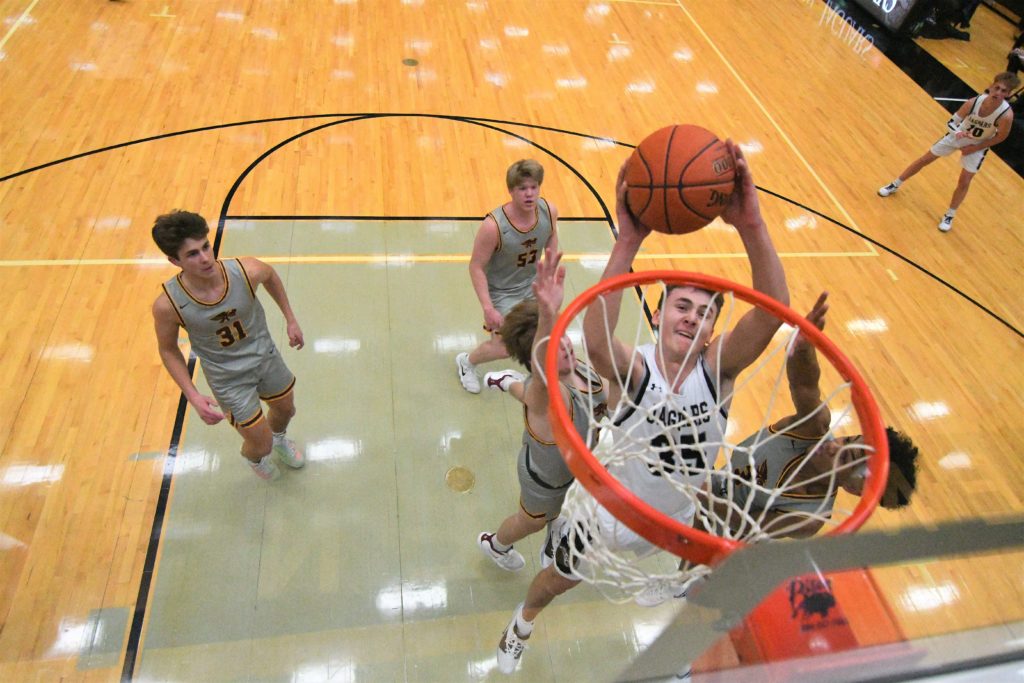 This could be one of the most wide-open boys' Class 4A state basketball tournaments in recent memory.
Top-seeded Ankeny Centennial might be considered a slight favorite to win the crown, but several other teams in the field are legitimate contenders to capture the title, including sixth-seeded Ankeny.
When the quarterfinal games get under way on Tuesday night at Wells Fargo Arena, there might be only one team–Davenport North–that is simply happy to be there. Every other squad is looking to cut down the nets on Friday night.
So how will the first-round games turn out? Here are Ankeny Fanatic's predictions:
No. 4 Waukee (21-2) vs. No. 5 North Scott (22-1): On paper, this appears to be the best matchup of the opening round. The Lancers enter the tournament on a 21-game winning streak and are riding high following a miraculous win over Waterloo West in the substate final. Waukee, meanwhile, has won 11 straight games. North Scott's Ty Anderson is a stud–he'll play for Northern Iowa next year–but the Warriors have two lengthy defenders to throw at him in future Division I players Tucker DeVries and Payton Sandfort. The CIML flexes its muscle in the tournament's opening game. Prediction: Waukee 62, North Scott 54.
No. 1 Ankeny Centennial (23-1) vs. No. 8 Davenport North (16-8): There's a reason why the Jaguars are the No. 1 seed. They won the CIML Central Conference, which placed three teams in the tournament, by three games. Davenport North, meanwhile, is ranked 26th among the 48 teams in Class 4A according to the BC Moore rankings. The Wildcats reeled off three straight wins in substate play to qualify for state for the first time since 2003, but their Cinderella run comes to an end on Tuesday night. They won't be able to pull off another upset as the Jaguars' potent inside duo of Cody McCullough and Micah Johnson proves to be too much. Prediction: Centennial 58, Davenport North 41.
No. 3 Iowa City West (21-2) vs. No. 6 Ankeny (18-5): If this contest is half as entertaining as the last time these two teams met in the state tournament, when the Hawks posted a 76-70 overtime victory in the third-place game in 2011, then the fans will get their money's worth. There will be plenty of star power on the court. Ankeny's Braxton Bayless might be the state's best guard not named Bowen Born, while Iowa City West's Even Brauns is a 6-foot-9 monster in the paint who provides a huge matchup problem for the Hawks. Iowa City West also boasts one of the state's best all-around athletes in Marcus Morgan. Bayless has been nearly unstoppable on his drives to the basket this season, but the Trojans are well-equipped to at least contain him. Look for Morgan to spend a lot of time defending Bayless, who will also have to deal with Brauns once he gets to the rack. I think Ankeny will keep it close, but the upset bid falls short. Prediction: Iowa City West 53, Ankeny 48.
No. 2 Cedar Falls (21-2) vs. No. 7 Dowling Catholic (16-7): The outcome of this game will depend on which Dowling team shows up. Will it be the team that lost five straight games midway through the season, or the one that has won eight of its last nine games? The Maroons appear to have found their stride, but they haven't played an opponent the caliber of Cedar Falls since Jan. 31–when they dropped a 63-48 decision at Centennial. Both of these teams are very balanced–nobody on either squad averages more than 12.2 points–but Cedar Falls is just more consistent. The Tigers move one step closer toward a third consecutive title. Prediction: Cedar Falls 52, Dowling 45.