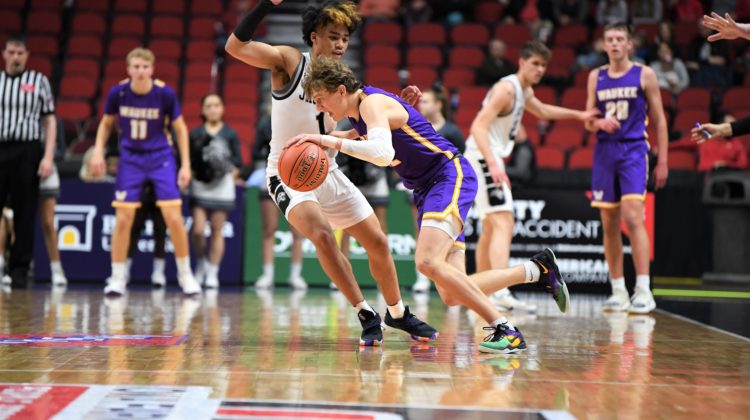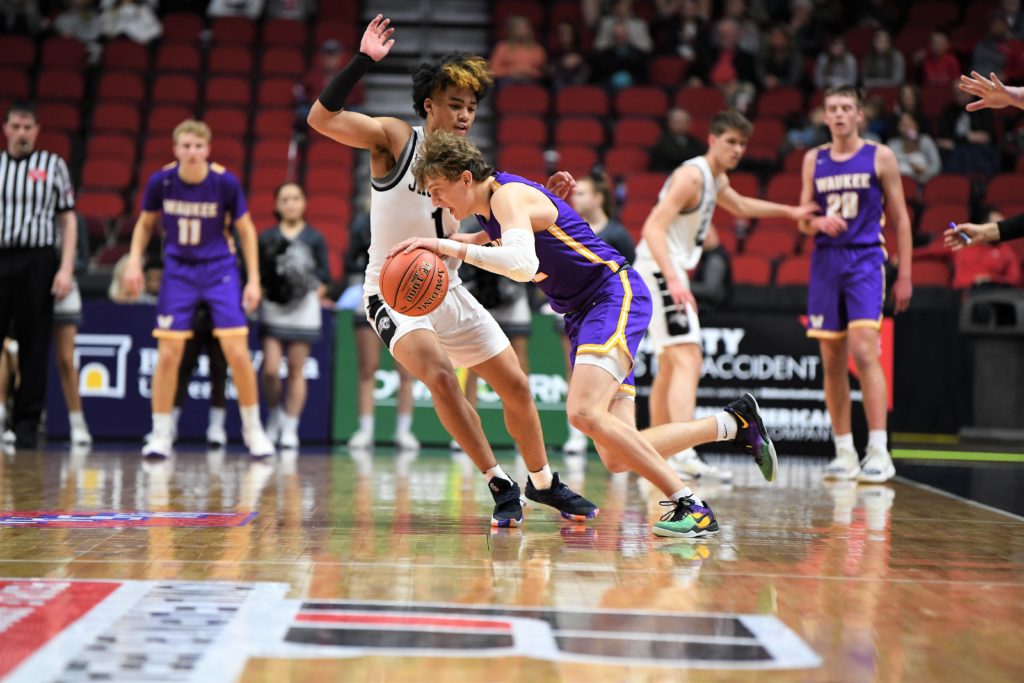 When the Ankeny Centennial boys' basketball team posted a 78-70 victory at Waukee on Jan. 28, the Jaguars looked like a legitimate state championship contender.
The loss, though, may have benefited the Warriors as well.
Waukee has since reeled off 13 consecutive wins and avenged that loss by defeating top-seeded Centennial, 68-62, in the Class 4A semifinals on Thursday at Wells Fargo Arena.
"They came in and kicked our butts," said Waukee forward Payton Sandfort, who had 20 points and six assists in Thursday's game. "Coach (Justin Ohl) challenged us in the coming weeks and we really bonded together, especially on the defensive end. I think that was really good for us. We rebounded and now we're as confident as ever."
No. 4 Waukee (23-2) will play No. 6 Ankeny (20-5) for the state title on Friday at 8:35 p.m. Centennial (24-2) will face No. 2 Cedar Falls (22-3) in the consolation game at 11:55 a.m.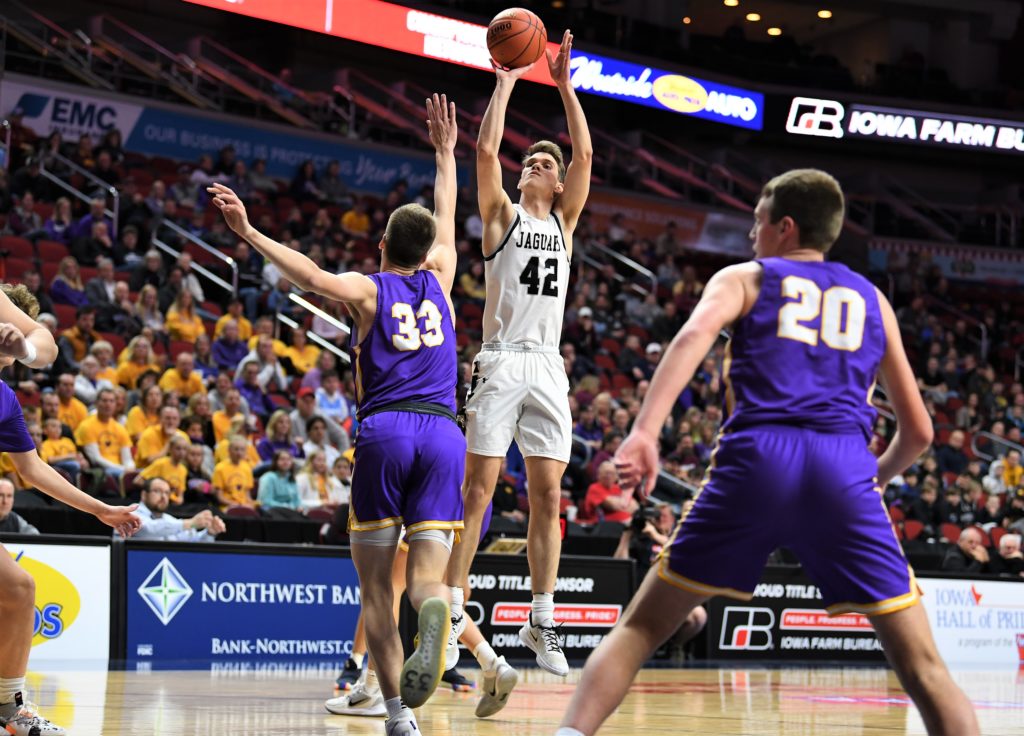 "It's our last game, so we've got to (get up for it)," said Centennial senior Micah Johnson.
There were three ties and seven lead changes in the first half of Thursday's game before Waukee went on a 15-0 run to build a 34-20 advantage. The Warriors had four 3-point goals in the run, three of them by Wyatt Heston.
"We just had some defensive breakdowns, and their shots were falling," said Centennial junior Colin McAleer. "They're a good team."
The Jaguars played without Cody McCullough for several minutes in the first half. The senior center was forced to the bench after being called for two charging fouls early in the game.
"That's not what we were looking for," McCullough said. "Coach (Bob Fontana) was telling me to stay on my feet, but this time it was a couple of offensive fouls. We really had to adjust to that early in the game."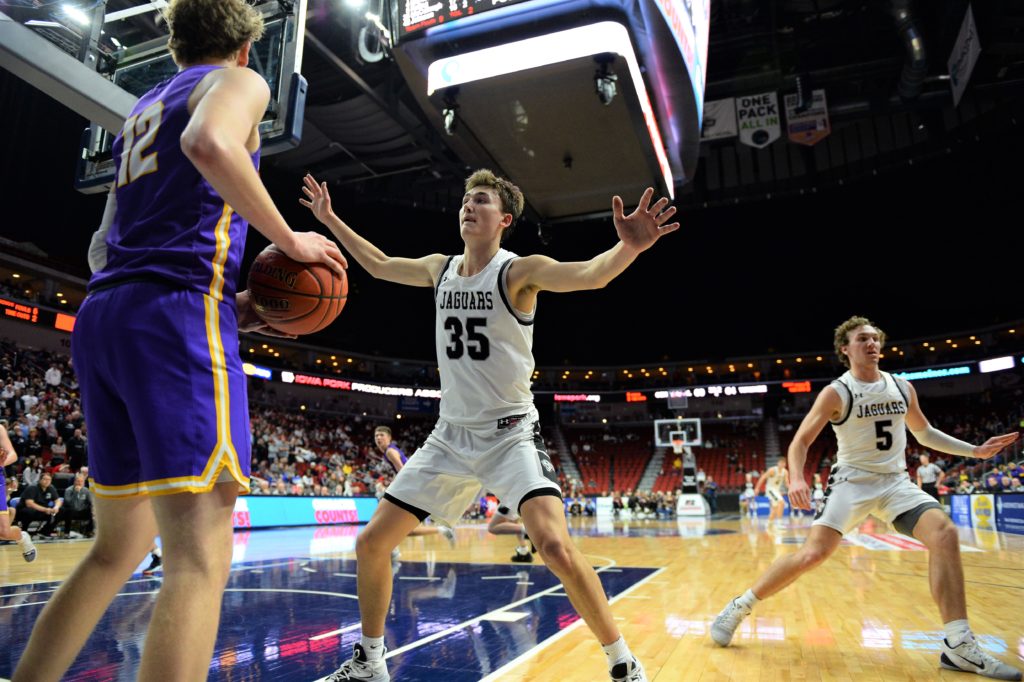 McCullough scored the final five points of the first half to cut Waukee's lead to 34-25, but the damage had already been done. The Jaguars could get no closer than two points the rest of the way.
"Not having Cody in the game, that was tough," Fontana said. "They found a weakness in our defense and we had some breakdowns that we don't normally have. But we had them, and they exposed us on those."
Centennial closed the gap to 50-45 after three quarters, then pulled even closer in the fourth as Jaron Crews made a trio of 3-pointers. His last trey cut the Warriors' lead to 62-60 with about 1 minute left.
"I was very proud of our kids and how we fought," Fontana said. "We kept fighting and fighting."
After Waukee's Pryce Sandfort made two free throws with 39 seconds to go, McCullough answered with a basket with 22 seconds left. But Sandfort then hit two more free throws and Tucker DeVries added another pair to seal the victory.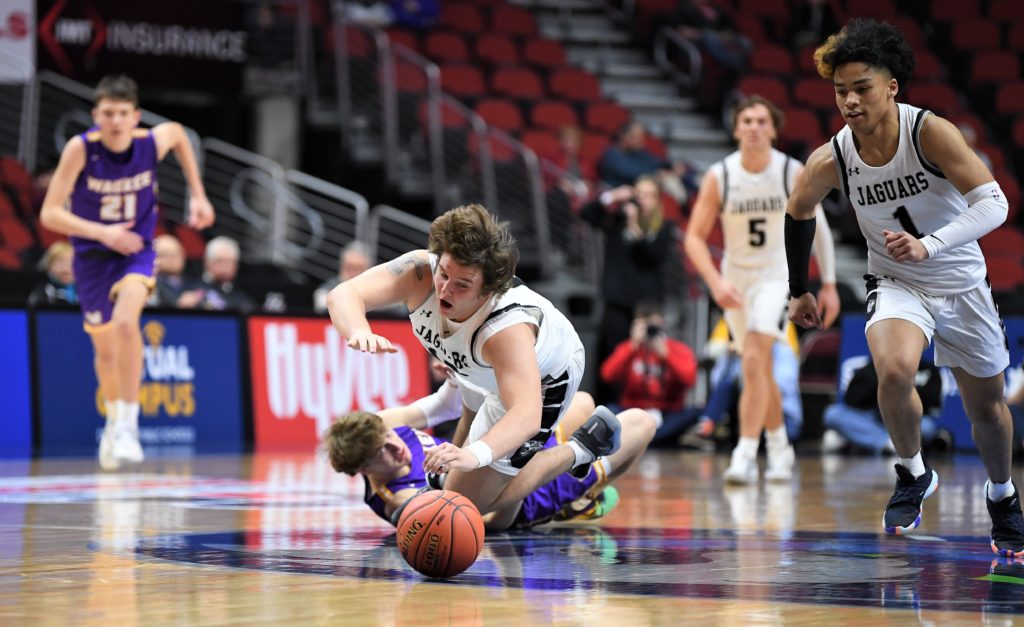 "They played hard–hats off to them," Johnson said. "I wish it could have gone our way, but at the end of the day, that's not how it went."
McCullough went 8-for-8 from the field and scored 19 points to lead four Centennial players in double figures. Johnson had 18 points, Crews contributed 12 points and seven assists, and McAleer added 10 points.
"Offensively, when you score 62 points in a state tournament game, you'd like to think you'd have a good chance to win," Fontana said. "But they shot 21 free throws and we had nine, and that's peculiar–as aggressive as we are on offense at times. And that ended up being the difference in the game."
DeVries had 17 points and seven rebounds for the Warriors, who won the battle of the boards by a 24-22 margin.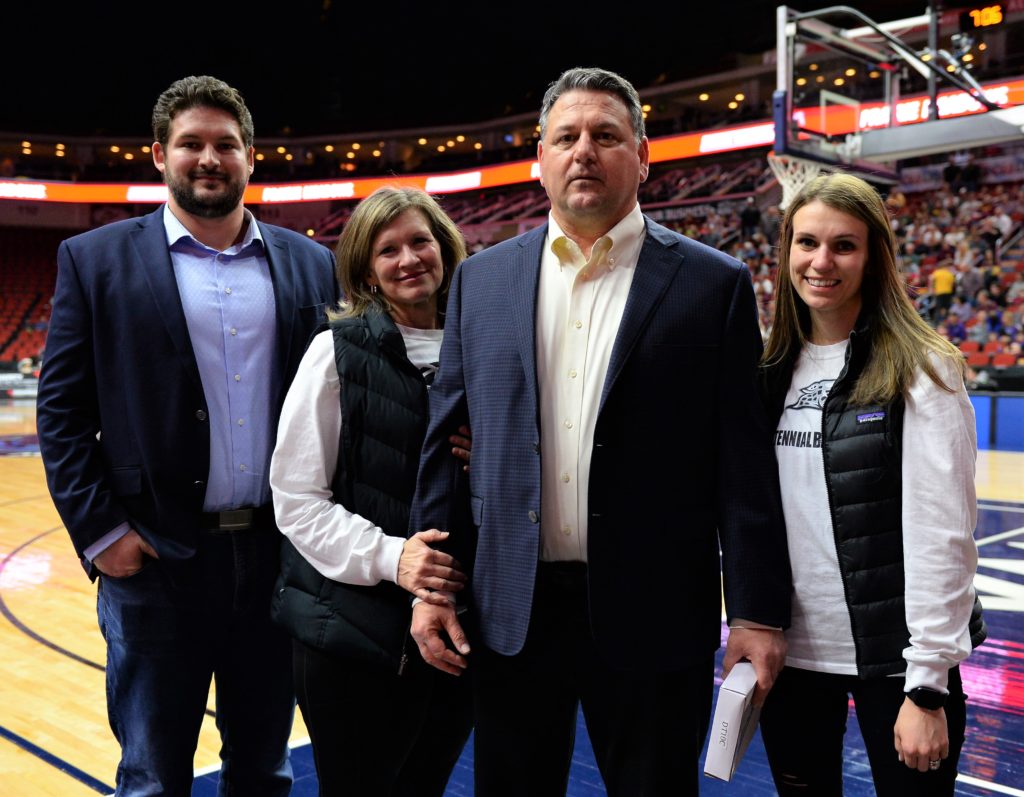 "Coach said if we could outrebound them we'd have a pretty good chance," said Payton Sandfort. "They've got two really good bigs and good guards. Checking them out was the big thing to do, and we did it to the best of our ability."
Waukee has now avenged both of its losses. The Warriors lost to Valley and Centennial in back-to-back games during the regular season, then topped the Tigers in a substate final.
"You never like to lose, but I think it was more of a learning deal for us," Ohl said. "I think we learned a great deal from those losses. We had to go back and see Valley again, and then we got Centennial. And we had to get much tougher. They were much tougher than we were the first time.
"And it's been brought up numerous times since then," he added.