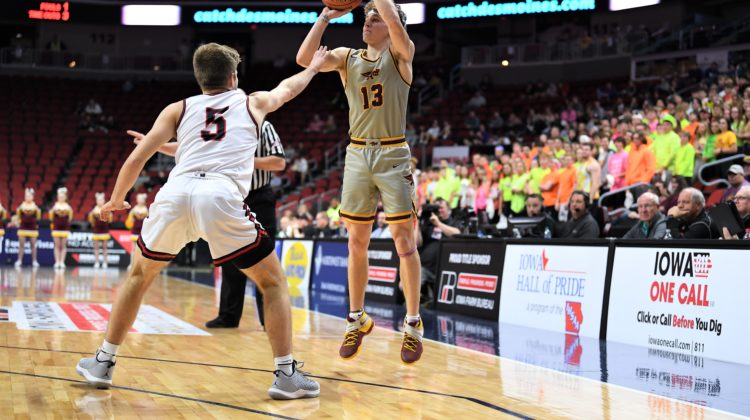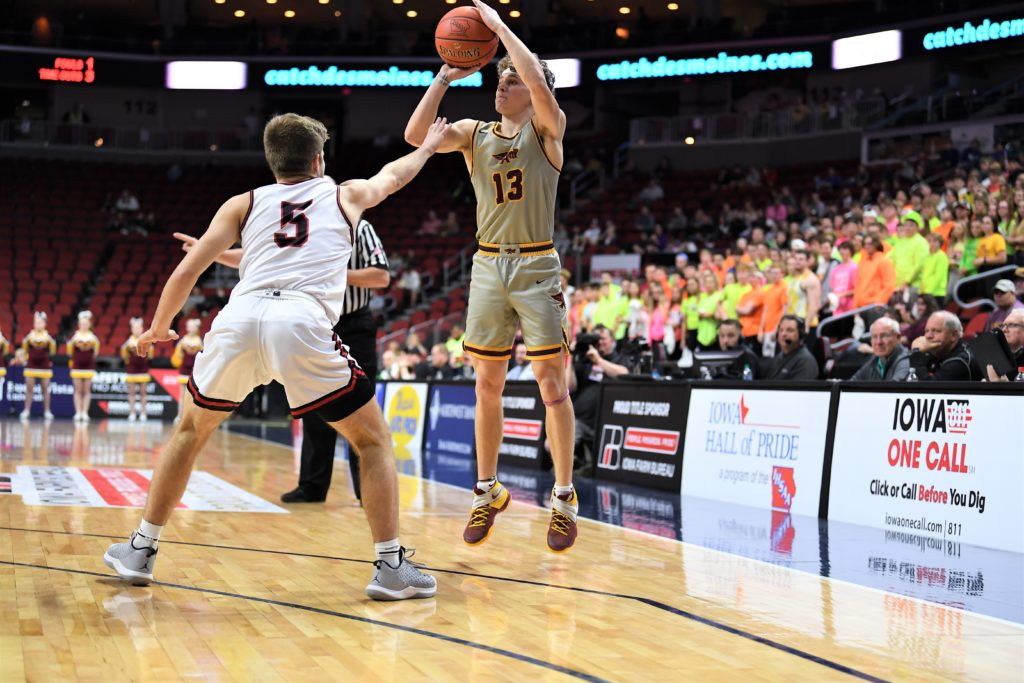 Ankeny's Jordan Kumm couldn't have picked a better time to break out of his shooting slump.
The senior guard went 6-for-9 from 3-point range and scored 18 points to lead the sixth-seeded Hawks to a 71-57 victory over two-time defending champion Cedar Falls in the Class 4A semifinals of the boys' state basketball tournament on Thursday at Wells Fargo Arena.
"It feels great, but we're not finished yet," said Kumm. "It's something you dream of as a kid, and we've just got to complete the dream."
Jaxon Smith went 4-for-7 from behind the arc and added 17 points for Ankeny, which made 12-of-22 3-pointers as a team. The Hawks (20-5) will play No. 4 Waukee (23-2) in the championship game on Friday at 8:35 p.m.
"It's a crazy feeling," said Smith. "Once again, it's another moment that I won't forget the rest of my life. To say that we accomplished something that the three of us–me, Jordan and Braxton (Bayless) especially–have been working so hard for, and there are so many people in our program who have been trying to get to this moment."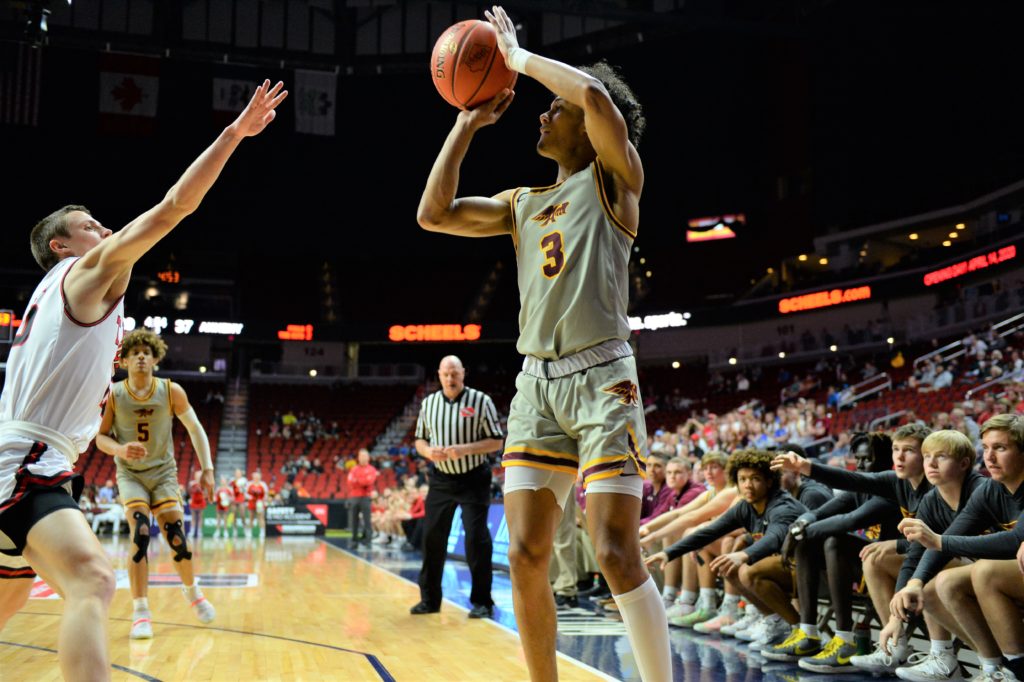 Bayless was coming off a 41-point outburst in Wednesday's quarterfinal win over Iowa City West, but on Thursday he let his teammates do most of the work. Bayless had 11 points and four assists before fouling out with 2 minutes 49 seconds left.
"It's the best feeling I've had so far this season," Bayless said. "It's unbelievable. It's a dream come true."
Ankeny opened the game with an incredible shooting display. The Hawks made six 3-pointers in the first quarter and jumped out to a 27-9 lead.
Kumm had three of them after scoring a total of just five points on 1-for-12 shooting in his first three postseason games.
"I've had a couple games where I've gone in a slump, and I just get out of it by shooting a couple 3s and knocking them down," Kumm said. "Tonight, they were going in for me."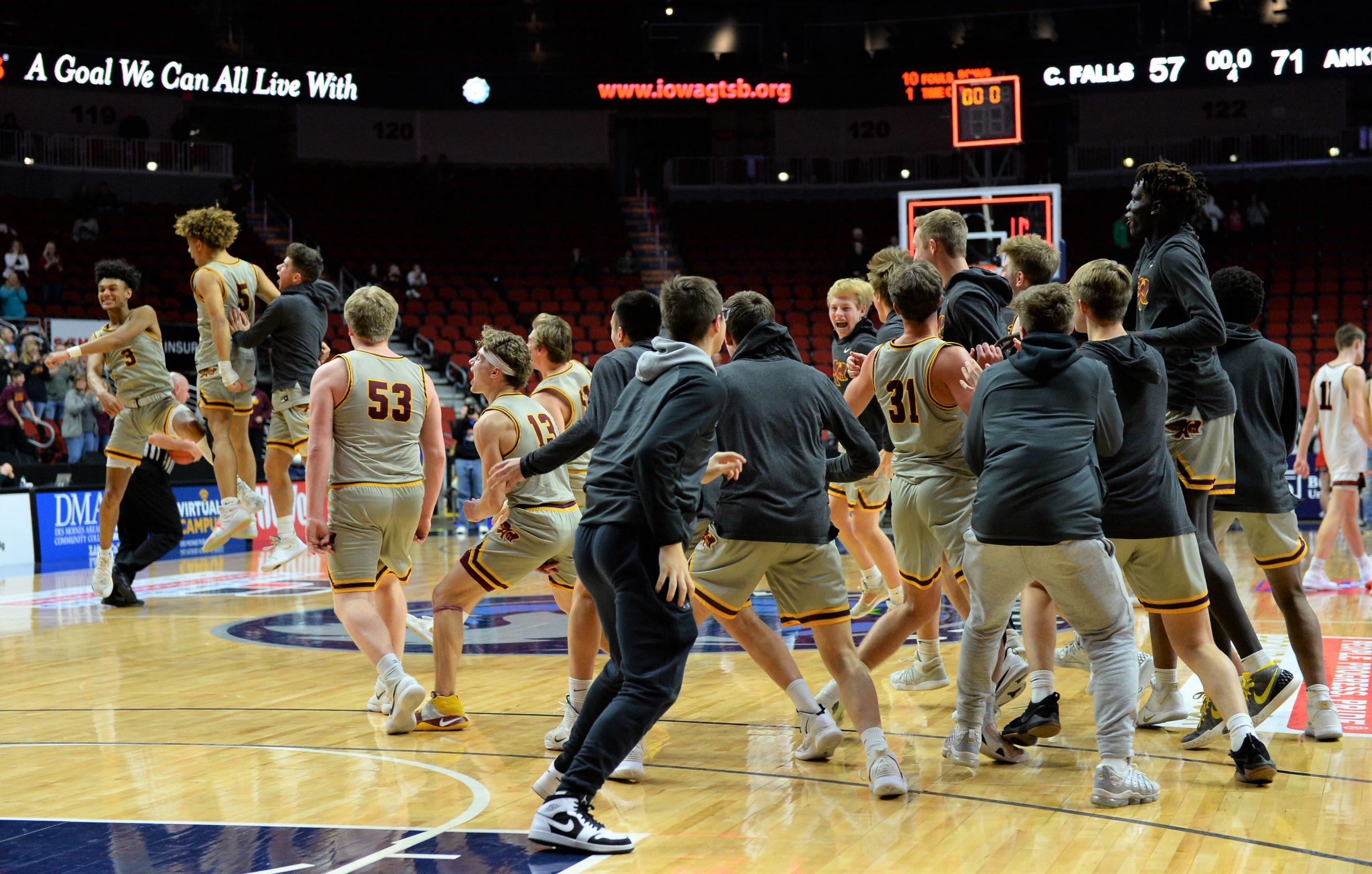 Kumm then hit another 3-pointer to open the second quarter as Ankeny increased its lead to 30-10.
"Our game plan was to stop (Bayless) and load to him, but their other players came to play," said Cedar Falls sophomore Trey Campbell, who led the Tigers with 16 points.
Cedar Falls (22-3) then went on a 14-0 run to pull within 30-24. Chase Courbat had six of his eight points during the run.
Ankeny went scoreless for about 6 minutes before Bayless got a basket to end the drought. Kumm then followed with another 3-pointer to end the half, giving the Hawks a 35-24 advantage.
"Jordan and Jaxon were hitting their 3s," Bayless said. "You can't beat us when they're hitting their 3s, too."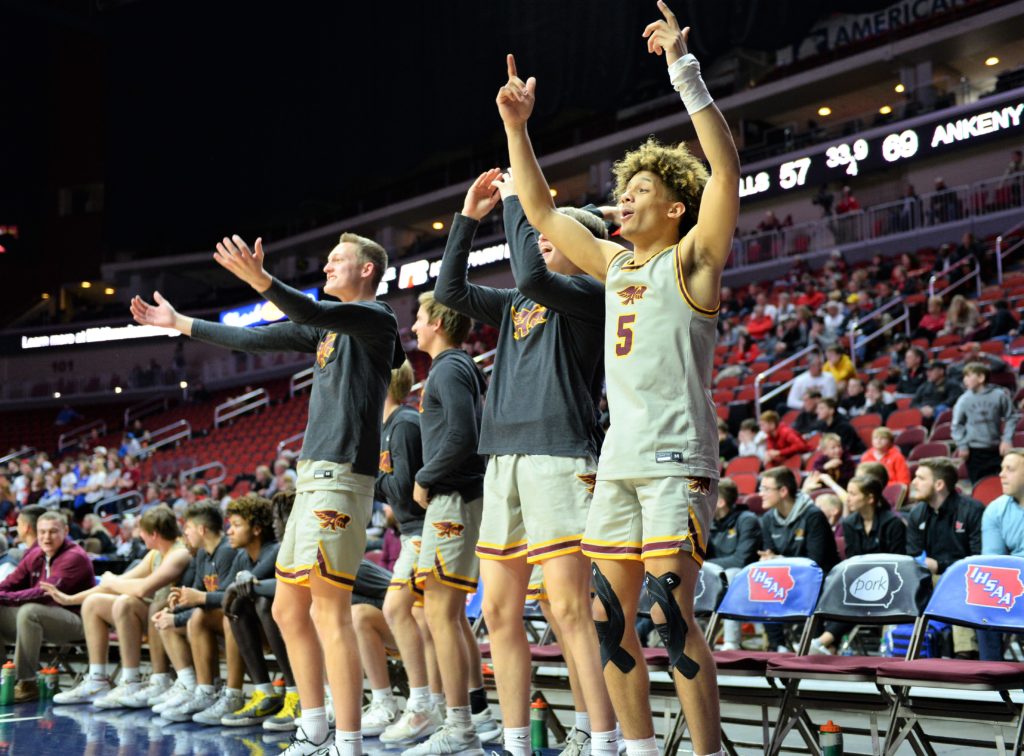 Cedar Falls scored the first five points of the third quarter and pulled within 35-29 on a 3-pointer by Josh Ollendieck, but the Tigers could not get any closer.
Brecken Manus answered with a basket for the Hawks, then Smith followed with three consecutive 3-pointers–all of them from the left corner–as the lead grew to 48-32. Smith had played just 12 minutes and was held to two points in Wednesday's game.
"Coach (Brandt) Carlson just said, 'Shoot the crap out of it,' and we did," Smith said. "We let it fly, and it paid off in the end."
Cedar Falls made one final run, pulling to within 64-57 on a 3-point play by Ollendieck with 1:06 remaining. But Ankeny then made 7-of-8 free throws down the stretch to seal the victory.
"It was 32 minutes of nervous energy on my part," Carlson said. "Those last 3 minutes took forever, but I was real proud of Jaxon coming in after an off-night and showing out. And Jordan played great again defensively, and all of the sudden the ball is going in the basket (for him). Hot teams at the end of the year are advancing, and we're fortunate to be one of those teams. It's a great feeling and a great opportunity for our program. We're excited to advance and finish this thing."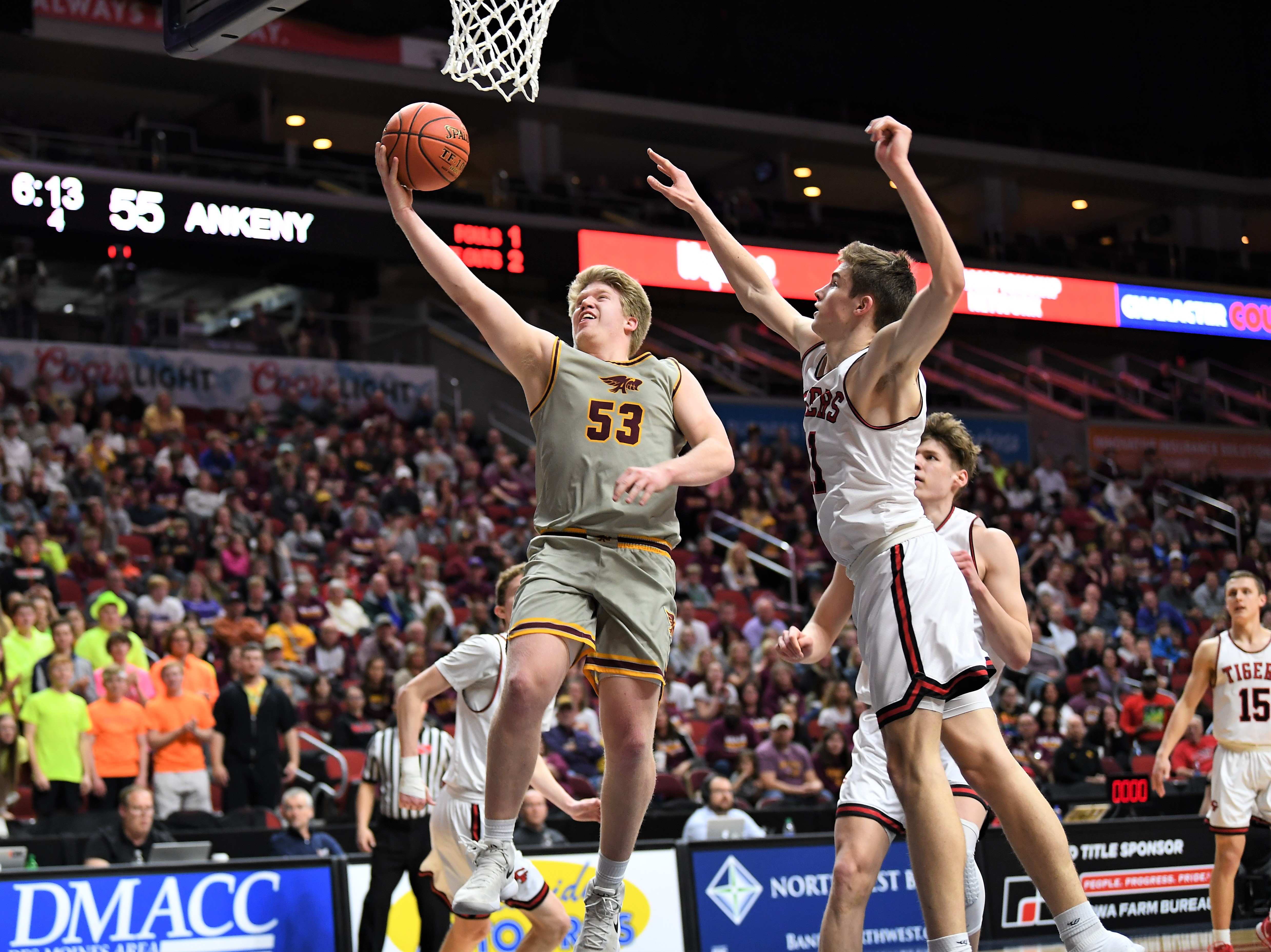 Manus and Nolan Otten each had nine points in the win. Ryan Crandall added seven points and six rebounds as the Hawks ended Cedar Falls' bid for a threepeat.
The Tigers will play No. 1 Ankeny Centennial (24-2) in the consolation game on Friday at 11:55 a.m.
"It kind of sucks how we can't carry on the legacy, but it is what it is," Campbell said. "We're going to have to live with it."
Ankeny is seeking its second state title. The Hawks won a crown in 1995 under coach Larry Ireland.
CIML rival Waukee, which posted a 68-62 win over Centennial, is riding a 13-game winning streak.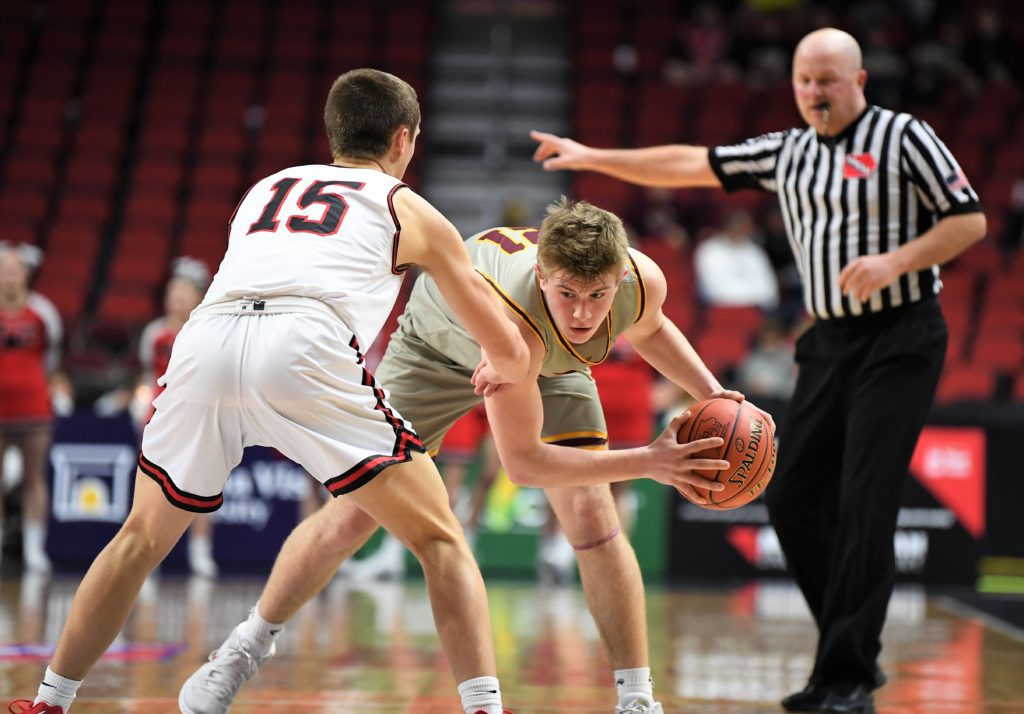 "They're good," Kumm said of rhe Warriors. "They've got some shooters, but I don't think anybody compares to us in the state."
The Iowa High School Athletic Association has announced that all of Friday's games will be played with spectator restrictions due to increasing concern of the spread and impact of novel coronavirus (COVID-19). Each team will be allowed to have just 100 spectators.
"It's going to be a different experience, but we're just so bought in on getting that (championship) ring, it's not going to matter who's in the crowd," Smith said.
It will be the third game in three days for the Hawks, but it'll be the only one played before a sparse crowd in the spacious arena.
"It's going to be really weird, but we've just got to deal with it because you can't do anything about it," Bayless said. "It's just another game."