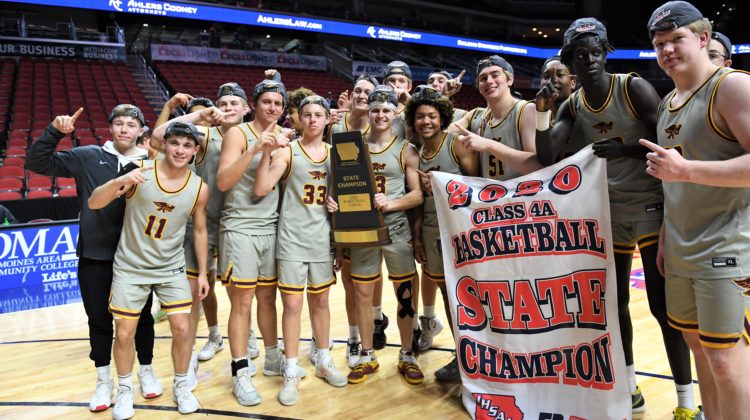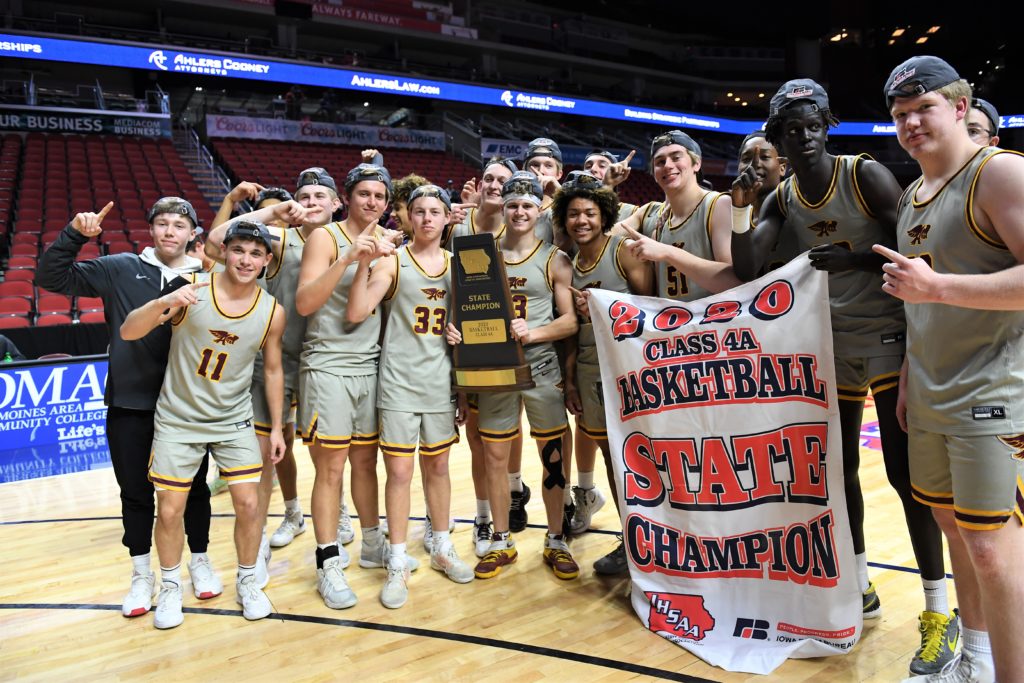 Waukee's length provided a matchup problem for the Ankeny boys' basketball team in Friday's Class 4A championship game.
But the Warriors faced some bigger problems of their own–like how to deal with Ankeny's speed and deadly outside shooting.
The sixth-seeded Hawks completed an amazing run to the state title by making 10-of-17 3-point shots and rolling to a 78-70 victory over No. 4 Waukee at Wells Fargo Arena.
"We knew that we were the fastest team in the state," said Ankeny guard Jordan Kumm, who had 16 points and nine assists in the win. "We knew they shot pretty well, and so we just needed to get up in them and use our ability of speed because they obviously have the height. Everybody sees us as the underdog, so we used our abilities to our advantage."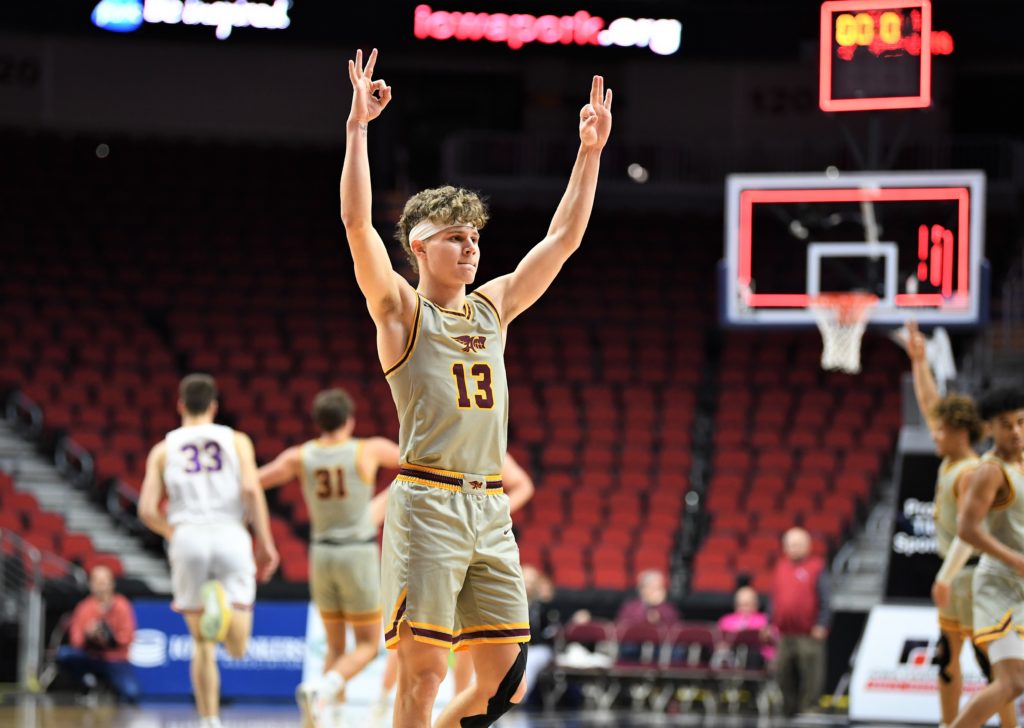 Ankeny (21-5) won the second state championship in school history. The first one came courtesy of the 1995 squad that also featured some outstanding guards.
"I think for any team it's about matchups, it's about playing well," said Ankeny coach Brandt Carlson. "I think a lot of things had to come together. We have a special player in Braxton (Bayless), a lot of special people on our team, guys that really kept us together during some rough moments in the season. We just played really well, competed hard, and the ball went in the basket. I guess this was our year."
Bayless scored 16 points and was named the captain of the all-tournament team. He poured in 68 points as Ankeny won three games in three days, including 41 points against Iowa City West in the quarterfinals.
"It's the best feeling I've had in my whole basketball career," said Bayless. "It's something I can look forward to when I'm 30 and just look back. It's awesome."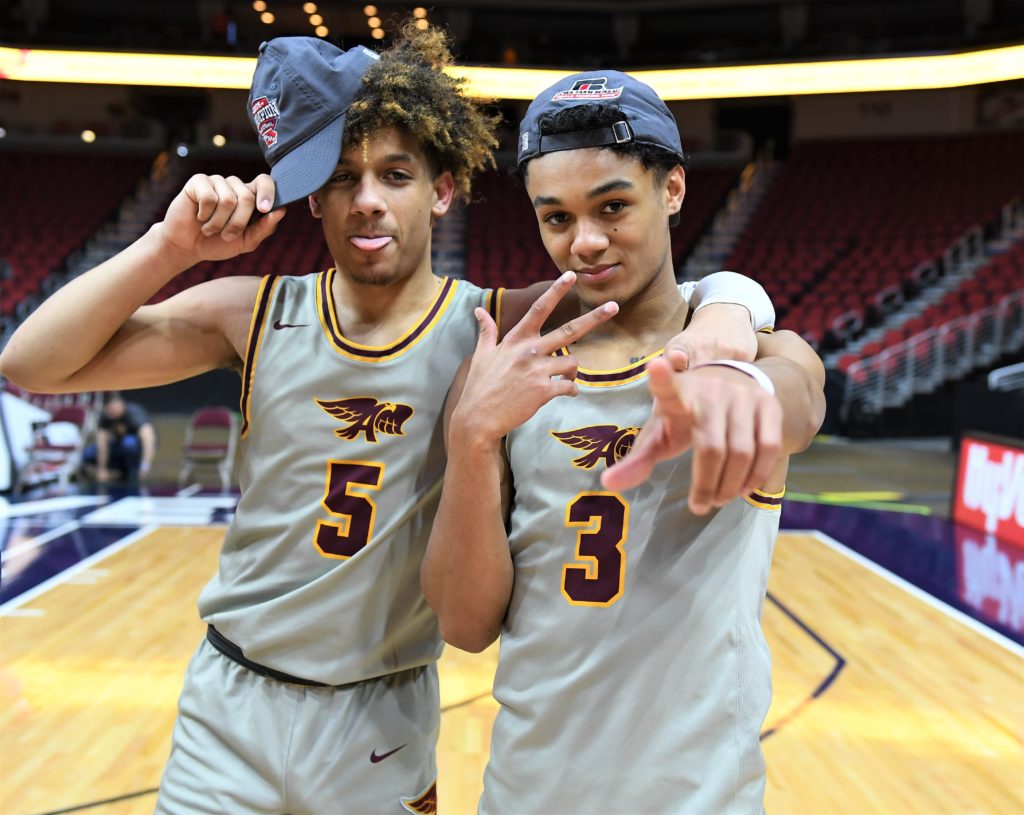 Jaxon Smith had 14 points for the Hawks, Ryan Crandall chipped in 13, and Nolan Otten added 12. Smith also helped hold Waukee star Tucker DeVries scoreless until late in the third quarter.
The loss ended a 13-game winning streak for the Warriors (23-3), who had knocked off top-seeded Ankeny Centennial in Thursday's semifinals.
"It was two completely different basketball games. Two very good teams, but different," said DeVries. "The game plan was definitely different. I thought (Thursday) we battled and we competed and we were the tougher team, and today we lacked that, especially in the first half. The second half we battled–just like we have all season–but we just happened to come up short to a good team, and they deserved it tonight."
Ankeny's defensive pressure forced the Warriors into 14 turnovers, eight of them by DeVries. Kumm had two of the Hawks' five steals.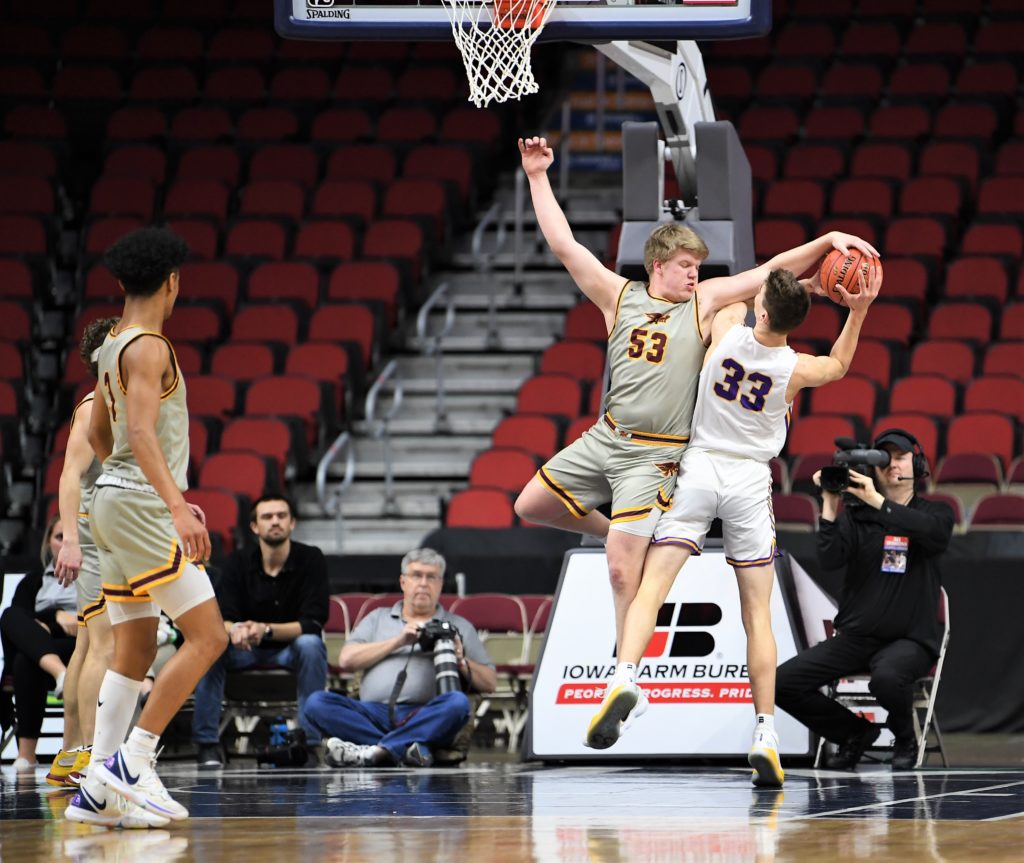 "You can't replicate (their speed), especially on a one-day turnaround," said Waukee coach Justin Ohl. "Their guys just played extremely hard–they got their hands on a lot of balls, they won a lot of 50/50s, and I thought that was a big part of the game."
The Warriors also didn't have an answer for Ankeny's hot shooting. The Hawks forced Waukee to abandon its zone defense after making 7-of-14 shots from behind the arc and building a 33-24 halftime lead.
"They're a team that you have to keep out of the paint, especially with a great player like Braxton," DeVries said. "His quickness–we were trying to contain him–but when they're shooting it, it leaves a lot of wide-open lanes. You have to pick the happy medium, and today they beat it."
Ankeny connected on all three of its 3-point tries in the second half. The last one came from Otten and pushed the Hawks' advantage to 49-31 after three quarters.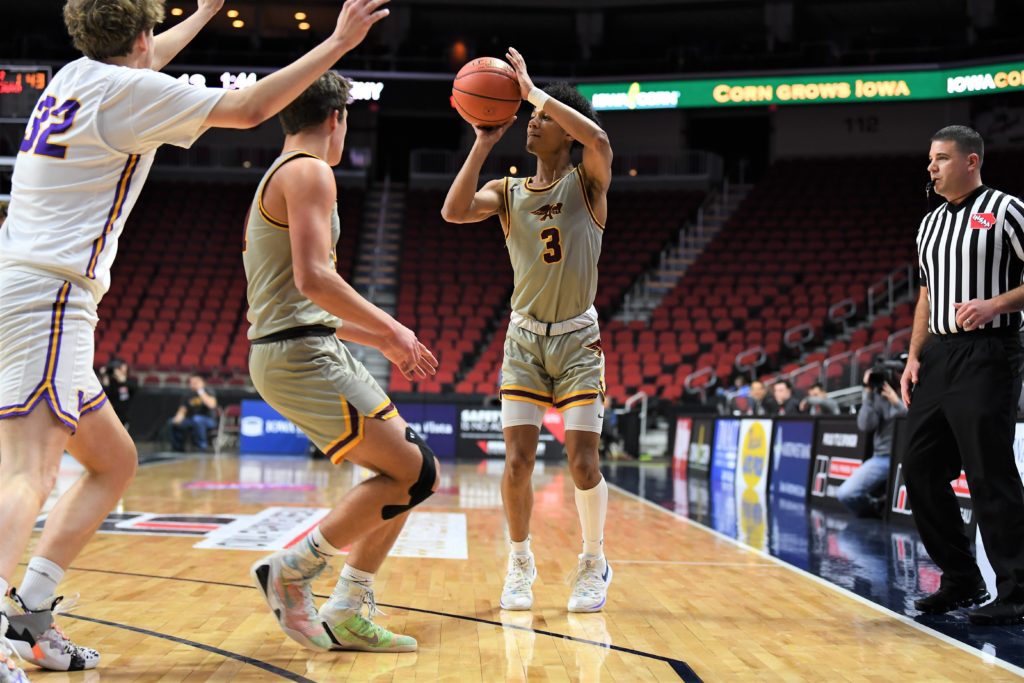 "I thought we had a pretty good plan in place," Ohl said. "You look at their first game (at state) and they make one 3. (On Thursday) they make 12. We wanted to use our length a little bit in the zone. Credit Braxton–he made some tremendous reads and got guys in some spots and they knocked them down. You try to look at percentages, and guys make some 3s that percentage-wise, it's tough."
Waukee tried to rally in the fourth quarter, when it erupted for 39 points. DeVries scored 17 of his 19 points in the final period, but it wasn't enough.
Bayless and Smith both fouled out in the last 3 minutes, but Ankeny made just enough free throws to hold off the Warriors, going 16-for-24 at the line. Kumm hit a pair with 15 seconds left to give the Hawks a 78-68 lead, then joined the rest of the starters on the bench.
Shortly thereafter, the Ankeny players dashed across the court to celebrate as the final buzzer sounded.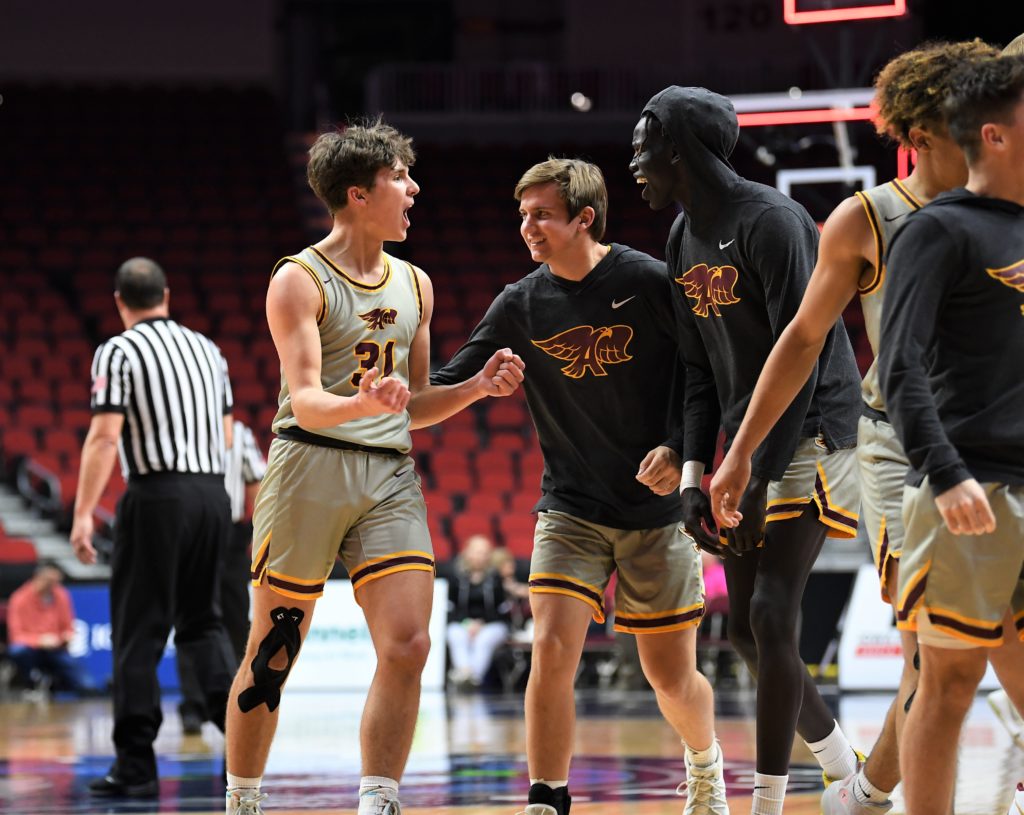 "It feels amazing," Kumm said. "These are things you dream as a little kid, and we just made our dream come true. We worked hard, and we stayed the course."
The game was played before a sparse crowd due to increasing concern of the spread and impact of novel coronavirus (COVID-19). However, the Hawks returned to the high school afterwards to celebrate with their many fans who watched the game online.
"I think we're going to have a little parade," Bayless said. "It should be fun."