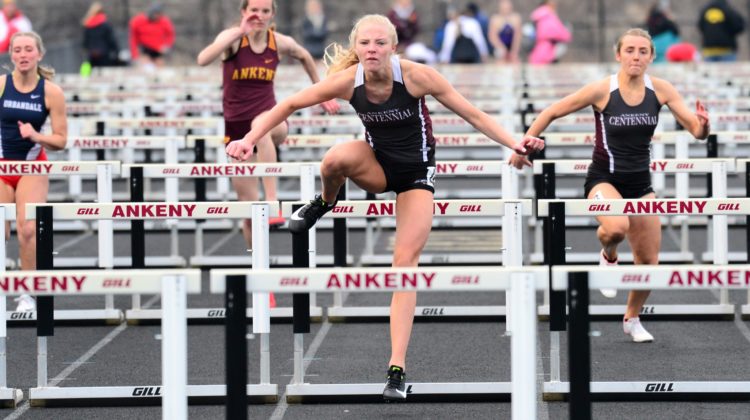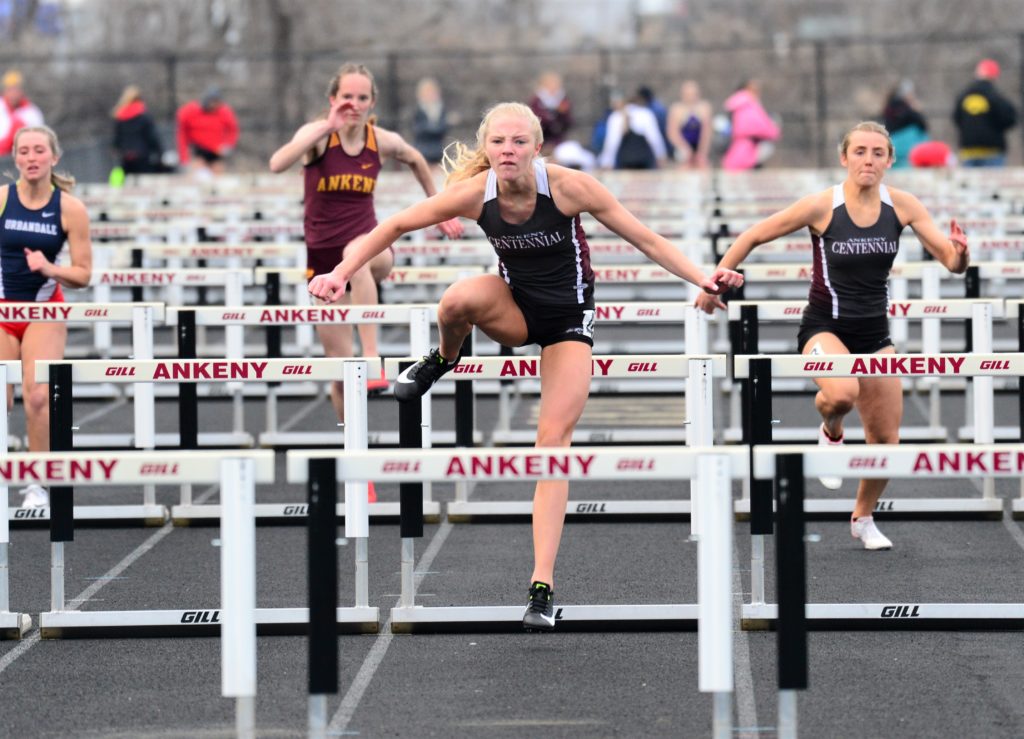 Ankeny Centennial senior Katie Petersen is one of the state's top returning hurdlers. She placed fourth in the 100 hurdles at last year's Class 4A state meet in a time of 14.77 seconds.
Petersen also ran on the fourth-place shuttle hurdle relay, the fifth-place sprint medley relay that set a school record and the sixth-place distance medley relay. The Iowa recruit helped the Jaguars to tie for 12th place overall, the highest finish in school history.
Here is some inside info on Petersen:
How were the indoor meets going, before your season was interrupted by the pandemic?
I was pretty happy with the way both of my indoor meets went. Wartburg and UNI are the only two indoor meets I went to throughout my high school career because of spring break, so I always have to make the most out of such short indoor seasons.
You won the 60 hurdles at the Dickinson Relays on March 9 in 9.05 seconds, which smashed the school record. Did you think you were going that fast?
Based on my 55 hurdles time I ran at Wartburg the previous week, I was hoping to run under 9 seconds, but I was still really happy with that race overall.
When did you first realize how serious the coronavirus was, and that it could have an effect on your season?
I think when the NCAA and B1G Conference started cancelling everything was when I first realized the severity of it. It was heartbreaking to see those athletes have their seasons stripped away from them, especially for the seniors and my future teammates. And then when schools in Iowa were cancelled, it really hit me and started to sink in that I could have ran at my last high school meet with my teammates and some of my best friends already without even knowing it.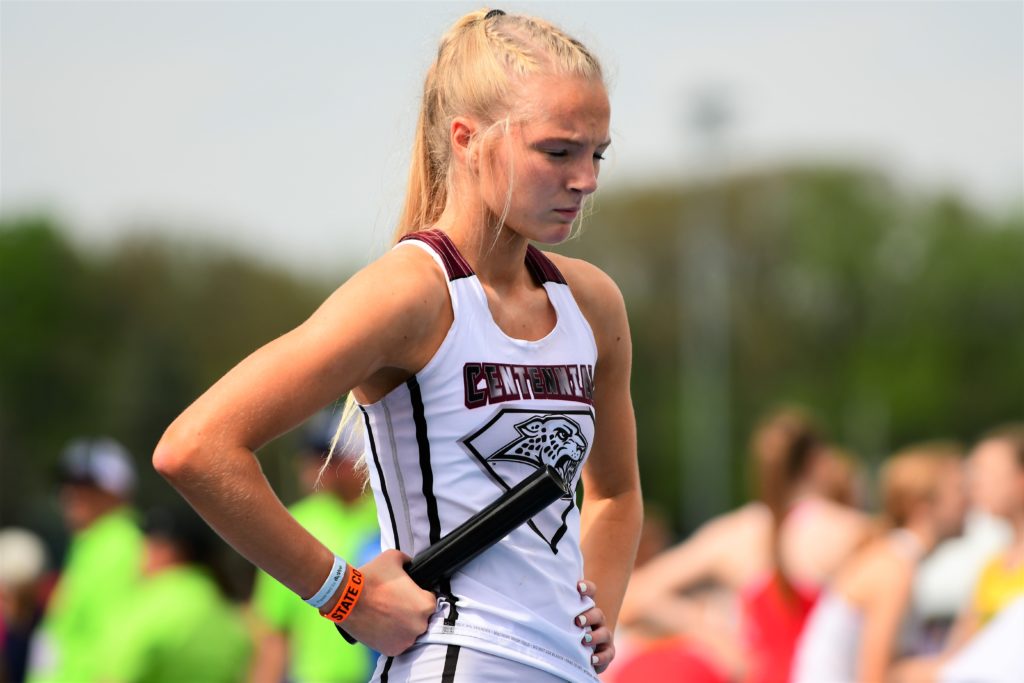 I know you won't be allowed to practice for at least the next four weeks. Will you be working out on your own?
Yes, these first couple weeks will be a little tough with gyms and everything shut down. However, coach (Andrew) Kruzich has already sent us a workout plan, and hopefully after these two weeks I will be able to continue training and lifting again at Engineered Per4mance as well.
How can you practice the hurdles without having access to the school's facilities?
I am planning to figure out an alternative when I get home so I am still able to complete my hurdle workouts.
I know you're down in Florida right now because the cruise you were supposed to go on was cancelled. Did the cruise get cancelled at the last minute?
Yes, we were flying down here when we found out about 14 hours before we were supposed to board that it was officially cancelled.
How are the conditions in Florida? Are a lot of places shutting down?
I think they are pretty similar to back at home. There's just a few more people and spring breakers here in Fort Lauderdale. All of the beaches and restaurants were closed down a couple days after we got here.
Are you practicing your social distancing?
Well, since the beaches and restaurants were shut down, we've pretty much been stuck at our resort which seems like it has just about cleared out throughout the week.
Are you concerned at all that getting home might become difficult?
We didn't have any issues getting here, so hopefully going home will be the same way.
What are your goals for the season, assuming that competition can be resumed at some point?
My goals are to pick up right where I left off last season and continuing to build on that by dropping time, and win a Drake (Relays) and state championship, provided that I have the opportunity to compete at those meets. (Note: The Drake Relays have already been postponed, but meet officials are hoping to reschedule it for a later date.)
Are there any different events that you'd like to try this season, if you have that opportunity?
I was hoping to try out the long jump this year, but I'm not sure if that will happen now with four weeks of our season already being wiped out.
Are you worried that the entire season might be wiped out?
It's hard not to think about that possibility with the way things have been going, but I'm just trying to stay optimistic and will continue training with the intentions of being able to compete in the near future. Obviously, much of this situation is completely out of my control, so I am just going to focus on getting better and making the most out of the given circumstances.