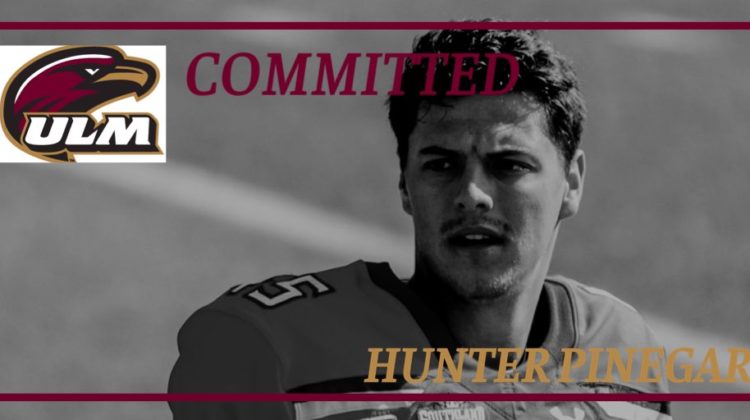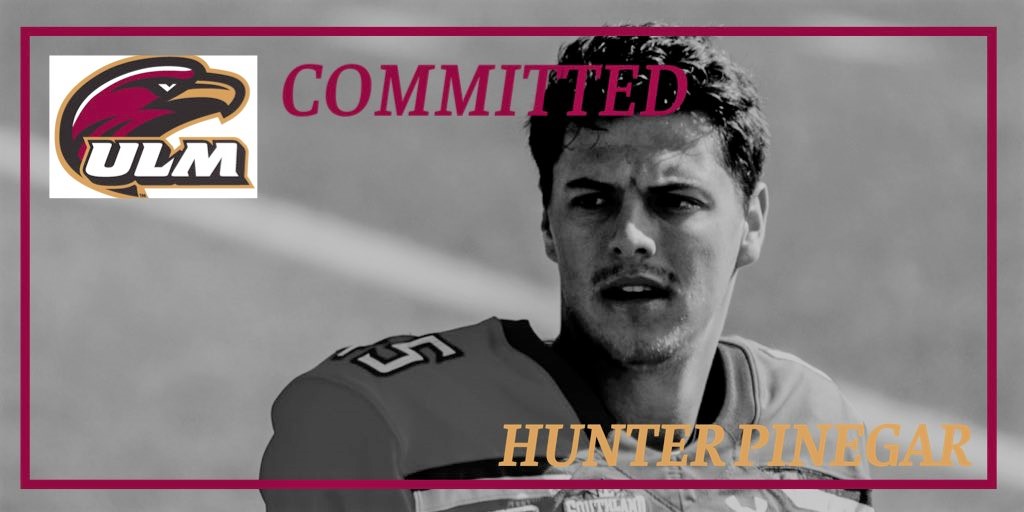 Hunter Pinegar has decided to finish his collegiate football career in the Pelican State.
The former Ankeny Centennial kicker has verbally committed to play for the University of Louisiana-Monroe, a Division I school. He spent the last season at Sam Houston State, an FCS program in Huntsville, Texas.
"I'm looking for a fresh start," said Pinegar, who started his career at Iowa Western Community College in Council Bluffs. "I've known the coach at Monroe a couple of years now, and he's always kept in contact with me. He texted me a few weeks back and said if I need a place to sit a year and then play, I got a spot for you. That was pretty much the last option I had."
Pinegar helped Sam Houston State to a 7-5 record last fall, but he wanted to find a better fit for his final season. He tore his hamstring during preseason camp with the Bearkats and initially sought a medical redshirt with the idea that he would eventually transfer.
However, Pinegar recovered from his injury and was used on the field in the last five games. He made 4-of-7 field goals and 15-of-17 PAT attempts.
By playing in the final game against Houston Baptist, Pinegar used up his third year of collegiate eligibility.
"With that new redshirt rule, you can play in four games without burning a redshirt," he said. "But they kicked me in five games and took away that extra year for me, so it wasn't the best deal. I didn't have the best relationship there with some of the coaches. It just wasn't the best fit for me."
Pinegar, the older brother of Penn State place-kicker Jake Pinegar, said he may have hurried his decision to go to Sam Houston State a year ago.
"I only had about a week to decide where I wanted to go," he said. "I took that visit and it was short notice, and I really didn't take my time with it. At the time I was excited to go there, but it kind of backfired on me a little bit."
After Pinegar decided to leave Sam Houston State, he almost committed to Texas State earlier this month. However, that situation didn't work out.
"A lot of coaches aren't going to take a guy with a year left," Pinegar said. "They call them a 2-for-1. I've got two years but I can only play one, so I have that redshirt year but I'm only eligible to play in one. That's not very appealing to a lot of schools, so I think Texas State was afraid to fully commit. We were close to getting that done, but then Louisiana-Monroe got ahold of me and fortunately it worked out with them."
Under normal circumstances, Pinegar would have to sit out this fall before playing his final season in 2021. But there's a chance that he could be declared immediately eligible to play.
"The NCAA is working on passing an eligibility rule, and if they pass it that would allow me to go in and play right away," Pinegar said. "But if they don't pass it, I'll sit a year and then play in 2021. I'm kind of leaning toward that anyway because I think in the second or third game of that season we play (defending national champion) LSU, so that would be pretty cool."
Whenever he plays, Pinegar is hoping to handle kickoffs as well as the place-kicking duties.
"They're bringing in a transfer from Oklahoma and another field goal guy from Prairie View, and they're going to let us go at it," Pinegar said. "I feel pretty confident."
Pinegar said he's looking forward to moving across the state line to Monroe, which is located about 300 miles away from Huntsville.
"I love fishing and hunting, and (Monroe) is kind of a prized spot for that,"  he said. "That's where the 'Duck Dynasty' guys live."