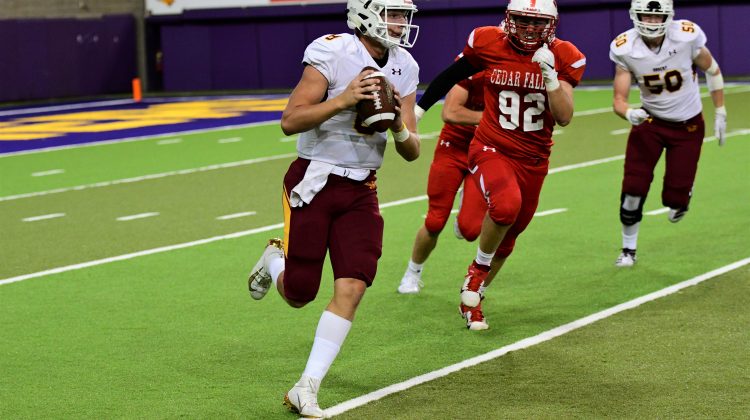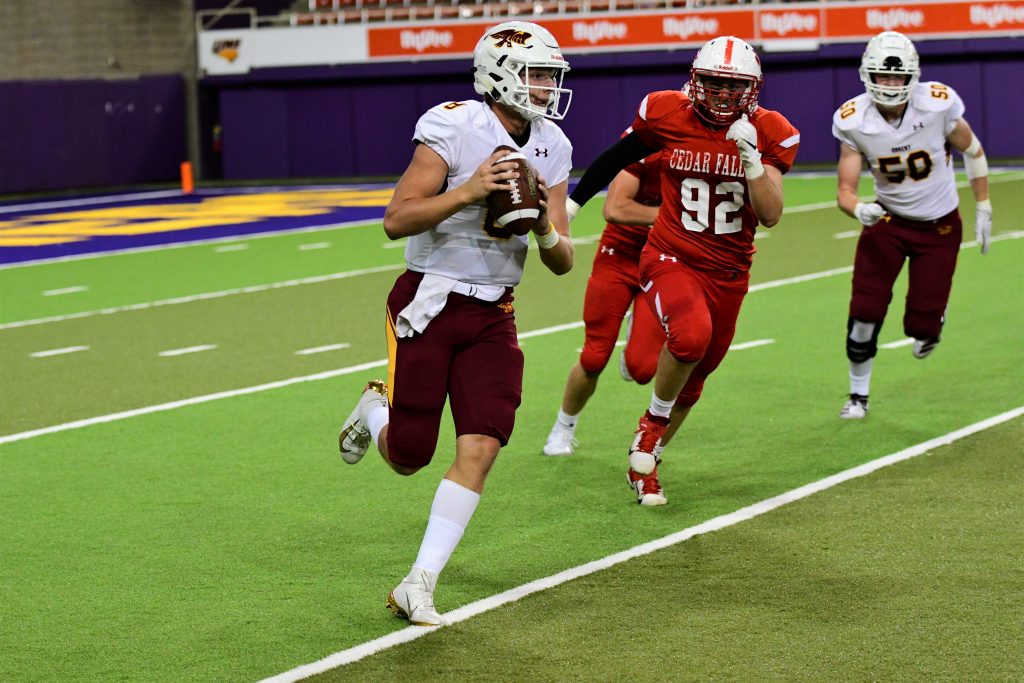 The buzz around Ankeny quarterback Jase Bauer is beginning to grow, even during these uncertain times.
Bauer helped lead the Hawks to a 7-4 record and a Class 4A quarterfinal appearance last season. He passed for 2,207 yards and 20 touchdowns while completing 61.5 percent of his passes (126-of-205).
Bauer was named to the Class 4A all-state first team by The Des Moines Register. Ankeny Fanatic publisher Dan Holm caught up with the junior on Sunday to get an update on his recruitment.
It seems like your recruiting has heated up quite a bit. How many offers do you have now?
I have four offers as of now from UNI, Southern Illinois, Eastern Illinois and Western Illinois.
How much of an impact has the coronavirus had on your recruiting? I'm sure you'd like to take some visits.
Being a QB, the coronavirus has had a pretty big impact on my recruiting due to the fact that a bunch of schools were not able to see me throw in person. A lot of schools want to see you throw in person before they offer you.
A lot of players in your class, including your teammate Brody Brecht, have already made their verbal commitments. When would you like to make a decision by?
I am planning on waiting until after my senior season to make a decision.
What are the biggest things you are looking for in a school? Academics? The right fit? Potential playing time?
I'm looking for a school with a quality education. I also want a great relationship with the coaching staff. I would like to go to a school that fits my style of play. I know there is going to be competition wherever I go, but I want a chance to compete for the starting job.
What did you think of Brody's commitment to Iowa? Did you think he was leaning that way?
I know that Brody wanted to play both (football and baseball), and Iowa was the school that offered him that opportunity. I think this will be a great fit for him. I can't wait to watch him compete. I would love to compete with or against him sometime in our college careers.
Brody was being recruited in both sports. What about you? Is baseball even a consideration for you, or are you all in on football?
Right now I am only getting recruited for football so that is my main focus.
I saw where Brody was trying to put in a good word for you with Iowa. Do you feel like you're a Power 5 player?
I do feel as I can compete at the highest level and have always dreamed about competing with the best.
Is there a dream school out there that you would commit to immediately if you got an offer?
There is not really a dream school, but there are several schools I am excited about.
The spring high school sports have already been cancelled. How concerned are you about the prospects for baseball and then football?
I'm hoping we get a chance to compete again sometime soon.
Your father, Jeff, joined the Iowa State football team as a walk-on and eventually started at defensive back for the Cyclones. Has he given you some advice about the recruiting process?
Not really. He just wants me to find the best fit that will maximize me as a player and person.
Do you think you'd consider the walk-on route to play at that level?
No sir. I have four great schools that believe in me as a player and a person. There have been some great QBs that have come from these schools like Tony Romo, Jimmy Garoppolo and Kurt Warner that have had great careers in the NFL, and that is ultimately where I want to end up.